Kayaks are a great way to spend time on the water, without the cost and maintenance of a boat. But how much does a kayak weigh? And which styles, material components, and features are best for you?
Kayaks can weigh anywhere from 20 pounds to 100 pounds, and sometimes even higher. The weight of a kayak largely depends on its purpose and construction. Inflatable recreational kayaks are some of the lightest with an average weight of 30-50 pounds. On the other hand, fishing kayaks are some of the heaviest types, weighing up to 120 pounds.
Average Weights of Common Kayak Types
Kayaks can be classified by the different styles which then determine their models. Fishing kayaks are the heaviest because they are expected to hold tackle and gear and sometimes small motors. Recreational kayaks, on the other hand, are built for leisure.
Other special kayak types also exist, such as tandem kayaks (for two people) and sea or touring kayaks meant for kayaking with partners in fast-moving water and waves.
The table below summarizes different types of kayaks and their average weights.
| | |
| --- | --- |
| Type of kayak | Average weight |
| Fishing Kayak (sit-on) | 90 lbs |
| Single Kayak (sit-on) | 35lbs |
| Inflatable Kayak (sit-in or sit-on) | 30-50lbs |
| Tandem Kayak (sit-on) | 65lbs |
| Sea Kayak or Touring Kayak (sit-in) | 55lbs |
These figures are raw weight; without gear and additional accessories
What Influences a Kayak's Weight?
When it comes to the weight of a kayak the construction material (plastic, PVC, etc) and dimensions dictate the overall weight.
The construction material is arguably the most important factor in the list. While the traditional water vessels were mainly just made of wood, modern kayaks are made of several different materials.
Polyethylene (Heavy duty Plastic)
These are the heaviest kayak materials. Polyethylene would be one of your last choices of material if lightweight is your priority, especially for a single kayak.
However, they're the best choice when you prioritize price and durability. Polyethylene kayaks have the advantage of pocket-friendliness and are some of the longest-lasting kayaks in the market.
PVC
Polyvinyl chloride (PVC) materials are lighter than polyethylene and are preferred for making several lightweight kayaks. They are also fairly affordable even if they aren't as cheap as polyethylene kayaks. Kayaks such as inflatable kayaks are commonly made from PVC.
Composite Materials
Composite materials are the lightest kayak materials but are also the most expensive. They are therefore the best choice of materials if you loathe bulk! Some of the most common composite materials from which kayaks are made include carbon and Kevlar.
Dimensions
Dimension is another crucial factor determining the weight of a kayak. While it is obvious that a large kayak would weigh more than a smaller one, the weight's dependence on other dimensions and its overall construction is important.
Two kayaks of the same size will most certainly weigh differently if they're made from different materials.
Since a kayak's length and width influence the weight, going for a shorter hull of a kayak will be choosing a lighter kayak.
On the flip side, a shorter kayak will mean a smaller onboard space, lower stability, and limited tracking performance. Lightweight and storage can be worth the sacrifice, nonetheless.
Rotomolded Kayak Weight
These kayaks are single-piece plastic-formed solid paddle boats. They are made of melted plastic pellets and shaped into a kayak form. They are the most inexpensive to manufacture, even though they're the heaviest.
Thermoform Kayak Weight
Such kayaks are made up of two parts that are bonded together at the upper and lower parts. They're nearly as lightweight as fiberglass composites and close to single-piece rotomolded kayaks in terms of durability.
They are also fairly cheap. they are therefore a common option among beginner kayakers looking for a kayak that is adaptable, cheap, and moderate in weight.
Fiberglass Kayak Weight
Fiberglass kayaks have similar features to composite material kayaks and are subsequently lighter and faster in the water than most of the other kayaks.
However, their lighter model and improved performance come at a cost. They are nearly as costly as kayaks made of composite materials such as carbon and Kevlar.
Wood Kayak Weight
Wood is a kayak purists' component, and while it's attractive and light, it's also costly to construct and easily destroyed.
Wood kayaks' weight differs, varying with the type of wood used and the fiberglass resin utilized in coating the wood, majorly to waterproof them. Some wood kayaks can therefore be very heavy.
Weight Comparison of Recreational Kayaks
| Model Name | Kayak Type | Material | Weight |
| --- | --- | --- | --- |
| TAHE Borneo Sit-On-Top Double Kayak | Tandem-Double | Molded / Fiberglass | 75 lbs |
| Aquaglide Chinook 100 Inflatable Kayak | Inflatable (1-2 person) | 600-denier ripstop polyester | 23 lbs |
| Perception Access 9.5 Sit-On-Top Kayak | Single (sit-on) | Polyethylene plastic | 50 lbs |
| Aquaglide Navarro 110 Inflatable Kayak | Inflatable (1 person) | Hexcel 600-denier ripstop polyester | 28 lbs |
| AdvancedFrame Convertible Tandem Inflatable Kayak | Inflatable (2 person) | PVC-coated polyester/aluminum | 52 lbs |
| Oru Kayak Inlet Folding Kayak | Single person (sit-in) | 5mm double-layered polypropylene plastic | 20 lbs |
| Wilderness Systems Tarpon 120 Sit-On-Top Kayak | Single (sit-in) | Polyethylene plastic | 63 lbs |
| Lifetime Teton 100 Angler Kayak | Single (sit-on) | Polyethylene plastic | 53.5 lbs |
| Vibe Yellowfin 100 Kayak | Single (sit-on) | Polyethylene plastic | 57 lbs |
| Hobie Mirage Lynx | Single (sit-on) | Composite Blend | 45 lbs |
| Old Town Predator 13 | Single (sit-on) | Polyethylene plastic | 86 lbs |
| Hobie Mirage Oasis | Tandem Double (sit-on) | Composite Blend | 96 lbs |
These figures are raw weight; without gear and additional accessories
See Also: Canoe or Kayak for Fishing…Which is Better & Why?
What Happens If You Exceed the Kayak Weight Limit?
As I have already mentioned, a lighter kayak is more likely to have a lower weight limit than a heavier one. On that note, you may wonder what you'll be risking if you buy a lighter kayak and overload it.
The total load in the kayak should be less than the given weight limit by 20-30% for safety.
Just because the kayak says it can handle a load up to 350 pounds, does not mean you should reach that capacity.
If you come too near or exceed the weight limit, your kayak may become unstable in the water, and this means an uncomfortable and potentially dangerous ride.
You may also risk sinking below the water line and even into the water itself. As a result, maintaining the weight limit is a crucial safety measure that has to be considered before loading your kayak.
Load limit is, therefore, one of the most important features that you should consider when selecting a kayak.
What Are Other Important Features of a Kayak to Consider?
Buoyancy
Buoyancy determines the kind of load your kayak will hold and how smoothly it floats. Kayaks that are shorter and narrower likely have a lower weight limit and can therefore hold less cargo weight.
All kayaks are buoyant, so don't worry about that. But, pay attention to the type of buoyancy. Is it designed for flat water or rough water? Does it have high sides or a flat top style?
Stability
Stability has a lot to do with finding the right fit. Choosing a kayak that is too big, or too small could make it feel unstable. Which is the last thing you want while on the water.
Consult a professional and describe your height, weight, and gear requirements. Lighter kayaks can be unstable especially when they are made of lightweight materials if overloaded.
Cargo Space
Cargo and storage space is very important and often overlooked. Consider you may need storage space for your tackle box, cooler, personal items, and of course safety gear. Smaller and lighter kayaks usually mean less room for stowing away gear.
See Also: Oars vs Paddles…What's The Difference?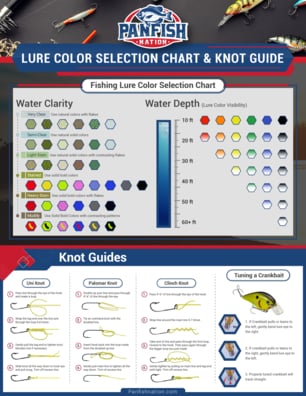 Download a copy of my FREE Lure Color Selection Chart & Knot Guide!
Stay up to date with fishing reports, tackle reviews, industry news, and much more! We respect your privacy, unsubscribe at any time.