When it comes to fishing with a baitcaster, line choice can mean the difference between bird nests and big bass. In this article, I'm going to cover the best Fluorocarbon line for baitcasters available on the market today.
This page contains affiliate links. As an Amazon Associate, I earn from qualifying purchases.
Why Choose Fluorocarbon Fishing Line For Your Baitcaster?
Fluorocarbon was originally used as leader material for saltwater fishing but has since become a staple for anglers of all types and a popular choice for many situations.
Factors like memory, durability, sensitivity and low visibility set this material apart from all others on the market. In fact, fluorocarbon, or "fluoro", has the same refractive index as water and doesn't distort any light passing through the line.
This makes it virtually invisible underwater, which is a game-changer if you are fishing clear waters or targeting finicky species.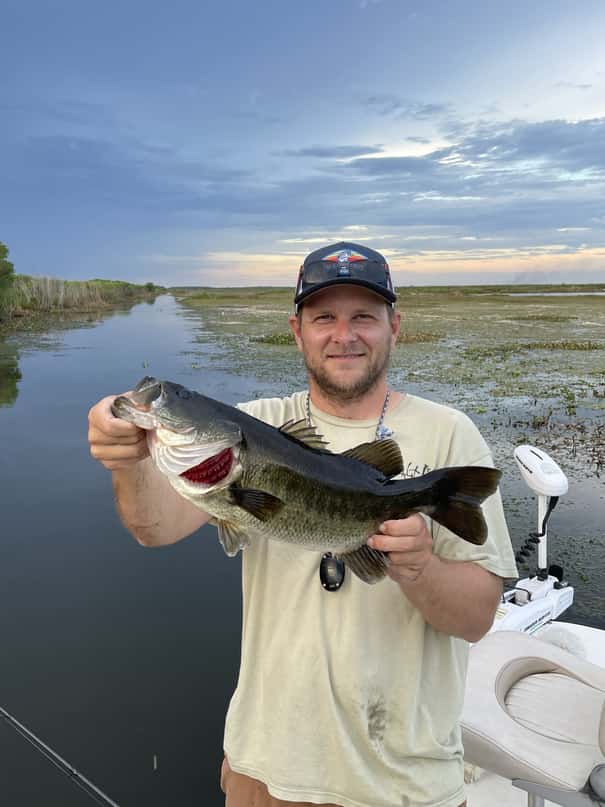 Little-to-no stretch in the line memory also makes setting the hook an easy task. The material make-up of fluorocarbon makes it highly abrasion-resistant as well as UV resistant.
A quick search on Amazon will lead you down a rabbit hole of various brands and products. If you are new to using fluorocarbon, it can be a lot to take in.
Luckily, I did some homework for you and scoured reviews to narrow the list down to five top brands. Read on for a brief review of each brand with pros, cons, and my recommendation.
Berkley Vanish
Vanish is marketed by Berkley as the easy casting fluorocarbon with what they call "wet strength." Berkley has tested hundreds of compositions to find the perfect formula for a tough fluorocarbon line that is undetectable to fish.
On Amazon, Vanish had mixed reviews on factors such as line strength and having issues with the line breaking. Some anglers swear by it as one of their favorite fishing lines, while others say they had issues with the product.
Pros:
Improved flexibility, not as stiff as competitors
Easy to cast (even at higher-pound tests)
Great for leader material
Several reviews mention catching more fish than the person fishing next to them
Cons:
Some users report tangles in light pound test
May result in a break-off around structure
Berkley Trilene 100% Fluorocarbon
Berkley Trilene 100% Fluorocarbon is a very popular fishing line, trusted by both freshwater and saltwater anglers. This line works well both as the mainline or a leader and is also used by many angling professionals.
Pros:
Highest shock strength
Smooth castability
Dries quickly
Low stretch & memory
Cons:
Some users report twisting and tangling
Stiffness, line spooling from reel
Seaguar Tatsu
The first of its kind, Tatsu (meaning dragon in Japanese) is a double-structured freshwater fluoro mainline that fuses two 100% fluorocarbon resins together. It is advertised as having the best combination of both strength and castability.
This material is among the priciest on the market, but some claim that Tatsu is worth every penny. However, critics of the brand argue that line memory and bird's nests prove to be a challenge with this product.
Pros:
Extremely abrasion resistant
Hard to break
No stretch whatsoever
Cons:
Expensive compared to the competition
Some memory, backlashes are probable if left un-used.
Spiderwire EZ Fluoro
Spiderwire is a great brand of fishing line that you can find in most retailers and has been around for ages. Many anglers like the quality this brand offers at a very low price.
Pros:
No stretch, solid hooksets
Easy to cast, even with lightweight lures
Strong line
Cons:
Not as durable as other flurocarbon fishing lines
Tangles easily in spinning reels, but had great reviews for baitcasters
KastKing FluoroKote
Developed in 2016, KastKing FluoroKote is now a best-seller among fluorocarbon fishing lines on Amazon. However, this product is a fluorocarbon coated fishing line, which maximizes the advantage of invisibility with the low memory and superior castability of the copolymer material underneath. This product was also given a sparkling review by a tournament angler.
Pros:
Low memory, does not backlash often
Minimal stretch
Fishes well around rock or rough structure
Very affordable
Cons:
If your line does backlash or bird's nest, it can be difficult to get out
Fluorocarbon coating, not 100% pure resin
Best All-Around Fluorocarbon Line For Baitcasters
Berkley Trilene 100% Fluorocarbon
This product seems to be the biggest bang for your buck, given the quality of the 100% fluorocarbon material at reasonable prices. Not to mention, it is an easy product to find at most convenient retailers or tackle shops.
Overall, Trilene Fluorocarbon is liked by most and upheld for its line strength as well as hook strength. Of all the Berkley fluorocarbon products, this line is rated with the highest shock strength. It casts and retrieves smoothly, but minimal stretching allows for a solid hookset.
Tips For Using Fluorocarbon Line On Your Baitcaster
Consider backing your spool with an inexpensive monofilament line for the first 50-75 yards. This will prevent your fluorocarbon line from slipping or biting, and it will make that 200-yard spool last much longer.
Flip over your spool when winding onto the reel; apply firm tension but do not overtighten.
After spooling, go outside and pull off the first 100-150 yards of line- and reel back on. Do this a few times to find the natural lay of the line and remove any twsits.
While using fluoro, either as your mainline or as leader material, keep in mind that it is generally thinner and slicker than other types of fishing line.
Be sure to wet your knots before you cinch them, and tie carefully.
Fluoro is less forgiving than monofilament or braid; keep this in mind when setting the hook. It doesn't stretch!
See Also: Choosing between High-vis or Low-vis Fishing Line?
Conclusion
I hope you found this article useful in trying to find the right fluorocarbon line for your fishing needs.
Remember, fishing with fluorocarbon line on your baitcaster is much different than monofilament or braided line.
It takes some getting used to and a bit of practice (just like learning to use a baitcaster)…BUT, there are numerous benefits to using it and every angler should have at least one fluorocarbon setup ready to go.
Thank you for reading and good luck next time you are on the water!
See Also: What's more important, the rod or the reel?
If you haven't guessed yet, I love fishing and everything about it!
To learn more about why I started Panfish Nation, visit the About page and follow along on Social Media: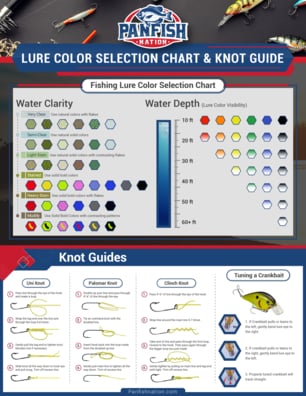 Download a copy of my FREE Lure Color Selection Chart & Knot Guide!
Stay up to date with fishing reports, tackle reviews, industry news, and much more! We respect your privacy, unsubscribe at any time.