My Dad is my best fishing buddy, and we both eat, sleep and breathe fishing. I can't count how many times I've bought him fishing gifts over the years for his birthday, Christmas, and other events.
So in this article, I'm going to share 12 fishing gifts for dads…and if your father is anything like mine, I promise he will love any one of these ideas!
This page contains affiliate links. As an Amazon Associate, I earn from qualifying purchases.
Toadfish Non-Tipping Can Cooler
Dads love cold drinks. It's just a fact! This Toadfish Non-Tipping Can Cooler keeps beverages ice cold, but the suction cup on the bottom keeps it from tipping over while in the boat, at the dock, or even in the truck.
It's vacuum sealed, which means it keeps things ice cold and doesn't get all sweaty. Trust me, everyone loves these!
Bubba Electric Fillet Knife
Catching fish is the fun part, but cleaning a mess of fish can be a lot of work. Make it easy on your old man with an electric fillet knife from Bubba.
These ergonomic and non-slip electric fillet knives are available in both corded and cordless models and come with a few different knife blades (interchangeable) and a carrying case.
With an electric fillet knife, my dad and I can clean through a limit of 50 crappies in less than 1 hour. Plus, you'll save more meat and have less waste.
PENN Fierce Inshore Spinning Reel
PENN has been making fishing reels since your dads, dad…(That'd be your grandfather, right?). Anyway, PENN fishing is synonymous with durability, quality, and consistency.
The PENN Fierce inshore spinning reel is a highly rated reel suited for both freshwater and saltwater fishing. If your dad mainly fishes in freshwater for bass, panfish, and catfish, choose something in the 4000 sizes or smaller.
If pops like to fish coastal waters and saltwater for bigger fish like jack crevalle, bluefish, and stripers, Pick up a 5000-8000 size reel.
Trac Outdoors Fishing Barometer
Fishing is often dictated by the weather, and more specifically the atmospheric pressure.
And since dads LOVE to talk about the weather anyway, so I promise he's gonna love this fishing barometer. You can easily tell when pressure is dropping or rising, and the best times to go fishing.
Inflatable Life Jacket
My sisters and I bought one of these for my dad years ago, and we make sure he wears it anytime he's on the boat.
Not only does it gives us a piece of mind, but it gives dad some comfort too.
These aren't the big bulky life jackets we had when we were kids, inflatable life jackets are ergonomic, form-fitting and automatically deploy when in contact with water.
Rush Creek Rod Rack & Storage
If your dad is anything like mine, he likes to keep his gear organized (and don't you dare touch it!).
This 14-rod storage rack from Rush creek can hold plenty of tackle, with built-in shelves. Works great in the garage, but it's nice enough for the office, den, or 'mancave'.
Engel Live Bait Cooler
When it comes to live bait fishing, keeping your bait fresh and healthy makes all the difference in the world.
Whether your dad likes to fish with live minnows, shrimp, shiners, leeches, or practically any other bait, the Engel Live Bait Cooler has a built-in aeration system and insulation to keep your bait kickin' all day long.
This cooler works on the boat, or, on the bank or dock. It's portable, easy to carry, and easily converts to a regular cooler to carry dad's favorite 'frosty beverages'.
GoFish Underwater Camera
If you REALLY want to impress Dad, and get him a fishing gift that is more like a toy, check out the GoFish Underwater Camera.
This underwater camera is built to attach to a fishing line so that dad can capture the exact moment a fish bites. You can even watch the underwater footage right on your smartphone.
Works great for ice fishing too, just drop it down with a light and quickly determine if any fish are in your area. This one is a ton of fun to play around with!
Piscifun Line Spooler
Chances are you've seen your dad change out the fishing line from one reel onto another. I know when I do it, I've used pencils, shoes, and all sorts of contraptions to manage the tangled mess of line.
A line spooler is a perfect solution to quickly add and remove a fishing line from any type of fishing reel. Simply place your spool of line onto the holder, and reel it directly onto the reel.
This handy gadget saves a lot of time, and more importantly, it prevents line twists with its adjustable brake.
Motherlode Mystery Tackle Box Fishing Kit
Mystery Tacke box revolutionized the at-home delivery of fishing lures a few years ago, and now you can purchase their products without a recurring subscription.
I recommend the Motherlode Bass Box because it has everything you need for freshwater fishing. Whether dad likes to fish for largemouth bass, smallmouth bass, or striped bass, these hand-picked lures are name-brand and proven to get bites.
Redington Fly Fishing Combo
If there ever was a sub-set of fishing built for dads, it's fly fishing!
Trust me, every dad is curious about fly fishing, but probably too stubborn to give it a try or buy the equipment themselves.
The Redington Fly Fishing Combo is a great entry-level fly fishing setup perfect for beginners, without sacrificing quality. This sub-class of fishing requires patience and practice, but it is so rewarding and relaxing. Maybe dad could use a little relaxation, eh?
StarBrite Boat Cleaning Kit
Dads love to wash cars (it's a right of passage), and if your dad owns a boat chances are he loves to clean it too.
The StarBrite Boat Cleaning kit comes with everything dad needs to clean up the ol' boat including vinyl protector, hull wash, polish, and microfiber mitt. Heck, it even comes with the bucket!
Heated Fishing Jacket
Sometimes the best fishing days are when it's cold and windy, and don't let that stop dad from going out and doing what he loves.
This Heated Fishing Jacket comes with a built-in battery pack and up to 5 adjustable settings. It's even safe for the washing machine! My dad would NEVER buy this for himself…but if he received it as a gift…yep, he would wear it and love it!
Final Thoughts
Dads love to fish. It's just a fact.
So show some love and support and buy your dad, husband, or father figure a fishing gift.
And more importantly, go fishing with him! I hope these Fishing gifts Ideas for dad helped you out…As I said, I know my dad would love any one of these!
If you haven't guessed yet, I love fishing and everything about it!
To learn more about why I started Panfish Nation, visit the About page and follow along on Social Media: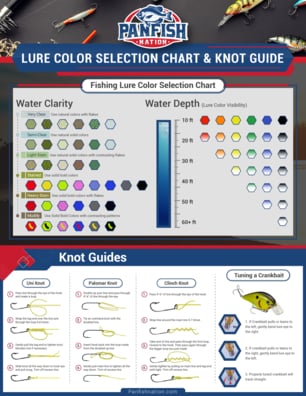 Download a copy of my FREE Lure Color Selection Chart & Knot Guide!
Stay up to date with fishing reports, tackle reviews, industry news, and much more! We respect your privacy, unsubscribe at any time.