This page contains affiliate links. As an Amazon Associate, I earn from qualifying purchases.
The largemouth bass is a sportfishing icon, the most sought-after gamefish in the entire country and introduced the world over.
No matter where you go, you'll find people with bass fever, and no shortage of waters in which to catch them!
That being said, it's no mystery why thousands of different manufacturers have tried their hand at making countless bass lures for sale on the market.
How can you tell which ones are worth their salt? Fret not, because we here at Panfish Nation have compiled ten of the most solid options out there.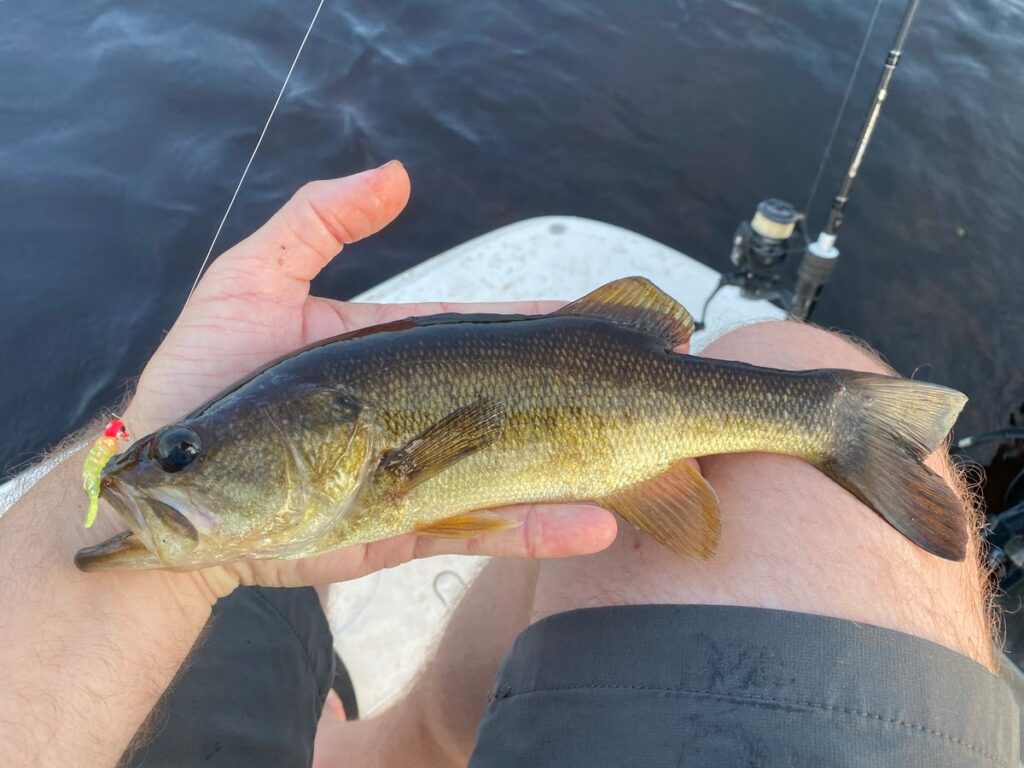 These lures are presented in no particular order, and each will have its own pros and cons. But used under the proper circumstances, all of these prove effective at landing largies time and time again!
Of all the ways to fish for big bass during those hot summer months, topwater fishing has to be my favorite.
Of course, during this time of the year, many bodies of water where I live become completely clogged up with weeds. Enter our savior, the Booyah Pad Crasher!
Hollow frogs like these won't snag on floating vegetation, and cast a long way, making them easy to use and throw precisely.
Nothing beats the heart-pounding rush you get when you see that huge blowup, patiently counting to three to avoid setting the hook too early.
Booyah even sells a smaller "junior" variety of this lure for smaller or more picky fish. There are many frogs to choose from, but this one is a time-tested classic.
Lipless crankbaits are relatively new to the angling scene, but have already proven their worth.
Their more streamlined design can give a more lifelike appearance when retrieving, and they are often fitted with rattlers to make a lot of noise underwater.
This holds true for the Rat-L-Trap! This lure is robust enough to withstand snags in weeds and dings on rocks, and it makes an absolute ruckus when you retrieve it.
This may not be the choice for finesse fishing, but if the bass are in the mood for a chase, this crankbait is sure to turn on their predatory instincts.
You may recall seeing this soft plastic lure in our list of the best lures for autumn bass fishing.
I'm opting to shout it out again because I really do think it's that versatile! After all, it mimics a worm on a hook, the quintessential bait when it comes to freshwater fishing!
I use these worms wacky-rigged with little or no weight (1 split shot at most to aid in casting). Simply give it the tiniest taps you can evry few seconds to wiggle your worm across the bottom!
This lure works great for finesse fishing in the fall, but bass will slurp them up in many other conditions as well!
Panfish like sunfish and crappie also love giving these baits a look, so don't be surprised if you complete a full slam while using it.
Different people will tell you different things about which brand of stick bait is the best. Maybe I'm just not that picky, but in my opinion, they all work just as well as all the others! I usually go with the cheapest option I can find when buying these, but that doesn't make them any less effective.
They can be used wacky-style just like the previously mentioned trout worms, but their larger size allows for more presentations that will attract larger fish while intimidating any small bait-stealers.
Carolina and Texas rigs are two of the most popular presentations out there, but there are many, many more to choose from! Jig heads, unweighted, with bobbers, you name it and there's a way that stick baits can get the job done.
Personally, my favorite ways to use them are simply stuck to a jig head and slowly bounced across the bottom in deep holes, where bigger bass often retreat to escape the summer heat. This presentation means they won't have to give chase to their meal and are more inclined to snap it up.
I just mentioned how I loved jigging stick baits through deeper holes, and I do! But when jigging in water I can see the bottom of. I prefer to use crayfish. The Rage Craw mimics this freshwater crustacean surprisingly well, and it fools me just as often as it fools the bass!
I use slightly more weight when jigging these craws compared to worm lures, because I want to give off the impression that they 'hug' the bottom.
Sometimes this bait's wiggling 'claws' are the trick to getting the job done. I know of a very peculiar population or largies at 6,000 feet in Crystal Lake, Southern California. Near the shores of these alpine waters, they ignore every type of bait I've ever thrown at them… except for soft plastic crayfish!
Something about the way these baits move has a way of convincing those hook-shy bass to take a nibble, and they are always great to have as 'backup' when I'm trying something new.
Bass live in a wide variety of habitats, and this well-made, relatively cheap inline spinner can tackle them all! A wide variety of sizes allows anglers to easily match the size of the fish they're searching for, and the panther martin's robust design means it's unlikely to break down with time.
The one thing spinners like these don't excel at is vegetation, so keep this lure away from weedy or snaggy areas (stick to frogs here!). This bait works wonders in smaller, flowing creeks and brooks, where largemouth and smallmouth bass often cohabitate. Both will readily take this lure!
The larger sizes of this spinner perform well in large, clean lakes along dropoffs and structure, although I prefer other lures when fishing in this environment.
While frogs are my go-to topwater bait for weedy areas, fish-shaped hard poppers are my favorite in clearer and/or deeper bodies of water. Many brands get the job done, but the Pop-R is a tried and tested bass slayer!
Poppers such as these can be popped slowly, skipped across the water, or zig-zagged like an injured fish. Just like with topwater frogs, the blowups you can get are my favorite part about using this bait!
These poppers work best directly adjacent to logs and other structures under which bass may be hiding, looking upwards for something to pounce on. Unleash their inner tiger and get them on the line.
This here is the very first artificial lure that I ever used! I have many fond memories of my dad and I absolutely smoking some bass at various golf course ponds with one of these lures in the 'fire tiger' pattern.
Bomber makes a wide variety of crankbaits with different shapes for different depths and sizes of fish, but the fat free shad is perfect for all-around use. It doesn't overcomplicate anything, and works wonders whenever it's cast.
Simply cast this lure out to your desired entry point, and slowly and steadily reel it back in. Give the rod an extra twitch every 10 seconds or so to simulate an injured fish.
I love using this crankbait along the drop-offs of small and medium sized ponds while bank fishing, probably due to nostalgia. I haven't tried it, but I'm sure this lure would do great in larger creek and river environments as well!
Spoons such as this one work on almost every big game fish you can imagine, fresh or saltwater, shallow or deep! Bass are no exception.
Being made of metal, this lure is easier to keep down than other, less dense baits. This makes it ideal for fast retrievals in deeper water. Just be sure to give it time to 'flutter' down to your reeling depth!
If you know what types of bait fish live in the body of water you plan to fish, you can even buy a spoon to match their color. If not, I always fall back on the solid silver or gold models!
I prefer to use this lure in clearer waters under a sunny sky to make the most of their ability to flash like a baitfish would, but I have had luck in cloudy conditions (water or sky) as well.
The segmented design of this hard swimbait gives it that hyper-realistic edge when imitating bait fish to a tee is the goal. These are perfect for those ultra-pressured bass that have learned to differentiate less realistic lures!
As with the spoons, these lures are sold in a variety of color patterns to mimic whatever baitfish are in the water you are fishing. This bait can be retrieved slowly or quickly, and the joints give it the abiloity to use for finesse purposes that other swimbaits fail at.
I prefer to let it sit midwater and jerk really hard once in a while, to simulate an injured baitfish clinging to its last bits of energy. Big bass often can't resist this presentation.
Conclusion
Every single category of bait covered in this article has many different brands you can choose from. Just because a certain lure isn't featured here doesn't mean it won't work. Bass can be finicky, but a lot of the time they'll bite just about anything. Always try what you have before heading to the store!
However you like to fish for bass, I hope that this list helped make the process of bait selection just a little bit easier. As always, the best way to catch fish is to get outside and get fishing! Good luck to everyone, and tight lines.
If you haven't guessed yet, I love fishing and everything about it!
To learn more about why I started Panfish Nation, visit the About page and follow along on Social Media: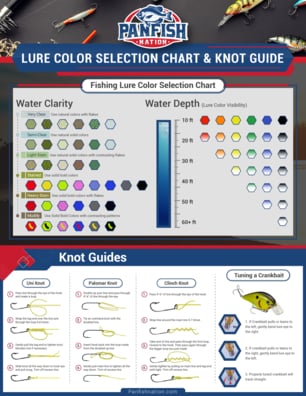 Download a copy of my FREE Lure Color Selection Chart & Knot Guide!
Stay up to date with fishing reports, tackle reviews, industry news, and much more! We respect your privacy, unsubscribe at any time.