When it comes to fishing for Crappie there is no shortage of bait options for anglers to choose from. Should you try pink feather jigs or live minnows? Trolling ultralight crankbaits or tube baits?
Which lures to use, and when?
In this guide, we are going to cover the BEST of each category: Live bait, lures, and attractants. By the end of this article, you should have a great understanding of each option and be more informed next time you hit the lake…which means catching more and bigger fish!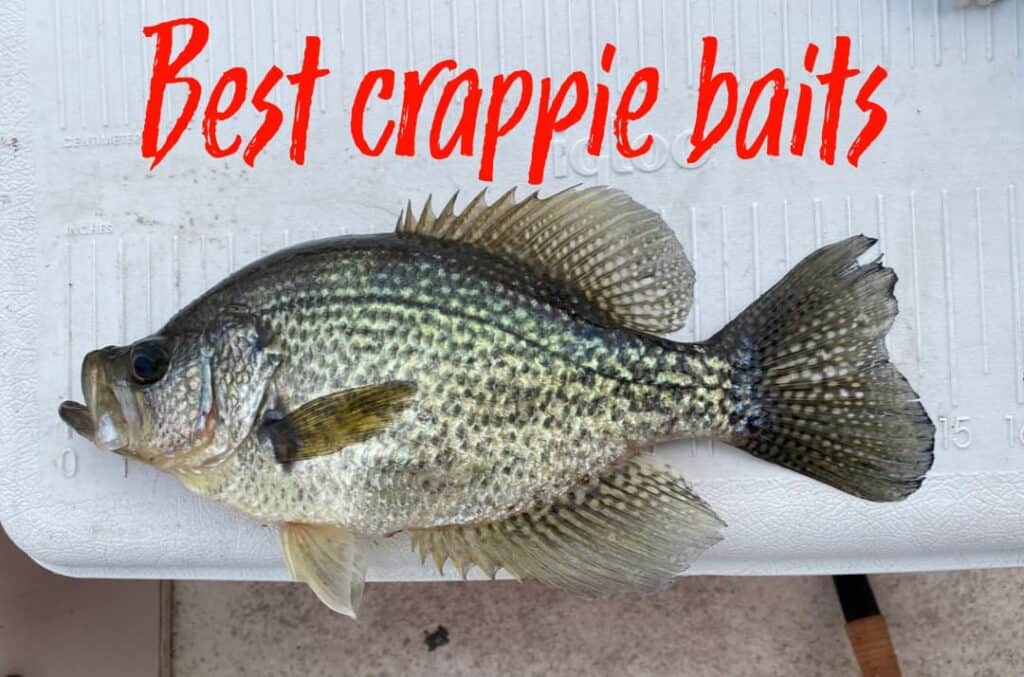 This page contains affiliate links. As an Amazon Associate, I earn from qualifying purchases.
Best Live Baits For Crappie
Live Minnows
Live minnows are hands down, without a doubt, THE BEST LIVE BAIT OPTION FOR CRAPPIE. It's just that simple! The reason for this is because minnows and other small forage fish are one of the main year-round food sources for crappie.
They can be fished live or dead, deep or shallow, trolled, cast, jigged, or fished under a bobber. When Crappie won't bite anything else, try minnows!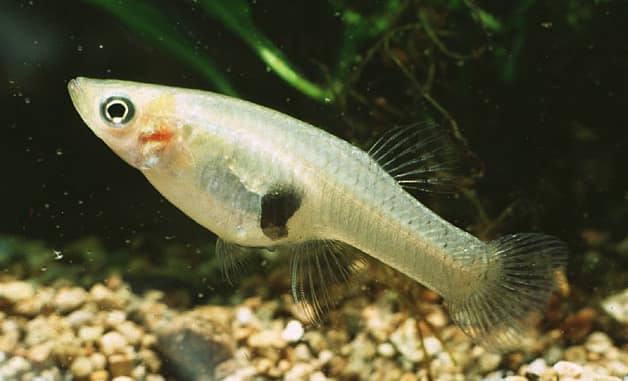 Mosquito fish- One of the most common minnows found in the United States. Catch them with minnow traps, or dip nets. Crappie can't resist!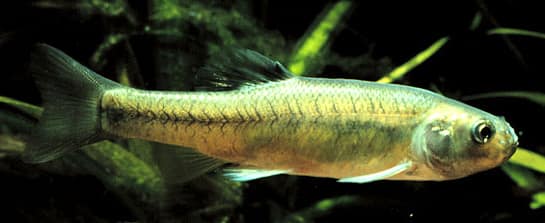 Bullhead Minnow- Found throughout the central and midwestern United States. Excellent live bait!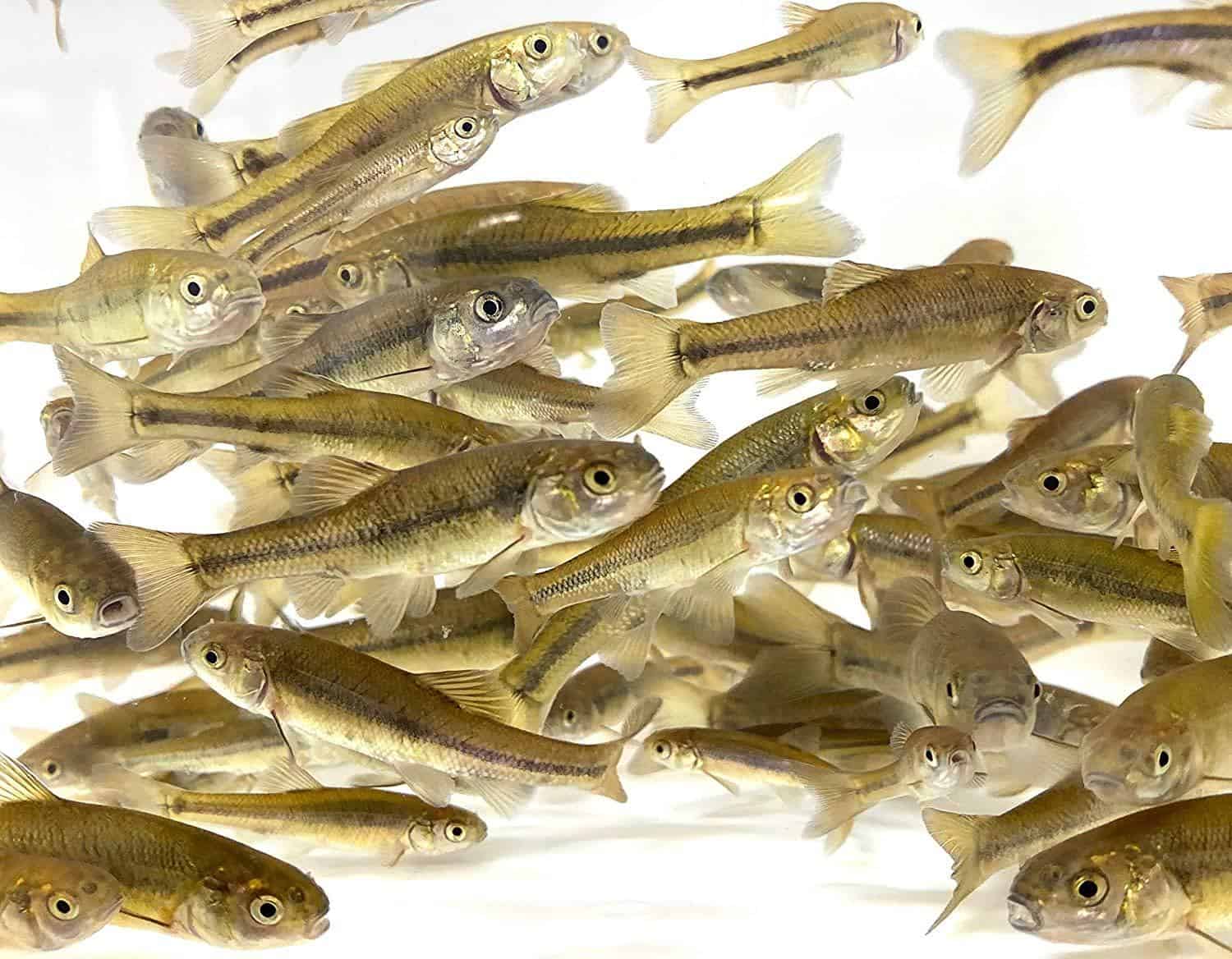 Domestic Minnows- widely available at bait and tackle shops. Very effective and usually inexpensive.
You May Also Like: 7 Tips To Keep Minnows Alive Without An Aerator
Live Grass Shrimp
Did you know that there are shrimp in freshwater lakes? Yep, and lots of them too! Freshwater grass shrimp are found in weedy vegetation in most lakes, and are a very common food source for Crappie.
Grass shrimp are not always available at bait shops, but it's very easy to catch your own.
All you need is a small mesh dipnet (3/16″ mesh or smaller). Find an area in your local lake or pond that has thick matted vegetation. This could be hydrilla, eelgrass, milfoil or even just a thick grassy shoreline.
Take your dip net and scoop under the vegetation; shake the net back and forth as you raise it upward toward the surface. Grass shrimp and other insects and larvae live within that vegetation.
By scooping the net upward and agitating the weeds, you are trying to scoop up the shrimp as they fall out.
This tactic works best during the summer or warmer months- but the bonus is you may never know what else you will get as bait. You may catch minnows, crawfish, and other juvenile all which can be excellent choices as live bait for crappie.
Live Crickets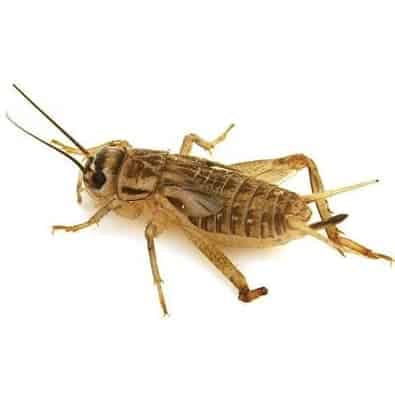 Ok, I know what your thinking- Live crickets for crappie?! That's a bream bait!
Well, actually crappie are voracious insectivores and a live cricket is an insect that crappie will absolutely feed on!
One of the biggest benefits of crickets is that they are readily available. Most bait and tackle shops carry crickets, and they can even be purchased from pet shops or ordered online.
They are affordable, easy to keep alive and offer an additional live bait alternative to target crappie.
To catch crappie with live crickets, fish them the same way you would with a live minnow. Small wire hook under a slip bobber or free-lined through vegetation and open water.
Crappie Lures
Let's face it, sometimes live-bait crappie fishing is just more difficult. Sometimes you can't find bait, other times it can be hard to keep the bait alive, or they're just not biting.
That's where crappie lures come into the picture; they can produce bites even when live bait won't do the trick. Below are my picks for the Top 5 best Crappie Lures of all time:
#1 The Crappie Magnet Jig
The Crappie Magnet jig and system is developed by Leland Lures. They specialize in smaller and simple soft bait jig systems geared toward crappie, panfish, and trout.
They are extremely durable, stay on the jighead even after short bites, and are just the right size. I personally use these and they work GREAT!
Extremely durable soft-baits- keep your bait in the water longer; spend less money replacing them.
Unique split-tail design. Simple, but deadly effective that out-fishes traditional curly tail baits.
Very effective when fished vertically or casting and retrieving. It can also be trolled or fished under a bobber.
Available in a wide assortment of colors and jig-head sizes
Made in the USA
#2 Johnson Beetle spin
If I could only have one freshwater lure, to use across all species for the rest of my life…it would be the Johnson Beetle Spin. This timeless lure is capable of triggering bites from almost every fish that swims…and especially BIG CRAPPIE!
Combines the action of a soft bait grub with the flash and vibration of a spoon.
Easy to cast, works well at all water depths.
Available in a wide assortment of colors and weights (my favorite is a 1/8th ounce black and green).
Extremely versatile; This lure will catch fish in Canada, Mexico, and everywhere in between!
#3 Strike King Mr. Crappie Tube Bait
Tube baits have been around a long time, and it's because they are very effective at catching hungry crappie. The Mr. Crappie series of Tube baits made by Strike King are very popular and well made.
Pair them with a micro jig and get ready to catch some fish. This lure works extremely well during the Spring spawning season when Black Crappie or White Crappie are staging in shallow water near vegetation and structure.
Simple and easy to use, no special technique or method required to catch fish!
Very affordable.
Available in a wide range of colors, including multi-color options such as blue/yellow or black/silver.
Excellent lure choice for ultralight tackle and cane poles.
#4 Marabou style Crappie Jig
The Marabou style of jig may be the oldest lure on my list. Unlike its plastic counterparts, the Marabou jig is made from either feathers or hair, which gives the bait a much more realistic presentation underwater.
Every wave, rod twitch and ripple gives this bait life- which Crappie cant resist.
Very affordable and widely available around North America.
Available in a wide range of colors and weight options.
An excellent choice for trolling or vertical jigging. May also be tipped with live bait such as minnows.
Painted eyes add extra level of detail not found on traditional lead jigheads.
#5 Rattletrap Tiny Trap
The Rattletrap Tiny Trap is the only hard-bait style lure on my list, but for good reason! Many bass anglers have caught crappie fishing with this lure because it does such a great job of mimicking a top food source for crappie- baby shad!
Excellent casting range.
Capable of reaching very deep water, up to 40+ feet.
Available in a variety of colors and sizes.
Distinct rattles create unique vibrations that trigger even the pickiest crappie.
Great choice for trolling and targeting big aggressive crappie.
Crappie Bait Attractants
An often-overlooked element when choosing the best crappie baits is scent, but let me tell you right now that scent plays a BIG role in getting bites.
In fact, adding scents to lures has been around for ages- people have tried everything from Castor oil to WD-40.
Crappie Slabsauce Scent Attractant
Easy to apply with spray bottle cap
Works on plastic soft baits, live bait and even crankbaits!
Specifically designed for Black and White Crappie.
Baitmait Scent Attractant
Made in the USA.
All-natural oils and pheromones to attract fish and mask unwanted scent.
Easy to apply spray bottle cap.
Specifically designed for Crappie and Panfish.
You May Also Like: The Top 10 Bluegill Lures Of All Time
Conclusion
Crappie are the most popular panfish in North America, and one of the tastiest fish that swim. But sometimes catching crappie is much easier said than done.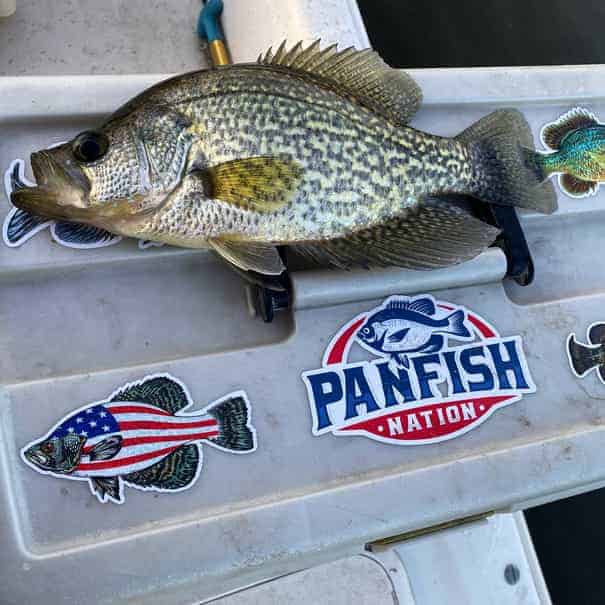 Understanding the best Crappie baits, and how to use them is critical to a successful (and fun!) day on the water. I hope you enjoyed this article.
Now that you know which baits are best for crappie, check out my article on the best time of year to catch crappie.
If you haven't guessed yet, I love fishing and everything about it!
To learn more about why I started Panfish Nation, visit the About page and follow along on Social Media: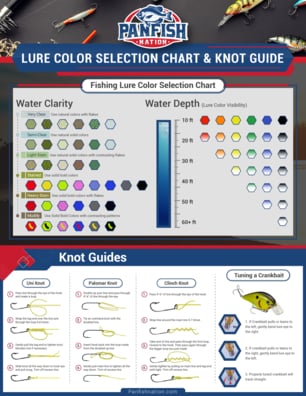 Download a copy of my FREE Lure Color Selection Chart & Knot Guide!
Stay up to date with fishing reports, tackle reviews, industry news, and much more! We respect your privacy, unsubscribe at any time.