Across the ice belt, anglers young and old will agree that walleye are a top target through the ice.
Determining the best rod for you will depend on your preferred method for targeting these nocturnal marble eyes.
The top three styles of walleye fishing include;
Waiting for hungry schools from the comfort of an ice shack
Aggressively hole hopping to chase down active schools
Soaking live bait near walleye feeding grounds
In this article, I am going to highlight 6 of the best walleye ice fishing rods and my top two selections for each of the three methods listed above.
This will include both, off-the-shelf and custom rod options.
This page contains affiliate links. As an Amazon Associate, I earn from qualifying purchases.
Best Walleye Rods for Fishing In An Ice House
Cities of ice shacks litter popular walleye fishing lakes throughout the winter months in the midwest.
When fishing from a shelter, your main restricting factor becomes space available to comfortably work your bait and set the hook. Length will be the biggest factor for these rods, typically around 32" or less.
Jigging spoons, rattle baits, and jigs will be the most common bait choice in this scenario, so a medium or medium light power fast action blank is ideal.
13 FISHING – Tickle Stick 28" Medium Fast Action
This rod is an amazing off-the-shelf option for indoor walleye fishing.
A key feature of the tickle stick is the completely flat tip that provides unbelievable sensitivity and adds consistency to your hook set, as the rod's action stays square with the rest of the blank.
The 28" length feels short, but the design of the Tickle Stick rod blank provides confidence that the fish will stay hooked through the whole fight.
It has a shorter compact reel seat which leaves more rod blank available to support the weight of large fish.
The ultra-sensitive tip does restrict the size of your bait and I would suggest keeping your lure profile on the smaller size.
Using rattle baits and heavier lures will engage the action of the tip and take away the ability to detect bites as effectively.
Della Bay – Eye Dropper 32" Medium Fast Action
https://www.dellabay.com/ice/eyedropper
The compact design of the eye dropper makes it ideal for fishing indoors.
It has the sensitivity needed to detect the lightest bite but has a stout backbone needed to battle the aggressive headshakes of a hooked walleye.
Jigging spoons, jig & minnow rigs, and small rattle baits are going to be the best options for use with this rod.
I prefer the full cork custom reel seat option as it provides a more comfortable large profile handle to keep a good grip on the rod, and I can use bands or tape for a flush-mounted feel.
This does not take away from the sensitivity of the rod blank and every bite can be felt into the handle.
Best Walleye Rods for Hole Hopping Outside
The seasoned and more active walleye ice angler will opt for the aggressive nature of hole hopping to target actively moving hungry fish.
The power and action of a hole hopping rod are the same, or similar, to your indoor jigging rods with a medium to medium light fast action.
Again we are focused on length, and I suggest going with something 32" or longer.
This makes hole hopping more comfortable, as a longer rod will give you the option to remain standing while jigging and still be able to control your line and bait.
The longer rod also increases the parabolic bend of your rod blank which will extend the support of the backbone and really makes fighting larger walleyes a blast.
Della Bay – Lamp Lighter 36″ Medium Fast Action
https://www.dellabay.com/ice/lamplighter
Hole hopping is flat-out exhausting, the longer length of this rod gives you the ability to stay on your feet as you move from hole to hole.
The sensitivity needed to detect bites is still there but can size up to larger profile baits because the graphite blank allows the tip to stay rigid.
Any time I've hooked a sizable walleye with the lamp lighter I've never worried if I have enough rod to handle it.
The beauty of the medium fast blank is that bite detection will also never be an issue regardless if you are catching eaters or trophies.
Clam – Jason Mitchell Dead Meat 36" Medium Fast Action
This is by far my favorite retail option for ice-fishing walleye rods. The Jason Mitchell Elite Series of rods are in the perfect price range for any angler and there is no sacrifice in quality.
The Dead Meat Rod is so popular in fact that finding one anytime during peak ice fishing season will be a challenge so get them in the fall when stores get stocked up.
The full fiberglass blank gives you a great mixture of power and sensitivity needed for aggressively chasing walleye. It comes in several sizes so keeping with our theme of hole hopping I suggest the 36" option.
They have designed this rod to have a stout profile all the way into the tip giving it strength to support large baits but maintaining its ability to provide great bite detection. 
My favorite feature about this rod, outside of value, is that it is built with oversized guides in an effort to reduce ice build-up.
This is hugely important being outside in subarctic temps that will freeze small water droplets on your guides immediately.
Best Walleye Rods For Set Lines Or Dead Sticks
Dead sticks and set lines can be very productive all season long when targeting walleye. Especially in states that allow the use of two or more lines, which allows you to pair it with one of the other styles we've discussed to cover more area.
This method usually requires you to set your live bait rig under a bobber or on one of the many various tip-up or tip-down options that allow you to use a rod as opposed to hand lining.
You May Also Like: What Is The Difference Between Ice Fishing Reels and Regular Reels?
My go-to is setting a rod in an iFish Pro tip-up, as it allows me to put distance between myself and the bait so as to not disturb curious walleye that lurk near my bait.
When selecting a rod for this application you will want something with a soft tip and slower action. This will allow the rod to bend in a way that maintains tension but also has enough length to not allow the rod to go straight and lose tension on an aggressive head shake.
This gives you enough time to make the run to your set line to make a good hook set that starts the ensuing fight.
JT – Walleye Snare 32" Medium
https://jtodp.com/product/jt-walleye-snare/
The Walleye Snare is the premium rod for this application, as it was specifically designed for it.
A blend of fiberglass and carbon fiber gives it the specialized action needed from a dead stick. A big bright orange spring bobber on the end acts as the bite indicator.
When a walleye grabs your bait with a Walleye Snare it's the light spring bobber that will indicate the initial bite.
As the walleye slowly swims away it won't feel a thing, thanks to the soft blank. This will give you plenty of time to get there for your hook set.
If by chance the fish does begin to feel that it may have been tricked and decides to make a run for it, the carbon fiber gives the rod a unique ability to set the hook for you.
In this case, when you get your hands on the rod, hold on tight because that walleye is going to be angry.
Clam – Jason Mitchell Meat Stick – 28" Medium
The Meat Stick is another rod that has been specifically developed to be used as a dead stick or set line.
A high price does not mean better in all cases and this is a great example. Similar to the Dead Meat, make sure to pick one up early, or you'll be waiting until next year.
The rod blank is sanded graphite and fiberglass with oversized guides that will resist ice build-up. The 28" length will make this a solid option for set lines inside a shack as well as outdoor dead sticking.
I would not hesitate to add this rod to your lineup if you spend any time soaking live bait for Walleye.
Which Rod Is The Best All-Around?
We can all get lost in the sauce trying to specialize in every aspect of our fishing to gain that little edge to catch more fish.
Seasoned anglers and newbies alike need a go-to confidence rod that can always be trusted to get the job done day in and day out.
From this list that rod is the "Dead Meat" because of the wide range of sizes and great value.
I hope this helps narrow down your shopping list as you prepare for the first ice this season.
Stay safe and stay topside! 
If you haven't guessed yet, I love fishing and everything about it!
To learn more about why I started Panfish Nation, visit the About page and follow along on Social Media: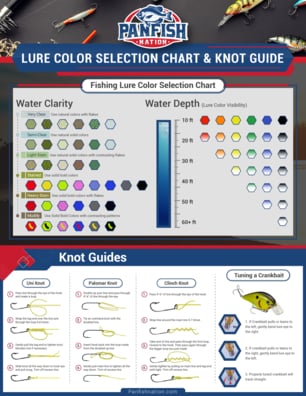 Download a copy of my FREE Lure Color Selection Chart & Knot Guide!
Stay up to date with fishing reports, tackle reviews, industry news, and much more! We respect your privacy, unsubscribe at any time.
Related Posts