I'm a multi-species angler, meaning I like to catch a variety of species. But one particular species has evaded me: The Peacock Bass.
So after doing some research online, I decided to book a guided trip to help me check this exotic fish off my list. And I'd bring my dad along with me since he's never caught one either.
In this article, I'm going to share my full experience booking a guided fishing trip with FishingBooker.com. This was my very first time ever using their platform, and only my third time ever using a fishing guide.
This page contains affiliate links. As an Amazon Associate, I earn from qualifying purchases.
Researching The Trip
I know that peacock bass are geographically isolated to South Florida, but I wasn't sure exactly where to go. So, I simply typed in "South Florida" into the destination bar, and entered a date that worked for me and Dad.
After hitting check availability, a ton of results popped up. Everything from offshore charters for marlin and sailfish, to Everglades trips for largemouth bass.
So I scrolled down on the left, to select the species I was after: Peacock Bass.
That narrowed down my results to 34, but I still wasn't sure where to go or who to book with…
So I opened up the map, to get a better idea of what was closest to my area. I am located on the east coast, and preferred to stay on this side of the state.
With the map, you can zoom in and out to your area, and the results will change depending on what is showing on the map (very similar to hotel booking sites like Expedia, etc).
Anyway, with this feature you can see prices, reviews, and a snapshot of the charter captain. There are also a few other features you can filter by, such as morning/afternoon trip, price, etc. It's pretty easy to navigate.
Once I was zoomed into the area we were willing to drive, I closed the map and then just read through the different charter captains' profiles and pages.
Here you can read recent reviews, prices, cancellation policies, and much more.
I am a big fan of reviews, so that was my main criterion. If I see a captain that has a lot of recent and happy customers, that gets my attention.
The Booking Process
You can search on FishingBooker without having to create an account, but when it comes time to book a trip, you need to sign up with a free account.
It's very easy, it gave me the option to just create an account with my Gmail, but you can also use Facebook, Apple, or just a regular email address.
Once you sign up, you'll get a profile page where you can upload a photo, save trips to your favorites, etc. It's really easy.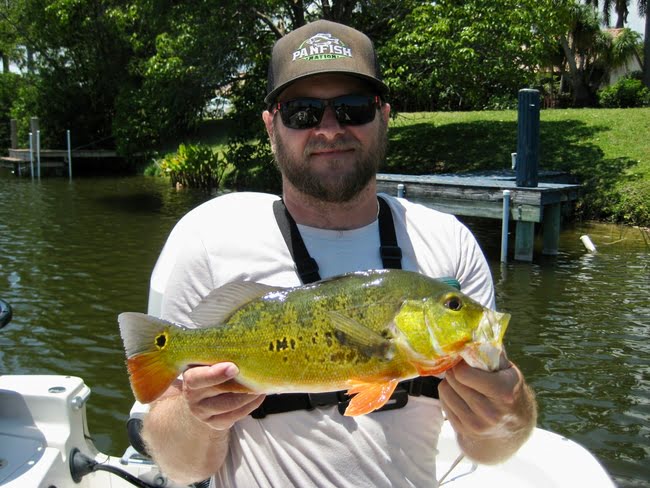 Our Charter Trip
After taking some time to read through the results, I ultimately settled on Locked N Loaded Charters with Captain Adam Wojciechowski.
It was only a couple hours' drive from my house, he had a ton of recent reviews and specifically targets Peacock Bass and Clown Knifefish. Plus, he provides all the live bait and had a 6-hour trip available which is what we wanted.
So, all that was left was to book the trip.
For this particular charter, we paid 25% down directly to FishingBooker.com, then the remaining balance was to be paid to the captain on the day of the charter.
Immediately I received an email confirmation and a text message confirming the trip, which was nice. In my account profile under 'Bookings' I could see the upcoming trip.
This particular trip also had free cancellation up to about 48 hours prior which is nice in case something comes up.
Communicating With The Captain
After booking the trip, there was also a section where I could message the captain, and ask any questions or put in a special request, etc.
We like to use our own fishing gear, so I messaged the captain to ask if it would be alright if we brought our own rods and reels.
To my surprise, he responded right away!
I also asked about paying the remaining balance…do I need to bring cash? Will he accept credit cards out at the lake? And again, I got an immediate response:
This is a nice touch, having the ability to chat directly with the captain to go over any other trip details.
I'm somewhat local, but I can imagine if you're traveling from hundreds or thousands of miles away this feature would really come in handy.
The whole process took me about 10 minutes in total. Five minutes to do a bit of research and read the results, and less than 5 minutes to book the trip and get confirmation.
The Big Day, Finally Fishing!
Finally, it was time to fish! We arrived at the address Captain Adam provided and there he was waiting for us. The boat was already in the water, and the live well was full of bait.
We jumped on board, introduced ourselves and we were off to fishing! Captain Adam was very nice, answered all of our questions, and put us on plenty of fish.
I even put together a video of our trip:
And by the way, if you happen to be looking for a Peacock Bass fishing trip in South Florida, I highly recommend booking a trip with Locked N Loaded Charters!
Tips When Booking Your Trip
Once you've settled in on the type of trip you're looking for, I recommend filtering your results by 'reviews'.
This accomplishes two things: First, the obvious one is you can see which captains have the most reviews.
But secondly, you can see which captains are most active. One thing I noticed is that there are captains and guides on the platform without recent activity. Take a look at their "Last booking"…if it was recent, great!
However, some profiles may be inactive, or only part-time. Keep this in mind when filtering your results.
Aside from that, I would say be sure to use the other filters to help narrow down the trip style that best suits you.
For example, if you want to keep fish to bring home, use the 'You Keep Catch' filter.
Many captains practice catch and release only, so be sure to clear this up before booking a trip.
Final Thoughts
Booking professional fishing guides is not something that I regularly do. In fact, I rarely do it.
So this was a nice treat for me and my father, and it couldn't have been easier.
Reserving a charter on FishingBooker.com is very similar to booking on other hotel/accommodation sites.
The interfaces are easy to navigate; put in your dates, and location, filter your results based on your criteria and you are off to the races.


And to my surprise, I now have a 'loyalty discount', which is good for 10% off my next trip.
I hope this article was helpful, and if you have any questions don't hesitate to reach out!
If you haven't guessed yet, I love fishing and everything about it!
To learn more about why I started Panfish Nation, visit the About page and follow along on Social Media: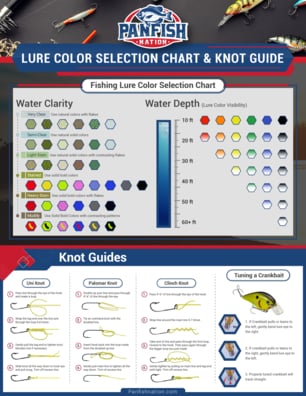 Download a copy of my FREE Lure Color Selection Chart & Knot Guide!
Stay up to date with fishing reports, tackle reviews, industry news, and much more! We respect your privacy, unsubscribe at any time.