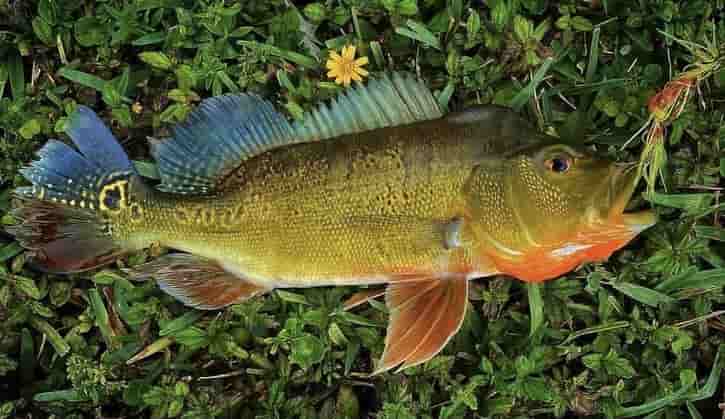 Peacock Bass are one of the most beautiful species of fish in the world, and they are highly prized by anglers.
Luckily, you don't have to travel to Central or South America to catch these amazing fish.
In this guide, I'm going to tell you everything you need to know to find and catch Peacock Bass in Florida.
Where To Catch Peacock Bass In Florida
Butterfly Peacock Bass were introduced to the state of Florida in the early 1980s, and ever since then they have established a small, but plentiful home range in the canals and waterways of South Florida.
Palm Beach, Broward and Miami/Dade counties are the primary range for Peacock Bass, but they have been caught as far west as Collier County and as far north as Martin County.
You are in luck because many of these locations are easily accessible by foot, or in a boat!
Peacock Bass Range Map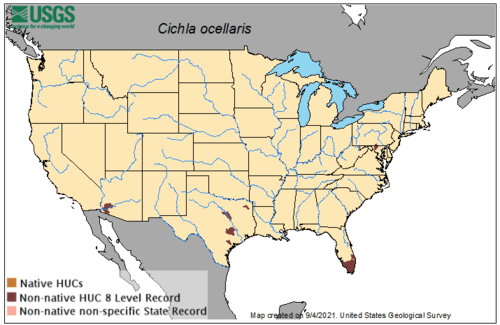 Canal System
South Florida has hundreds of miles of canals, ditches, dikes, and spillways that are teeming with exotic fish, including the prized peacock bass.
The Florida Fish and Wildlife Conservation Commission publishes detailed guides and reports on accessing and navigating these canals.
And if you want to catch a peacock bass, that's where you should go!
Below is a detailed table of the public canals and waterways in Florida where you can catch peacock bass:
Peacock Bass Lakes In Florida
Lake Ida
Lake Ida is a 189-acre lake, located in Palm Beach County near Delray Beach, Florida. It is known for its fantastic exotic species fishing, including the prized Clown Knifefish and Peacock Bass.
Blue Lagoon Lake
Blue Lagoon is part of the Miami Lakes Airport chain, situated just south of the airport. These deep quarried lakes offer great peacock bass fishing, in a unique setting.
Red-Tailed Hawk Lake
Red-Tailed Hawk Lake is another lake part of the Miami Lakes Airport chain with great peacock bass fishing.
Lake Mahar
Lake Mahar is another popular lake in the Miami Lakes Airport chain. Note: Access may be difficult on this lake.
Markham Park
Markham Park is a nearly 700-acre lake, located outside of Fort Lauderdale in Broward County. This large lake and surrounding canal system offer excellent peacock bass fishing opportunities.
Everglades System
The Everglades and surrounding canals, lakes, and waterways is a massive system, spanning hundreds of square miles.
Within this sprawling eco-system are hidden spots, teeming with exotic fish such as Oscars, Jaguar Guapote, Mayan Cichlids, and of course Peacock Bass.
The Everglades is worth a visit no matter what, but I strongly recommend you hire an experienced guide to put you on the fish.
See Also: 7 Of The Best Spots To Go Kayak Fishing In South Florida
Best Peacock Bass Lures
Artificial Lures
Leave the slow presentation baits at home for the largemouth bass…if you want to catch peacock bass on lures you need loud, aggressive, and shiny baits to trigger a predatory response.
Chatterbaits, topwater plugs, spinnerbaits, and jerk-baits all can catch peacock bass.
Click here to see my Top 7 Lures To Catch Peacock Bass In Florida.
Live Bait
When it comes to catching peacock bass, live bait is king!
These aggressive fish respond best to live, or fresh bait. Wild shiners, large minnows, small bluegill, mojarra, and even live shrimp will all catch peacock bass.
Fly Fishing For Peacock Bass
If you're a fly fishing enthusiast and want an extra challenge, try targeting peacock bass.
You'll want to use a sinking tip line, to allow your fly to get down into the water column. Leave the dry flies at home, and instead try using weighted eye flies such as a Clouser minnow.
Feather-style flies can work well, especially if you can tie one to resemble a tilapia, cichlid, or baby bluegill (a peacock bass favorite).
How To Catch Peacock Bass
Live Bait
As I mentioned previously, live bait is king when it comes to peacock bass fishing. If you are fishing in pressured areas such as south Florida, these bass see A LOT of lures.
I'm not saying they can't be caught on lures and flies, they absolutely can. But if you want the best chance and most bites go for live bait.
I prefer wild shiners, that I hook through the upper lip with a 3/0 circle hook. Free lined. That's it! No fancy setup is needed. If there is current, or the fish are holding a little deep I'll add a split-shot weight.
Focus on the Edges
Peacock bass are an edge species, so focus your fishing along the bank edges, treelines, and the structure.
The canal system in particular is filled with bridges, culverts, and heavy vegetation. Cast parallel to these edges as close to them as you can.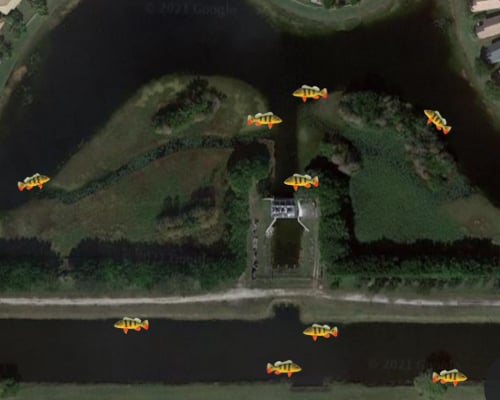 Peacock bass holds very tight to structure. If you are lucky enough to find a culvert, water control structure, or dam after heavy rain…well, get ready for some action.
Peacock bass will stage up adjacent to these areas and gorge on baitfish as it washes by!
Time of Year
Peacock Bass are very sensitive to cold temperatures. Avoid fishing for them post cold front- this tends to really slow down the bite and make for very challenging conditions.
The best time of year to catch a peacock bass is during the warm spawning months of April-September.
Peacock Bass Fishing can be fantastic, during a low-pressure drop before a storm approaches. Cloudy, overcast days with a moderate breeze are great peacock bass fishing conditions.
In general, try and plan your trip during the summer or early fall and you'll catch some fish!
Florida Peacock Bass Fishing Guides
You don't have to travel all the way to South America to catch peacock bass.
People from all over the world, travel to south Florida to check the peacock bass off their bucket list.
In fact, many anglers bring the whole family and make a vacation out of it! Explore the beaches, restaurants, and wonderful nightlife and attractions nearby.
Below are a list of Florida peacock bass guides I highly recommend for each area. And the great thing about these trips, is they are quick, easy and very affordable.
Most guides can have you catching fish within a few minutes, which means you'll be back with the family or kids in just a couple of hours.
Frequently Asked Questions
Are Peacock Bass Native To Florida?
Peacock Bass are not native to Florida. They were introduced to south Florida in the early 1980s' as a means to control the exotic and invasive fish population. Peacock Bass are native to South America in the Amazon River and surrounding basins.
Do Peacock Bass Have Teeth?
Peacock Bass have very small rows of conical teeth, used to grip small baitfish and prey. Although not known to cause injury, anglers should wear gloves and handle peacock bass with care.
When Do Peacock Bass Spawn In Florida?
According to the Florida Fish and Wildlife Conservation Commission, Peacock Bass spawn from April through September, peaking in the warm months of May and June. This time of year is usually the best chance to land a trophy.
How Fast Go Peacock Bass Grow?
Peacock Bass grow very fast, reaching 12-14 inches in length in the first year. Warm water and abundant food sources are the keys to growing healthy and large peacock bass.
Can Peacock Bass Live In Cold Water?
One of the main reasons Peacock bass exist only in south Florida is their intolerance for cold water. They are unable to survive in water temperatures below 66 degrees Fahrenheit. Prolonged exposure during cold fronts can cause fish kills and harm peacock bass populations.
Are Peacock Bass Edible?
Peacock bass are considered excellent table fare quality, with white and clean flaky meat. Most anglers recognize the importance of this species as a gamefish and practice catch and release.
Can Peacock Bass Live In Ponds?
Peacock Bass are capable of thriving in canals, lakes, and small ponds that provide adequate food, and more importantly, warm and stable temperatures.
Can You Catch Peacock Bass Night?
Peacock bass primarily feed during the day, peaking during dawn and dusk. However, they can be caught at night especially around lights and structures.
Final Thoughts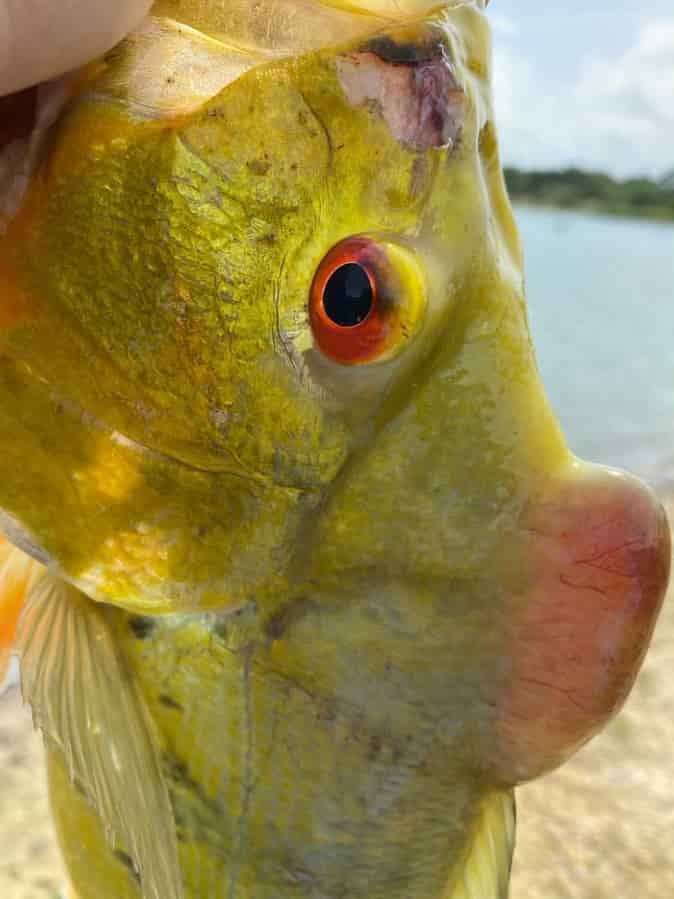 If you want to catch a peacock bass, there is no better location in the United States than the canals, lakes, and waterways of South Florida.
I hope the tips and pointers in this article help you catch that bucket list fish of a lifetime. Thank you for reading!
If you haven't guessed yet, I love fishing and everything about it!
To learn more about why I started Panfish Nation, visit the About page and follow along on Social Media: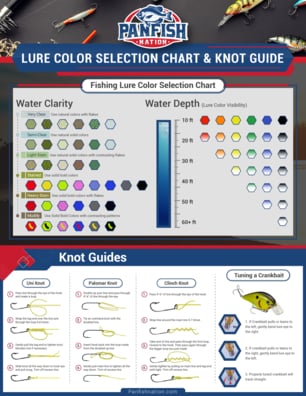 Download a copy of my FREE Lure Color Selection Chart & Knot Guide!
Stay up to date with fishing reports, tackle reviews, industry news, and much more! We respect your privacy, unsubscribe at any time.