Ice fishing has had huge growth over the last 5-10 years, which has opened the door for many new anglers to join the fun.
The first question a lot of new ice anglers want to know is, "Is ice fishing expensive?"
This article will highlight the basics that every ice angler needs as well as some extras that will enhance your ice fishing experience. 
This page contains affiliate links. As an Amazon Associate, I earn from qualifying purchases.
Is Ice Fish Fishing Expensive?
Ice fishing, like most other hobbies, can be as expensive as you want it to be! You can likely get away with ice fishing for under a few hundred dollars by sticking to the basics – grab a jigging rod and reel, live bait, some tip-ups, an ice auger, and a bucket and you're ready to go!
If you aren't quite ready to commit to expensive gear this ice fishing season, join a friend or a local fishing group… many anglers would be happy to let you borrow some gear.
Then you can get a feel for what you like and don't like and what is necessary or frivolous.
Pro Tip: In order to keep ice fishing costs down, I recommend either purchasing used gear or waiting until the last ice melts and buying your gear then. You can usually find incredible deals on ice fishing gear, apparel, and more during the off-season!
What To Know Before Your First Ice Fishing Trip
Staying safe on the ice should be your number one priority. Don't worry- Ice fishing is not inherently dangerous, but you should follow basic safety rules and have the proper equipment.
We'll start with a breakdown of the safety equipment, and then cover the fun stuff like clothing, transportation, fishing gear, and accessories.
Stay Legal
Start by checking your local DNR regulations for how to purchase a fishing license. Most states offer options to purchase online as well as in person from bait stores, gas stations, and government facilities.
The average fishing license is around $25 for residents and $60 for non-residents, but additional stamps are typically needed for species like trout & salmon.
Safety is #1
Ice anglers need to keep in mind that "NO ICE IS SAFE" and that you can go from walking on feet of ice to inches very quickly without knowing.
It is best to stay prepared to fall through the ice no matter the conditions, your life is invaluable. Below are some of my top safety gear picks.
Ice Picks (Price Range: $7.99 – $20+)
Small screwdriver-like handles with sharp metal tips attached by a string or cord. Anyone walking on the ice, especially early ice, should have them around their neck.
After falling through the ice surrounding you will be covered in water and slippery, ice picks allow you to crawl out of the water on your belly to safer ice.
Boot Spikes (Price Range: $8.99 – $100+)
Metal spikes on the bottom of your boot that can be found in a slip-on style or built directly into some boots.
Ice is very difficult to walk on without snow cover so adding spikes to your boots is ideal to avoid a bad fall.
Spud Bar (Price Range: $43 – $100+)
Long Steel Bar with a wedge on the end, traditionally used to harvest potatoes. This tool is especially important to check the ice thickness in front of you when walking out during early ice (3"-6" Thick).
As a rule of thumb, if you don't break through after firmly striking the ice three times, the ice should hold your weight.
Personal Floatation Device (PRICE RANGE: $11 – $500+)
A standard life preserver for boating is sufficient as it can be worn at all times.
As technology has improved most of the popular ice fishing brands offer Jacket and Bib packages with built-in float technology as well.A PDF will keep your head above water if you fall through
Headlamp or Flashlight (PRICE RANGE: $15-$30)
A means to see in low light conditions early in the morning and late at night.
Protection From The Elements
If you are ice fishing, it's gonna be cold! But you don't have to be miserable.
Wear appropriate ice fishing clothing so you stay warm and comfortable (which means fishing longer).
Winter Parka & Bibs (Price Range (for both): $100 – $700+)
A water-resistant winter jacket and snow pants will keep you warm in temperatures between 0-40 degrees (Fahrenheit). The longer you can stay dry & warm the longer you can keep fishing.
Boots (Price Range: $25 – $150+)
Well-insulated waterproof boots with a thick rubber sole. Good boots are necessary because you are standing on a block of ice after all.
The ideal boot would also include a removable Thinsulate ™ liner which will wick moisture away from your foot, allowing you to remove them to dry after a long day on the ice.
Mobility
Assuming you have a vehicle to get you to the lake, you will need to decide how you'll get to your fishing spot on the ice.
Make sure to pay attention to ice thickness when making this decision.
Always travel with caution and if you're unsure of the ice conditions, always err on the side of caution and avoid questionable areas.
Walking (Price Range: FREE)
The most common and safest method of travel on the ice will be walking out, especially early in the season when the ice is less than 6" thick.
Because you will have to carry your gear or drag it in a sled, be selective in the gear you bring and travel light.
Pro Tip: If possible avoid wearing your parka as you start your walk. You will sweat as you walk which will end up making you cold later when you're fishing.
Wheels (Price Range: Fuel $10-$200, ATV – $1500+)
If you have access to a vehicle to get to your lake, the DNR suggests 5"+ before utilizing an ATV for ice travel and 12"+ for travel with a car or truck.
While utilizing a vehicle will be the most comfortable, the most efficient method of travel on the ice is a snowmobile or ATV depending on snow cover.
There are many options available to "trick out" your sled or ATV to secure store fishing gear and access quickly.
Fuel prices being so volatile may be a factor in your decision to utilize a vehicle or bite the bullet and walk.
Fishing Gear
Sled For Gear (Price Range: $15 – $100+)
A high-density plastic sled that can hold and haul your gear. At minimum a simple sled that kids use to slide down hills will work, there are also ice fishing-specific models that have deep sidewalls and runners on the bottom to make pulling easier.
You can even build your own "Smitty" sled that rides on an old pair of downhill skis and is elevated 6" to 12" above the ice to avoid resistance from snow build-up, making hauling smoother.
Ice Auger (Price Range: $60 – $500)
An oversized drill bit with razor-sharp blades attached to the end that will shave or chop ice to create a 6"-10" hole to fish through.
Your spud bar can be utilized to chop a hole in thin ice (3"-4") but an auger becomes necessary beyond that.
Augers have developed quickly in the last 5 years, at this point, you have options from light-duty hand augers to heavy-duty electric and gas augers.
Rod+Reel Combos (Price Range: $30 – $120+)
A fishing rod and ice fishing reel are the single most important thing you need to catch fishing through the ice.
Rod and reel combos are sold by most retail brands, which simplifies decision-making. In my opinion, a Medium Light rod is a great all-around option for beginners.
A Medium Light combo will include a reel paired correctly with the action and power of the rod.
The most expensive options are not necessarily the best, this means you should make your selection based on personal preference and experience. Don't overthink it, just get what feels right to you!
Tackle (Price Range for Essentials: $60 – $100)
This includes jigs, lures, line, and other terminal-type tackle. Based on what your target species is there are several options for pre-built species-specific tackle kits.
This may cost slightly more, however, it makes getting what you need much easier. If you elect to make ala carte selections, focus on items specifically made for ice fishing to narrow your search window.
Again, make sure to consider your target species, 2 lb test monofilament, and northern pike don't mix well.
Storage (Price Range: $20 – $400+)
Rod and tackle storage that protects your gear, is easy to carry, and keeps you organized.
Tackle trays will keep your jigs, lures, and terminal tackle organized, in ice fishing, pocket-sized waterproof jig boxes are very popular.
Rods and other gear can simply be placed in a 5-gallon pail, this provides a way to transport gear, something to sit on, and a means to bring home a meal if you are keeping fish.
There are also options specifically designed for each if you prefer top-tier organization and ease of access.
Extras
These items could be looked at as upgrades when you get more involved in ice fishing. You do not NEED any of the products listed below, each will give different advantages and make your fishing experience more enjoyable.
Flasher/Live Sonar (Price Range: $250 – $1500+)
Electronic sonar unit used to identify water temp, depth, and locate fish.
Once you've used a Flasher or live sonar device like a Vexilar FLX 30BB or Garmin Panoptix LiveScope, it's difficult to fish without them.
Use them as tools to help learn and enhance your knowledge of fish behavior but try not to rely on them to catch fish if you can help it.
GPS & Lake Maps (Price Range: $200 – $700+)
GPS Mapping allows you to see where you are on a body of water and more advanced mapping will provide depth contours for the body of water you are fishing.
You can use your knowledge of fish patterns to identify fishing spots using maps rather than blindly checking spots and hoping for the depth or structure you are after.
Applications like Navionics™ can be downloaded on your phone for up-to-date maps in the palm of your hand for around $10 – $15 per month.
High-end Sonar units like Humminbird will utilize commercially produced mapping add-ons like Lake Master to provide similar lake detail.
Ice Shack (Price Range: $30 – $200+)
A portable or semi-permanent shelter that can be moved around on the ice and fished out of through holes in the ice and/or floor.
The most identifiable shelter on the ice is a bright blue portable or flip-over by the pioneer of portable ice shelters Clam™, these lightweight shacks are basically a canvas clamshell over a large sled.
Canvas tents known as pop-ups or hub shelters are portable options, which don't include a sled but offer a large fishable area.
The top-end shelter is a crank-down wheel house which is ultimately a Luxury camper that can drop down flat to the ice in order to fish through holes in the floor.
Ice castle built the commercial industry for wheelhouses and remains the top option.
Propane Heater (PRICE RANGE: $30 – $200+)
Portable propane heater built for ice fishing that is used to keep your shelter warm. It helps to protect yourself from wind and snow, but the air temp will still chill your bones.
Having a propane heater in your shelter is key, it not only adds comfort, but it will also keep your ice hole clear of slush and ice buildup.
Mr. Heater ™ Buddy Series are the best and safest options for portable propane heaters, some that even pair as a cooking surface.
Underwater Camera (Price Range: $99 – $1300)
A hand-held camera that can be lowered on a wire/cord into the water to get a live feed visual of the activity below.
Many times even with the use of sonar or a flasher it's hard to tell what you are actually targeting. Underwater cameras allow you the option to semi-discreetly drop a camera into the strike zone to identify those fish.
AquaVu has been a leader in the underwater camera world and has everything from micro handheld units to 360-degree 4K cameras that can connect to a 75" TV.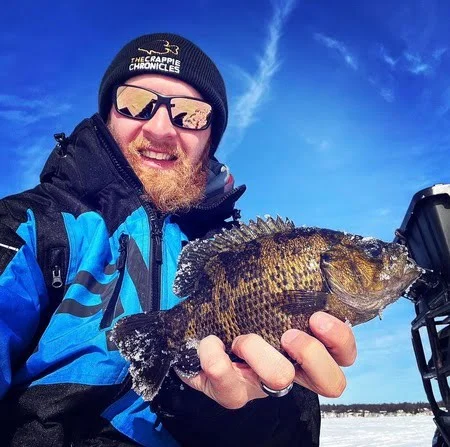 The Ice Angler Starter Kit
Some of the largest fish I have ever seen caught have been by new anglers with bare-bones equipment. That's what keeps us out there.
If you're ready to start your journey into ice fishing, I have built "The Ice Angler Starter Kit" as a means to order everything from amazon and take the stress out of making sure you have everything you need to try it.
This list assumes the angler already has adequate warm outdoor winter clothing and is walking.
Ice Safety kit – Galand Winter Fishing Safety Kit
Spud Bar –Jiffy 3541 Mini Mille Lacs 30-Inch Chisel
Life Jacket – Stearns Comfort Series Collared Angler Vest
5-gallon Seat – Waterproof Swivel 5-gallon bucket lid
Rod Reel Combo – Shakespeare Ugly Stik GX2 Combo
Panfish Tackle Kit- Eagle Claw Ice Jig Kit
Final Thoughts
Spend what you can afford, don't necessarily buy something because your favorite fishing influencer said you should.
The important takeaway is this: Ice fishing does not have to be expensive. It's like any other hobby- you can spend as much or as little as your budget will allow.
Start with the basics, and then if you decide you want to invest more into the hobby then the possibilities are endless! Good luck.
If you haven't guessed yet, I love fishing and everything about it!
To learn more about why I started Panfish Nation, visit the About page and follow along on Social Media: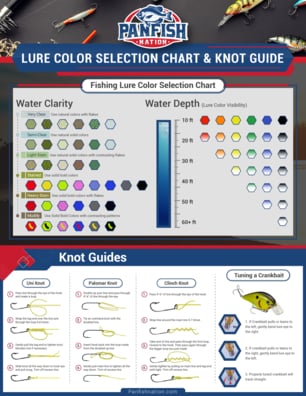 Download a copy of my FREE Lure Color Selection Chart & Knot Guide!
Stay up to date with fishing reports, tackle reviews, industry news, and much more! We respect your privacy, unsubscribe at any time.
Related Posts