When it comes to fishing reel innovation, the competition is high. Popular brands are always trying to out-maneuver each other with new features, new looks, and the ideal price point.
One of those manufacturers is Piscifun. A relatively new fishing brand that has burst onto the scene in the past few years…
This page contains affiliate links. As an Amazon Associate, I earn from qualifying purchases.
My Personal Experience
In 2021, I picked up my very first Piscifun Carbon X 1000 Spinning Reel. Since then, it has grown to be my favorite ultralight spinning reel for panfish and finesse fishing.
First and foremost, it's extremely lightweight. In fact, it's one of the lightest spinning reels in its class, at 5.7 ounces (the 500 size weighs only 5.1 ounces!).
Normally with lightweight reels, you sacrifice a bit of power and quality, especially with the construction materials. It's really noticeable on the reel arm, which often flexes and bends when put under extreme stress from a big fish (or snag).
But, that's not the case with the Carbon X. It's incredibly well-built and strong, despite the lightweight frame. The drag is very smooth, and I just love the matte black finish.
So naturally, when they dropped the new Piscifun Carbon X II spinning reel, I just had to get my hands on one to see how they compare.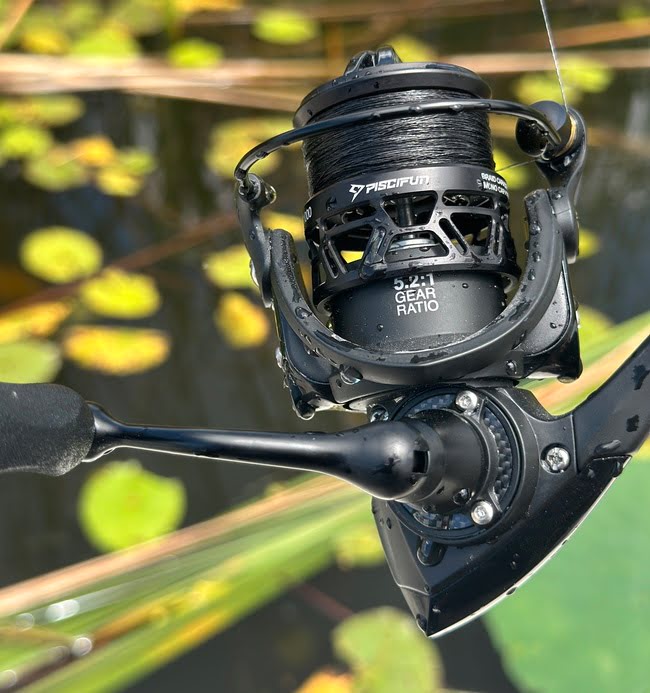 Piscifun Carbon X I vs Carbon X II
I own both the Carbon X I and the Carbon X II in the 1000 size. I've put together the table below to highlight the differences:
| Feature | Carbon X I (1000) | Carbon X II (1000) |
| --- | --- | --- |
| Weight | 5.7 ounces | 5.5 ounces |
| Bearings | 10+1bb | 10+1bb |
| Gear Ratio | 5.2:1 | 5.2:1 |
| Line capacity | 10lb/110 yards | 10 lb/110 yards |
| Retrieve | 22.4 in per turn | 22.4 in per turn |
As you can see, the reels are nearly identical, except that the Carbon X II is .2 ounces lighter than the Carbon X I.

However, if you look closely there are some aesthetic differences, including the machine pattern on the spool, and the plate on the side of the bail assembly.
When Piscifun created the Carbon X II, they improved upon the most popular feature of the Carbon X I: Weight.
It's even lighter than its predecessor. Otherwise, mechanically the reels are nearly identical. For that reason, I don't necessarily recommend one over the other; They're both fantastic!
However If you want an even smaller size reel, like the 500 (great for ice fishing), you'll need to stick with the Carbon X I.
The Carbon X II is only available in sizes 1000, 2000, or 3000.
Where To Buy
Piscifun is an online based retailer only, meaning you most likely won't find their products in your local tackle or sporting goods shops.
Instead, you can purchase directly from Piscifun on their website. They run deals and promo codes constantly like 15% off with code PIS15, which means you can usually get a better deal. Shipping is a little slow, but it's usually free.
The Carbon X I and the Carbon X II are also available on Amazon (which typically ships a little bit faster).
What I Use My Carbon X Reels For
Well if you can't tell yet, I love to catch panfish (hence the name Panfish Nation!). And I've tested a lot of different spinning reels over the years and the Carbon X 1000 series spinning reels are perfect for catching bluegill, shellcracker, and crappie.
It's a lightweight reel, so when it's matched with a lightweight rod, it's perfect for throwing…lightweight jigs and lures! I can fish with this setup all day with zero arm fatigue and no problem flicking 1/32-ounce micro jigs.
I also love to catch largemouth bass here in my home state of Florida. I use a Carbon X 1000 size reel, but put it on a larger 7-foot medium action rod, perfect for throwing finesse baits like ned rigs and drop shots (one of my favorite summertime tactics.
My Favorite Piscifun Carbon X II Combo
Currently, my favorite combo is my Piscifun Carbon X II matched with a Fenwick Eagle 5'6″ ultralight-moderate rod and 8-pound Piscifun Onyx braided line.
This ultralight setup is small and light enough to catch stump knockers and warmouth out of tight creeks, but it's caught a fair share of bass and catfish too.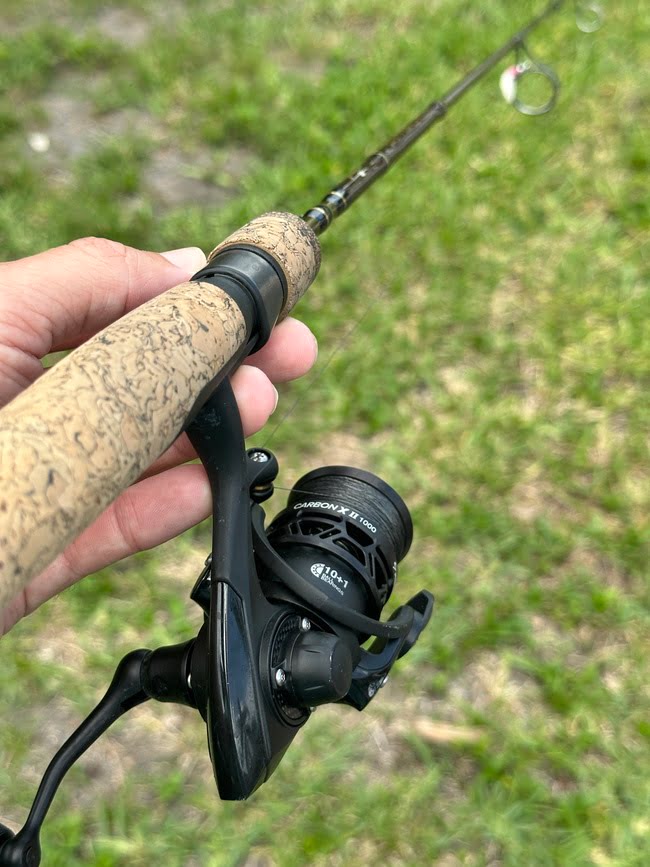 It's a really fun combo I've enjoyed fishing with lately…and there is just something about that matte black reel with the black Onyx braided line.
The combo is incredibly sensitive, and the action of the rod pairs really well with the smooth drag. If you enjoy fighting fish, and not horsing them in without any sport, then you'll love this combo.
How Do Carbon X Reels Compare To Other Brands?
Im not 'brand loyal', as they say. In fact, take one look at my fishing tackle locker and you'll see I own rods and reels from Piscifun, Shimano, Daiwa, Pflueger, KastKing, Lews, and many other popular brands.
I can confidently say that when compared to other more popular and mainstream brands, the Carbon X Reels perform just as well, but at a fraction of the overall weight and cost.
They are just great lightweight reels, that feel really nice in the hand and perform well.
The drag is smooth, the retrieve is appropriately geared for the style of fishing I do, and the components have held up well for me after nearly 3 years of heavy use (I fish about 200 days a year).
Final Thoughts
The bottom line is that Piscifun reels continue to impress me. The Carbon X I and Carbon X II reels are extremely popular and for all the right reasons.
They're affordable and great quality reels without sacrificing performance.
Stay tuned for future articles, where I plan to review the Piscifun Carbon XCS baitcasting reel, and the popular Piscifun Chaos XS (perfect for catfish and carp anglers).
Thanks for reading!
If you haven't guessed yet, I love fishing and everything about it!
To learn more about why I started Panfish Nation, visit the About page and follow along on Social Media: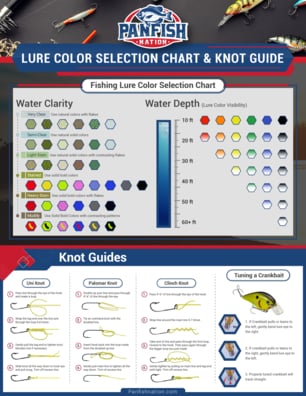 Download a copy of my FREE Lure Color Selection Chart & Knot Guide!
Stay up to date with fishing reports, tackle reviews, industry news, and much more! We respect your privacy, unsubscribe at any time.