Small ponds can hold BIG fish…but what if you need access to more than just the shoreline? Which style of boat is best for fishing and pond-hopping?
In a body of water that tiny, does your choice of a pond fishing boat even matter?
Believe it or not, it does matter!
In this guide, I am going to go over the pros and cons of five of the most popular pond fishing boat styles.
Do I Really Need A Boat For My Pond?
You might be content to just hang around the edges of the pond you own or have access to, but there's just something about the experience of being on the water that you won't get from sitting on the shore.
You'll be able to access harder-to-reach areas, survey and maintain your pond, and even burn some calories by paddling or rowing.
For example, if your pond has a strong fishy smell, you'll need to jump in the boat and inspect the area for algae blooms, fish kills etc.
Not to mention, there are some advantages when fishing!
Small pond boats cost a fraction of what conventional boats do and they are very portable (many can fit right in the back of a pickup truck!).

Types of Small Pond Boats
Obviously, not all small boats are created equal. There's a wide variety of small boat types and styles to choose from.
Below are the top 5 types of small pond fishing boats and the pros and cons of each.
Jon Boats
Jon Boats are small, flat-bottomed boats usually made of aluminum. They are the most popular choice for small pond fishing boats and are very common all over the world.
Jon boats are an excellent choice for crawfishing, fishing, hunting, and other sports that will take you where there's a lot of water.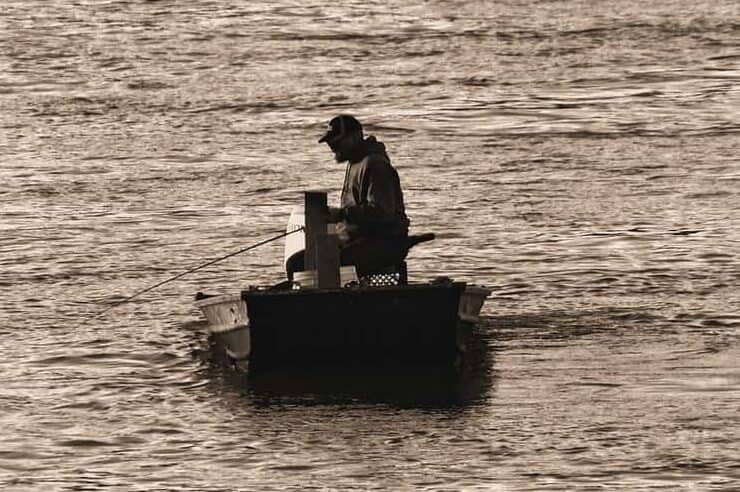 The flat shape of the hull means that the Jon boat sits on top of the water, instead of cruising through it. This design means that the Jon boat doesn't have very high sides but provides good stability.
If you've got shallow water to navigate through, especially with a lot of mud or muck or obstacles, that's when the Jon boat really shines.
| Jon Boat Pros | Jon Boat Cons |
| --- | --- |
| Durable & Lightweight | Does not perform well in rough water |
| Affordable, and easy-to-find used options | May leak at rivets or welds |
| The flat bottom offers good stability | Slow in the water |
| Easy to mount small electric or gas motor | Difficult to row or manually paddle |
Pros and Cons of Jon Boat style boats
A Jon boat with a motor or some kind of surface drive is very nimble. The flat bottom also helps in navigating hard-to-reach areas where fish like to hide.
Jon boats are highly customizable, with many aftermarket features and options available for purchase.
Their only major con is their inability to navigate rough waters.
Related: What To Feed Crappie In A Pond: Do's & Don'ts!
Dinghy
Dinghies are small rubber or vinyl inflatable boats. They are very popular in the sailing and yachting community.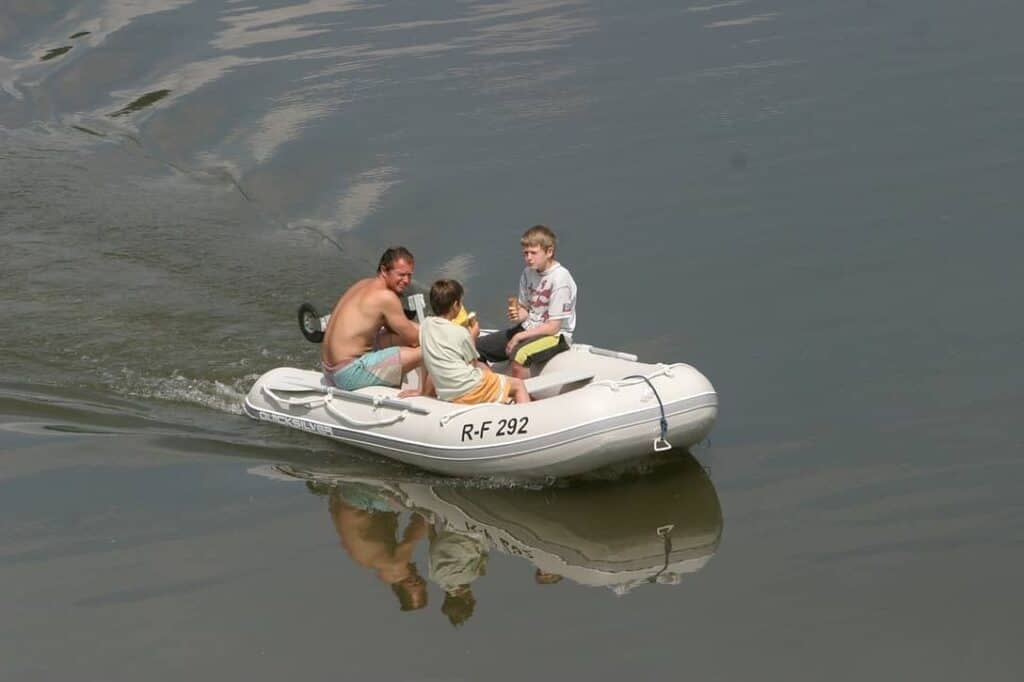 Dinghies are often in the use of larger ships and thus have soft rubber edges or padded edges so they don't do any damage to the mother ship, should they bump into each other.
They're typically used to ferry people and supplies back and forth from ships and shores.
| Dinghy Pros | Dinghy Cons |
| --- | --- |
| Lightweight and easy to transport | The rubber material is not as durable |
| Affordable | Usually, only hold 1-2 people |
| Easy to row or paddle | Not designed for fishing |
| Easy to mount small electric or gas motor | Not much storage space |
Pros and Cons of Dinghy style boats
In the hands of a casual boater, a dinghy can be fitted with a sail. There's always the option of oars or a small outboard motor. Dinghies are used for everything from fishing to snorkeling trips.
Dinghies are great for teaching children the basics of boating, and yacht clubs often keep a stable of them specifically for children.
And yes, of course, you can fish out of them too!
Rowboat
What's the difference between a rowboat and a Jon boat or a dinghy? – Well the main difference is that rowboats are fitted with pivoting oars mounted into place.
They require physical rowing to move through the water which makes them great for exercise! Some are flat-bottomed and some have a v-shaped keel.
Flat-bottomed rowboats are easier to navigate to shore. While long, sharp vessels glide through the water with less effort over long distances.
| Rowboat Pros | Rowboat Cons |
| --- | --- |
| Great for exercising | Not very portable; often heavy |
| Good stability; holds 1-2 people | Usually made of wood, which requires maintenance |
| Moves swiftly through the water | More expensive than other styles |
| Easy to paint and modify | It May be difficult to find; limited options |
Pros and Cons of Rowboats
Rowboats are in exceptionally low demand, so they aren't being cranked out by manufacturers.
Your options are either sniffing out a dedicated maker that's passionate about rowers, adding oarlocks and oars to your small watercraft, or building your own.
Kayak
Kayaks are small and narrow sit-down vessels usually designed for 1-2 people. They are manually paddled by a double-sided oar and glide through the water very well.
Kayaks are ideal fishing boats if you're planning on doing it solo. There's a minimal obstruction between you and the experience of being on the water, with just enough room for you and your gear.
| Kayak Pros | Kayak Cons |
| --- | --- |
| Great for exercising | Cannot stand up, usually sit down only |
| Lots of add-on options and extras | Difficult to turn around, face forward design |
| Moves swiftly through the water | Maximum of 2 people |
| Portable and lightweight | Can be very expensive |
Pros and Cons of Kayaks for Pond Fishing
But in this day and age, there are ways to upgrade your kayak. You can upgrade to an outboard motor and you can even make modifications to add a pedal system.
You can even buy kayaks with depth finders and live wells!
Canoe
Canoes are traditionally long and narrow vessels made of either wood or fiberglass.
1-2 people paddle with single oars and propel through the water.
They are very quiet and move very quickly through the water but are not nearly as stable as flat bottom vessels.
| Canoe Pros | Canoe Cons |
| --- | --- |
| Great for exercising | Somewhat portable but can be very long |
| Very quiet and stealthy | Very difficult to stand and fish |
| Moves swiftly through the water | Difficult to mount a motor |
| Easy to find new and used options | Limited stability; holds 1-2 people |
Pros and Cons of Canoe Style Pond Boats
Canoes are very popular for exploring small creeks and tranquil rivers.
They are capable of carrying gear and 1-2 people very efficiently over medium-long distances.
For pond fishing, a canoe's biggest advantage is that they are very quiet and easy to slide in and out of small bodies of water.
Material of Small Pond Boats
Aluminum
Aluminum is a very popular material used in small fishing boats because it offers a very good strength to weight ratio.
Aluminum boats are usually very strong, yet still lightweight and durable.
The most common aluminum pond boats are small Jon boats and canoes.
Fiberglass
Fiberglass fishing boats are very popular due to their strength and buoyancy.
Fiberglass boats are very strong, and quiet in the water. They float very well but can be somewhat bulky and heavy.
The most common fiberglass small boats are canoes and rowboats.
Wood
Boats have been made from wood for thousands of years. It's somewhat flexible, easy to paint and modify, and usually affordable.
Wood boats require maintenance, such as painting and sealing, and can rot if not properly taken care of.
The most common type of wood boats are usually hand-made canoes and rowboats. Some of these can be very expensive and highly collectible!
Plastic
Like many things in today's world, boats are often made of plastic due to the inexpensive cost to produce and durability.
Plastic can last many years, and it can be very affordable. However plastic boats do not offer many options for customization and they can be heavy.
The most common plastic-style pond fishing boat are Jon boats, kayaks, and paddleboats.
Rubber/Vinyl
Rubber and vinyl boats are very common in the inflatable small craft market. These boats are very portable and affordable.
They are not as durable as aluminum or fiberglass, but they are very lightweight.
The most common rubber or vinyl-style small fishing boats are dinghies.
Frequently Asked Questions
What is the smallest type of boat?
Each of the boats we've looked at has a range in size, so none of them truly are the king of the tiny.
You tend to find the smallest boats amongst the dinghies and the kayaks. Kayaks win by being very narrow.
Dinghies can be very small overall, depending on the purpose it was built to serve.
What is the most stable small boat?
Boats with flat bottoms prove to be the most stable, like Jon boats. Paddleboats are also very stable, however, they do not have much foot room for standing up and are not ideal for fishing.
Are Jon boats good for fishing?
Jon boats are the same to fishing as bread is to butter. They aren't the only fishing boat, but they're among the best in terms of design, cost, and stability.
Are Jon boats dangerous?
Like any boat, Jon boats are perfectly safe if they are used in the correct way. Jon boats are ideal for tranquil ponds, small lakes, and shallow creeks.
Always wear a life jacket when on a boat.
What is the most stable type of canoe?
The most stable type of canoe is a flat bottom hull shape, sometimes called a Gheenoe.
This style displaces water much better and provides a stable alternative to traditional v-shaped hull canoes.
How much does a rowboat cost?
Rowboat prices can vary depending on the quality of the vessel.
Hand-made row boats can cost in excess of $10,000, however, used models or plastic alternatives can be purchased for $500-$2000.
Can you kayak in a pond?
Yes, you can kayak in a pond. Kayaks are very popular vessels for 'pond-hopping' when you portage from one small lake or pond to another.
Where is the best place to buy used boats?
The best place to purchase used boats are online marketplaces such as Craigslist, eBay (local), and Facebook Marketplace.
You can also check the classified ads, garage sales, estate sales, boat rental facilities and small bait and tackle shops in your area.
Conclusion
Each boat we've covered has something to offer. It comes down to how agile you want to be on the water and how much muscle you want to use.
Will you be fishing? Or just relaxing? Do you want to be nimble enough to explore close quarters or get exercise and stay active?
The answers will influence which type of pond boat you settle on.
Thanks for reading!
If you haven't guessed yet, I love fishing and everything about it!
To learn more about why I started Panfish Nation, visit the About page and follow along on Social Media: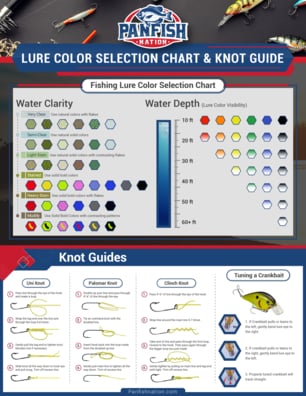 Download a copy of my FREE Lure Color Selection Chart & Knot Guide!
Stay up to date with fishing reports, tackle reviews, industry news, and much more! We respect your privacy, unsubscribe at any time.