Gloves are a very important part of bass fishing gear. With the right set, you'll find that tying on a carolina rig, driving the boat or fighting a fish is easy and comfortable…all while your hands are protected.
But which gloves are the best? In this article, I'll share with you 6 of the best bass fishing gloves on the market today.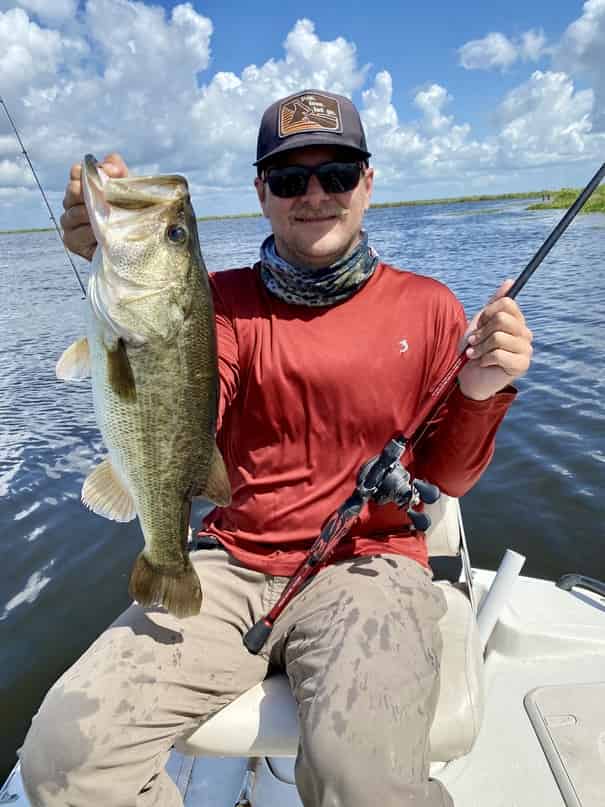 This page contains affiliate links. As an Amazon Associate, I earn from qualifying purchases.
KastKing Sol Armis Fishing Gloves
Like other UPF 50 rated fishing gloves, the Sol Armis fingerless gloves offer protection from the sun. However, they also offer a lot more. They come with microfiber pads which are intricately sewn into the glove palm to ensure your hand joints are properly padded out and devoid of wear and tear.
The gloves are easy to pull on and off due to the pull tabs sewn into the cuff tips. The gloves come in a beautiful mix of colors that will fit into your surroundings when you're out on the water and when you're walking back home on the trail. The poly-spandex fabric used ensures you'll stay cool all day long.
Pros
The fabric is easy to clean and machine washable.
They ensure maximum comfort during long fishing sessions.
The UV protection keeps your hand area safe from sunburn.
There are eight beautiful camouflage designs to choose from.
Cons
Sizing runs a bits small, so if on the edge order one size up.
Fishing Tree Fingerless Fishing Gloves
The Fishing Tree fingerless fishing gloves feature a unisex design and sun protection. The main glove material is breathable spandex, and the grip is made of faux leather. Combined, you get quick-dry gloves that work well when you're out in the sun.
They are so lightweight that you'd barely notice wearing them. The units come with adjustable Velcro straps at the wrists, so they'd fit snugly on most arms.
Pros
They are machine washable.
They are comfortable.
The lightweight design doesn't get in the way.
They are machine washable.
Cons
It doesn't offer protection against punctures.
The fitting around the finger joints is large.
Glacier Glove Ascension Bay Sun Glove
With this Glacier Glove product, you get a Lycra-based glove that guarantees comfort and support when you're out hustling for some largemouth. They feature polyurethane material which helps ensure a strong grip on your rods and lines.
With 50+ UPF protection, the gloves also keep your hands protected from direct sunlight. You no longer have to go home with sunburnt hands after a few hours of fishing. They come in different sizes, from small to extra-large. When washed, they dry quickly.
Pros
They are lightweight.
They are super comfortable even in hot weather.
The grip ensures easy t-rigging.
The sizes fit perfectly.
Cons
Only available in light gray color
Palmyth Ice Fishing Gloves
The Palmyth Ice Fishing Gloves are popular for bass-fishing enthusiasts who want to use one glove for both summer and cold weather fishing. The glove doubles as a mitt, so you can turn it into a fingerless glove while fishing under the sun and fix the mitt when the weather starts to get chilly.
It comes with heat-pack pockets around the wrist, and the anti-slip technology ensures excellent grip at all times. The gloves are insulated but feel comfortable under hot temperatures.
Pros
It's a 2-in-1 solution.
The multi-layer fabric arrangement delivers warmth which makes it a good fit for winter.
The anti-slip design provides a comfortable grip.
They come in multiple sizes, from extra-small to double extra-large.
Cons
The material is thicker than most gloves.
You May Also Like: 12 Unique Bass Fishing Gifts Guarenteed To Be a Hit!
Booms Fishing FG2 Fishing Fingerless Gloves
Booms Fishing FG2 fingerless gloves are lightweight units made from breathable and quick-drying Elastane. You can feel their calming effect once you put them on, thanks to the UPF 50 UV protection feature.
The fingerless design keeps the rest of your hand from getting sunburnt while ensuring you can tie knots quickly, get a better feel of your line, and easily control your digital devices. The synthetic leather palms help prevent blisters and cuts.
Pros
It's made of 85% elastane to guarantee durability.
The synthetic leather design prevents cuts and blisters.
The material is breathable and lightweight.
Cons
The fingers are 3/4 length instead of 1/2 like most fishing gloves.
Palmyth Stubby UV Fishing Gloves
Palmyth Stubby gloves are fingerless UV-protected units that can improve your overall fishing experience. The durable and lightweight design makes them the perfect option for casting, reeling in fish, unhooking fish, etc.
The combination of silicone dots and synthetic leather ensures excellent grip and durability. The breathable and quick-drying fabric will ensure maximum comfort when you need to fish for long hours.
It also features pull tabs on the tips to make removal very easy. Cleaning your Palmyth gloves is as simple as throwing them into your washing machine.
Pros
It's made of soft, quick-drying fabric.
The gloves come in three sizes.
The gloves are machine-washable.
The leather overlay in the palm ensures a solid grip to protect against blisters.
Cons
The gloves have a short wrist profile- may see a gap between sleeves.
You May Also Like: Are Largemouth Bass Good To Eat? Should You Keep Them?
Best Cold Weather Bass Fishing Gloves
You can go bass fishing all year round, but you need to prepare for the elements to avoid prolonged exposure to harsh weather conditions.
In frigid weather, your hand needs all the help it can get to ensure you don't struggle when controlling the rest of your fishing gear. It's why you need the right gloves for cold weather bass fishing.
Some of the options we've covered above can do a decent job, but here are some more to add to your list.
Palmyth Flexible Fishing Gloves
If you're looking for a pair of gloves that offer the right level of insulation while leaving your fingertips free enough to work while bass fishing, the Palmyth Flexible cold water gloves are one of the best.
The gloves feature half fingers on the three main fingers to ensure excellent flexibility. The gloves are comfortable to use because they don't feature excessive padding. They feature just enough material to keep you warm.
Palmyth hasn't ignored functionality with the design either, as you get tough leather around the main contact points in the palm area. You also don't have to worry about the gloves coming off as you struggle with a mid-sized bass. The Velcro wrist strap will always keep it in place.
Pros
The fabric is windproof.
The gloves feature neoprene to ensure faster drying times.
The magnetic fingertips are easily detachable.
Velcro straps hold the gloves in place at all times.
Cons
Available in limited colors.
Best Waterproof Bass Fishing Gloves
Getting your glove wet while fishing is rarely a problem in the summer. The sun will dry it off in a few minutes. However, in colder weather, a wet glove can make the weather harsher on you.
You need a waterproof bass fishing glove to avoid such scenarios. Some of the top options you should consider include the following:
Fishfun Winter Fishing Gloves
Fishfun Winter Fishing Gloves offer protection against cold weather, and they are also waterproof.
The Fishfun Winter Gloves deliver great results in this regard due to the combination of microfiber, plush fleece, and neoprene. The palm and back area of the gloves are completely waterproof without losing functionality.
The glove also offers protection from the fishing line, hooks, and fins. When you need to use your fingers, you can push back the covering for your middle, index, and thumb fingers.
The gloves offer great comfort even for long fishing sessions. The wrist area features a hook and loop cuff, so you don't have to worry about the material falling off.
Pros
They are waterproof.
The detachable finger coverings make them practical.
The stitching is solid and doesn't detach easily.
They are machine and hand washable.
Cons
Tight fit around the wrists.
Best Ice Fishing Gloves For Bass & Panfish
This KastKing product is another example of fishing gloves that also double up as mittens. They are properly insulated, featuring multiple layers of material to keep you warm.
The poly fleece outer shell is responsible for waterproofing the glove from the back of your hand over to your palm area. It also ensures you're protected against cold wind.
The palm area features an added layer of microfiber leather. Combined with the printed polymer on the same area, the result is a perfect grip at all times. When the weather gets too chilly, you can quickly convert the gloves to mittens.
Pros
They feature a poly fleece outer shell for excellent weatherproofing.
You can convert the gloves to mittens in chilly weather.
They are easy to clean.
They come in four sizes, from small to extra-large.
Cons
Nothing! These gloves are awesome!
What Makes a Good Pair of Fishing Gloves?
A good pair of fishing gloves has to be comfortable and durable. They are usually made of material to block harmful ultraviolet rays, and sometimes may be waterproof or water resistant.
The glove should also offer some protection from the elements. It should provide warmth in cold weather and keep you protected from harsh UV rays in heavy sunshine.
It needs to tick all these boxes and still ensure you have the full range of hand dexterity and motion needed for tackling and fishing.
Why You Should Wear Fishing Gloves
Here are some reasons to wear fishing gloves:
They protect your hands from harmful UV rays. Prolonged exposure to harsh UV rays can lead to sunburn. It's also a risk factor for skin cancer. If you get severe sunburn at the back of your hands, you'll find it difficult to do anything meaningful over the next few days. The alternative is to constantly apply sunscreen, but it could be distracting while fishing. Gloves solve this problem.
They provide padding against fishing lines. Braided fishing lines can tear through your palms and finger creases when you're trying to reel in a large catch. Gloves protect your wet and soft palms from such deep flesh wounds.
They protect your hands from blisters. The friction from handling your fishing rods and lines can lead to blisters on the parts of your hand in constant contact with the gear. Wearing the right gloves ensures you won't have to deal with pain and discomfort while jigging, casting, popping, or trying to bring in your catch.
Fishing gloves can improve your results. With the right fishing gloves, you're likely to have more confidence to tackle heavy fish without worrying about injuries to your hand. You'll also feel more confident about grabbing fish without worrying about the fins or teeth. That shift in mindset could be all you need to break your local records.
They protect you from bacteria. Handling fish with your raw hands can expose you to many bacteria, which you may end up transferring to your lunch box unwittingly. If you wear gloves, you can limit direct contact with fis- which protects you AND the fish!
Fishing gloves can improve your longevity. It's not always easy to land a catch within your first few minutes out on the water. Gloves ensure you can last long enough to get that bite by protecting you against cold winds and harsh sunlight.
Final Thoughts
I never realized how much of a beating my hands took, until I started wearing fishing gloves. Any bass fisherman who has had a great day of fishing can relate to 'bass thumb' – it feels like sandpaper has worn your thumb raw!
Fishing gloves offer protection for your hands, and with todays materials they are so light and comfortable you hardly notice your wearing them.
Consider giving them a try…and I bet you'll end up liking them as much as me.
See Also: 9 Reasons Why Bass Fishing Is So Popular
If you haven't guessed yet, I love fishing and everything about it!
To learn more about why I started Panfish Nation, visit the About page and follow along on Social Media: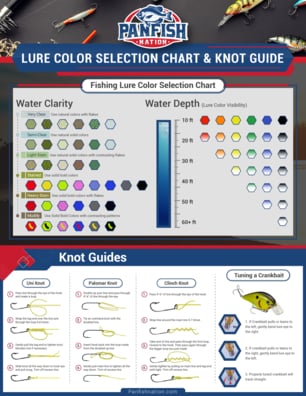 Download a copy of my FREE Lure Color Selection Chart & Knot Guide!
Stay up to date with fishing reports, tackle reviews, industry news, and much more! We respect your privacy, unsubscribe at any time.