There are an estimated 55-60 million anglers in the United States that participate in the wonderful hobby of fishing. Whoa! That is more than the entire population of South Africa!
In fact, all 50 states have a dedicated agency in charge of creating fishing regulations, such as the slot limits, seasons, and the price of a fishing license.
So how much is a fishing license in your state? In this article, I've compiled all of that information in a state-by-state comparison table for residents and non-residents.
Note- each link takes you directly to the corresponding state agency where you can purchase a license and find more detailed information.
Annual Fishing License Costs By State
Updated as of January 2022
Frequently Asked Questions
How Do You Get A Fishing License?
In most states, you can get a fishing license online, from county tax collectors, or at local sporting good retailers. Wal-Mart is the most well known retailer that sells fishing licenses, but many states now have apps for iphone and android that allow you to purchase your license.
Contact the agency that regulates recreational fishing in that state your planning on fishing. This is usually a Department of Natural Resouces, Environmental agency, or Parks and Recreation department.
Click here for a full list of all 50 state wildlife agency websites.
Can You Get A Fishing License Online?
Fishing licenses can be purchased online, either through the regulatory agency that sells licenses in a state, or throuhg a 3rd party vendor.
Note: Beware of fake license websites and unauthorized online retailers. Always check with the state fish and wildlife regulatory agency in your area.
Check out Takemefishing.org for more information on buying your fishing license online.
How Much Is A Fishing License In The US?
At this time you cannot buy a fishing license for the entire United States. Instead, fishing licenses are sold by each individual state. You will need a fishing license for whichever state you intend to fish, unless you quality for an exemption.
Why Do You Need A Fishing License?
Fishing licenses are required so that fish and wildlife agencies can track, monitor and ensure responsible and sustained recreational fishing for future generations.
The fees from fishing license sales help to fund habitat enhancement, the construction of boat ramps and facilities, research and many more activites that contribute to recreational fishing opportunties and success.
When you buy a fishing license, and follow the rules and regulations in your area, you are being a responsible and ethical angler. Thank you!
What Age Do You Need A Fishing License?
Most states require a fishing license at the age of 16. Always check with the state fish and wildlife agency in your area to be sure.
You May Also Like: 9 Unique Ways To Find Great Fishing Spots In Your Area!
Are Fishing Licenses Free?
Fishing licenses are not usually free, however many states participate in a "free" fishing day, where a license is not required. This is usually on National Hunting and Fishing Day, which occurs on the 4th saturday in September.
Some states also offer an 'exempt' license, this means you can fish without a license. Possible exemptions include:
Seniors over the age 65
Veterans
Active duty military
Disability
Always check with the state fish and wildlife agency in your area to be sure. Remember, they are there to help anglers!
Is There a National Fishing License For Seniors?
At this time there is not a federal or national level fishing license available for seniors. However, most states offer exemptions or heavy discounts for seniors. Contact the state fish and wildlife agency in your area to find out more or visit the Congressional Sportsmen's Foundation.
Can You Show Your Fishing License On Your Phone?
Many states now offer apps for iphone or android where you can purchase and store your digital fishing license on a mobile device.
I always recommend you take a picture of your fishing license on your phone as well. This can be used as a backup option if you happen to lose your license.
How Many Rods Can You Use Per Fishing License?
Each state has different rules on the number of rods you can use per fishing license. For example, in Florida there is no limit on the number of rods an angler can use.
Whereas in Tennessee, Georgia and Minnesota anglers are not permitted to use more than one rod per license.
Additionally, some lakes or rivers may have special requirements on the number of rods, hooks, or lines an angler can use.
Anytime you have questions about fishing regulations, whether it be licenses, equipment, seasons or slot limits, contact the state fish and wildlife regulatory agency where you intend to fish!
They are there to help, and often have programs and resources to assist with out of state anglers, beginners and more. Heck, most of them are anglers too and willing to offer a helping hand!
Thanks for reading!
You May Also Like: 7 Reasons Why Fishing Is Good For Your Health
If you haven't guessed yet, I love fishing and everything about it!
To learn more about why I started Panfish Nation, visit the About page and follow along on Social Media: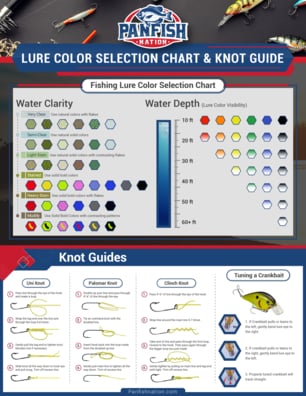 Download a copy of my FREE Lure Color Selection Chart & Knot Guide!
Stay up to date with fishing reports, tackle reviews, industry news, and much more! We respect your privacy, unsubscribe at any time.