I recently got my hands on the KastKing Spartacus 2 Spinning Reel and I am excited to share my first impressions with you!
I've got some great photos, and side by side comparisons with other popular KastKing Reels.
This page contains affiliate links. As an Amazon Associate, I earn from qualifying purchases.
Unboxing and First Impressions
Right off the bat, I have to say that the color of this reel is awesome. It has a really cool matte green color, almost like a military style look to it. The frame is also matte green with black and green inlay on the spool. Overall, it's a really cool looking reel.
I got the 2000 series size, and it has some great features. First of all, it has an anti-reverse on and off switch at the bottom, which means I can back reel once I turn it off (this is an old school technique, but really does work!).
It also has 7+1 stainless steel bearings, which is great for smooth operation. The bail wire is thick and robust, which I really like. Opening and closing the bail is smooth and easy.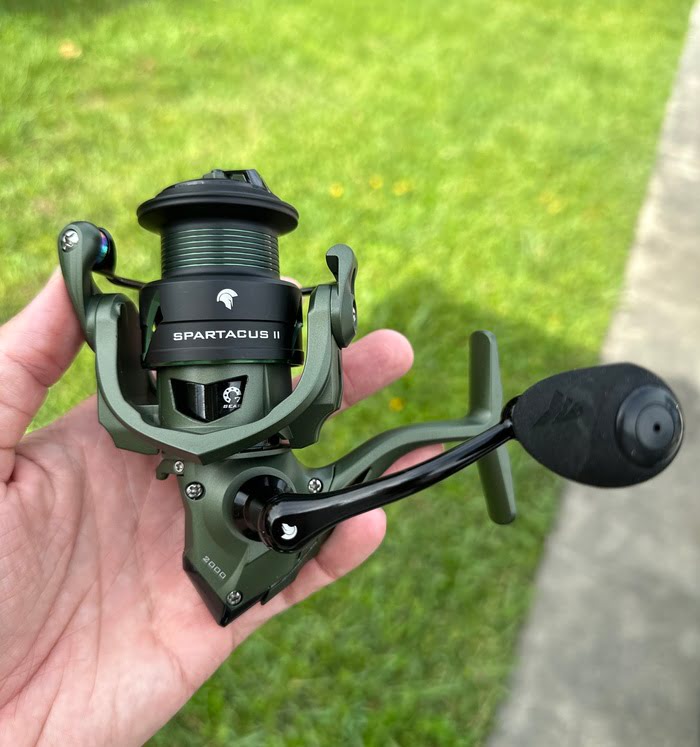 The reel itself has some weight to it, coming in at 8.9 ounces, which is just barely above average for this size of spinning reel.
I did a spin test right out of the box, and it performed really well. I haven't oiled it yet, but even without any maintenance, it was smooth and quiet.
One of the best features of this reel is that it has sealed components, including stainless steel hardware and a sealed spool.
This means it should hold up well in saltwater environments. I live in Florida, so I'm excited to take it out to do some saltwater fishing with it.
Comparisons With Other KastKing Reels
I have a few other KastKing reels to give a comparison on the size, frame and overall features.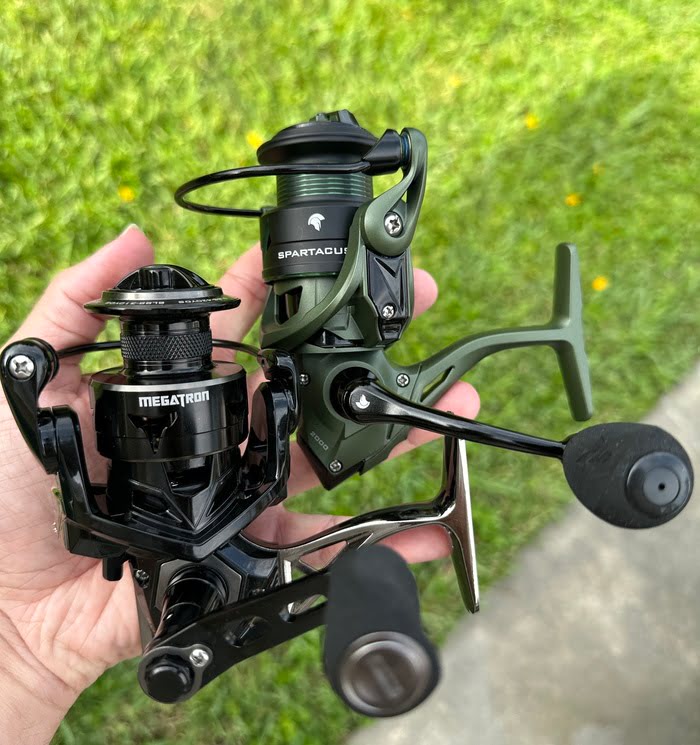 For example the KastKing Megatron is slightly larger and definitely heavier than the Spartacus 2. It has a Transformer-style look and feel to it, shiny black and chrome hardware.
The beefier size, spool and frame is becuase this is a fully shielded spinning reel, meaning it can withstand heavy duty saltwater use without fear of corrosion. It's also available all the way up to a 6000 size.
The Spartacus 2, on the other hand, has a cool matte green color with black and green inlay on the spool, giving it a military-style look. I prefer the look of the Spartacus 2.
The second reel I have here is the KastKing Summer 2000. This is a much lighter reel than the Spartacus 2, and I don't think it has sealed components.
The Summer 2000 is a freshwater-only style reel, (and a great value), but its simply not as robust, nor consturcted with stainless steel bearings. However, it does happen to be one of my favorite panfish spinning reels.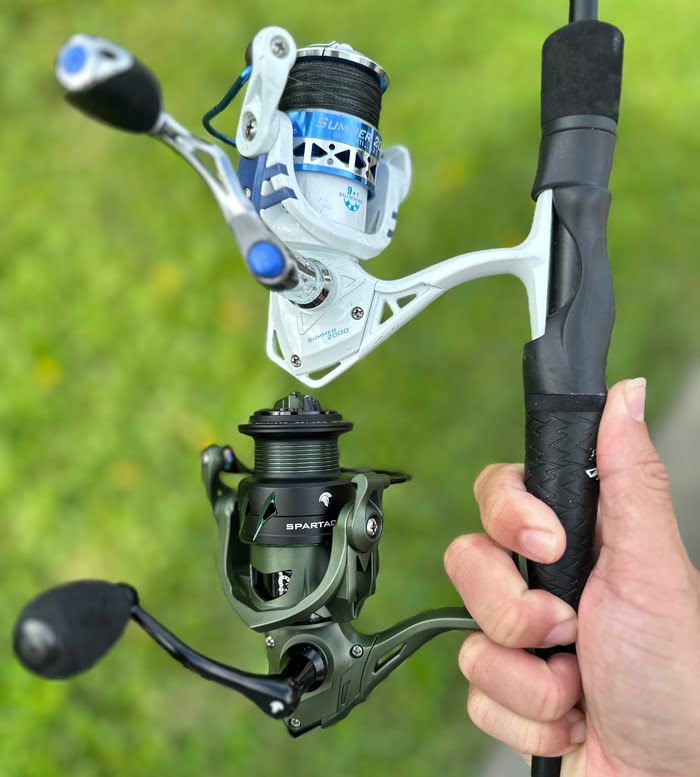 Spartacus II Features & Specifications
The big takeays features for me on this reel is the sealed carbon fiber drag, and 7+1 stainless steel ball bearings.
| Feature | Description |
| --- | --- |
| Design | Brand new, gladiator-inspired design |
| Body and Rotor | Reinforced nylon |
| Weight | Lightweight |
| Drag | Sealed carbon fiber, 22 lbs max drag |
| Bearings | 7+1 stainless steel |
| Saltwater/Freshwater | Suitable for both saltwater and freshwater |
| Smooth Operation | Ultra-smooth and reliable |
| Gear Ratio | 5.0:1 |
| Line Capacity | 8 lbs/220 yds, 10 lbs/165 yds, 12 lbs/120 yds |
| Retrieve Per Turn | 28.5 inches |
| Handle | CNC aluminum, EVA knob |
| Anti-Twist Line Roller | Yes |
| Warranty | 1-year warranty |
If you fish anywhere near saltwater, you should be using a reel with sealed componets. Even brackish water can cause havoc on reels and decrease performance, but the Sparacus II is rated for both fresh and salt.
Rigging Options
As I mentioned earlier, the KastKing Spartacus 2 Spinning Reel has some impressive features that make it suitable for different fishing environments.
The Spartacus 2 is available in different sizes, and I have the 2000 series size. This size is perfect for freshwater fishing, and I plan to use it primarily for bass fishing.
The reel's weight is slightly above average, which gives it a good balance and feel. I think it would look great with either black or green braided line, and I plan to spool it up with 10-pound braid.
I'll most likely rig this reel on a 7′ medium light action rod, and keep it as an all-around setup. IT would be great for throwing topwater baits, or as a catfish rig when fishing on the bottom.
And when I want to venture to the flats in search of trout or redfish, I think it will do great throwing a gold spoon, or really any hardbody style bait with the 5.0:1 gear ratio.
Final Thoughts
Overall, the KastKing Spartacus 2 is really sharp looking spinning reel, with plenty of features to make it stand out in its class.
The stainless steel sealed bearings are worth the price alone!
So whether you're fishing in freshwater or saltwater, this all-around reel has the features you need to tackle pretty much any inshore or freshwater fishing application.
You May Also Like: What Is More Important, The Rod or The Reel?
If you haven't guessed yet, I love fishing and everything about it!
To learn more about why I started Panfish Nation, visit the About page and follow along on Social Media: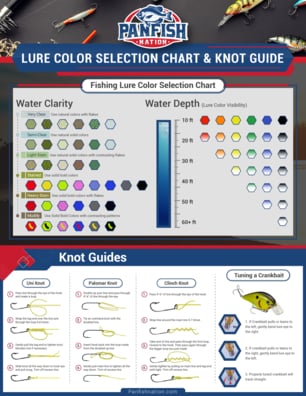 Download a copy of my FREE Lure Color Selection Chart & Knot Guide!
Stay up to date with fishing reports, tackle reviews, industry news, and much more! We respect your privacy, unsubscribe at any time.