Amazon Prime Day is a fantastic opportunity to replenish the tackle box and pick up a few new fishing rigs.
For 2022, Amazon Prime Day is July 12-13 and in this guide, I've compiled the best fishing deals and offers.
I've broken down each of the best amazon prime day fishing deals by Category (rod, reels, tackle, etc).
Enjoy!
This page contains affiliate links. As an Amazon Associate, I earn from qualifying purchases.
Popular Deals (Updated!)
On Amazon Prime Day, deals can pop up out of nowhere. Below are the most recent fishing-related prime day deals.
For example, ALL of the Penn Battle and Penn Pursuit spinning reels are 'on deal' for Prime Day!
Some of these deals are 'Lightning Deals' (limited quantities until they sell out!) and others are only valid for July 12-13th.
👇👇👇👇
Fishing Reels
There are a couple of great deals if you're in the market for a new fishing reel. Plenty of recognizable brands like Abu Garcia, Penn, and Lews are running prime day sales.
I've heard great things about the KastKing Versus Assassin, and the Abu Garcia Elite Max is a great spinning reel at a very affordable price.
If you're looking for a beefy reel that can handle saltwater fishing, check out the KastKing Megatron Spinning Reel.
It has an aluminum frame (won't rust) and 7+1 shielded stainless steel bearings.
Fishing Rods
Most of the fishing rods I was able to find for Prime Day deals are telescoping travel rods.
But there are a few options if you're looking for a high-quality fly rod from Fenwick, or if you are in the market for a large (10+ foot) surf rod from Berrypro.
Fishing Combos
I don't do too much Ice fishing down here in Florida (ha!), but I know that 13 Fishing makes a great product if your looking for an ice fishing combo
Fishing Tackle
Some great terminal tackle and lure deals are available, especially if you need to stock up on the essentials like fishing line, leader, or hooks.
And don't overlook the deals that Yo-Zuri and Rapala are running on their hard bait lures!
Another one of my favorites is the Crappie Magnet Kit…I fish with these a lot and can personally attest that they work great for crappie, bass, and bluegill!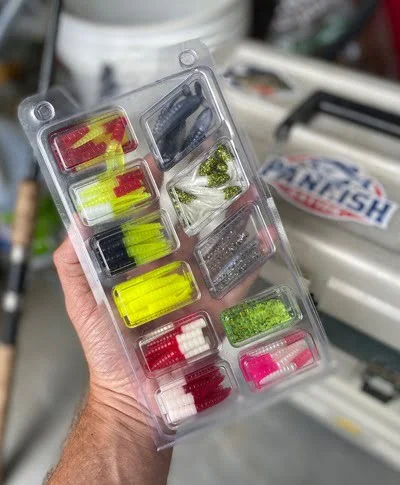 You May Also Like: Fishing Hook Sizes & Types Explained (With Chart!)
Fishing Tools
This might be the best deal on the entire list, a fishing line winder!
Every fisherman can relate to trying to spool their reels using pencils, shoes, holding the line between their knees, etc.
This one is already in my cart!
Fishing Accessories
Lately, I've been using a fishing backpack tackle box when pond hopping and exploring the creeks and canals in my area.
I haven't tried any of the models listed below, but this is a picture of my tackle backpack and it's still holding up strong after a few years!
Fishing Clothing
If you fish, you're in the sun…or in the rain. Protect your neck, ears, and skin from the elements so you can keep fishing longer.
Fishing Storage & Organization
If you tie your own flies, make your own homemade lures, or service your own fishing equipment these Akro-Mils Tool Drawers are a great way to keep small parts and pieces organized.
Boating & Paddling
Drop your phone in the lake one time like me…(dang it!)…and you'll be picking up a waterproof dry bag. They're great for keeping electronics, licenses, and boat registration documents safe and secure.
Frequently Asked Questions
I've been shopping on Amazon for years, and I absolutely love it. I buy a lot of my fishing tackle from Amazon, but plenty of other handy stuff too like batteries, sunscreen…heck, I've even bought live minnows before!
But, I know not everyone is familiar with Amazon Prime so below I've answered a few commonly asked questions.
Can you get prime day deals without Prime?
You have to be a prime member in order to get prime day deals.
Sign up for a 30-day free trial and I bet you will love it!
Can you preview Prime day deals?
Prime day deals are typically released by Amazon 1-2 weeks in advance. Browse around in your favorite category, and filter search results by upcoming or available.
Add your favorites to a watch list as popular products sell out quickly!
What is the point of Prime day?
Amazon Prime Day is a two-day event, promoted by Amazon.com to showcase the best deals on their marketplace. Some of the best deals of the year are offered on Amazon Prime Day, which helps boost sales and spending during the summer months.
Why is Prime day a big deal?
Prime Day is a big deal for online shoppers and Amazon sellers. It's a significant event that is carefully planned and promoted to showcase deals, new products and some of the biggest sales of the year.
Are prime day deals better than Black Friday?
Amazon Prime Day and Black Friday are both well-known shopping days when sellers and retailers offer discounts and deals.
Black Friday has traditionally been associated with brick and mortar (physical location) retailers, whereas Prime Day is an online event, similar to Cyber Monday.
How much are discounts on Prime day?
Most Amazon Prime Day discounts are between 15%-40%. However, some items can be discounted as much as 90%!
Final Thoughts
If you are anything like me, you'll use any excuse to buy a little more fishing gear…including Amazon Prime Day!
I hope this list was helpful to you, good luck!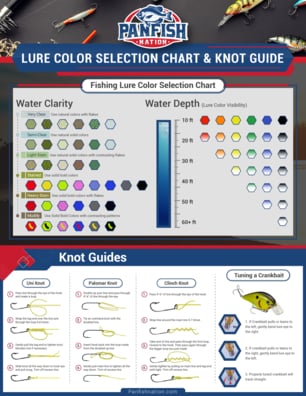 Download a copy of my FREE Lure Color Selection Chart & Knot Guide!
Stay up to date with fishing reports, tackle reviews, industry news, and much more! We respect your privacy, unsubscribe at any time.
Related Posts