When it comes to catching Bluegill on artificial lures, there is no shortage of options. In fact, Bluegill fishing is so popular that tackle manufacturers have created hundreds and thousands of options over the decades.
So, how do you know what lures work best for catching Bluegill? Well, in this article we are going to review the top 10 Bluegill lures of all time…and some of the results may surprise you!
This page contains affiliate links. As an Amazon Associate, I earn from qualifying purchases.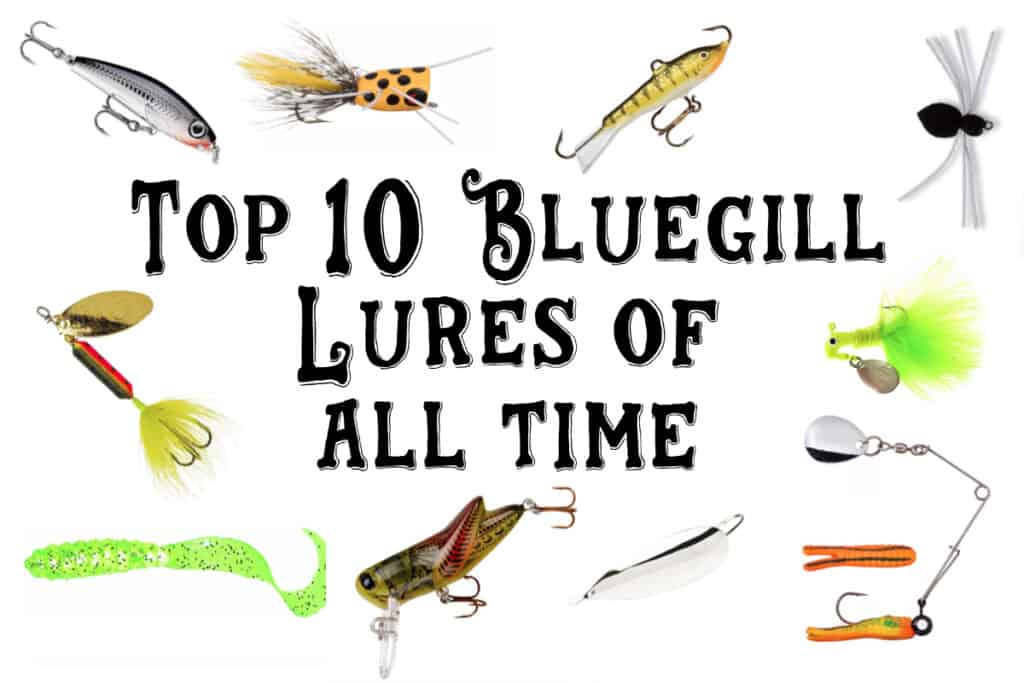 #10 Rebel CrickHopper
To check price CLICK HERE
It is no secret that Bluegill are voracious insectivores, and during the summer crickets and grasshoppers are one of the most common insects found in their diet. The Rebel CrickHopper is a fun topwater style twitch bait that can be fished on top or as a slow retrieve.
This lure is especially effective along shorelines and edges when Bluegill and other panfish can be seen actively fishing on the surface.
#9 Original Road Runner
To check price CLICK HERE
Coming in at #9 is the Original Road Runner. This timeless lure combines the weight of a jig-head, the flash of a spoon, and the action of a micro-jig to create a very effective Bluegill lure.
Best when fished at shallow to medium water depths, especially when you are trying to locate fish. Simply cast out and slowly retrieve and let the spoon and feathers do the work. May also be fished vertically jigging from an ice hole, dock, or boat.
#8 Yakima Rooster Tail Spinner
To check price CLICK HERE
The Rooster Tail Spinner is not just an effective Bluegill lure, but really an effective lure for any panfish or small trout. This lure works especially well in a light-moderate current where the water movement showcases the inline spinner just like a real-life baitfish.
Very effective during the summer and winter, or during low light conditions when the gold flashing spoon really pops to attract quick reaction bites from hungry fish.
#7 Rapala Jigging Rap
To check price CLICK HERE
Bluegill fishing may peak during the summer, but let's not overlook the fantastic ice fishing for bluegill during the winter. The Rapala Jigging Rap is ideal for vertical fishing under the ice, or any cold-weather fishing.
This balanced baitfish profile works best with a yo-yo action, or slowly bouncing off the bottom. Fish it slow, and get ready for those bluegills to bite, especially on the 'fall' action as it descends through the water column!
#6 Johnson Silver Minnow
To check price CLICK HERE
The Johnson Silver Minnow is as simple as it gets. This timeless lure imitates the flashing and wobble of an injured or schooling baitfish that Bluegill cannot resist.
Whether that is minnows, shad or Frye, this silver minnow spoon is deadly effective year-round for Bluegill- especially those in deep water. This lure can be trolled, vertical jigged, or slow retrieved to entice bites from nearly all predatory fish.
#5 Betts Poka Pop Poppers
To check price CLICK HERE
When Bluegill are actively feeding on the surface and slurping down water spiders, tadpoles, and insect larvae- tie on a Betts Poka Pop Popper immediately! This small floating popper imitates any topwater or floating food that Bluegill will target.
Fish it slow and let it sit, or give it a small pop or 'chug' to churn the water and hang on. This lure is unbelievably fun to fish on ultralight tackle of your favorite panfish flyrod.
#4 Rapala Ultralight Series Baits
To check price CLICK HERE
Rapala has been in the lure-making business for a long time, and their Ultralight hard-body baits are one of their most successful lines of lures. These small but durable baits are extremely effective at drawing strikes from Bluegill all year long.
See Also: The 5 Best Crankbaits for Bluegill + Fishing Tips!
Each lure features a balanced system that gives it an irresistible wobble along with a slight buoyancy for a slow-rise, diving or cranking action. Very easy to cast and cover water to locate hungry fish, and you will be surprised at the variety of species that hit these lures.
#3 Panfish Magnet
To check price CLICK HERE
Panfish Magnet jibs may not be a staple that your grandfather fished with, but that doesn't mean they don't deserve a spot on the list.
In fact, these soft body jigs are taking the panfish industry by storm. Their claim to fame is the unique 'horizontal' action. Instead of falling head down, they fall horizontally in the water column which means better action and more bites.
I personally use these lures and LOVE them!
#2 Berkley Gulp! Maggots
To check price CLICK HERE
Don't worry, these aren't real maggots but they work just as well! As we know, Bluegill are major insectivores feeding primarily on insects. That means that the Berkley Gulp Maggots are dang near guaranteed to get bites if you are fishing for bluegills.
Fish them on a small #8 Aberdeen hook, or tip your favorite jig. They work year-round, and every angler should have a bottle of these in their tackle box.
See Also: How to keep Bluegill from swallowing the hook
#1 Johnson Beetle Spin
To check price CLICK HERE
Perhaps no other lure on the market today has caught more Bluegill and panfish than an original Johnson Beetle Spin. This lure has been around for well over 50 years and continues to be a top choice for Bluegill anglers all over the country.
It combines the action of a soft-bait body, with the casting ability of a jig-head and the flash of a spoon or spinner all into one very effective lure.
You May Also Like: The 5 Best Panfish Spinning Reels Available Today
It's available in a variety of colors, sizes, and styles to entice even the most stubborn Bluegill. Anytime I am fishing a new lake and trying to locate fish, I throw on a Johnson Beetle Spin.
I can effectively fish deep water, shallow water, under docks, near the weeds, and everywhere in between. Bluegill cannot resist that small grub-like soft bait and the pulsating spoon. A true classic!
Final Thoughts
When it comes to the best lures for Bluegill fishing, there is no shortage of choices on the market today. All of them may catch fish at different times of the year, and there really is no right or wrong answer.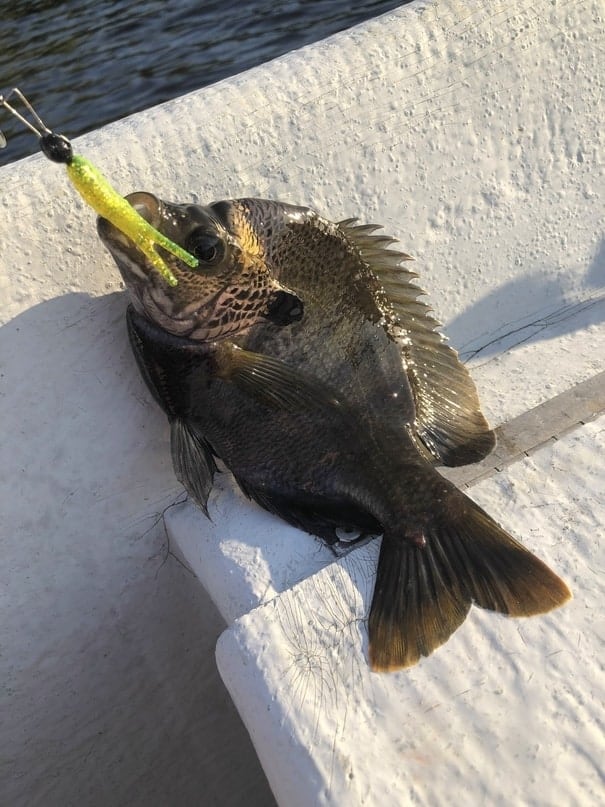 However, this list of the top 10 Bluegill lures of all time showcases the consistent producers, year after year, decade after decade.
Chances are you already have some of these in your tackle box…and if not, what are you waiting for? Grab a few and go hit the lake! Thanks for reading.
See Also: The Bluegill Spawn…Temperature, Biology, Habitat & More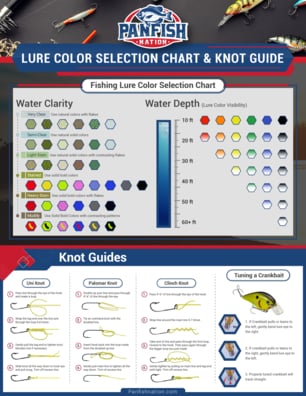 Download a copy of my FREE Lure Color Selection Chart & Knot Guide!
Stay up to date with fishing reports, tackle reviews, industry news, and much more! We respect your privacy, unsubscribe at any time.