As someone who fishes frequently, I've used a lot of different tackle boxes.
I've come to learn that having the correct tackle box that was designed specifically for lures and other various items in dedicated compartments is an immeasurable convenience.
There are many choices out there on the internet and in stores, and choosing the best one could be overwhelming and sometimes confusing.
So whatever type of angler you are, continue reading this expert guide to determine which tackle box may be best for your fishing adventures!
This page contains affiliate links. As an Amazon Associate, I earn from qualifying purchases.
Best Large Storage Tackle Box
Plano invented the first plastic tackle box in 1952 because they had the vision to improve every angler's fishing experience. As we all know, deciding on a fishing tackle system isn't a "one size fits all" experience.
The Plano 7771-01 Guide Series Tackle System is just one of the best-selling and highest-rated tackle boxes on the internet.
With its spacious storage and sturdy design, it is an angler's dream. Suppose you ever encounter a problem with your Plano tackle box. In that case, their lifetime warranty shows their confidence in their products.
Key Features:
The most prominent feature of Plano is that it is made in the USA
Included with the hard case tackle box are three removable bait racks and four pull out trays
Easy and accessible top access
Multiple sizes compartments for various tackle and tools
Specifications:
Hard case fishing tackle bag made out of plastic measures 21.25″ x 12″ x 12″
Waterproof exterior
Includes a lifetime manufacturers warranty
Best Soft Bag Tackle Box
This tackle bag is among the soft case ones with a quality storage option and excellent portability. This tackle bag is spacious and heavy-duty.
It holds a 38.8-liter capacity. Included with the bag are four large tackle trays and additional storage space built-in, such as the pockets, holsters, and on the exterior is a large mesh pocket.
One specific perk about this Siderwire Wolf Tackle Soft Bag is the removable fishing line dispensers on each of the sides. Keep that Fluorocarbon leader handy!
Key Features:
Fishing line dispensers
Spacious storage
Includes four tackle boxes
Lightweight and therefore great for portability
Specifications:
Soft case fishing tackle bag made out of a high-quality 1680 polyester fabric
Designed with heavy-duty zippers to withstand all conditions
Waterproof up to a certain point
Includes a lifetime manufacturers warranty
Best Backpack Style Tackle Box
We've talked about hard and soft case tackle boxes, and now it is time to tackle the backpack area! The Tackle Tek™ Nomad is a backpack integrated with a lighting feature.
This fishing backpack is considered a "single solution" backpack.
The LED light system illuminates the items inside but can also work as a task light when fishing in darker hours.
This pack has pretty much all the storage an angler will need. There is an upper storage area with a removable divider, and it can hold up to six 3600 tackle trays and four 3500 trays.
Key Features:
Easily portable and have adjustable shoulder straps for comfort.
Versatile storage options with an abundance of external and internal pockets and holders.
Can hold several trays, and when in wet conditions, practical as ever with the included rain cover.
Specifications:
This soft fishing tackle backpack is designed with heavy-duty, reliable, and high-quality fabric that measures 18-1/2″ x 17″ x 8-1/2″
Integrated LED light system where you can choose from high or low-level white LED or green LED light settings
Water-resistant up to a certain point
Best Sling Style Tackle Box
If you are the type of angler that likes to stay mobile and on the move- you may want to consider a sling-style tackle box. This condensed version of a backpack-style tackle box is lighter and more mobile.
You can even access the storage compartments while it still on your back, making it virtually hands-free. Perfect for creek walkers, swamp stalkers, and pond hoppers!
Key Features:
Integrated rod or bottle holder
Water-resistant exterior and PVC interior to protect tackle
Double-loop zippers
Adjustable strap for left or right side carry
Specifications:
Dimensions: 17.7" x 12.6" x 6"
Padded shoulder straps
Tackle storage and tool storage slots
Best Hard Case Tackle Box
This box is the upgraded version of the classic Flambeau tackle box. Of course, this is a budget-friendly descendant of the staple tackle box in the wonderful world of fishing.
At thirty-two tray compartments and thirteen removable dividers, the classic 3 Tray Flambeau Tackle Box is a piece of sturdy and reliable fishing equipment any fisherman or woman would stick with.
The accessible flip-top compartment helps when you need to quickly grab the lure that'll reel in that big bass. This hard case tackle box is constructed of high-quality plastic that is all-weather, oil-resistant, and yields as a water-resistant product.
Key Features:
Budget-friendly tackle box, upgraded from the classic
Tough and durable plastic material allows for use in any environment
Water, heat, and oil resistant
Eight built-in tray compartments and six removable dividers
Specifications:
Product Dimensions: 16″ L x 9″ W x 8.25″ D
Made in the USA
Drawtite™ latch and Tip-Guard™ tray supports
Best All-Around Freshwater Tackle Box
The Piscifun Fishing Tackle Backpack Bag is a highly versatile tackle box with so many possibilities. That is why its our pick for best all-around.
This tackle box combines the portability of a backpack, with the durability of a soft bag and the storage capacity of a large tackle box. From roomy sections to velcro, straps, and an added bonus, a removable small box that velcros right on top and has adjustable dividers inside.
You can fit up to (4) 3600 style containers and still have more room on the side to fit other gear as well as a rod holder. Imagine putting all your tackle inside and using the top for storing your lunch or snack items, and then you are off!
Whether you are offshore fishing, or a co-angler, or heading out on the canoe or kayak into a lake or pond, this will suit all your needs!
Key Features:
Available in 3 different colors
It can fit (4) 3600 style containers for maximum availability
Manufactured with water-resistant nylon; highly durable
Includes a large water bottle holder, and removable side pack
Reflective backpack straps
Specifications:
Made with high density 1000D nylon fabric, durable and water-resistant
Product dimensions: L 12.6'' W 7.9'' H 17.7''
11 Total compartments for a wide range of uses.
Benefits of Tackle Boxes
The most obvious benefit is that choosing the correct tackle box is going to protect your fishing gear and keep it organized.
The last thing I want is to buy an unreliable tackle box just to have my fishing gear destroyed by weather or environment, something I could control by purchasing the correct type.
Four Different Types of Tackle Boxes For Fishing
I know firsthand how it can be overwhelming to choose the perfect tackle boxes for fishing.
There are so many out there! From hard-cased to backpack styles and even more extensive type of tackle boxes you can't exactly carry around in one hand, how do you know which one is just what you are needing?
Let's go over a few of the main types available today:
Hard Case Tackle Boxes
Hard case tackle boxes are the classic tackle boxes. Think of the beige and green tackle boxes your granddad would carry with him.
Yep, those! Hard case tackle boxes originated as wicker or wood, but with the conditions a fisherman must endure, this material quickly became known to deteriorate or rust.
Not so much a benefit!
Nowadays, tackle boxes have been manufactured from hard plastic and designed with a flat trunk. Once opened, the tackle box displays three to four trays to organize all our fishing tools.
Hard case tackle boxes do work excellent and they are very simple.
Many fishermen and women choose this option of a hard case tackle box because either they are accustomed to this material already or are going on intense fishing trips where they will be getting very wet.
| PROS | CONS |
| --- | --- |
| Usually very affordable | Need a flat surface to open properly |
| Easy to carry handle | Contents can spill if flipped over |
| Mostly waterproof | Somewhat bulky |
Pros and Cons of Hard Case Tackle Boxes
Backpack Style Tackle Bags
Also known as the fishing backpack, backpack tackle boxes are more so favorited in today's age. This would be because of the versatility and hands-free capabilities.
Fishing backpacks were invented with bank fishermen or mobile fishermen in mind.
Fishing backpacks are excellent for when you want to have a little day getaway to do some relaxing fishing.
You wouldn't necessarily want to take a fishing backpack on a fishing boat trip as it likely won't carry everything you may need.
The best type of fishing suited for fishing backpacks is shore fishermen, fly fishermen, backcountry anglers, and co-anglers.
| PROS | CONS |
| --- | --- |
| Convenient to carry over long distances | Limited storage space |
| Multi-compartments | More difficult to access tackle |
| Usually Water-resistant | More expensive than hard cases |
Pros and Cons of Backpack Style Tackle Boxes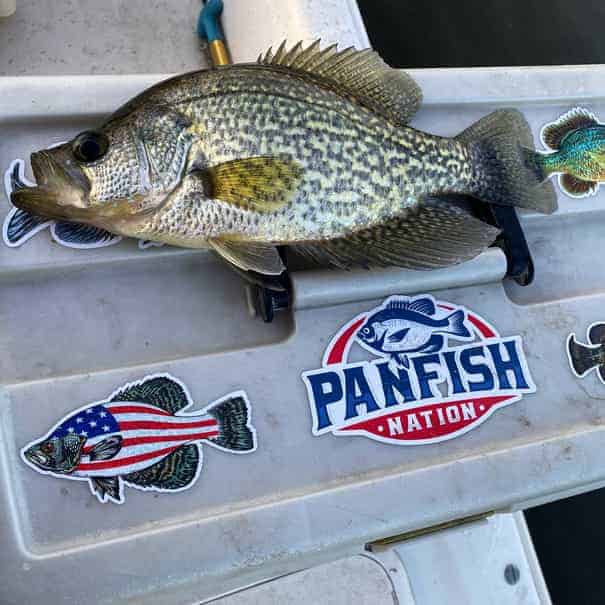 Sling Style Tackle Bags
Sling style tackle bags offer the mobility and versatility of a backpack style bag, with an even smaller profile and lighter package.
This is for when you want totally hands free operation with minimal tackle. Perfect for afternoon walks from camp, or shore excursions when island hopping out on the boat.
| PROS | CONS |
| --- | --- |
| Lightweight and very mobile | Minimal tackle storage |
| Affordable | Cannot store tools or big items |
| Usually water-resistant | Price ranges vary |
Pros and Cons of Sling Style Tackle Boxes
Soft Bag Tackle Boxes
Aside from a fishing backpack, soft case tackle bags are popular amongst many freshwater fishermen and women.
This would be because of the flexibility and capabilities that a soft case tackle box has. Similar in style to the hard case tackle boxes mentioned previously.
Still, typically these are lighter in weight, have more storage, and more flexibility than those of the hard case tackle boxes though they still are handheld products.
Soft case tackle boxes are generally water-resistant since many anglers use these when wading through water or even on a boat fishing trip.
| PROS | CONS |
| --- | --- |
| Very durable; great for boats | Not as quick access (usually a zipper) |
| Usually waterproof | Not as many compartments |
| Easy to access and store | Price ranges vary |
Pros and Cons of Soft Bag Tackle Boxes
Large Storage Tackle Boxes
When one is on a fishing trip, you are sometimes gone for days and want to be sure you have enough fishing gear for it all.
The simplest thing for any angler is to keep all of your equipment in one place where you can access it with ease.
No matter if you are on a boat trip or simply going down the coast pier to pier for fishing, carrying around days worth of fishing equipment can be taxing.
The best solution is to get a large enough tackle box that can store everything and also happens to on wheels!
| PROS | CONS |
| --- | --- |
| Maximum storage capacity | Bulky, difficult to carry |
| Multiple compartments and sizes available | Contents can spill if flipped over |
| Usually water resistant | Price ranges vary |
Pros and Cons of Large Storage Tackle Boxes
Frequently Asked Questions
How do I choose a tackle box?
When choosing a tackle box, there are four main criteria you should consider:
Type of Fishing
Size of Tackle Box
Storage Type & Options
Durability
Type of Fishing
When choosing a tackle box, ask yourself what type of fishing you are going to be participating in? Are you primarily fishing from a boat, or from land?
Will you be camping and hiking, or just taking afternoon trips from home? Do you like to carry a lot of tackle options and variety, or prefer a few simple tackle options?
Size
The size of a tackle box is a double-edged sword. If you choose something very large you will have plenty of storage options, but it's bulky and hard to carry.
I recommend taking a look at your existing tackle, and determining how much you have, and find a tackle box that will accommodate you and your needs. Do you need something big enough for the whole family?
Remember, you don't have to take all of your tackle with you in a tackle box. Keep the majority of your tackle stored at home in the garage, and load your tackle box for your fishing trips as needed.
Storage
Do you like plastic storage boxes, or easy to access trays? Do you prefer a multi-compartment configuration or would you rather have a few large storage access areas?
This is really personal preference. I like a combination of both; a place to store some larger tools and maybe lunch, but smaller compartments to keep my tackle and lures handy.
Durability
Most of the tackle boxes available on the market today are made of durable materials. PVC plastic, Nylon, and Polyester are the most common materials.
For extra durability look for things like reinforced zippers, double stitching, stainless hardware, and waterproofing. A high-quality tackle box or tackle bag can last years of heavy use.
How Do You Organize a tackle box?
The best way to organize a tackle box is by grouping similar types of tackle. For example, group all your hooks together in one tray/box. Then all your weights and terminal tackle together. Next, all your soft bait lures, and finally all your hard bait lures.
This can further be organized by size and color. Arrange your tackle from smallest to largest, and group together similar colors. This will make accessing your tackle much quicker when you're out on the water.
What should be in a beginner tackle box?
A copy of your fishing license if required
Pair of pliers or hook remover to safely unhook your catch
Small ruler or measuring tape to measure your fish
An assortment of hooks
A few of the most popular and common lures
Bobbers or floats
Terminal Tackle (leader, weight, and swivels)
See Also: 12 Tackle Box Essentials (Full List With Explanations!)
Why Are Tackle Boxes Important?
It is fair to say that your tackle box is one of the most essential pieces of equipment you'll bring on any fishing trip, not including your rod and reel. Tackle boxes will hold all the extra fishing gear you may not think you'll need, but you will!
Conclusion
Choosing the correct tackle box can be almost confusing as choosing the correct lure. Talk about paralysis by analysis!
Ask yourself, what type of fishing you like to do, how much tackle you own, and what style you prefer and you'll be on the right track to picking the best tackle box for your needs.
Remember, a tackle box is a valuable tool. It keeps all your lures easily accessible and ready so you can spend more time on the water fishing and making memories.
I hope this article was helpful to you, thanks for reading!
If you haven't guessed yet, I love fishing and everything about it!
To learn more about why I started Panfish Nation, visit the About page and follow along on Social Media: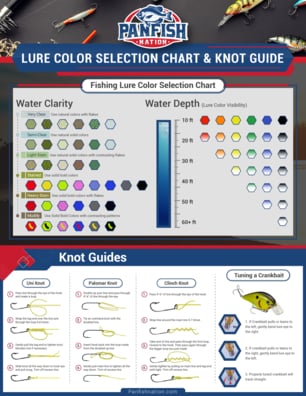 Download a copy of my FREE Lure Color Selection Chart & Knot Guide!
Stay up to date with fishing reports, tackle reviews, industry news, and much more! We respect your privacy, unsubscribe at any time.