Over the past year and a half, I have really been testing and using a lot of Piscifun fishing reels, and so far I've been impressed with the results.
I was able to get my hands on the Piscifun Alijoz Baitcaster, so in this article, I'm going to share my personal impressions and review!
This page contains affiliate links. As an Amazon Associate, I earn from qualifying purchases.
Design and Durability
Well, I know looks aren't everything, but the design and appearance of a fishing reel are important to most anglers (whether they like to admit it or not!).
The Alijoz comes in two different color/design patterns. The black and red, or the gray and gold. And the easy differentiator between the two is the gearing.
The black and red Alijoz are geared at 5.9:1 whereas the gray and gold are geared at 8.1:1. You can also choose between a single power handle, or a traditional double handle.
I opted for the black and red, double handle left-hand retrieve since I primarily fish freshwater.
Aluminum Frame
The Piscifun Alijoz Baitcaster reel features an aluminum frame that is both lightweight and durable.
The aluminum frame ensures that the reel can withstand the rigors of fishing in both freshwater and saltwater environments (although I have not tested it in saltwater, yet).
The frame also provides a solid foundation for the internal components of the reel, ensuring that they remain properly aligned and functioning smoothly.
Weight
Both models of the Piscifun Alijoz weigh in at 11.3 ounces, making them just above average weight in this size class. Thats not necessarily a problem, however.
The feel of the reel is substantial, and that translates into confidence when reeling and cranking heavier baits.
Double Handle or Single Handle Options
One of the unique design features of the Piscifun Alijoz Baitcaster reel is that it comes in both double handle and single handle options.
The double-handle option provides increased power and control, while the single handle option is more compact and lightweight.
The choice between the two options ultimately comes down to personal preference and the type of fishing you plan to do.
For example, if you plan to do saltwater fishing, especially reef fishing, or fishing from piers and jetties, then the single power handle is the way to go. You'll have more control and leverage when fighting strong fish near structure.
Line Guide
The automatic line guide on the Piscifun Alijoz Baitcaster reel is made from high-quality materials and is designed to provide smooth and efficient line management.
The guide ensures that the line is properly aligned as it is being wound onto the spool, reducing the risk of tangles and other issues that can arise when the line is not properly managed.
You May Also Like: Read My Review On The Piscifun Carbon X II
Performance and Stability
Gear Ratios
One of the standout features of the Alijoz is its gear ratios. This reel comes in two gear ratios, 5.9:1 and 8.1:1, allowing anglers to choose the speed that best suits their fishing style.
Bearings
The Alijoz is equipped with 8+1 stainless steel bearings, which provide a smooth and effortless casting experience.
The bearings are also corrosion-resistant, ensuring that the reel will last for years to come. I was impressed with how smoothly the reel cast and retrieved right out of the box with no adjustments or oil.
Magnetic Braking System
The magnetic braking system on the Alijoz is also worth noting. This system allows for precise control over the spool, which is especially important when casting into the wind or working with lighter lures.
Casting and Power
When it comes to casting, the Piscifun Alijoz Baitcaster performs very well. With its low profile design ultra smooth spool, I can easily cast my bait with precision and accuracy.
Adjust the magnetic brake to your desired tension depending on your lure wieght, and
Max Drag
One of the standout features of this reel is its impressive max drag of 33lbs. This means that I can confidently reel in even the biggest fish without worrying about the drag giving out.
The star drag system is also easy to adjust, which allows for quick and easy adjustment even during mid-fights.
Power Handle
The Piscifun Alijoz Baitcaster also comes equipped with a power handle, which provides extra leverage and control when reeling in a catch.
This is especially helpful when dealing with larger fish or vertical jigging, as it allows me to exert more force without straining my wrist or hand.
Comparison with Other Brands
When it comes to baitcasting reels, there are several brands to choose from. In this section, I will compare the Piscifun Alijoz Baitcaster with two other popular models: Lews KVD and Abu Garcia Revo X.
Lews KVD
The Lews KVD is a well-known reel among anglers. It is known for its smooth casting and high-quality components. However, when compared to the Piscifun Alijoz, the Lews KVD falls short in a few areas.
The Piscifun Alijoz has a higher max drag of 33 lbs compared to the Lews KVD's 20 lbs.
This makes it a better choice for catching larger fish. Additionally, the Piscifun Alijoz has a double handle which provides better grip and control, especially when reeling in heavy fish.
Abu Garcia Revo X
The Abu Garcia Revo X is another popular baitcaster among anglers. It is known for its durability and smooth performance.
Firstly, the Piscifun Alijoz has a higher gear ratio of 5.9:1 compared to the Abu Garcia Revo X's 5.4:1.
This means that the Piscifun Alijoz can retrieve line faster, making it a better choice for fast-moving fish. Additionally, the Piscifun Alijoz has a more powerful handle which provides better control and grip.
Conclusion
Overall, I think that the Piscifun Alijoz is a great hybrid-style baitcaster, equally adept for bass fishing the lake or snook fishing the flats.
It's a larger reel, even though it is low-profile and that really comes in handy with its max drag and cranking power.
Match it up with your favorite swimbait, and hang on! Thanks for reading and good luck.
See Also: Are Piscifun Reels Any Good? My Personal Experience
If you haven't guessed yet, I love fishing and everything about it!
To learn more about why I started Panfish Nation, visit the About page and follow along on Social Media: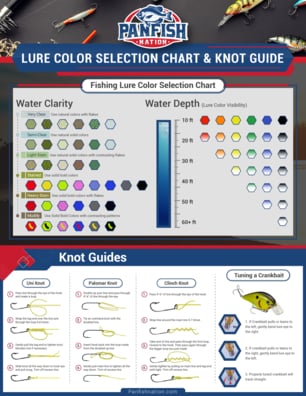 Download a copy of my FREE Lure Color Selection Chart & Knot Guide!
Stay up to date with fishing reports, tackle reviews, industry news, and much more! We respect your privacy, unsubscribe at any time.