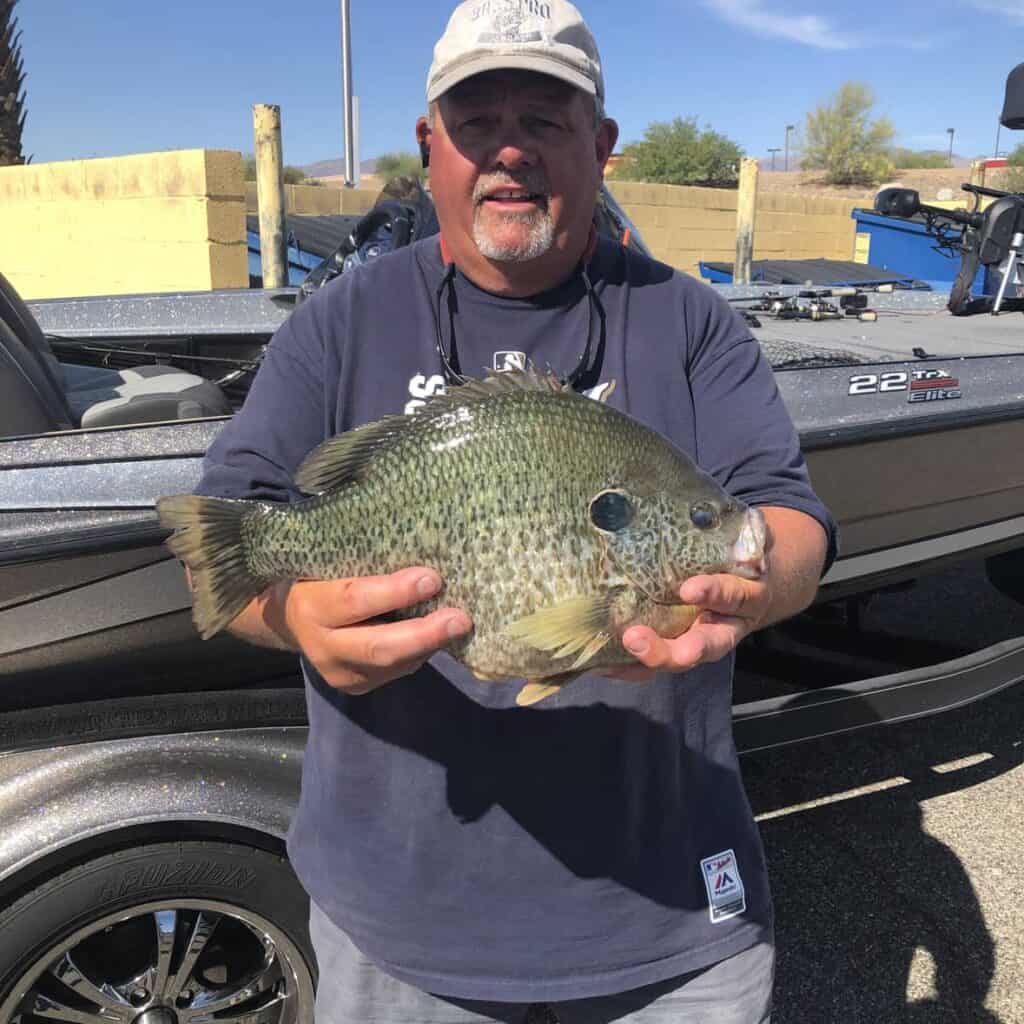 The freshwater fishing community around North America is buzzing off the recent news that a new world record Redear Sunfish (also known as Shellcracker) has been caught from famous Lake Havasu in Arizona.
The behemoth reportedly weighed 6 pounds 3 ounces, and was 17 inches long with a 20 inch girth. WOW!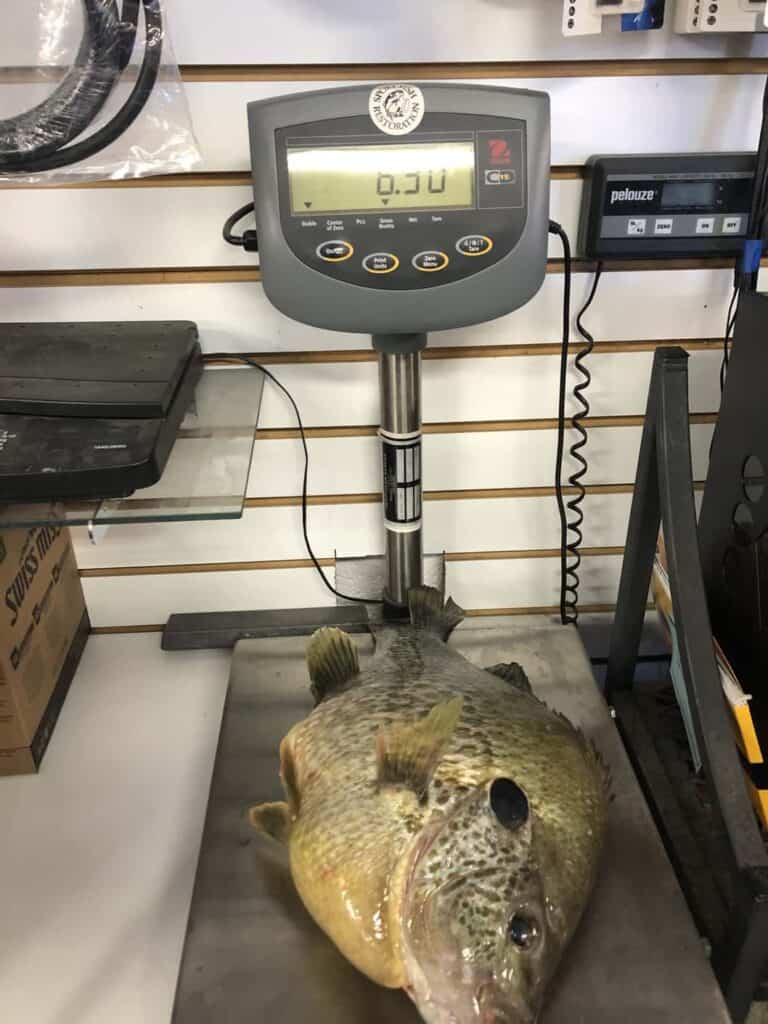 New World Record Redear Sunfish
The lucky angler is Thomas Farchione of Waterford, Wisconsin. I had the privilege of doing an interview with Tom, and he was kind enough to share more details and photos of this once-in-a-lifetime catch.
The story begins when Tom and his wife Sue traveled from their home in Waterford, Wisconsin to Lake Havasu Arizona for a few weeks of fishing. They had planned on fishing for bass, and of course, try for the giant Redear Sunfish the lake is known for.
Tom has limited experience on Lake Havasu, having only fished the giant reservoir once previously. His best friend and fishing partner Gregg Gerstmeyer flew down for a few days to fish with him.
Typically, the Redear Sunfish spawn on Lake Havasu from mid-April to mid-May. However, Tom reported that water temperatures were still very cold, and most catches were out deep in 20-30 feet of water.
"Fishing was sporadic, sometimes we would find them suspended, other times they would only bite on the bottom," said Tom. They spent some time moving around to different areas of the lake, trying to learn more about this unique fishery.
Over the coming days, Tom and Gregg caught their fair share of bass, stripers, and catfish. But they had the most success fishing with a 1/4 ounce drop shot rig with a live nightcrawler for redear sunfish. Tom was using 6-pound fluorocarbon leader on his 7 ft Lew's spinning reel and rod.
On Tuesday, May 4th at about 1pm, while fishing in a new area Tom got a bite that felt different…
"I thought I had a striper on" said Tom. "It didn't quite fight like a normal one, it felt really solid" When the fish finally surfaced "I saw the spot on the gills!" exclaimed his buddy Gregg. He quickly grabbed the net. The fish put up quite the fight, doing multiple deep runs and even getting under the boat at one time.
Tom and Gregg both knew they had a big one, but really had no idea just how big it was.
Finally, the fish came to the surface and Tom's best friend Gregg was able to net the behemoth. "The hook popped out as soon as he netted it!" Tom said. They both looked at the fish in shock and said "oh my god, what a monster!"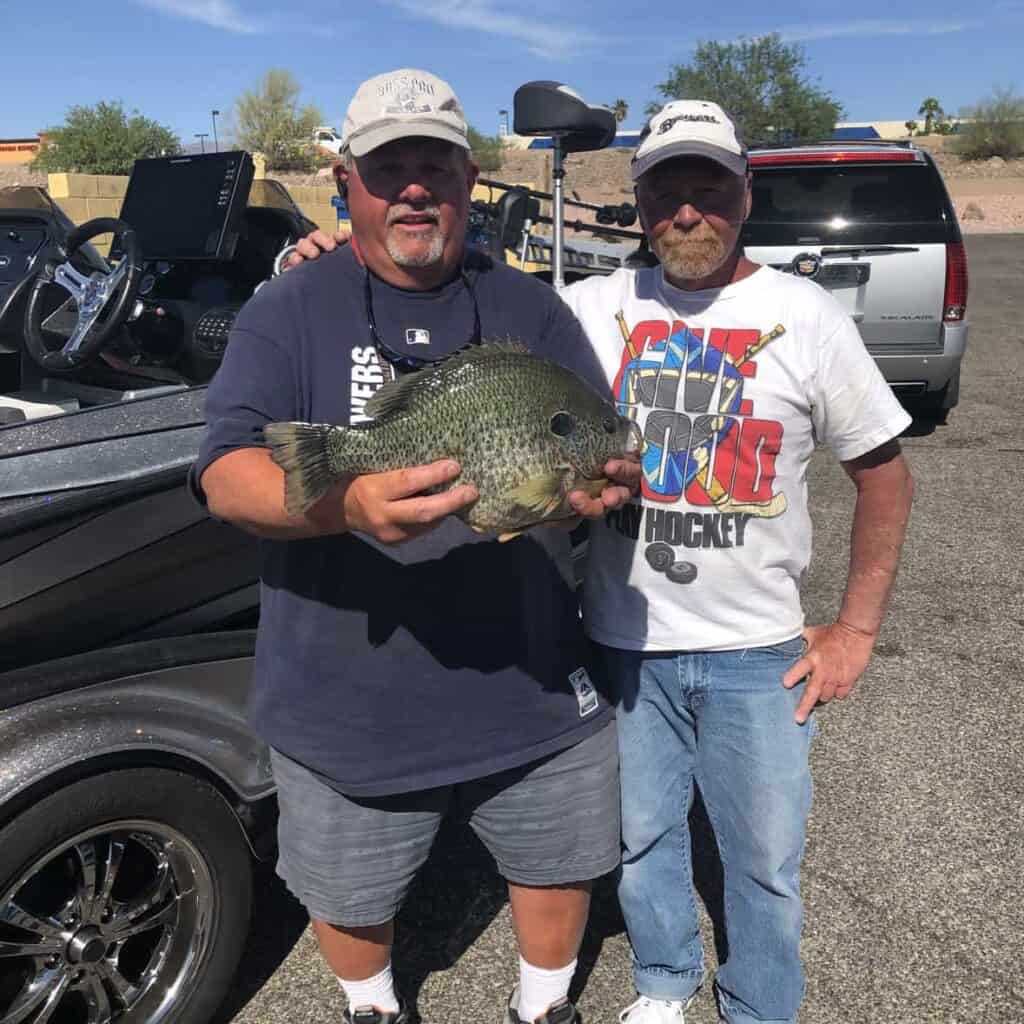 After exchanging hugs and high-fives, Tom and Gregg both realized they caught a special fish, so they measured and weighed it on their boat.
Tom, an experienced bass fisherman had an accurate scale on hand. The fish was 17 inches with a 20-inch girth. The scale read 6 lb 3oz. Wow!
Realizing he had a potential world record, Tom decided to come into town and bring the fish to Bass Tackle Master bait and tackle shop. They had a certified scale on-site and called the owner to come in and take the measurements.
"They were all very excited," said Tom. "The previous two world records were caught on Lake Havasu and certified at the same bait shop".
Tom caught the prized fish in a new area he had never fished before, in the southern portion of the lake, near Copper Canyon where it begins to neck down into the Colorado River.
News spread quickly about Toms big catch, the next day the local paper ran an article about the record-sized fish and Tom was recognized by other anglers at the bait and tackle shop.
"Hey, your that guy that caught the big Redear! I've been fishing here 35 years and never caught one even close to that size" said one angler.
As of this article, the record fish is still pending certification from the International Game Fish Association.
***UPDATE 12/29/2021***
It's official! Mr. Tom Farchione was nice enough to follow up and send us a photo of his certificate from the IGFA, for his new World Record All-tackle Redear Sunfish. Official weight 6lb 4oz.
"I've been fishing my whole life, mostly bass tournaments but you just never think of getting a world record," Tom said. He was humble, saying it could have easily been his best buddy Gregg that caught the fish, or anyone else fishing the lake that day.
I asked Tom for any tips or advice, for other anglers looking to catch big Redear Sunfish on Lake Havasu "The big ones are deep" he said. "There weren't any big groups of fish…the most we would catch in one spot is 2-3 fish, then we would move".
Sometimes all it takes is being at the right place, at the right time. Congratulations Tom, that is truly the fish of a lifetime! Thank you for sharing your story and photos.
Why Does Lake Havasu Produce Giant Redear Sunfish?
According to fisheries biologists with the Arizona Department of Game and Fish, it's all in the muscles! Oops, I mean mussels that is!
Redear sunfish, also known as shellcracker, consume snails and other crustaceans and mollusks as part of their diet. They are equipped with special pharyngeal teeth (hard, movable plates in their throat) in the back of their mouth to 'crunch' down this protein-packed food source.
Quagga mussels have now entered the chat! Lake Havasu is filled with these small and invasive mollusks and biologists think this abundant food source and lack of predators may contribute to the record-sized redear sunfish the lake produces.
Not to mention the abundant shrimp, crawfish and other common food sources found throughout the lake.
Every year countless 2 and 3-pound fish are caught by anglers all over the lake. 4-pound fish are not uncommon and many speculate there could be redear sunfish as big as 7 pounds lurking in the depths.
Whether it's the Quagga mussels, abundant food sources, water quality or all of the above…I am ready to plan a fishing trip to Lake Havasu, how about you?
After all, the last 2 record-breaking Redear Sunfish were caught from this lake!
Conclusion
World record fish have become increasingly rare over the past few decades mainly due to fishing pressure, habitat degradation, and other environmental factors. But let's all take a second to appreciate the size and grandeur of this specimen.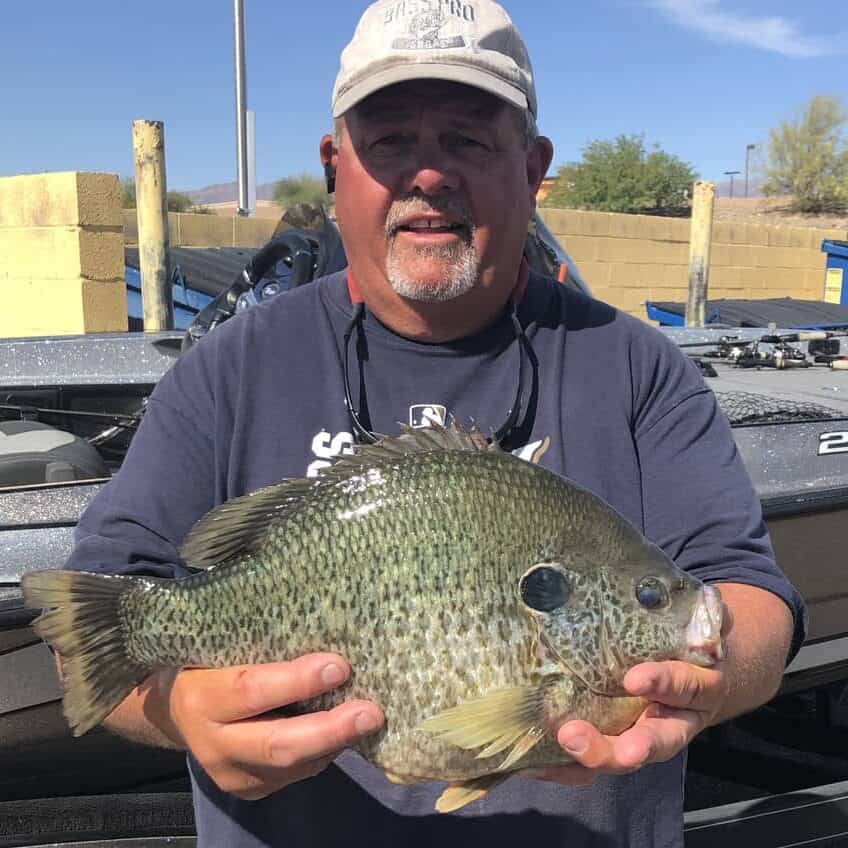 Lake Havasu has built a big reputation over the recent years, and for good reason! If you are interested in fishing deep clear water for big panfish (and bass, too!) plan a trip to Lake Havasu, you won't regret it!
Congratulations to Mr. Thomas Farchione!
If you haven't guessed yet, I love fishing and everything about it!
To learn more about why I started Panfish Nation, visit the About page and follow along on Social Media: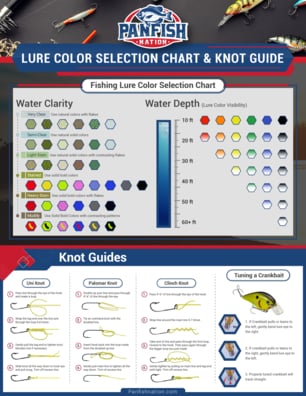 Download a copy of my FREE Lure Color Selection Chart & Knot Guide!
Stay up to date with fishing reports, tackle reviews, industry news, and much more! We respect your privacy, unsubscribe at any time.