Alright, when it comes to fishing tackle, where do you begin? In this article, I'm going to give you a list of all the tackle box essentials, no matter what kind of fishing you are doing.
And trust me, I've been fishing for 25 years and have used just about every piece of tackle out there.
By the end of this article, you'll have a better understanding of what you need to hit the water and have some fun fishing…and it won't cost you an arm and a leg.
This page contains affiliate links. As an Amazon Associate, I earn from qualifying purchases.
Introduction
Every tackle box should include the following essentials, no matter the fishing type or style:
Assored hooks
Assorted weights
Bobbers & Floats
Basic baits & lures
Fishing Leader
Needle nose pliers
Electrical Tape
Small bait knife
Terminal tackle
Tape measure
Line cutter
Copy of fishing License
With that list, you are covered and equipped for 99% of all fishing scenarios. Let's dive into detail for each item.
Assorted hooks
Ya can't catch a fish without a hook! In fact, It's very common for anglers to keep a variety of hooks in their tackle box so they are prepared for almost any type of fish, bait, or tactic.
J-hooks, circle hooks, worm hooks, and jig-heads are very common and great for beginners.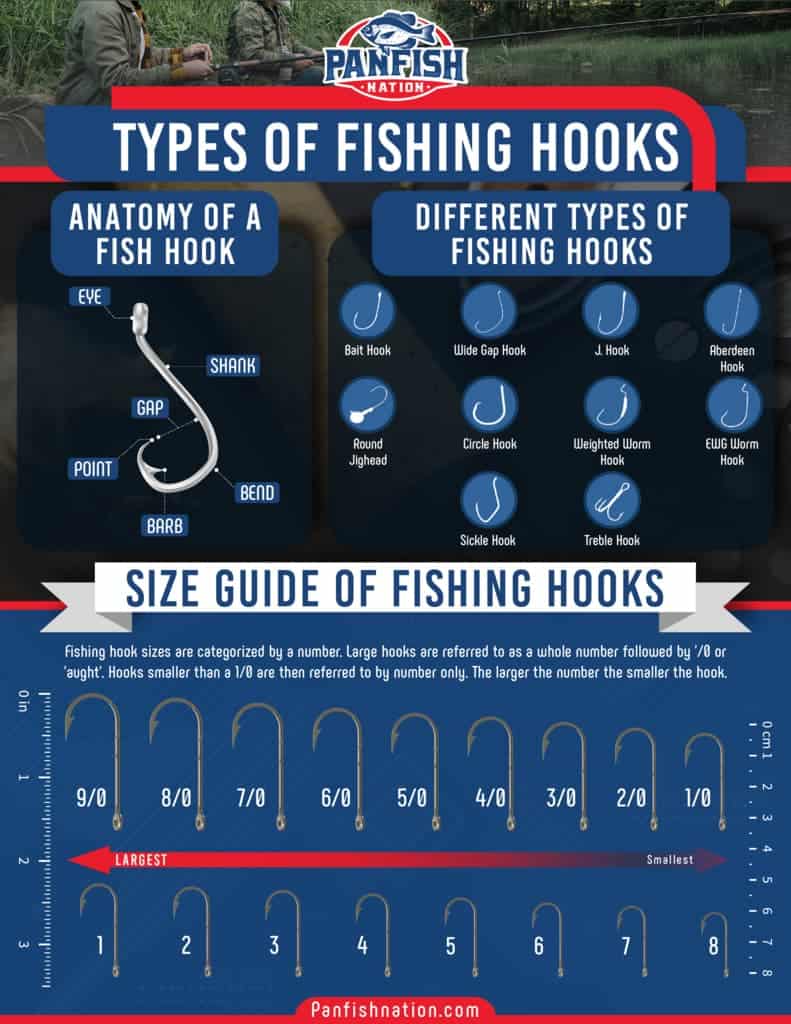 Hooks come in a wide range of sizes and types and they are very affordable. If you would like to learn more about fishing hooks, sizes and types visit my article here.
Assorted weights
Like fishing hooks, weights come in a variety of shapes and sizes. They are very common and should be included in every tackle box.
A weight is used to apply extra weight to a fishing line. This may be to get the bait on the bottom, suspend it in the middle of the water column, or to resist current and waves.
The most common type of fishing weights are split shots, egg sinkers, and bullet weights. Affordable weight kits are available at most tackle shops and online retailers.
Bobbers & floats
Bobbers, floats, corks…they are all the same thing. A device usually made of styrofoam or plastic used as a visual indicator when a fish bites.
Bobbers too come in a wide variety of shapes and sizes, colors, and style. There are slip bobbers, clip-on bobbers, and even night bobbers.
The main thing to remember here is that they all perform the same basic function, and having a few in your tackle box can really come in handy.
Especially when you are trying to keep your bait or lure suspended, or detect small subtle bites that would be otherwise hard to detect.
Basic baits & lures
Baits & lures is what everyone thinks you need to fill a tackle box with…but the truth is you really only need a few basic baits and lures for beginners.
As you get more experience fishing, you will find out what lures work best in your area and your favorite methods to fish.
What is the difference between 'baits' and 'lures'?
The terms baits and lures are often used interchangeably by anglers and that can be somewhat confusing.
Baits- this typically refers to some type of organic, or imitation food that fish eat. Baits are almost always put onto a bare hook, and usually cast and 'set' (not reeled in).
Common baits include worms, crickets, shrimp, shiners, shad, crawfish, leeches, minnows. Imitation baits include things like fish bites, stink baits, crappie nibbles, gulp, etc.
Lures- this typically refers to some type of plastic, rubber or hard-body style device that is used to mimic food that fish eat. Lures usually have at least one, or sometimes multiple hooks. They are often cast out and retrieved, or worked in a particular action to trigger a bite.
Common lures include: Topwater baits, weedless worms, jerkbaits & crankbaits, spinnerbaits, diving plugs, swim jigs, weedless frogs, spoons, and many more.
After the essential items, many anglers fill their tackle box with tons of lures and baits. In fact, some anglers become obsessed with this and spend hundreds of dollars on lures! Anything to get that extra advantage or make that fish bite, right?
In this guide- I think it's important to have a few basic lures as your tackle box essentials. To see some of my favorite lures visit My Tackle Favorites where I show you my favorite types by species and method.
Fishing leader
A lot of articles and gurus recommend keeping a spool of extra fishing line in your tackle box. While this can be great, if you have a room I think it's more important to keep fishing leader.
A fishing leader is a 12-36 inch piece of fishing line attached at the end of your mainline. It is used to provide additional protection and in some cases, conceal your line from the fish.
For example, let's say your main fishing line is 8 lb test and you are fishing for bass around structures like logs and stumps. You may want to consider adding a 12-15 lb test leader.
The most common leader material is made from monofilament line or fluorocarbon leader.
I find that a small spool of 15 and 25 lb leader covers the majority of my needs.
Needle nose pliers
Needle nose pliers have been inside of tackle boxes since they were invented! They are simply the best all-around tool for removing hooks and straightening hooks.
Let me explain:
More times than not, you need a tool to remove the hook safely from a fish. Sometimes they are hooked in the lip and sometimes they are hooked deeper down into the mouth (or swallowed).
Needle nose pliers are specifically designed to reach those hard-to-reach places, and they are very easy to use.
There are lots of different hook removers on the market, and those work great too. But a regular pair of needle nose pliers does very well and take up almost no room in the bottom of a tackle box.
Electrical tape
Ok…hear me out. This is an old-school tackle box trick: Electrical tape! No, it doesn't have much to do with catching fish, but it's amazing at keep you fishing!
Use it to fix a rod, tape your handle, wrap around your thumb or blister, fix your trolling motor, tape that loose wire, and so on.
A small roll of black electrical tape is a very inexpensive utility tool to keep on hand. Trust me, you'll find a use for it.
Small bait knife
A small bait knife is indispensable while out fishing. You may need it to cut the fishing line, cut a piece of rope, and of course, cut your bait.
Fishing with clams, shad, chicken livers, bluegill? You'll need a knife to cut those baits into smaller pieces before placing on your hook.
It doesn't have to big, and it doesn't even have to be super sharp. A small 4-6 inch bait knife is a great utility item to keep on hand.
Terminal tackle
Terminal tackle refers to anything that is tied or connected to the end of your fishing line. We've already covered hooks and weights, so for this, I'm referring to everything else.
A few standard swivels are all you really need to get started, but there are terminal tackle kits available that would be very adequate.
Tape measure
A simple tape measure is very important to keep in your tackle box so that you have the ability to measure your catch.
If you plan on keeping fish, you'll need to check with fishing regulations in your area. Many species of fish must fall into a 'slot size'.
For example, here in Florida you can keep up to 5 black bass, but only one may be over 16″. If you are fishing for mangrove snapper in Florida, they must be at least 10″ to keep.
A simple fabric tape measure works great and is small enough to fit into a tackle box.
Line cutter
Don't make the mistake I did for many years, and bite through the fishing line! It will ruin your teeth.
Instead, get a line cutting tool that is capable of cutting braid, monofilament or fluorocarbon.
I personally use these micro-scissors from Cuda. They can cut everything from 2lb test to 100 lb braid.
Copy of fishing license
Whenever I get my yearly fishing license, I make a photocopy and place it in my tackle box.
This way, I know I am covered in the event I forget my wallet, lose my phone, etc. A simple paper photocopy in a Ziploc bag has saved me countless times.
Other Miscellaneous Items
Whether you keep these items in your tackle box, in your boat, or in your jacket pocket, here are a few other miscellaneous items I always have on hand when fishing:
Bug spray
Sunscreen protection
Polarized Sunglasses
First Aid Kit
Boating Safety Kit
Landing Net
Camera
Final Thoughts
Don't get overwhelmed by the seemingly endless fishing tackle options available today. You really only need a few basics to get started, and most of the items on this essentials list will last a long time.
After a few fishing trips, you will begin to understand what works and what doesn't. You'll begin to develop your fishing style and acquire tackle as needed.
Lastly, I always recommend talking to and networking with other anglers. Ask them what's biting, what lures are working well this time of year. Anglers are always willing to help.
Thanks for reading and good luck!
See Also: How To Find The Best Fishing Spots Near You!
If you haven't guessed yet, I love fishing and everything about it!
To learn more about why I started Panfish Nation, visit the About page and follow along on Social Media: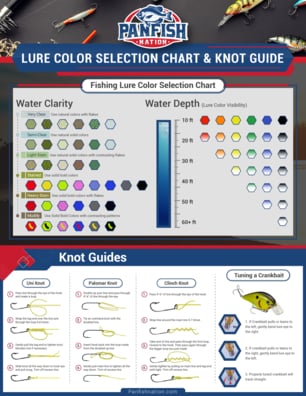 Download a copy of my FREE Lure Color Selection Chart & Knot Guide!
Stay up to date with fishing reports, tackle reviews, industry news, and much more! We respect your privacy, unsubscribe at any time.