The life of an angler comes in three stages: learning how to do it as a kid, spending your life out on the water, and then passing your knowledge on to the next generation.
Luckily, fishing gear and equipment has never been more accessible for kids. Get the proper gear for the right age, and bring them along to your favorite fishing spots…and start making those wonderful memories.
In this article, I've compiled a list of the 9 best fishing poles for kids ages 2-13. I've really put an emphasis on the 'FUN' part of fishing when choosing these fishing combos…because let's face it, having FUN is what is most important!
This page contains affiliate links. As an Amazon Associate, I earn from qualifying purchases.
Best Fishing Pole For 2 Year Olds
Shakespeare Iron Man Fishing Kit
Age: 2-5
Pole Specs and Features
This fishing rod and reel combo is certainly designed for younger audiences. You can customize the look of the pole to match your kids' favorite characters – Pixar's Cars, Iron Man, Barbie, etc.
But the cool decals aren't the only benefit of this rod. It's a lightweight yet durable rod with features that are specifically designed for the youngest of anglers.
2'6″ rod and reel combo
Thumb extension, finger guard, and round knob
Braided aluminum spool for extra durability
On/Off instant reverse bearing
EVA handle knob for ultimate comfort
Recommended Uses
Easy going fishing at the local pond or backyard fishing spot. This pole is designed for first-timers who are simply looking to enjoy the experience with their parents rather than actually reel anything in. It's a great way to start your kids out with fishing.
Pros
Designed for comfort and protection for young anglers.
Customization options provide cool designs and decals.
The lightweight pole allows even the youngest anglers to fish unassisted.
Cons
The plastic bobber doesn't come with a hook so no real fishing can be done.
Best Fishing Pole For 3 Year Olds
Age: 3-5
Pole Specs and Features
Zebco understands that accidents will happen, especially when you bring your kids along with you for a day out on the pond. Lines will tangle, poles will be dropped, and kids will get frustrated.
You shouldn't let any of these issues ruin your fishing experience, and Zebco ensures that you won't have to worry about them.
The floating pole will resurface after being dropped in the water.
The anti-tangle line prevents twisting and knots.
All-metal gears with stainless steel pick-up pin.
Comes with 6-feet of Zebco line for plenty of use.
Resistance personalization options for a better fishing experience.
Recommended Uses
This is the perfect fishing rod for ages 3-5 as it helps teach them the basics of fishing while allowing them to fish alongside you. There are plenty of safety measures present to accommodate your young angler's youth, but the fish will still come and the experience will be worthwhile.
Pros
Anti-tangle line and floating rod helps protect against accidents.
Durable design allows for years of fishing.
Plenty of pre-spun lines that is durable enough to handle larger fish.
Cons
The line can be difficult to change or swap out.
Best Fishing Pole For 4-5 Year Olds
Zebco Splash Kids Spincast Reel and Fishing Rod
Age: 4-5
Pole Specs and Features
This is a lightweight fishing pole that is perfect for kids ages 4-5 years old. It's flexible, lightweight and offers a smooth performance that makes fishing easy.
As your little angler gets older, the equipment they use should transition along with them. This is the perfect fishing pole for 4-5 year-olds looking to grab some experience while practicing their casting.
Pole is 29-inches and provides unmatched durability for this age range.
The size 20 spincast reel allows for smooth performance and easy fishing.
This rod is designed for practice yet enables your kids to fish alongside you.
No-tangle design so that the line won't get knotted while in-use.
6-lb Cajun fishing line is perfect for younger anglers and capable of catching fish!
Recommended Uses
This rod and reel combo performs best when your kids are just starting to get experience with actual fishing. It's designed to continue the casting and reeling practice found with earlier-age models, but allows for real fishing and catches. It's a fantastic design and simple use.
Pros
Lightweight line and rod that makes fishing easy.
The no-tangle design ensures that you won't be spending hours undoing knots.
Durable design allows for hefty fishing, even at a younger age.
Cons
Some stickers used in the model can fade after extended use in the sun.
Best Fishing Pole For 6-7 Year Olds
Zebco 202 Spincast Reel and Fishing Rod
Ages: 6-7
Pole Specs and Features
Zebco is back with another fantastic youth fishing pole. This time, they've included an entire kit of gear to ensure that your kids are properly prepared for the next fishing trip.
The 27-piece tackle kit is specifically designed for kids and ensures both safety and performance while in use. This is a surprisingly well-made rod, reel, and tackle kit for your 6-8year-olds.
In my opinion this is the age kids really begin to take an interest in fishing, and want their very own fishing pole, tackle box and gear! This kit includes:
Size 30 spincast reel features all-metal gears for a smooth performance.
The 27-piece tackle box provides plenty of equipment for all sorts of fishing.
5'2″ fishing rod and reel combo comes in 2-pieces and can be easily detached.
The expert design provides both performance and durability.
Recommended Uses
This pole is a perfect tool for your growing angler. Bring them along with you to your favorite fishing spot where the fish are biting and plentiful.
This rod and reel combo isn't built for massive fish who put up big fights, but it offers the perfect practice for catching small to medium fish such as trout, panfish and bass.
Pros
Easy to use pole that provides plenty of practice for your 6-8 year-olds.
The perfectly balanced pole is both lightweight yet durable.
Comes with a 27-piece tackle box.
Smooth performance makes fishing much easier for your 6-year-olds.
Cons
This kit contains real fishing tackle, including hooks so be careful and teach fishing safety!
See Also: 12 Tackle Box Essentials EVERY Angler should own!
Best Fishing Pole For 8 Year Olds
Ugly Stik Jr. Fishing Rod and Spincast Reel Combo
Age: 8 and up
Pole Specs and Features
Shakespeare has been making fishing poles for decades, and none are more famous than the Ugly Stik. The Ugly Stik Jr combo is a spin cast style reel, perfect for those middle-aged children who really want to catch a fish and learn how a rod and reel works.
Rod length is 3 feet 8 inches.
Reel is equipped with 6 lb test line, ready to fish!
Comfortable EVA grips.

Includes a practice casting plug, perfect for kids to hone their casting skills.
Recommended Uses
This fishing pole is perfect for children 8 and up looking to get an exciting start to fishing. The Ugly Stik is extremely durable and flexible, yet capable of landing fish up to 10 pounds!
Best Fishing Pole For 9 Year Olds
Zebco Slingshot Spincast Reel and Fishing Rod
Age: 9-10
Pole Specs and Features
This Zebco fishing pole is the perfect rod and reel combo for your 9-year-olds. It's slightly heavier than the younger models and provides a longer fishing pole for better fishing.
The 5'6″ 2-piece fishing pole provides the perfect balance for your 9-year-old and the size 30 spincast reel makes bringing in big fish simple. It's an expertly constructed fishing pole designed for kids.
The size 30 spincast reel comes with all-metal gears for easy reeling and fun fishing.
The EVA handle is built for comfort and fits to your hand so that you can fish for hours.
Each spincast reel is custom matched to a Z-Glass rod for expert fishing.
5'6″ rod that is perfectly balanced to bring in tougher fish.
Recommended Uses
As your kids start to get older, they'll begin to need gear that matches their age. Slightly increasing the sophistication of the tools while keeping them simple is a must to prepare them for adult fishing gear. This rod is perfect for your favorite calm fishing spot and can withstand the pull of some hefty fish.
Pros
Durable yet lightweight and well-balanced.
Comfortable grip made to form to your hand for optimal comfort.
Comes pre-spooled so that you can get fishing right away.
Cons
The larger sized rod can be difficult to cast for some children.
Best Fishing Pole For 10 Year Olds
Shakespeare Ugly Stick Dock Runner
Age: 10-12
Pole Specs and Features
This is a surprisingly simple rod and reel combo that is designed for both comfort and durability. The 36-inch rod is light and easy to maneuver making even the most tricky fish accessible for your young anglers.
The graphite and fiberglass rod provides an easy feel and allows your kids to bridge the gap between youth equipment and adult gear.
Fiberglass and graphite combine for a durable yet flexible fishing pole
Cork and EVA grips with twist lock reel seats
Comes with a 30-size spinning reel
The sleek red color makes for an impressive external look
Recommended Uses
Much like the Zebco Roam Spincast Combo, this rod and reel kit is the perfect pole to help your kids make the transition from young angler to experienced fisher. It's a simple, lightweight, and flexible pole that can withstand even the toughest fishing conditions.
Even though this rod is short, it's a great way to introduce a new type of fishing reel, the spinning reel to younger anglers.
Pros
A semi-professional rod and reel combo designed for your older kids.
Makes fishing easier for your kids but gives them experience with better tools.
The pole itself is one of the best constructions on our list.
Cons
Because the rod and reel are one-piece, storage can be difficult.
Best Fishing Pole For 12 Year Olds
Age: 11-12
Pole Specs and Features
This rod is one of the best pieces of transitional equipment for your growing kids. As they get older, it's important to help them transition from youth tools to adult gear with ease.
This pole is designed to do just that. It's a 10-lb line on an excessively lightweight pole that helps your kids balance their weight and feel the fish as they reel them in.
6-foot 2-piece rod and reel combo with medium power and action.
Fiberglass rod is designed to withstand some hefty-sized fish.
The AntiReverse Reel helps aid in fishing and prevents slipping against tough fish.
Pre-spooled 10-lb Cajun line.
Premium all-metal gears and duel ceramic pick-up pins.
Recommended Uses
As your kids get older, their equipment should complement their age. Keeping your 12-year old on the same pole they've been using since they were 5 will be counterproductive.
However, giving them adult gear at this age won't help either. The Zebco Roam is the perfect in-between pole for this age.
Pros
Expert crafting and design offers durability and flexibility while fishing.
Everything from the rod to the line is designed for durability.
This pole makes fishing easier while removing some training wheels found on other poles.
Cons
Removing a frayed line from the pole can be difficult.
Best Fishing Pole For 13 Year Olds
Tailored Tackle Universal Multispecies
Age: 13
Pole Specs and Features
Once your little angler reaches the age of 13, they fit that in-between point where most youth gear is too small for them, but the adult tools are too big. This is the perfect fishing pole to bridge that gap and carry your young angler from youth fishing to adult gear with you.
It's a 6'6″ pole that offers medium rod power and fast action. It's perfect for tougher fishing with your young angler.
Comes with a right-handed and left-handed reeling combo.
The universal fishing design allows your kids to fish for all species.
.Designed by experts in fishing who know what makes a good pole work
Durable design and powerful reeling allow you to bring in larger species of fish.
Recommended Uses
This pole is designed for freshwater, inshore saltwater, and even ice fishing. It's a durable and dependable fishing pole that helps teach your kids the basics of tougher fishing and bridges the gap between youth gear and adult fishing poles.
Pros
Great fishing pole for freshwater, inshore saltwater, and even ice fishing.
Offers a sense of durability unmatched by any of the other youth poles on our list.
The perfect size for your 13-year-old angler.
Cons
If using in saltwater, be sure to rinse off throughouly to prevent corrosion.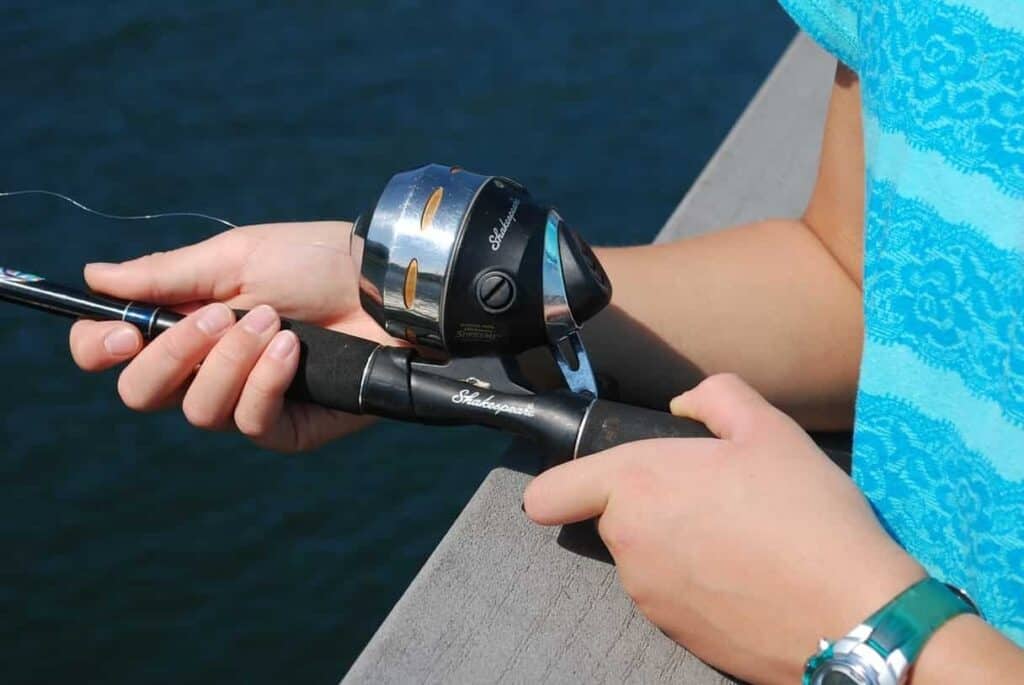 Frequently Asked Questions
Here are some of the web's most frequently asked questions regarding the best fishing poles for kids.
What Material Should Your Kids Fishing Rod Be?
Weight will play a factor in this decision as many young anglers aren't quite as strong as you are. You'll want a lightweight material that is durable enough to withstand their innate ability to break things. Fiberglass and graphite are two great options.
What Pole is the Best For My Kid?
That all depends on your little angler. We've provided a list of the 9 best fishing poles for kids ages 2-13 so that you can choose which one fits your kids' needs best. A pole that works for one kid might not work for another – check out our reviews and pick the one that fits your kid best!
How Do You Size a Fishing Pole For Kids?
Sizing should be comparable to their age and height. The younger the angler, the shorter the fishing pole. The taller the angler, the longer the pole.
| Kids Age | Suggested Rod Length |
| --- | --- |
| 2 | 2′ (toys) |
| 3 | 2′ |
| 4 | 2.5′-3′ |
| 5 | 3′ |
| 6 | 3.5′-4.5′ |
| 7 | 4.5′-5′ |
| 8 | 4′-5.5′ |
| 9 | 5′-6′ |
| 10 | 5′-6′ |
| 11 | 5′-6′ |
| 12 | up to 6.5′ |
| 13 + | Full-size Rods & Equipment |
Which reel is the easiest reel to use?
Spincast reels are the easiest to learn and use, especially for children and beginner anglers. They have few moving parts and operate with a simple 'push button' to cast and retrieve.
What age is a spinning reel for?
Children as young as 5 years old can be taught to use a spinning reel, but most anglers when they reach the age of 8-10 years old graduate to spinning reels and medium-sized rod/reel combos.
Conclusion
Most lifelong anglers can recall their very first fishing trip…and chances are that is what sparked the passion for fishing.
When kids are young and impressionable, it's more important to be sure they are having fun and not getting frustrated.
Don't worry too much about picking out the best quality or most expensive fishing combo for kids. Instead, pick something that is the right fit for their size, something they can use with their imagination and feel like they are part of the 'crew'.
I hope the kid's fishing poles in this article help you out, but more importantly, I hope you take the time. to introduce a child to fishing. and pass along your knowledge of this wonderful hobby.
Thank you for reading!
If you haven't guessed yet, I love fishing and everything about it!
To learn more about why I started Panfish Nation, visit the About page and follow along on Social Media: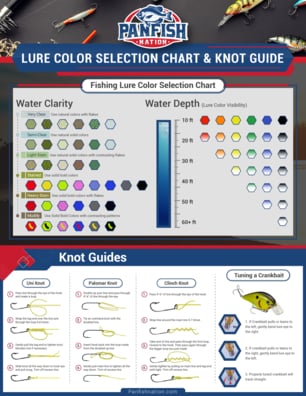 Download a copy of my FREE Lure Color Selection Chart & Knot Guide!
Stay up to date with fishing reports, tackle reviews, industry news, and much more! We respect your privacy, unsubscribe at any time.