Choosing the best fly fishing combo for a beginner can feel like a daunting task…but it doesn't have to be!
What size? What length? Which brand? These are all common questions every beginner fly angler has asked themselves.
In this guide, I've put together the 6 best fly fishing combos for beginners that are affordable and perfectly capable of catching fish.
This page contains affiliate links. As an Amazon Associate, I earn from qualifying purchases.
Choosing The Correct Fly Rod Combo
There are a few things to keep in mind when shopping for your first fly fishing combo:
Budget (Ask yourself how much your can afford?)
Accessories (Do you want a full kit of tackle or buy items seperately?)
Which Size/Weight (This is important depending on the type of fishing your going to do).
When it comes to shopping for fly rods, you'll often hear the term 'weight'. This is referring to the size and strength of the rod.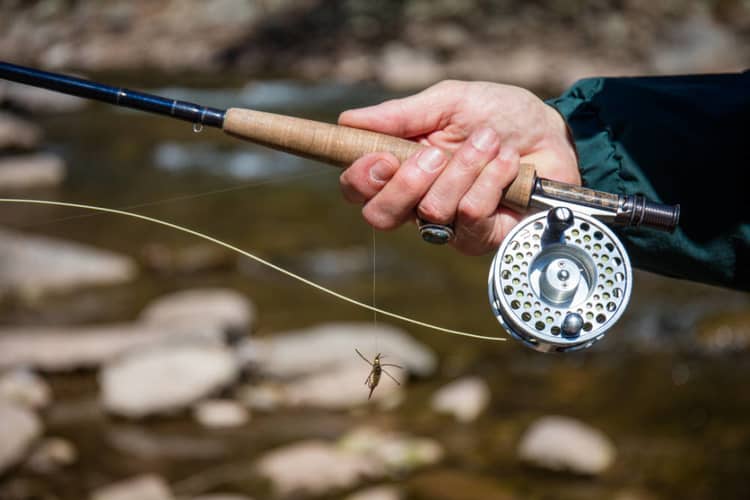 The higher the weight, the stronger and more capable the rod is to cast larger flies and land bigger & more powerful fish.
The lower the weight, the more delicate and sensitive the rod is to cast smaller flies and land smaller fish.
Chances are you know what kind of fishing you want to do, so take a look at the chart below to get a good idea on the recommended size fly rod combo you should consider:
| Type of Fish | Recommended Size |
| --- | --- |
| Panfish | 1-4 weight |
| Small Trout | 1-4 weight |
| Smallmouth Bass | 4-7 weight |
| Largemouth Bass | 4-8 weight |
| Large Trout | 4-6 weight |
| Catfish or Carp | 6-10 weight |
| Pike and Muskie | 7-10 weight |
| Steelhead or Salmon | 7-10 weight |
| Inshore Saltwater Fish | 6-9 weight |
| Offshore Saltwater Fish | 10-14 weight |
The Best All-Around Fly Fishing Combo
If you are looking to wet your feet and get into fly fishing for the very first time, I highly recommend the Piscifun Fly Fishing Combo Kit.
I personally use this exact setup, and I have yet to find a better combination of value and quality. This beginner fly fishing combo includes:
1 x Piscifun 5/6 weight Fly Rod
1 x Fly Reel with Line (fly line, backing line and leader!)
1 x Easy Carry Fly Box with Lanyard
1 x Fly box (with 9 starter flies)
1 x Stainless Steel Line Cutter
This kit is 100% ready to fish out of the box, and that is why I recommend it for beginners. It has everything you need and comes in the best all-around size (5/6).
If you are interested in building your own combo, check out Piscifuns fly reels (most are less than $50 and they always run sales!) and match them with your favorite fly-rod.
The Best Fly Rod Combo For Under $100
The Maximum Catch MaxCatch Extreme Fly Fishing Combo Kit is the best rod combo for under $100, "it comes with everything you need to get started on your fly fishing journey".
This kit includes flies, nippers, a waterproof fly box, rod and reel case, and of course the fly rod and reel. The Maxcatch Extreme also comes in a variety of sizes ranging from a 3 weight to an 8 weight, allowing the angler to really get what he/she wants.
The fly rod itself is made of IM7 Graphite while also being reinforced with carbon fiber, "making this rod at least 20% stronger than the other fly rod combos in its price class."
Maximum Catch offers a one-year warranty, as well as a lifetime repairing warranty. You simply cannot beat the value this combo offers.
Don't let the cheap price tag fool you…this combo can really catch fish!
The Best Fly Fishing Combo Between $100-$200
If you are looking to step it up a notch in the performance aspect consider looking at the Redington Crosswater, coming in at just under $150.
This is a great combo for anyone looking to get into the fly fishing world or someone who already has been fly fishing who simply wants another combo at an affordable price.
The Crosswater fly rod offers many great features that aren't found with many rods in its price range. The rod is built on a medium-fast action fly rod, providing easy casting capability with a wide variety of flies.
it also comes in multiple different weight sizes and two different rod lengths, a 7'6 option perfect for those small streams, as well as a 9' length option, as well as offering alignment dots to make sure your rod stays straight,
Redington offers great customer service and warranty options.
The Best Fly Rod Combo For Under $200
Next up is the Orvis Encounter fly rod combo, this combo comes in right around $170, and offers multiple weights, and sizes with another step up in quality and components.
The Orvis Encounter fly reel is spooled with Orvis's weight forward fly line allowing you to present dry flies delicately as well as throw small streamers, and bass bugs, all while being sensitive enough to be a great nymphing rod.
You will be hard-pressed to find a rod of this quality for the price, not to mention the rod also comes with Orvis's no-questions-asked 25-year rod warranty.
Whether you're new to fly fishing or just looking for a new combo that does it all, the Orvis Encounter might just be the one for you.
And for whats its worth, Orvis is synonymous with fly fishing; they have been in the business for decades and are one of the leading brands for all experience levels.
The Best Value Fly Fishing Combo
TFO rods have always been the gold standard when it comes to affordable high-quality fishing rods, so it's no surprise that the TFO NXT combo made the list.
Considered by TFO the most important product they make, the TFO NXT combo gives you all the performance without all the frills.
Available in multiple weights, and sizes, the reel comes preloaded with backing and welded loop fly line, the fly line is also up-lined one weight to ensure easy loading and casting.
The TFO NXT fly combo would be the perfect gift for not only the new angler but anyone who is looking for an amazing performing fly rod for an unbeatable price!
All TFO rods are also covered by TFO's famous lifetime warranty.
TFO runs their warranty program as a break-even business, Meaning that TFO will replace your rod as quickly as they can with no profit to their business. Allowing you to get the cheapest and quickest replacement TFO can offer…which means more time on the water!
The Best (Quality) Beginner Fly Fishing Combo
For those of you looking for a premium quality beginner combo, check out the Orvis Clearwater combo. This rod is definitely the most expensive fly rod on our list as it comes in right around $380.
However, with this price comes many great features not offered in the other rods.
Each Orvis Clearwater is specially designed with a functional purpose in mind. They have rods designed for small stream dry flies, as well as rods made for throwing big streamers for big salt and freshwater fish, you can truly get whatever specifications you are looking for in a rod with the Orvis Clearwater.
The rod is also backed with the Orvis 25 year warranty, where they will replace your rod that has any flaws in manufacture error.
This rod is perfect for those who have a larger budget, want to buy one combo and use it for life, and have a specific job and purpose they would like to accomplish.
Frequently Asked Questions
What size fly rod is best for beginners?
A fly rod between 8'6″-9′ is a great size for beginners because its not too big or too small, and will allow you to feel the flex and bend of a fly rod without being overpowering.
What is a good fly reel for beginners?
In my opinion, the rod is more important than the reel. However, if you plan on fishing in saltwater you'll want to choose a reel that is made of aluminum or other materials to withstand saltwater use. Plastic reels are very affordable, but not nearly as durable.
Is it hard to learn fly fishing?
To truly become proficient with the art of fly fishing, it does take practice and effort. However, there are dozens of techniques and methods when it comes to fly fishing. Do not let this intimidate you…many of these techniques can be learned in a single afternoon.
Is fly fishing an expensive hobby?
Fly-fishing is no more, or less expensive than regular fishing…or any other hobby for that matter. Nowadays you can find the equipment you need to fit almost any budget.
In fact, it's entirely possible to get everything you need to begin fly-fishing for less than $100…and that could last you many enjoyable years.
See Also: Is Fishing Expensive? (Full post and explanation…You may be surprised!)
Do you catch more fish fly fishing?
One of the perks of fly fishing is the unique techniques, flies, and presentations that are only possible with the finesse of a fly rod.
Do you catch more? Well…that depends on the angler of course! But I will say, fly fishing anglers are fully capable of keeping up with, or out-fishing conventional tackle users.
Final Thoughts
It is important to remember that the best fly fishing combo can vary from one person to another.
Everyone has a different budget, and different desires or outcomes they are seeking. Some may just be casual anglers…whereas others may be aspiring guides!
So my advice is this: If you are looking to buy your very first fly fishing combo, get whatever you can afford within your budget.
Don't worry about getting the perfect setup! Find what fits your price range, and style/size of fishing, and have fun!
Chances are you are going to fall in love with fly fishing, and your first purchase will just be the tip of the iceberg in a highly addicting and fun hobby.
Thanks for reading!
If you haven't guessed yet, I love fishing and everything about it!
To learn more about why I started Panfish Nation, visit the About page and follow along on Social Media: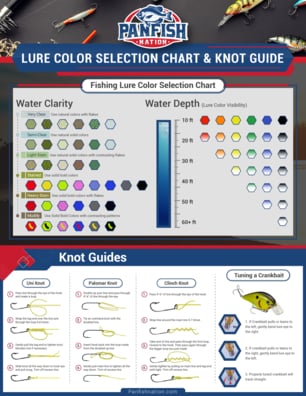 Download a copy of my FREE Lure Color Selection Chart & Knot Guide!
Stay up to date with fishing reports, tackle reviews, industry news, and much more! We respect your privacy, unsubscribe at any time.