Lake trout are a common fish in cold water lakes in North America and are a popular game fish, both for open water fishing and ice fishing.
Despite their popularity as game fish, they have a mixed reputation when it comes to taste and desirability…
So, are lake trout good to eat?
Let's explore this topic!
Are Lake Trout Good Eating?
Lake trout are good to eat, as long as you are careful to only keep the smaller ones, and as long as you take them from lakes where they're eating a lower fat diet.
The bad impression some people have of lake trout as a food fish most likely comes from eating ones that have too much fat.
All lake trout are oily fish, with a high-fat content. The question of whether a lake trout is good to eat will be determined by how much fat the trout has.
Generally speaking, you want a trout on the lower end of the fat content scale, because higher fat lake trout have more of a greasy texture, with a stronger "fishy" flavor. 
How To Find Good Tasting Lake Trout
It's easy to tell if you have a lake trout with a higher fat content; all you have to do is look at the color of the meat. If your fillet is whitish, that's a high fat trout. You want pink/red meat for good eating.
Two things determine what the lake trout's body composition will be. The first is its size.
You don't want to keep any lake trout that's over 4 pounds or that's 30 inches or longer. The big ones are almost always fatty and strong tasting.
The second factor is its diet. A lake trout that's eating high-fat bait fish will have whitish meat and taste strong. One that's eating lower fat will have the desirable pink/red meat.
Fortunately, the dietary base is generally a constant in a lake, so once you know a lake has tasty lake trout, you don't have to worry about catching overly fat ones in that lake, as long as you watch the size.
What Do Lake Trout Taste Like?
Lake trout has juicy, firm meat with a mild flavor. If you like other trout or salmon, you'll like lake trout. 
A good, pink fillet from a lake trout is similar to other rainbow trout or sockeye salmon. It has a slight fish flavor but isn't overbearing as is always best when eaten fresh.
Are Lake Trout Safe To Eat?
Yes, lake trout are safe to eat. Their meat contains no toxins that are harmful to humans, nor are they prone to any parasite that proper cooking or freezing won't neutralize. 
Like any fish, the water you take them from can be a factor, since a fish from polluted water will contain varying amounts of the pollution's toxins.
However, since trout prefer to live in clean water, this isn't generally an issue.
Also, environmental toxins build up over time, and since you won't be keeping the bigger, older lake trout, you have extra protection.
Is Lake Trout Good For You?
Yes, lake trout is a very healthy fish to eat.
An average 8-ounce serving of lake trout has only 300 calories, no carbohydrates,13 grams of fat, and 43 grams of protein. This makes it an excellent source of protein.
While it has a relatively high amount of fat, it's virtually all omega-3 fat, which is known for its ability to protect against cancer and heart disease and which has numerous other health benefits.
In fact, the fatty, white fillets that many people find too strong are probably even healthier than the pink/red fillets because of the much higher omega-3 dose they contain.
How To Prepare Lake Trout
Lake trout aren't a particularly hard fish to prepare, but there are a couple of things you know to make your fillets the best that they can be.
Lake trout have some pesky small bones that should be removed in the cleaning process because they're so small that they're annoying to try to deal with when you're eating. 
Lake trout can be eaten with the skin on or off, but it's more common to eat them with the skin removed.
Fillet & Gut
You can fillet them without gutting them, but this has the potential to be messy.
You're better off gutting the fish first and not having to deal with a messy clean-up of your fillets afterward. 
While fish liver is a bit of an acquired taste, some people like them, and lake trout liver is decent-sized and completely safe. If you like the liver, set that aside for a special treat!.
Once you've gutted your trout, take your very sharp filleting knife and begin a cut right behind the pectoral fin.
Cut it on a diagonal toward the head and stop when you encounter the backbone. Turn the knife and pass the knife all the way down the fish to the tail.
Some people pass over the ribs. This works, but you'll have more meat if you remove the ribs after you have cut out the fillet, and it's a lot easier to do.
Once you have your fillet, flip it over and skin it by passing the knife between the skin and the meat, starting at the tail.
Remove The Ribs
The ribcage is easily visible. Cut this out. A flexible fillet knife lets you stay as close to the ribs as possible, sparing more meat.
Once you've removed the ribs, look for any whitish meat in the belly area. If you see any, remove it; this is fat and can add a much stronger flavor.
Lake trout have another set of tiny bones in the front portion of the fillet, above where the rib cage was. You may be able to see them, but it's easier to find them by just passing your finger down the fillet and feeling them.
You May Also Like: Freshly Stocked Trout Not Biting? Try These Tips!
They're in a narrow band, which you should remove completely. You'll be left with a large, Y-shaped fillet.
Lake trout have a fairly large chunk of cheek meat on their head. If you press the head, you'll feel a soft spot. Cut this chunk off and skin it- it's a delicious morsel!
How To Cook Lake Trout
Properly prepared lake trout are good breaded and deep fried or fried in a pan. They're also excellent in soups or stews. 
Because of their relatively high oil content, lake trout are particularly good for baking or grilling, since you don't need to worry about the meat coming out dry.
Since the flesh is firm, you also don't need to worry about them crumbling and falling through the grill! 
See Also: Are Northern Pike Good To Eat? You May Be Surprised!
If you haven't guessed yet, I love fishing and everything about it!
To learn more about why I started Panfish Nation, visit the About page and follow along on Social Media: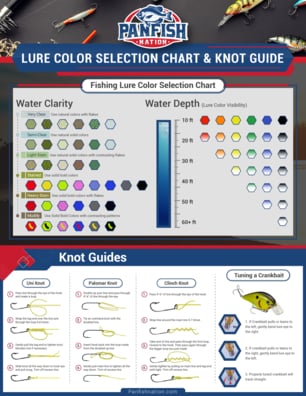 Download a copy of my FREE Lure Color Selection Chart & Knot Guide!
Stay up to date with fishing reports, tackle reviews, industry news, and much more! We respect your privacy, unsubscribe at any time.
Additional Reading