Chances are if your reading this article, you've heard about the new Headwaters lake, also known as the Fellsmere Reservoir or Lake Egan in Fellsmere, Florida.
In this guide, I am going to tell you everything you need to know to have a successful and fun fishing trip to one of the newest and hottest bass fishing lakes in the nation!
Trust me, one visit to this fishery and you'll be coming back year after year. It's a bass factory!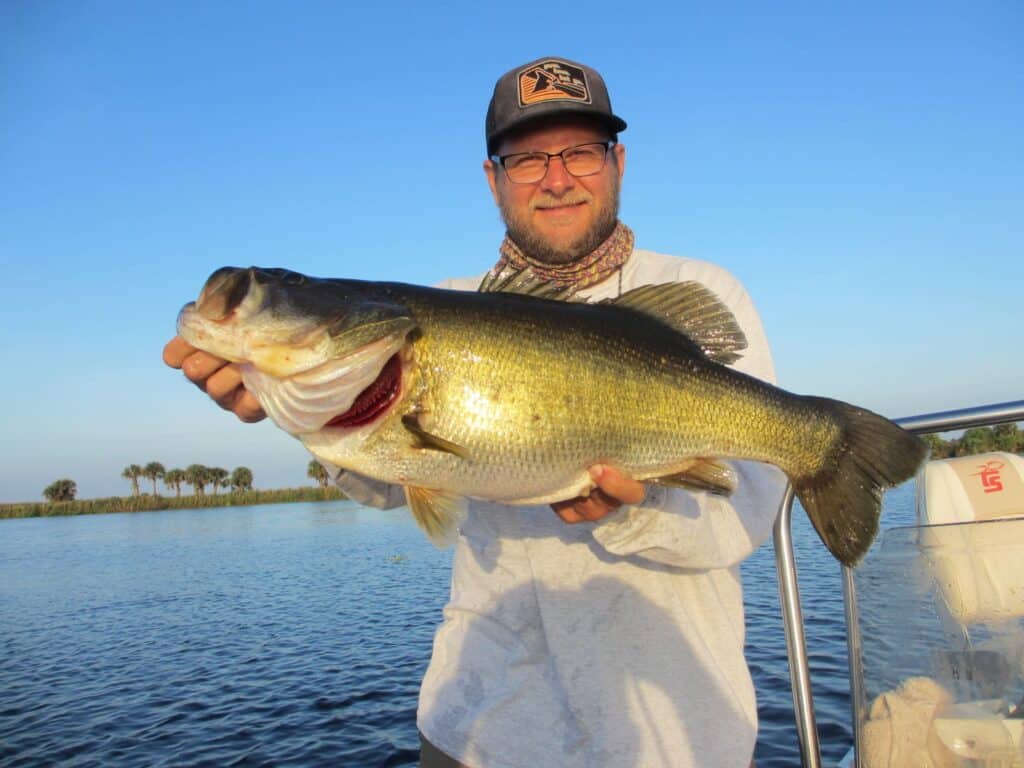 This page contains affiliate links. As an Amazon Associate, I earn from qualifying purchases.
Where is Headwaters Lake?
Headwaters Lake, also known as the Fellsmere Reservoir is located in Indian River County Florida. It's About 1.5 hours from Orlando Florida, and only 20 minutes from the I-95 interstate. The lake sits about 1 hour northeast of Lake Okeechobee, right next door to the world-famous Stick Marsh.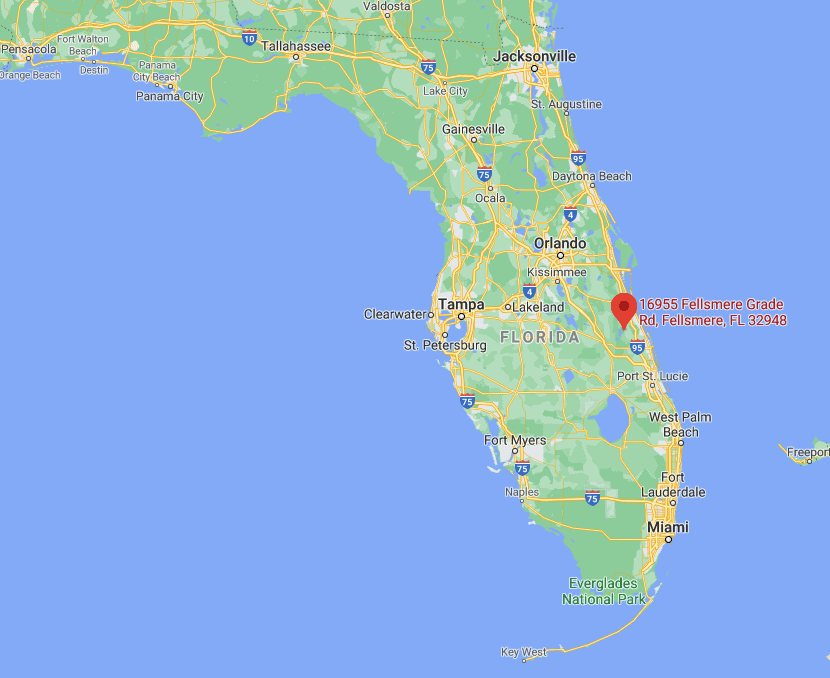 Driving directions: The address to Headwaters Lake is 16955 Fellsmere Grade Rd Fellsmere FL 32948.
To access the lake from the South: Coming from the south use I-95 & take exit 159, west toward Fellsmere onto county road 512. This will take you directly into the small Florida cracker town of Fellsmere which will be the closest spot to grab fuel, bait or food.
Next you'll turn right, or northbound onto county road 507. Follow this road turning left, then right again before heading back onto county road 507 northbound (also known as Babcock Street) for 3.4 miles. The entrance to Fellsmere Grade Road will be on your left (west side) of the road. It's a large dirt entrance. Follow this dirt road for 3.9 miles to the boat ramp entrance on your left.
To access the lake from the North: Coming from the north use I-95 & take exit 166 West onto St. Johns Heritage Parkway for 2.5 miles until you reach a flashing light at county road 507. Turn left, or southbound onto county road 507 for 5.5 miles. The entrance to Fellsmere Grade Road will be on your right (west side) of the road. It's a large dirt entrance. Follow this dirt road for 3.9 miles to the boat ramp entrance on your left.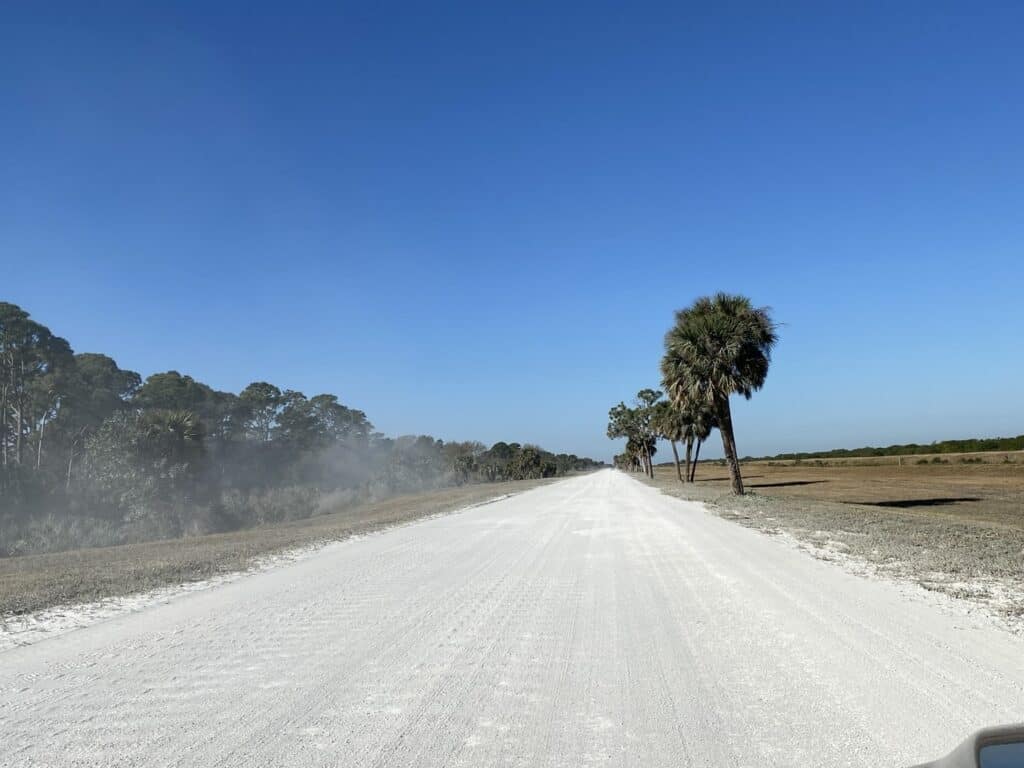 About the new Lake
Fellsmere reservoir, otherwise known as Headwaters Lake, Lake Egan or just 'Headwaters' by the locals is a man-made 10,000 acre impoundment that was literally built for fishing.
The project began in 2010 and has since been transformed into one of the premier freshwater fishing destinations in the United States.
The lake, which sits at the headwaters of the Upper St. Johns river is a cooperative project between the St. Johns Water Management District, The Florida Fish and Wildlife Conservation Commission and Fellsmere Farms (who donated the land to the district).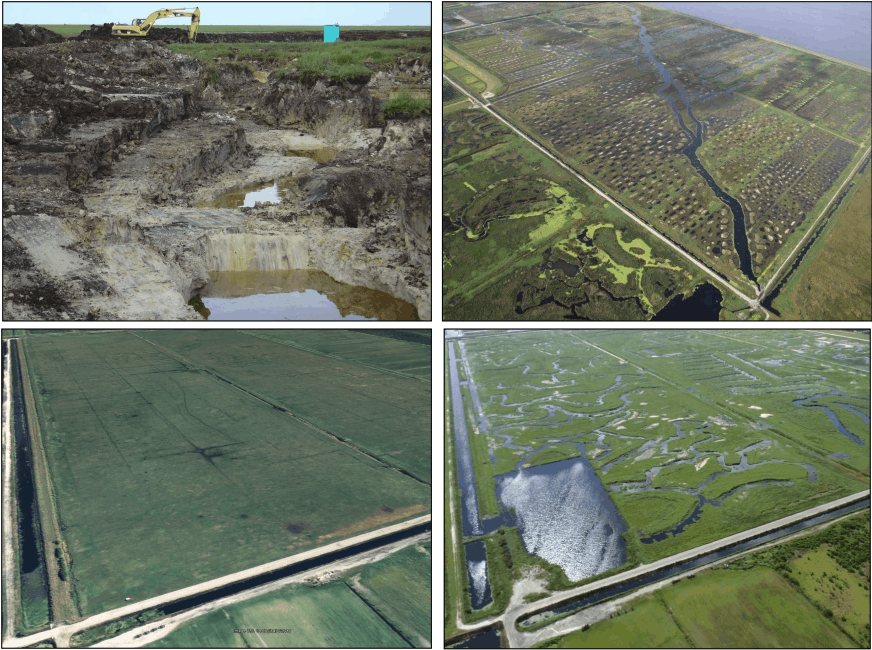 Some of the nations best habitat specialists and fisheries biologists literally carved out a fish oasis; creating hundreds of pits, creek channels, humps, and islands from the otherwise flat terrain.
Depth ranges reach up to 30 feet!
Native trees such as Cypress and Red Maple were planted to provide cover. Heavy vegetation management on the lake is ongoing, with vast expanses of hydrilla, cattails and spatterdock pads found through the area. Can you say bass heaven?
The lake was opened to non-motorized vessels in 2017, where kayakers had the majority of the reservoir to themselves, often reporting astounding catches- up to 100 bass per day.
After a long wait and multiple setbacks, the lake finally opened its new 2 lane boat ramp to the public in August 2020. Now the reservoir is open to motor powered vessels as well as kayaks and canoes.
Fish Stocking
Now to the exciting part! From 2012-2016 over 1.8 million fish were stocked in the reservoir, including almost 1 million Largemouth Bass.
Yes, you read that correctly! This does not include the native fish that already existed in the ponds, canals and impoundments on the property. This place is a fish paradise!
What's even more exciting is the Florida Largemouth Bass that call this lake home have already reached gigantic proportions. Despite the lake only being a few years old, there have been countless catches over 10 lbs, including a few in the 12+ lb range!
This body of water not only holds big fish, but it grows big bass at astounding speed. Reid Hyle, a fisheries biologist with the Florida Wildlife Conservation Commission said it is not uncommon for bass only 3-4 years old to reach 8lbs in size. That is incredible!
Boat Ramps & Facilities
The Boat ramp at the Fellsmere Reservoir has two concrete paved boat launches, with a middle floating dock.
The parking area can accommodate up to 44 trailers. There are handicapped parking spaces, as well as an 'overflow' parking area. There is a vault toilet on site but no other facilities in the area.
***UPDATE as of 3/1/2022, There is now overflow parking across the street from the main parking area. Up to 100 trailers can now use the facility***
The ramp and parking area does not have any lighting, so be prepared with a headlamp or flashlight if using before sunrise or after sundown.
Rules and Regulations
As of 3/1/2022 The fishing regulations for Headwaters lake follow the state of Florida guidelines. However, there is a movement to change all bass to catch and release only and require circle hooks when fishing with live bait 3 inches or more in length.
For the most up to date rules and regulations visit: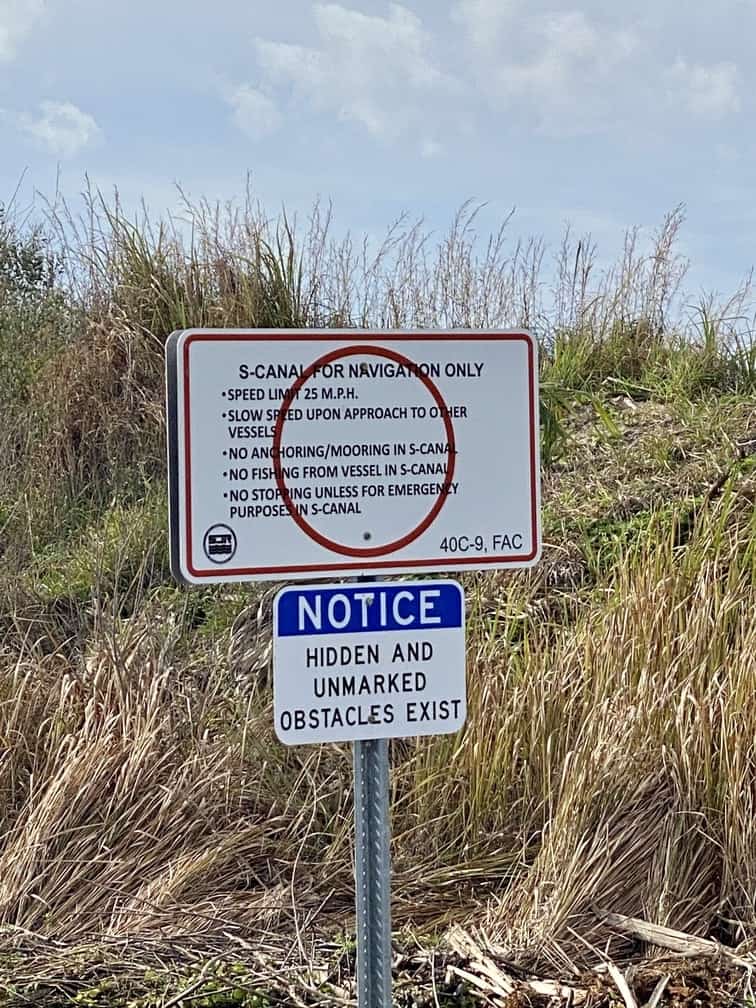 Access and Maps
Motorized vessels can enter the impoundment via the S-Canal, which leads south from the main boat ramp.
After a few miles your options open and you can go East, West or South or turn back north in the Public Small Game Hunting Area. Running in the canals is safe for motorized vessels, the average depth is 10 feet.
Although most of the reservoir is 3-6 feet deep and safe to run there are hidden sandbars, points and shallow hydrilla flats. Below are a few helpful maps to aid in navigation and get you familiar with the area.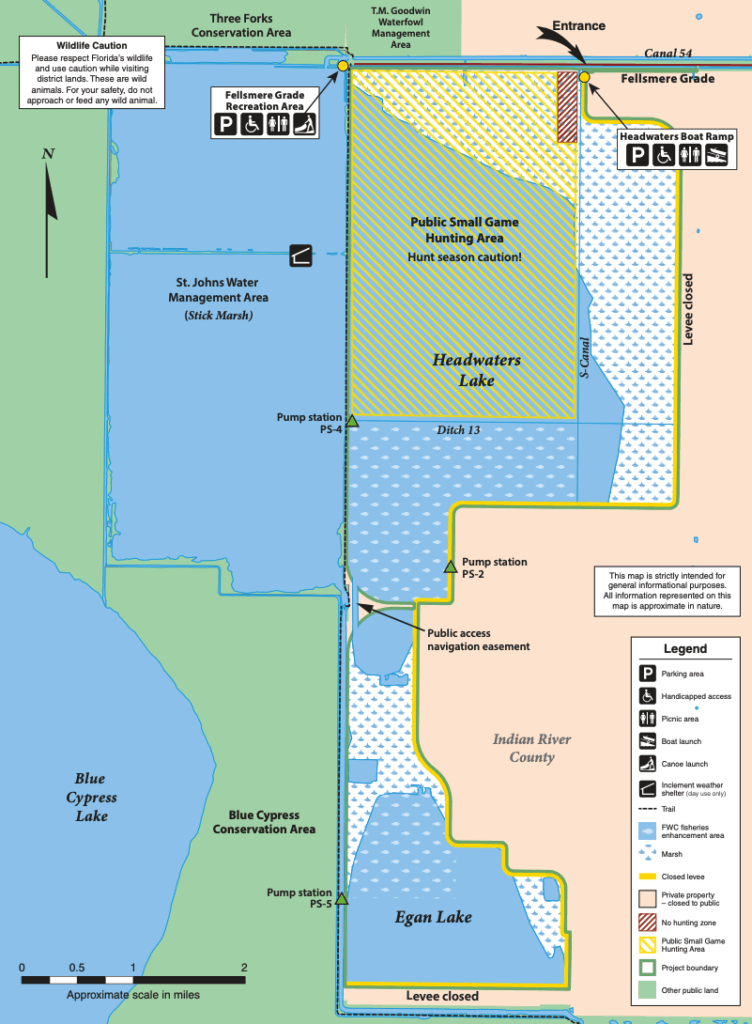 For those coming to the area for the first time: Headwaters Lake is on the North end of the reservoir, and Lake Egan is on the south end.
The entire body of water is often referred to as Headwaters Lake or Fellsmere Reservoir
Tips For Fishing Headwaters
Bass
Largemouth bass can be found throughout the entire reservoir. During periods of high pressure and bright sunshine focus on targeting cover; that can be submerged hydrilla, submerged timber, or floating vegetation (try punching thick mats of hydrilla).
During low pressure or overcast days try fishing the expansive hydrilla flats in 2-6 feet with aggressive baits.
The reservoir has abundant vegetation both on the surface and submerged so weedless baits are very popular. Fish the edges!
This can be the edges of a canal, the edges of matted grass or the edges of shoreline and levees. During the summer and winter Bass will find refuge deep.
During the Spring/Spawn big female bass will be on beds usually in 4 feet or less. During the Fall, find the bait!
Bass will often school shad and other baitfish in open water and on grass flats. There are a TON of shad and wild shiners on this lake!
Below is a list of tried and true tested bass baits for the lake: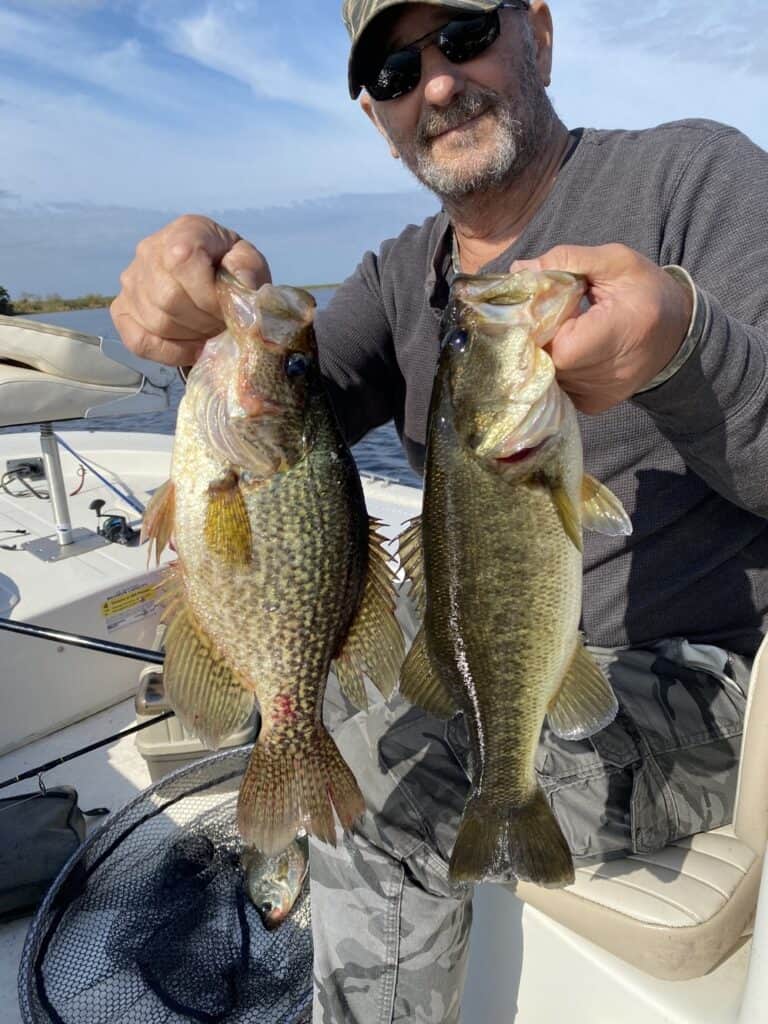 Panfish
Fellsmere reservoir may be known for its incredible bass fishing, (and rightly so!) but don't overlook the fact that 500,000 panfish were stocked from 2012-2016.
This includes the very tasty black crappie (specks as they are locally called) Bluegill and Redear Sunfish (also known as shellcracker).
Crappie can be found in the deeper areas, and bite best on cloudy and overcast days. Bluegill like finding cover under the spatterdock (lilly pads) and Shellcracker like shell or sand bottom, in 10 feet or less.
Live minnows, nightcrawlers, maribou jigs, beetlespins and grass shrimp are sure bets to get a bite!
Below is a list of tried and true Panfish tackle for the lake:
As with any body of water, try and match the hatch!
The primary sources of baitfish and forage base in the area are wild golden shiners, shad, grass shrimp, insect larvae, mosquitofish (minnows) and juvenile panfish.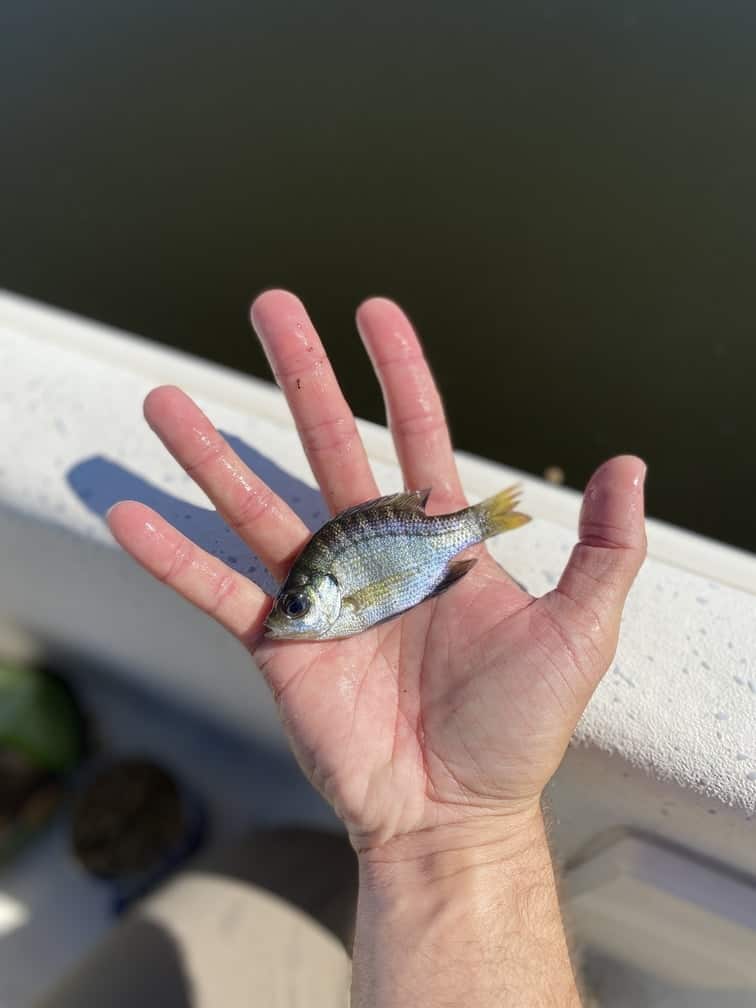 Headwaters Lake Bass Fishing Guides
There are no shortage of bass fishing guides available on Headwaters Lake, but they do get booked up in advance during the busy season.
Below are direct links to the most popular guided fishing trips on headwaters. If you received any value from this article, I would sincerely appreciate you booking through my links below:
Places to stay nearby
If your coming from out of town and looking for a place to stay, you have a few different options.
Palm Bay Area Lodging (north): The closest lodging and amenities to the lake is going to be in Palm Bay Florida, at the I-95 exit 173, which is state road 514 (Malabar Road). Here you have plenty of options to eat, get fuel and even a Bass Pro and Academy Sports only a few miles away (Bass pro shops: 750 Bass Pro Dr NE, Palm Bay, FL 32905) (Academy Sports: 4285 Norfolk Pkwy, West Melbourne, FL 32904)
Holiday Inn 1206 Malabar Road SE , Palm Bay, Florida 32907 (321) 220-2003
Comfort Suites 1175 Malabar Road, NE, Palm Bay, FL, 32907 (321) 369-9837
Vero/Fellsmere Area Lodging (south): Food options are limited in this area, and not as many sporting good stores but it is conveniently located off I-95.
Fairfield Inn & Suites by Marriott Vero Beach 9065 Americana Way, Vero Beach, FL 32966 (772) 213-0535
Holiday Inn Express Vero Beach-West 9400 19th Ln, Vero Beach, FL 32966 (772) 567-2500
Other Lodging nearby: If you're looking for another unique option, possibly to bring the whole family check out Captain Hirams Resort in Sebastian, Florida.
Only located about 45 minutes from the Headwaters Lake boat ramp, this hotel and resort feature waterfront dining, saltwater fishing charters, and other excursions in the area. A great idea for those wanting to plan a vacation in the area and still be close enough to fish the lake!
Frequently Asked Questions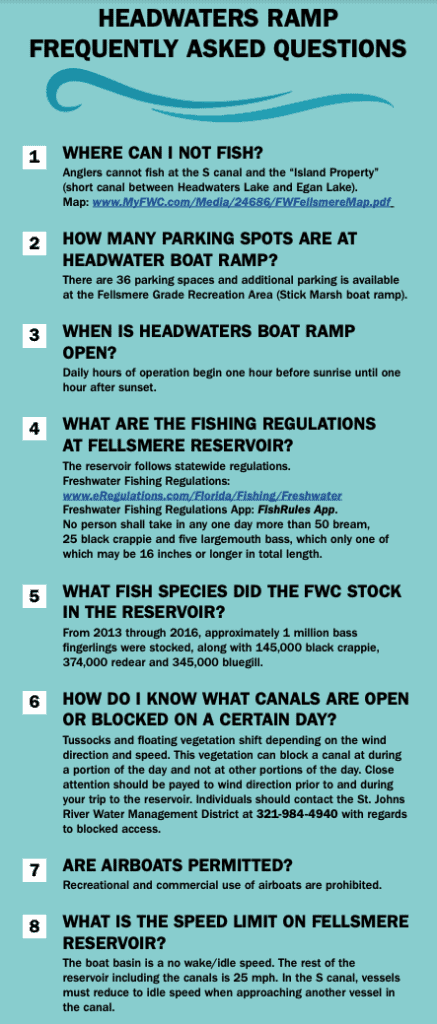 What if the Canal is blocked?
Occasionally the S-Canal can be blocked by floating vegetation. This can sometimes happen with a south wind. Navigate slowly around the vegetation if you can. Sometimes the floating islands can be pushed or moved out of the way with a boat.
Pay attention to other boats and ask your fellow fisherman about access at the ramp. Typically, this is only a temporary problem before it is removed or pushed out of the way.
Can you fish from the bank at Fellsmere Reservoir?
Bank fishing from the Fellsmere Reservoir is possible, but its limited to a few areas. You can fish around the boat ramp and along the levee that parallels the S-canal. Otherwise, shoreline access is very limited.
Where is the closest bait and tackle shop?
The closest bait and tackle store is Stick Marsh Bait and Tackle in Fellsmere. They usually have wild shiners, live minnows, crickets, and a good selection of terminal tackle. They are located at 9 S. Mulberry St Fellsmere, FL. Ask the owner for some tips while you are there!
Do I need to worry about stumps when running?
Most large stumps and trees were removed prior to flooding, unlike neighboring Stick Marsh. Generally speaking, the only navigation hazards are sand bars and shallow flats that may arise out of nowhere.
It is not uncommon to go from 15 feet deep to 2 feet deep in a single boat length. That is what makes this fishery so unique! Stick to running in the main canals and you shouldn't have a problem.
What else can you catch at Headwaters Lake?
Aside from the obvious Largemouth Bass, Bluegill, Black Crappie, and Shellcracker the Reservoir also supports a healthy Catfish population (Bullhead, Channel, and White Catfish) as well as Bowfin (mudfish), Longnose Gar, Tilapia, Warmouth and many other freshwater species.
What to know before fishing headwaters
Check the weather! Shoreline vegetation is limited in the area so prevailing winds can whip up quite the chop; use this to your advantage when planning your drifts!
Use caution when running through canals and around corners. There are a few blind spots on the lake, always keep an eye out for smaller vessels.
Have a wide selection of baits on hand, especially weedless baits like those mentioned above. Keep moving around and trying different spots and different lures until you get a bite.
Have a float plan- let a family member or friend know your plans. Always wear your lifejacket and be sure to have plenty of fuel, sunscreen, and a fishing license.
Check out Google Earth before your visit, play with the time stamp feature to find areas before the flooding. Mark them on your GPS and try these areas when your on the lake!
Headwaters Lake Fishing Report
The Florida Fish and Wildlife Conservation Commission posts quarterly forecasts for the Fellsmere Reservoir at this link: https://myfwc.com/fishing/freshwater/sites-forecasts/ne/fellsmere-reservoir/.
Enough Talk- Go fishing!
I hope you can make it down to sunny Florida to fish Headwaters Lake. It's truly a one-of-a-kind fishery!
You May Also Like: 9 Reasons Why Bass Fishing Is So Popular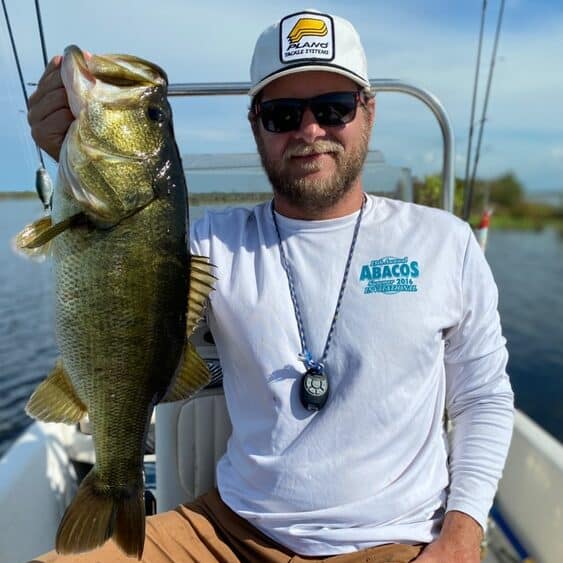 If you haven't guessed yet, I love fishing and everything about it!
To learn more about why I started Panfish Nation, visit the About page and follow along on Social Media: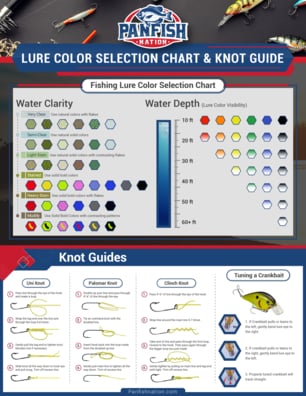 Download a copy of my FREE Lure Color Selection Chart & Knot Guide!
Stay up to date with fishing reports, tackle reviews, industry news, and much more! We respect your privacy, unsubscribe at any time.
Related Posts