The inline reel is underrated and underutilized by the average ice fisherman.
Despite the simple design, it can be one of the most versatile options for ice anglers and allows for precise control of your bait when targeting finicky fish.
In this article, I will highlight 5 of the best Inline Ice Fishing Reels and explain ways inline reels may catch you more fish.
This page contains affiliate links. As an Amazon Associate, I earn from qualifying purchases.
My 5 Best Inline Ice Fishing Reels
PISCIFUN® ICX CARBON ICE FISHING REEL
A newcomer to the market, The Piscifun ICX Carbon Ice Fishing Reel is sure to impress as they have been known to do with most other reels in their catalog.
The trigger drop makes it quick and easy to get your bait down the hole however some have complained that the trigger location makes it hard to reach.
The drag is smooth as silk but lacks the satisfying audible click we are all used to hearing.
The same satisfaction can be gained from the hum of your line frantically peeling as a 30" walleye is trying to get away with a free meal.
The option to lock in free spool mode with the trigger is intriguing, but I wouldn't suggest leaving this engaged while fishing as there would be no tension behind a hook set.
I would trust this reel for most species as it has all of the great technology we see in high-end spinning reels with all the benefits of an inline.
Line capacity will be an issue with braid as it lists a max capacity of 110 yds of 2 lb test mono.
This means potentially reserving it to pair with your favorite walleye rod and other game fish for 20 FOW or less.
13 FISHING – Freefall Carbon – Inline Ice Fishing Reels
13 Fishing is no stranger to the inline ice fishing reel with the Black Betty family of reels celebrating 10 years on the market. The 13 Fishing Freefall Carbon is a phenomenal inline ice fishing reel.
They do however carry a heavy price tag but share similar features to the Piscifun reel, which begs the question which is better?
By comparison, the Free Fall Carbon has a lot of the great technology we see with the Picifun Carbon, but you'll notice small differences which make you wonder, why is it so expensive?
13 Fishing is a pioneer in pushing inline reels to ice fishing and they, themselves, have given the Freefall Carbon the spot of "George Washington" on the Mount Rushmore of inline fishing reels.
It's hard to argue with a statement like that with 10 years of proof to back it up.
I can confidently say this reel will not disappoint if you're ok with the price tag, and it will be suitable for targeting most species through the ice.
Clam Genz Ice Spooler Elite Reel
I would consider the Genz Spooler Elite the premier option for inline ice fishing reels as it hits all of the high points I need from an inline reel.
The compact design makes it so easy to store in any rod locker. I especially love the extended reel seat to allow for bulky winter gloves.
They also make it easy and provide an all-in-one, left- or right-hand retrieve, so you aren't stuck looking for what you need to be in stock.
You should however consider purchasing these in early fall as these disappear quickly. It's one of those IYKYK situations… so now you know.
It's simple, sturdy, and very effective in tackling panfish but can still handle a more hearty walleye or bass with a bit of patience.
The drag system is smooth but I tend to loosen it fully so that I can play the fish using the action of the rod and feather some tension using my hand as needed.
The Spooler Elite is a modified fly reel, so you do spend a little more time peeling lines out in deep water scenarios. But it's a small sacrifice to make for the added production this reel will provide.
When setting the hook, on larger fish, you do need to keep your hand near or on the reel, as it will reverse spool and could cause the hook not to fully penetrate.
Clam Straight Drop Reel
I would be remiss if I didn't include the Straight Drop reel on this list as it is the first generation of what became the Elite spooler but still remains a go-to option for ice anglers.
A composite poly spool keeps this reel light, but it lacks a gear ratio to assist with line retrieval.
It still has the same compact design and all-in-one left- or right-handed retrieve thanks to the one-way clutch bearing.
This Straight Drop is about as "Straight-forward" as it gets and is a perfect introductory option to inline ice fishing reels. I would suggest reserving the reel for panfish in 20 FOW or less.
If you choose to tackle larger game fish with this reel, make sure your GoPro is charged to capture the epic battle you're about to experience.
Schooley De-Ma-Reel
The Schooley reel looks more like a kid's toy than a highly efficient inline ice fishing reel. But, it shares all of the benefits seen with the other reels on this list, a very specific technique sets this reel apart from the rest.
When lining the Schooley it shares the same benefit of your line laying on the arbor the same way it comes off of the spool from the store.
This, to me, is why it makes this list and should be considered an inline reel. If you want to debate its classification as an inline reel because it sits horizontally as opposed to vertically in line with the guides of your rod, you're missing the point.
It's been repeated over and over but, line twist is the enemy, and the Schooley Reel is one of the best on this list at defeating this enemy.
Straight line is the basis for a technique developed specifically for this reel called "Tight Lining" which I'll explain in the next section.
Don't let this deter you from adding these reels to your arsenal as you don't NEED to know this technique to take advantage of the benefits of a Schooley
These reels can be bought three at a time and are still cheaper than all others on this list, which in itself makes this an excellent reel to get you started in ice fishing.
Pick up some "OG Schooley MI Schooley Reel Handles" to add control and comfort when winding this reel. Pair it with a light action fiberglass noodle rod, this will be important as you don't have a drag system, so fighting a fish will rely on the action of your rod.
Invest in reel oil or graphite to put under the fiberglass washer. After a few uses you will find out why the Schooley can act as an alarm to other anglers due to the high-pitched squeak it develops from plastic components rubbing together.
Let it squeak long enough and your new buddies may just get annoyed and move away in annoyance.
Important Features Of An Inline Reel
Weight
As you could imagine, lighter is better when it comes to inline reels. It's all about improving your ability to control and feel your jig to detect the lightest bites.
Drop Style
Trigger Drop reels will generally have a trigger that releases the brake from the spool allowing your line to drop quickly.
Hand Line reels are essentially mini/altered fly reels that require you to peel lines out manually.
Drag
This is more about comfort, and by that, I mean are you comfortable trusting your hand to control drag tension, or do you need a knob to turn?
When targeting panfish, I like going by feel rather than hoping my drag is set right.
Value
The market for quality inline reels is slim so price tags can be high by ice fishing standards, but there are some great options on this list for less than $50.
What Is "Tight Lining"?
Tight lining is a technique developed by Panfish tournament anglers (it's up for debate if MN or MI anglers can take the credit) that gives complete and total control over your jig, by pairing a short fiberglass rod and a Schooley reel spooled with a high-vis line between 2-4 lb test.
The idea is to fish directly over the hole and focus on the line approximately 3" below the surface of the water.
Focusing on the line instead of the end of your rod gives you the advantage of detecting a bite when the line, which is not coiled by line twist, moves out of sync from the cadence of your jigging motion.
The main bite indicator will be your line going slack when a crappie does it's famous "up bite" or a Sunfish barely slurps the jig into its mouth.
Also, watch for your line to suddenly begin moving toward the side of the hole, this happens first below the surface of the water because a fish has grabbed your bait ever so delicately and is slowly swimming to a safe place to finish its snack.
Getting used to watching your line for bites is not the only learning curve you will have when tight lining. You will also need to get used to holding your rod with the palm of your hand due to the horizontal orientation of the reel.
This does not allow you to wrap your hand around the rod.
I use this as an advantage as I am able to place my thumb on the reel and move my jig up and down in the strike zone in very small increments which can make all the difference when you're force-feeding tight-lipped panfish.
What Species Can You Target With An Inline Reel?
There is no limit to the species you can target, however, the larger the target species the more challenging it will be.
The most common target species for anglers using inline reels would be panfish, but I can confidently say they have a place in the walleye world as well.
Ice fishing inline reels don't have size variations that allow you to upsize to increase line capacity.
That means if you intend to spool them with a braid it will hold substantially less line and even further force you to fish shallow water applications to avoid being "Spooled" fighting large game fish like Walleye.
Why Use An Inline Reel For Ice Fishing?
Panfish and walleye can be some of the most finicky/picky fish to target.
Ensuring that your line does not have a twist in it that will cause your bait to spin is critical in finessing a bite from these fish.
The headline benefit of an inline reel is that they eliminate line twists. Most are oriented vertically in a way that allows the line to feed straight from the arbor, instead of horizontally with a bail that winds the line around the arbor.
See Also: Ice Fishing Reel vs Regular Reel – What's The Difference?
Without the bail system, your line will lay in the arbor exactly as it was on the spool from the store, eliminating the "memory" gained from sitting on a spinning reel.
This factor alone adds the ability to control the action of your jig or spoon to perform exactly as it should without the worry that it is spinning like a tornado scaring away fish.
Do Inline Reels Have A Drag?
Some inline reels have a traditional adjustable drag, while others require you to utilize your hand and trust your feel.
The exception to this is the Genz Spooler Elite. This reel does have a tension adjustment but because the handle is attached directly to the spool, like a traditional fly reel, you must release the handle to allow the drag to take action.
The Genz Spooler and the Schooley both have a tension adjustment knob but this will add tension not only when you let a fish take line but also as you are actively reeling line in.
Both reels will rely on you to apply the right tension with your hand while also using the action of the rod to keep a fish pinned.
While it takes some practice getting used to this style you will find that having full control of the fight is not only rewarding but highly effective.
Final Thoughts
Remember, Ice Fishing does not have to be expensive. There are plenty of reels on the market to meet any budget.
I was resistant to the transition to inline reels, but am glad I've made the transition on my panfish setups.
Don't expect to love inline reels immediately, if you're accustomed to using traditional spinning reels.
Just give it time as you will begin to see the difference in your ability to control your jig better, feel/see bites more often, and catch more fish!
Try an inline reel, you just might like it.
If you haven't guessed yet, I love fishing and everything about it!
To learn more about why I started Panfish Nation, visit the About page and follow along on Social Media: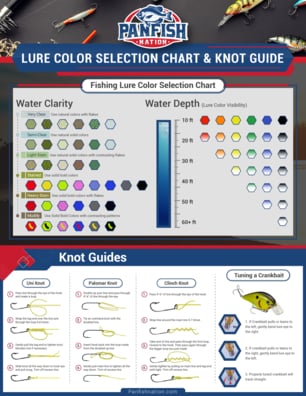 Download a copy of my FREE Lure Color Selection Chart & Knot Guide!
Stay up to date with fishing reports, tackle reviews, industry news, and much more! We respect your privacy, unsubscribe at any time.
Related Posts