Whether you fish for sport, for social bonding, or for food, it is important to know the lengths of the fish that you are catching.
Using a bump board for fishing is the best way to get a quick and accurate measurement, without harming the fish.
In this guide, I'll cover 4 of the most popular fish bump boards, and answer some commonly asked questions on the topic.
This page contains affiliate links. As an Amazon Associate, I earn from qualifying purchases.
What Is a Fish Bump Board?
A fish bump board is a simple measuring device that you place a fish on to get its length. They can be made of wood, plastic, or metal and range in length depending on the species of fish that they are made for. Bump boards are usually flat or concave with a raised edge or lip to place the fish against.
Bump boards will usually measure fish in quarter-inch increments, giving you a very accurate length measurement in seconds.
This can be extremely important in situations like fishing tournaments or in areas where there are length slot requirements for the fish that you can keep.
How to Use a Bump Board For Fishing
One of the biggest benefits of a bump board is just how easy they are to use.
To properly use one, find the raised edge or lip on one end of the board. This is where you will place the lips of the fish.
Before you lay the fish down, however, wet the board to help protect the slime coating of the fish.
Ensure that the fish lays flat on the board, and with its mouth against the raised edge, measure where the end of the tail touches the furthest measuring mark.
With the mouth of the fish at the starting point and the tail at the measuring marks, you can quickly and easily get a quick length measurement for your catch.
Fishing bump boards are an essential piece of tackle that really help with tournaments, fishing regulations, or even just to record the length of your best catches.
Top 3 Bump Board Recommendations
One of the most popular bump boards on the market today is the Hawg Trough Fish Ruler. This board is excellent for kayak fishing as it is made of plastic, lightweight, and inexpensive.
It features a concave design that easily holds a fish while you get your measurements. There are holes on each end to allow you to tie it to your kayak or other gear to avoid losing it.
Kayak anglers love the simple, durable, and effective design of this bump board.
Best for Boats: SeaLux Aluminum Fish Ruler
This bump board is able to give you measurements from 10 to 32 inches and is made of durable, high-impact aluminum that is corrosion resistant and will last you for years to come.
The larger size is perfect for those with boats, and its durable construction will ensure it will not get damaged as it gets tossed around with your other fishing gear.
With laser-etched 3/16 increments, you can quickly verify the lengths of your catches.
For those that pursue really big fish, but need a collapsible model for storage space this may be a good fit:
This particular board is constructed of recycled materials and can properly measure fish from 8 to 36 inches in length. With some foam inserts, it even floats should you accidentally drop it into the water.
Although it can measure longer fish, its unique design allows it to slide into itself for small and compact storage.
Why are bump boards popular in kayak tournaments?
Bump boards are so popular in kayak tournaments because of the catch-photo-release method that most operate on.
Kayak anglers must measure their fish, take a photo, and then release it so a quality bump board is essential in most kayak tournaments.
It can be difficult to get an accurate weight on bass from a sitting position in a kayak…so instead, most kayak anglers and official kayak tournaments use a bump board to get an overall length.
One of the most popular bump boards for KBF Fishing tournaments is the Ketch Karbonate.
It's approved by the KBF and most other kayak tournament trails and features a deep trough that cradles the fish so they don't slide off.
Not to mention, it's made in the U.S.A. and has high contrast lettering and numbers.
How to Make Your Own Fish Bump Board
Although bump boards are generally inexpensive, making your own fish bump board can be a fun and easy way to save some money and customize one to your liking.
They can be easily made at home with a little bit of preparation and work.
Bump boards can be made out of a variety of different materials and in different lengths and sizes. A bump board will be anywhere from 30 to 60+ inches long and 1 to 6 inches wide, depending on the material and fish species you intend to use it for.
To make a bump board out of PVC, you will first need to acquire a 4″-8″ PVC pipe that is at least 36 inches long.
Cut a concave section of the pipe down the entire length, creating a semi-circle or 'cradle' shape. This is the base of the board.
Next, take a tape measure and carefully mark out the measurement points. Use a permanent marker to ensure that the marks do not come off your board when wet and in use.
You can also etch these marks into your board to provide even more durability.
Lastly, you'll need to attach an end piece on the far left side of the board. This is a vertical piece used to keep the fish from sliding off the end and ensures you get an accurate measurement.
With your flat piece of material properly marked with measurements and a defined starting point, your bump board is ready to be put to use!
If you intend to use your own homemade bump board in a fishing tournament, be sure to check with tournament officials. They may need to certify your board, or they may require a specific style and type of board for all participating anglers.
Frequently Asked Questions
Do you pinch the tail when measuring fish?
The proper length of a fish is the furthest point on the fish, open or closed. This often means that the tail can be pinched in order to get the longest length possible, but every state, area, or tournament may have different requirements when measuring fish on a bump board.
For some saltwater species, you only measure 'to the fork', in which case you do not pinch the tail. Always be sure to check the local rules and regulations for where you are fishing.
How do you measure a muskie?
Muskies are measured much like any other fish species, and the total length is done from the tip of their snouts to the tip of the upper lobe of their tail. This will give you the longest overall length of a muskie and it is best done using a bump board.
Because muskie can grow in excess of 50 inches, you need a really big bump board for those once-in-a-lifetime fish!
Musky Tackle Online sells muskie bumper bump boards up to 10 inches wide and 60 inches long.
Are Fishing Bump Boards Safe?
Bump boards use to measure fish are very safe, for the angler and the fish. They allow for a stress-free measurement, that does not put a strain on the fish.
If you've ever seen a fisheries biologist take measurements of a fish, you'll notice they use a bump board or something very similar.
What is Bump Board Fishing?
Bump board fishing refers to any tournament or regulated event where a bump board is used to measure the length of fish, as opposed to a weight tournament where scales are used to measure weight.
What is the difference between a bump board and a fishing ruler?
Bump boards have a raised lip on one end, and a concave shape to cradle fish in place while you take the measurement.
Fishing ruler are typically made of stickers or adhesive materials that simply attach to a flat surface so you can hold your fish up and get a length estimate.
Fishing Bump boards are far more accurate, that is why they are popular in tournaments!
You May Also Like: Are Largemouth Bass Good To Eat? & Should You Keep Them?
If you haven't guessed yet, I love fishing and everything about it!
To learn more about why I started Panfish Nation, visit the About page and follow along on Social Media: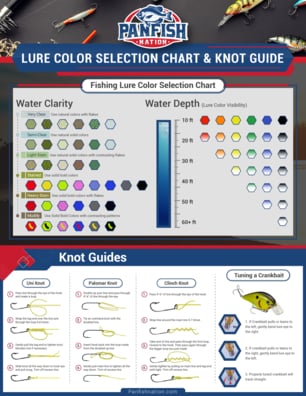 Download a copy of my FREE Lure Color Selection Chart & Knot Guide!
Stay up to date with fishing reports, tackle reviews, industry news, and much more! We respect your privacy, unsubscribe at any time.
Related Posts