In this article, I'm going to discuss the infamous Alabama Rig, and its place in the world of fishing.
Some people love them, others think they are unfair…but there is no doubt they are a bit misunderstood.
Are Alabama rigs legal? Do they really work? How do you properly fish them?
Let's dive in!
This page contains affiliate links. As an Amazon Associate, I earn from qualifying purchases.
What Is the Alabama Rig?
The Alabama rig, also known as an umbrella rig, is a wire rig with several soft plastic trailers. Alabama rigs often incorporate blades for flash and vibration.
When set up with jig heads and soft plastic minnow lures, like swimbaits or straight tails, the Alabama rig imitates a lively school of baitfish swimming through the water.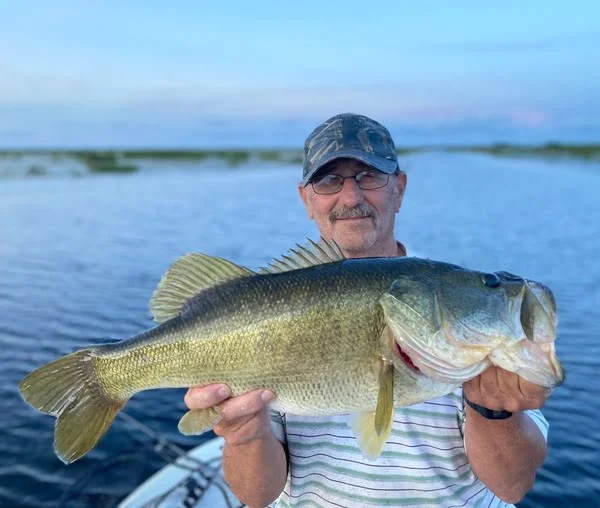 How Do Alabama Rigs Work?
The Alabama rig works by attaching many soft plastics trailers to one rig. This effectively imitates a school of fleeing baitfish. 
A weighted lead head is the central connection for the rig, and it leads the school.
Connected to the lead head are several wires which branch out from the head. The ends of the wires have either a snap swivel or a blade.
The snap swivel is where you attach your jigheads. 1/16th oz to 1/8th oz jig heads are used for most situations.
On each jighead is usually a paddle tail swimbait or other soft plastic minnow lure. A flashing blade is optional.
Do Alabama Rigs Really Work?
The Alabama rig works incredibly! In fact, it is so effective that it has been banned from most professional league bass fishing tournaments. 
Part of the reason they have been banned from professional tournaments is that they are effective, and league organizers don't feel they are necessary for professinal anglers.
Another reason they have been banned from tournament circuits is because many of the anglers simply dont want them.
They are difficult to cast and retrieve all day long, and some felt it takes away from the 'one rod, one reel, one hook' at a time tradition.
Are Alabama Rigs Illegal?
Alabama rigs are illegal from most professional bass fishing tournaments, but under most circumstances, they are not illegal for recreational anglers. However, you need to be aware of your state's hook limit laws.
The Alabama rig utilizes multiple hooks. With some rigs, you can put up to five or more jig heads.
That's why you should check your local state fishing regulations and make adjustments accordingly.

Some states, including Alabama and Florida, allow up to five hooks maximum. That means you can use a five-hook Alabama rig with no issue.
Other states only allow up to three, or even two hooks maximum, so you should make modifications.

If your state doesn't allow more hooks, you can simply take off some jig heads and use teaser baits or blades instead.
I use Owner CPS (centering pin spring) to connect a swimbait with no hook. Another option is to add some blades with a swivel and split ring.
These modifications will allow you to use the Alabama rig with fewer hooks, so you can fish the A-rig in states with stricter hook regulations.

However, by reducing the number of hooks, your Alabama rig will have less hook up ratio and overall less effective.
Therefore, in states with a two-hook limit, you may want to consider other rigs, like a double fluke rig.
States with a 2 hook limit:
Arizona, Hawaii, Iowa, Kansas, Maryland, Massachusetts, Nevada, North Dakota, and Vermont.
States with a 3 hook limit:
California, Colorado, Delaware, Indiana, Missouri, Ohio, Oregon, Rhode Island, South Dakota, Tennessee, Utah, Washington, Wisconsin, and Wyoming.
States with a 5 hook limit:
Alabama, Arkansas, Connecticut, Florida, Georgia, Idaho, Kentucky, Louisiana, Michigan, Mississippi, New Mexico, New York, North Carolina, Oklahoma, Pennsylvania, South Carolina, Texas, Virginia, and West Virginia. 
How Do You Fish the Alabama Rig?
Fishing the Alabama rig is fairly simple. Attach the jig heads to the snaps; 1/16th to 3/16th oz jig heads are usually ideal.
Rig up with your favorite soft plastic minnow lure, and it's ready to go.

Casting and retrieving the Alabama rig is just like using a spinnerbait. Cast it out and let it sink to your desired depth, and start a steady retrieve.
Your retrieve speed will vary depending on the size of your Alabama rig. Vary your retrieve speed. You should also add some short pauses and quick twitches with the reel to get the rig to flutter in the water.
Often, these quick twitches and pauses will trigger a fish into striking.
What are the Best Swimbaits for the Alabama Rig?
The number one most popular swimbait is the Keitech Swing Impact Fat! Several sizes can be used with 3.8, 4.3, and 4.8 being the most common sizes.
Other soft plastic minnow lures can be used, like the Gambler Little EZ, Zoom Fluke JR, and Googan Baits Saucy Swimmer.
Where To Fish The Alabama Rig
The Alabama rig shines where fish are targeting schooling baitfish! Fish the Alabama especially around deep ledges, in the fall and winter. 
Lighter jig heads and faster retrieves are more suited to shallow water. If you're fishing really deep, simply use a heavier jig head, like a 3/16th oz.

If you're fishing around snags, you don't want to lose your Alabama rig.
Your best option is to replace your jig heads with a weedless EWG style jig head, like the Berkley Fusion19 Swing Jighead. 
Frequently Asked Questions
What Rod Is Best for the Alabama Rig?
To fish an Alabama Rig or umbrella rig, A long and heavy casting rod is necessary. 7'6" to 8' heavy or extra heavy will work, depending on how big your Alabama rig is.
Remember to count the sum of all of your jig heads and plastics. Some Alabama rigs can weigh over an ounce when fully put together! 
The St. Croix Mojo Bass 7'10" Heavy Spinning and the Bass Pro Shops Johnny Morris CarbonLite 2.0 7'6" Heavy Casting are two ideal rods for fishing the Alabama rig. 
What Else Can You Catch On A Umbrella Rig?
Umbrella Rigs are commonly used to catch Striped Bass, and have also been known to catch smallmouth bass, northern pike, lake trout and even flathead catfish!
What Line is Best for the Alabama Rig?
Braid to leader or straight fluorocarbon works well for Alabama rigs. Avoid using monofilament since it has the most stretch.
For braid, use 50 to 65lb braid and tie a 20lb flurocarbon leader. For straight fluorocarbon, I would use 20-30lb test.
See Also: Choosing The Best Fluorocarbon Line For Baitcasters
Can You Use the Alabama Rig for Crappie?
Most Alabama rigs are too large and heavy for crappie fishing, but some brands have come out with smaller-sized Alabama rigs.
Can You Troll the Alabama Rig?
Yes, you can troll the Alabama rig, and this can be an effective way to find fish.
Be sure to use a fast action-heavy power rod, as there is a significant drag when trolling such a large rig.
What Knot Should You Use for the Alabama Rig?
There is only one line tie for the Alabama rig, so you can tie whichever snug knot is your preferred knot. The San Diego Jam knot is my preferred knot choice because it's the strongest snug knot.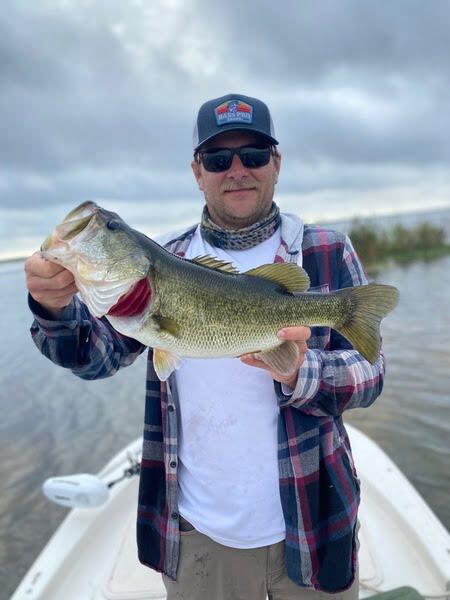 Final Thoughts
It's been well over a decade since the infamous 'Alabam Rig' went mainstream, and to this day it still is a bit controversial in the bass fishing world.
But, at the end of the day, it's just another piece of tackle, and if it's legal in your area I encourage you to give it a try.
They are a lot of fun to fish, and can be very effective…but I'm still waiting on that magical lure that is 'guaranteed' to catch fish 100% of the time.
On second thought…that would take all the fun out of it. Good luck!
You May Also Like: Senko Worms: The Definitive Guide To Senko Fishing (W/Pics!)
If you haven't guessed yet, I love fishing and everything about it!
To learn more about why I started Panfish Nation, visit the About page and follow along on Social Media: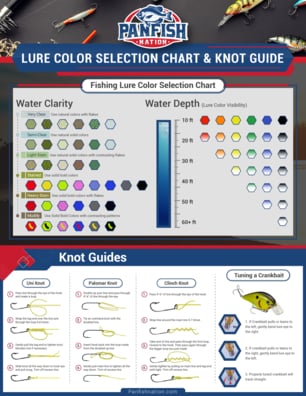 Download a copy of my FREE Lure Color Selection Chart & Knot Guide!
Stay up to date with fishing reports, tackle reviews, industry news, and much more! We respect your privacy, unsubscribe at any time.
Related Posts