Telescopic fishing rods are used by anglers who need to save space.
Whether you are backpacking, camping, traveling or just need something small to keep in your vehicle, a reliable and quality telescopic rod may be the solution.
Below are 5 of the best telescopic fishing rods for backpacking, hiking, travel, and more.
This page contains affiliate links. As an Amazon Associate, I earn from qualifying purchases.
Best Telescopic Rod and Reel Combo
KINGSWELL Telescopic Fishing Rod and Reel Combo
The kit comes with everything you need to start fishing as soon as you open it up. The rod is constructed from strong, anti-corrosion materials, making it last much longer. Plus, it is incredibly durable and uses an efficient design.
The rod includes a comfortable grip, allowing you to use it for longer periods. If you are a serious angler, then this option would be perfect for you. It even comes with lures and other handy accessories.
Features
Perfect for freshwater or saltwater use
Made with flexible, strong materials
Features a comfortable grip
Best Telescopic Rod For Backpacking
Magreel Telescopic Fishing Rod and Reel Combo
Backpackers understand that you want to bring lightweight equipment with you since your pack can get heavy quickly. The Magreel rod is extremely light- the smallest size weighs 5.29 oz or about a third of a pound. If you want larger sizes, they are still pretty light.
The order also comes with several accessories, including the rod, a reel, a carrying bag, a fishing line, and some fishing lures. Everything you need for fishing while backpacking is packaged together in one convenient kit.
Features
Corrosion-resistant construction
Interchangeable for right and left hands
Very lightweight
Best Telescopic Rod For Hiking
Lixada Pen Fishing Rod Reel Combo Set
Hikers have minimal space for holding fishing poles. Plus, if you plan a long hike, you don't want to carry a ton of heavy equipment. This Outamateur option is exceptionally compact- folding down to less than ten inches in size!
It's very lightweight and cost-efficient. It's much better suited for small fish, like yellow perch or bream. Overall, it's still a very compact rod that can fit in your pocket.
Features
Made with aluminum alloy and glass fiber
Petite size (slightly large than a big pen!)
Simple to use
Best Telescopic Rod For Camping
When camping, it's best to have a case that contains all your needed fishing items. That way, when you're ready to get out and cast, you can grab it and head out. With everything in one place for you, this kit works wonders for camp goers.
The rod is highly durable since it includes high-density carbon and fiberglass. It feels very solid when you hold onto it, so you should use it to catch heavy fish, despite it being lightweight.
With the included carrying case, you can pack the rod and kit for camping. If you stuff your car full whenever you prepare for a trip, this option will still be able to fit- it barely takes up any space! You can slide it under one of your car seats if you have to.
Features
Includes a kit and case with fishing lures and line
Durable construction
Lightweight design
Best Telescopic Rod For Travel
KastKing Compass Telescopic Fishing Rod and Combo
Are you looking for something compact to bring with you while you travel? This fishing rod can shrink to just 17 inches, which is a great size for packing. It also comes in several different sizes, so you can get something even smaller if you wish.
The model also allows you to choose between spinning and casting rods. A spinning model is lighter, making it an excellent option for kids just learning to fish. It also works well with panfish and trout. The casting models are better for a wider selection of heavier fish species.
Overall, this travel rod has everything for fishing on the go. Many anglers choose to leave it in their car, so they always have it with them.
Features
Premium construction
Compact size
Improved bite sensitivity
Frequently Asked Questions
What is a telescopic rod?
Telescopic fishing rods are collapsable like a telescope. The rod is made of a series of sleeves that collapse into a small and portable setup. That makes them much easier to store and transport. They are less cumbersome than long fishing poles and are very lightweight.
Are Telescopic Fishing Rods Any Good?
If you invest in a high-quality one, these telescopic fishing rods are great to have around. They work just as well as other types of rods. Plus, they are much more convenient to store and carry with you. They can help you score big fish, too, since they are more flexible.
Are Telescopic Rods Bad?
No, a telescopic rod is outstanding to use for freshwater fishing. If you choose the right type and brand of the telescopic rod, you can use it to catch a wide variety of fish species. They are usually more affordable, too, when compared with traditional rods.
As long as you purchase one with all the best components, you should get a quality rod.
What Is the Difference Between a Collapsible Rod and a Telescoping Rod?
A telescopic rod collapses down like a telescope- giving it the name. A collapsible rod can fold into a smaller size. However, the telescopic rod is usually easier to set up. They also fit better in cars and are easier to store.
Conclusion
Overall, a telescopic fishing rod is extremely beneficial for any angler to have. They are lightweight and compact- making them perfect for carrying while you hike or camp or travel.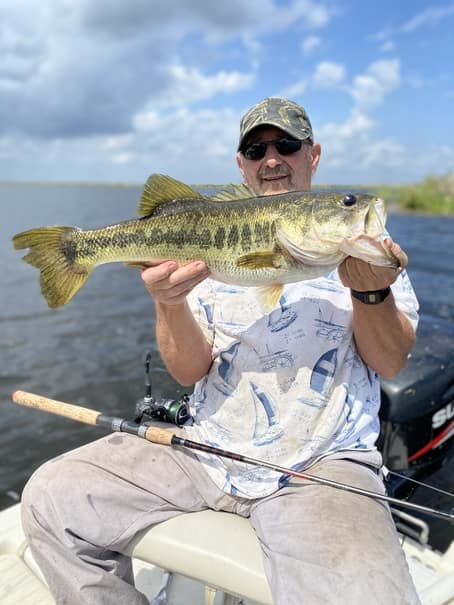 I keep a telescopic fishing rod behind the seat of my truck so that I am always prepared when I'm out finding new fishing spots.
They're portable, lightweight, affordable, and get the job done!
Good luck and thanks for reading.
If you haven't guessed yet, I love fishing and everything about it!
To learn more about why I started Panfish Nation, visit the About page and follow along on Social Media: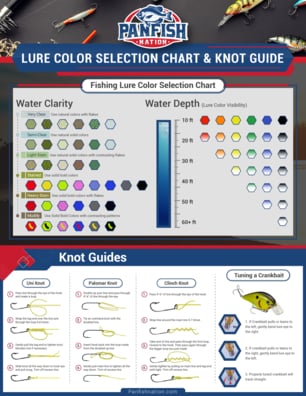 Download a copy of my FREE Lure Color Selection Chart & Knot Guide!
Stay up to date with fishing reports, tackle reviews, industry news, and much more! We respect your privacy, unsubscribe at any time.
Additional Reading