If you are serious about fishing and catching panfish, you will need the right tools for the job. There are hundreds of different fishing rods out there, and some are targeted towards catching specific types of panfish, while others can be more general use.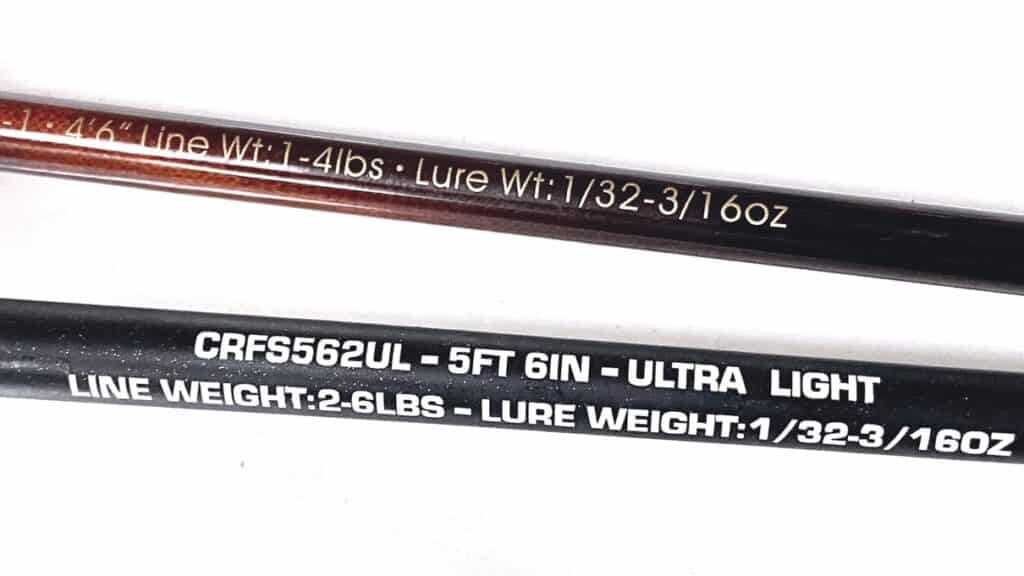 Let's take a look at the different types of panfish rods, what makes a good panfish rod, and the best rods for catching specific types of fish.
Remember, you don't need the most expensive gear…but it is important to have the correct gear.
This page contains affiliate links. As an Amazon Associate, I earn from qualifying purchases.
Best All-Around Panfish Rod
Let's cut right to the chase! My pick for the best all-around panfish rod is the Piscifun Torrent. It's affordable, it's made of high-quality materials, and it has all the great qualities I look for in a panfish rod.
I personally use the 6'6 UL & L (Ultralight and Light- yes, it comes with TWO-rod tips!)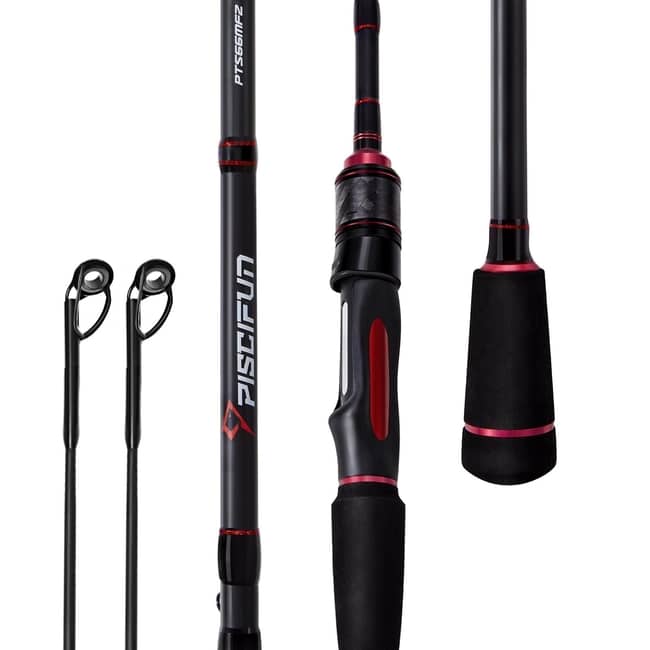 Here is what I like best about it:
IM7 Carbon Blank- its extremely lightweight, yet still powerful enough to flip in big slab crappie!
Each rod comes with (2) different rod tips, easily change them out depending on what action you need.
Double Hook-Keeper, which really comes in handy when fishing double minnow/jig rigs.
Top quality components: EVA grips, stainless steel line guides and ceramic inserts.
Affordable price- Piscifun is ALWAYS running some kind of sale or deal, check em out!
The entire Piscifun line-up offers a great balance of quality and affordability. If you are anything like me, you appreciate good fishing gear that doesn't break the bank.
Characteristics of Panfish Rods
There are a lot of different rods out there for you to choose from when you are looking to start fishing for panfish, and it can be hard to choose which one will work the best for you.
Before we go into what the best rods are for catching different types of panfish, let's look at some of the characteristics you should be looking for in panfish rods. These will impact your fishing rod's performance.
Speed/Action of the Rod
The speed of the rod is also called the rod action. This refers to how fast the rod will rebound to its original state after you flex it to reel in your catch. The rod action is important because it impacts your ability to hook your fish, cast and lure action. The rod action can be slow, medium, moderate, and fast and extra fast.
Think of this as how flexible or stiff your fishing rod is. The stiffer the rod, the faster the action. The more flexible the rod, the slower the action.
Length
The length of panfish rods refers to the overall length from the bottom to the top of the rod. Rod length is important because it can impact your casting distance, the accuracy of your cast, and the hook set leverage and portability.
Most panfish rods are between 4 feet and 6 feet, but specialty rods, such as crappie jigging rods or cane pole can be up to 12 feet long!
Power
The power of a fishing rod refers to the ability to lift or 'pull' in weight. For example, a heavy power rod will be able to lift up a 10-pound weight off the ground. A medium power rod may only be able to lift a 5-pound weight off the ground.
Power determines how strong the rod is, and the size and strength of the fishing line you should use. Heavy power rods are typically equipped with heavier lines, and light power rods are typically equipped with lighter lines. For Panfish, most people use ultralight-light-medium since these fish rarely exceed a few pounds.
Material
The material of your panfish rod can impact how it will perform and how long it will last. Fishing rods are made from many different types of material, the most common are:
Graphite
Fiberglass
Composite
Bamboo
Wood
If your rod is made of graphite, it will have fast or extra-fast action, allowing you to feel strikes quicker. It comes in different levels of stiffness, and it will have strong hook sets.
You could also have a fiberglass fishing rod, which will be very flexible; however, it is heavier, less sensitive, and weaker than other rods. The material is perhaps one of the most important aspects of your rod, so you will want to choose carefully.
Each type of rod material has its pros and cons, but in my opinion, all the rods on the market today are plenty strong for catching panfish.
So, What is a Good Panfish Rod?
Typically, if you are looking for a good Panfish rod, you will want to keep the following characteristics in mind:
Ultralight, light, and medium power rating
Slow-medium action
Choose a rod length between 4 feet and 6.5 feet
Look for quality line guides- Double-footed and ceramic are best. They do not rust and will last the longest
Look for a rod action that suits your fishing preference (lures, live bait, or general use)
Here are some of the best rods on the market for catching panfish:
Best Crappie Rod
ACC Crappie Stix are the most dependable and best bang for your buck crappie rods on the market today. Not only do they design and engineer rods specifically for Crappie fishing, but they stand by their products with a 100% money-back guarantee.
My personal favorite is the GSO6M 6′ Dock Shooter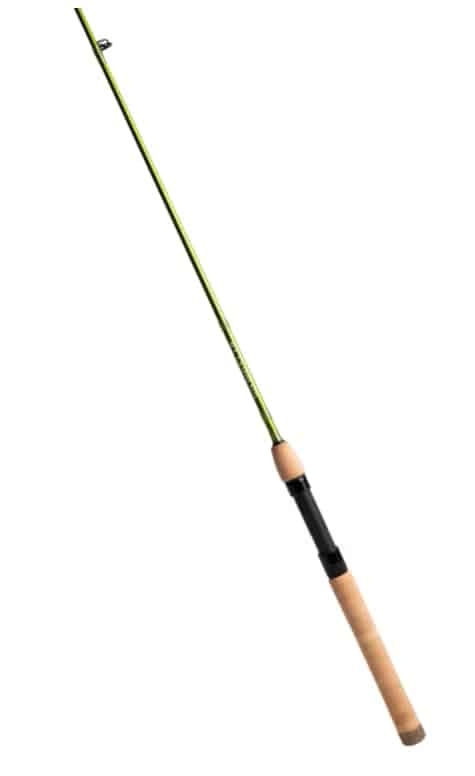 Specifications:
Available in one-piece or two-piece
Rod weight: 3.1 ounces
Action: Med/Med
Spinning guides
Lure weight: 1/32- 1/8th ounce
This is the best all-around rod for Crappie fishing because it is so versatile. You can jig it, troll it, or cast it. It's sensitive enough to throw a 1/64th ounce micro-grub, or beefy enough to handle deep dropping minnows in heavy current. Strong, lightweight construction and quality guides make this an easy choice!
Best Bluegill Rod
The B'n'M SharpShooter Six Spinning Rod is great for catching bluegill because it is ultra-light and ultra-sensitive, but stout enough to pull those big colorful males off beds during the spawn.
Specifications:
iM6 graphite blank
High-quality guides
Portuguese cork handle
Fixed reel seat
Nothing beats catching a mess of bluegill on a summer morning. That's why its important to have a rod that is comfortable because your going to be doing a lot of casting and hopefully catching!
Best Yellow Perch Rod
Yellow Perch fishing takes place in the scorching heat of the summer, and the icy cold of the winter. You need a rod that is tough, durable and capable…and affordable!
The Ugly Stik GX2 Series Spinning rod fits the bill.
Specifications:
Ugly Tech Construction
Graphite and fiberglass blank
Ugly Tuff Guides
1-piece stainless steel inserts
Ugly Stik's classic Clear Tip
Whether your fishing from a boat, an ice house, a dock or from shore- Ugly Stik rods come in a variety of lengths and actions and has been catching fish for decades! Very dependable and affordable rod choice.
Best Shellcracker Rod
Okay, when it comes to Shellcracker fishing I highly recommend you upgrade the power of your rod. Why? Well, because shellcracker are primarily bottom feeders, and your most likely going to be using worms or grubs. Well, what else eats worms and grubs off the bottom? BIG CATFISH! Or CARP!
Besides, Shellcracker are known for their powerful fighting ability, and you need something strong to pull those big boys in!
The KastFlex Crixus Fishing Rod is a very powerful carbon fiber fishing rod with IM6 graphite that you can use to catch shellcracker and other incidental BIG fish.
Specifications:
iM6 Graphite
Golf Style SuperPolymer Handle
Stainless Steel Guides w/Zirconium Oxide Rings
2-piece for easy transport and storage
The Bottom Line About Panfish Rods
Panfishing is growing in popularity around the country, and so are the choices for quality tackle and gear. Almost any rod will catch a fish if you know how to use it…but having the wrong gear can cost you.
Enjoy your time on the water, and have the confidence knowing you're using the right rods, reels, and tackle for the fish you are pursuing. You owe it to yourself, and to the fish too! I hope you enjoyed this article, thanks for reading.
If you haven't guessed yet, I love fishing and everything about it!
To learn more about why I started Panfish Nation, visit the About page and follow along on Social Media: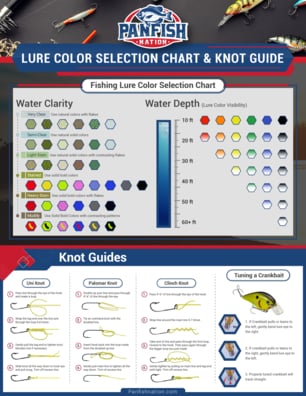 Download a copy of my FREE Lure Color Selection Chart & Knot Guide!
Stay up to date with fishing reports, tackle reviews, industry news, and much more! We respect your privacy, unsubscribe at any time.