The Volunteer state, and its mild year-round weather offer some fantastic fishing opportunities for the crappie angler.
This is reservoir territory, which means huge lakes, deep channels, points, coves and BIG crappie!
Below are the 7 best crappie lakes in Tennessee.
Kentucky Lake
This is a long reservoir that extends along the Tennessee River from Kentucky into Tennessee. It covers a whopping 160,300 acres. It's usually rated in the top three in the state for crappie fishing!
Currently, although some lakes in East Tennessee have a 15 fish per day crappie limit per person, Kentucky Lake still has the 30 fish per day limit held in the rest of the state.
One interesting fact is that this lake has never needed to have crappie stocked, as the fishery sustains itself.
An angler here can usually catch his limit, with some crappie weighing in at two, even up to three pounds!
Fishing Tips
Spring fishing during the spawning season is best. Watch the weather forecast and plan your fishing for a day just before a front is predicted to come in.
The fish tend to gather around sunken stakebeds, so watch for them. Colorful lures such as chartreuse and pink are preferred by locals.
Barkley Lake
This is a 58,000-acre reservoir that spans three counties in Kentucky and two in Tennessee. It's near Kentucky Lake and boasts similar fishing opportunities for crappie fishing In Tennessee.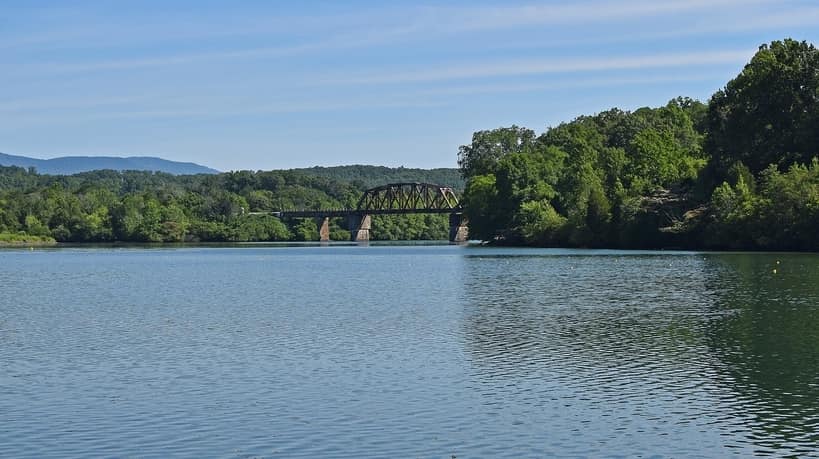 This lake features both black and white crappie. You should be aware that crappie populations fluctuate year to year, so you may not always catch your limit here. Give a call to the Tennessee Wildlife Resource Agency to find the latest information from a local biologist.
Fishing Tips
Black crappie often move to shallower waters while the white crappie hang out in the deeper water. Try mini crank-baits to catch black crappie in the shallows.
For white crappie, minnows and jigs in deeper depths will get you results. During spawning season, both kinds can be caught around brush piles and buttonball (buckbrush) bushes.
Woods Reservoir
This 4,000-acre lake is about halfway between Nashville and Chattanooga on the outskirts of Arnold Air Force Base. It's considered one of the top three lakes for crappie fishing in Tennessee.
Crappie fishing is so good here that it accounts for almost a third of the fishing done here, despite the abundant bass population. Both white and black crappie live here. The size limit here is a minimum of 10 inches long for keepers with a 15-fish creel limit.
Fishing Tips
Spring hot spots include the edges of the river channel in the upper part of the reservoir where plenty of stumps are located.
Another good section rums from Crownover Bluff to Jail Island and Bradley Creek.
You cannot go wrong with fishing jigs tipped with minnows. Soft plastic lures work well also. You can still catch crappie here during winter, especially if you stick to the main river channel from Morris Ferry Bridge to the pumping station.
A depth of 20-30 feet is recommended. The Tennessee Wildlife Resources Agency has placed plenty of stake beds and fish attractors here.
These provide great crappie gathering spots from October through May. Fishing depths of 6-12 feet are recommended around these.
Dale Hollow Lake
Located on the border between Kentucky and Tennessee, this lake is formed by a dam on the Obey River. While it's rated as a little hard to fish because of the clear waters, it is famous for crappie fishing In Tennessee because of the large crappie available, some over three pounds.
This lake may not give you huge numbers, but crappie are often larger here than in many other Tennessee lakes. People in the know fish here in spring just because of the potential for huge crappie size.
Fishing Tips
Because of the clear water, don't fish too close to your boat. Try long casts and fish about 15 to 20 feet deep.
Keep an eye out for the 'floatilla' of boats fishing large flats on the edges of deeper water. This is a good indicator that crappie are nearby.
I recommend using flurocarbon line, due to the clear water in Dale Hollow lake. Also, a feather jib, or hair jig can work really well in this lake due to the fantastic clarity certain times of the year.
J. Percy Priest Lake
This popular crappie fishing reservoir is located in the north-central part of the state near Nashville. The lake is 42 miles long with a lot of shoreline to fish.
This lake has had almost even numbers of black and white crappie in recent years. The lake's proximity to Nashville and a lot of fishermen is one reason the crappie here are not record size, it does get a lot of fishing pressure.
The average size is ten inches in length and just over a pound.
You May Also Like: How To Crappie Fish From The Bank (What To Look For & Tips!)
Fishing Tips
While good crappie fishing is to be had during spring, the fall season here will also give you good results.
The crappie tend to move to warmer, shallower waters as the water temps start to cool off. Trolling is usually the best fishing method in the fall to find schools of crappie.
Once you find the school, you've got it made. Drop a marker buoy and circle back around or perform drifts. You may find the best results just after dusk or at night.
Old Hickory Lake
This lake is also close to Nashville, but crappie fishing is good here despite the lake's popularity. You can usually average crappie of 1 to 1-1/2 pounds.
This lake features both white and black crappie, with the popular and somewhat rare blacknosed crappie being stocked regularly.
While you may catch some too small to keep, you shouldn't have much trouble getting your share of supper fish.
Fishing Tips
Try using a tube jig and fish in depths of 16-24 feet. If you can find a hump into the drop-off, you may be rewarded with some big 2-3 pound crappie that tend to hang out a bit deeper than the juveniles.
Douglas Lake
This reservoir is located just a few miles from the Gatlinburg area in eastern Tennessee. While the lake experienced a reduction in crappie numbers some years ago, successful restocking has brought the numbers back up.
Water temperatures figure into the fishing action, but on this lake water levels are really the thing to watch. Once the level reaches 960 to 970, the fishing increases. The crappie tend to move toward the banks and shallower water where it's warmer.
Fishing Tips
This lake is great for anglers who like to fish points, which feature steep drops in depth near the bank. If you like fly fishing for crappie you can try it here with a float and fly technique.
Try having five to six feet of line between your fly and the float and cast by the bank. Once you hit a spot, you'll have a good catch. Shallower points are good also and can be discovered with depth finders and electronics.
You May Also Like: The 7 Best Crappie Lakes In Mississippi (With Tips!)
If you haven't guessed yet, I love fishing and everything about it!
To learn more about why I started Panfish Nation, visit the About page and follow along on Social Media: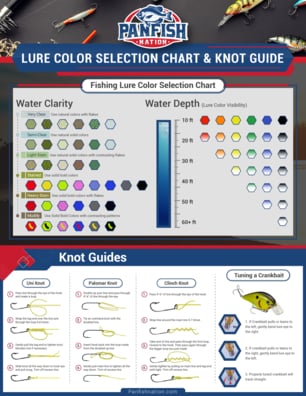 Download a copy of my FREE Lure Color Selection Chart & Knot Guide!
Stay up to date with fishing reports, tackle reviews, industry news, and much more! We respect your privacy, unsubscribe at any time.
Related Posts