There is an argument to be made that Mississippi may be the best lake in the entire country for crappie anglers…
With no shortage of world-famous crappie fisheries and strong fishing heritage, the Magnolia state deserves to be at the top of everyone's list.
Here are the 7 best crappie lakes in Mississippi…some may be familiar, and others may be under your radar.
Grenada Lake
This is one place to go if you want one of those famous Mississippi three-pound beauties. Some sources list it as the best crappie lake in the world.
It's located on the Yalobusha and Skuna Rivers about 82 miles south of Memphis.
This lake features two main parts, one-up each river. Both black and white crappie are in abundance. The creel limit for crappie is 15 per person per day, with a keeper length of 12 inches or more.
Fishing Tips
If the spillways are open, try fishing the calm water on the edges where crappie may be staged.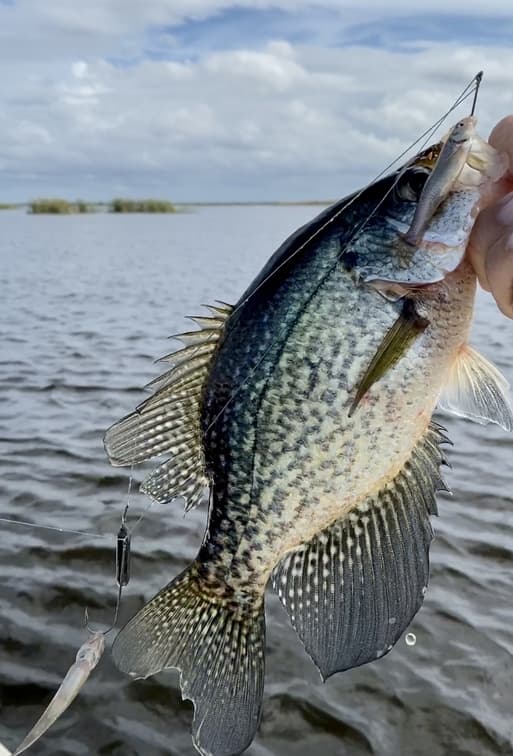 Keep a close eye on water temperature when fishing this lake, as it fluctuates a lot throughout the year. The best time to catch crappie on this lake is when the water temperature is between 58-65 degrees.
Lake Washington
While this lake is farther down on many lists, many anglers rate this lake as tops as far as acre for acre comparison for crappie fishing in Mississippi.
It's an oxbow lake, meaning that it's a lake that was formed when the Mississippi River changed course around the year 1300 and left this segment behind.
Located in Washington County, this lake is near Glen Allan, Chatham and Erwin. It's one of the state's largest natural bodies of water. The creel limit here for crappie is 30, either black or white crappie or a combination.
Fishing Tips
Crappie fishing speeds up here in the spring more quickly than at other lakes. Jigs or minnows are recommended.
Drift fishing your minnows at around a four-foot depth will bring up the fish lurking a couple of feet deeper. If you don't have much luck, adjust your depth. The cypress knees on the west side of the lake is a beautiful area known to hold fish.
Barnett Reservoir
This lake can be described as a lesser-known gem. Yet, it boasts what may be the densest population of crappie around.
Despite substantial pressure on the population, the numbers don't vary from one year to the next. It may not have as many large crappie, but if you want to be sure you catch your limit of keepers…this is the place.
This lake is located on the Pearl River between Madison and Rankin counties and is near Jackson. Both black and white crappie are available here.
Fishing Tips
Many people favor trolling jigs on this lake, but others have had fine results just anchoring and having several people fishing in the same spot with slip corks and minnows.
Once the fish stop biting, it's a sign that they have moved on, and your boat should as well in order to find the next school. Some people like to use crickets fishing near the spillway, which may yield the occasional bream or catfish.
Pickwick Lake
This is a lake known for getting you your limit in a short time, sometimes in as little as two hours when the bite is hot. We're not talking little ones, either.
Crappie two pounds and over are not uncommon here!
Pickwick is located near Florence and Muscle Shoals in the northeast corner of the state. It's a long, sinuous lake with several creek inlets and coves that draw crappie. It's known to be a great spot for several species of fish.
Fishing Tips
This lake is good for winter fishing as well as in warmer weather. Many fishermen prefer the creek channels of Yellow, Indian and Bear Creeks, fishing at a depth of 20 to 30 feet.
Hair jigs seem to work best in the winter when the subtle presentation is important. One of the best fishing spots is the tailwaters of Wilson Dam at the upper end.
Check with the Mississippi Department of Wildlife FIsheries & Parks for more information.
Sardis Lake
This lake is one in an arc of lakes known for crappie fishing in Mississippi. It's a large reservoir on the Tallahatchie River spanning three counties.
This spot is about an hour's drive from Memphis, nine miles southeast of Sardis.
Crappie here are reported to start biting in spring before the bass start getting active. Fishing before the bass get going is a good way to avoid a lot of the boat traffic and pressure this lake reserves.
Fishing Tips
Try fishing around the cover on the upper end of the lake near the river channel. Maribou style and tube Jigs work best here.
For larger crappie, use bigger baits like threadfin shad or small shiners and fish deeper. For fishing in the main lake or creek mouths, you can drift or troll using scope jigs and minnows or minnows alone on ab aberdeen hook.
Eagle Lake
This is one of the largest oxbow lakes in the state and is popular for both crappie and bream fishing. It's located about 20 miles north of Vicksburg off Highway 465.
This lake features both white and black crappie but because of changes in the lake's water, black crappie have begun to be more abundant.
This lake is featured in several fishing tournaments and is a favorite of the Magnolia Crappie Club. Fishing is good even in late fall, so you don't always have to wait for the spring feed.
Fishing Tips
This lake is one that doesn't require a complicated fishing setup, fish finder or even a boat.
Crappie spend the winters gathered around boat dock piers in water 10 to 16 feet deep. While you'll probably end up with fish 1-1/2 pounds or a little more, larger fish can be caught under the piers as well.
Most people head for the more numerous docks toward the south end of the lake. But to avoid the competition, start at the more northern docks.
If you find an old dock that's falling down, you've probably lucked onto a prime spot for a crappie party. Smaller jigs or a jig and slip cork combination work well.
See Also: The 7 Best Crappie Lakes In Tennessee (With Fishing Tips!)
Arklabutla Lake
This 11,870-acre lake is located 30 miles south of Memphis. The source is the Coldwater River. This lake can be fished year-round, but in winter the water levels may be a bit too low.
This lake has a water level that fluctuates more than the levels of some others. It is known for producing fewer crappie than its sister lakes, Enid and Sardis.
However, It makes up for this by giving up larger fish. Some can be heavier than those caught in the large size champ, Grenada Lake.
Fishing Tips
Start your fishing day by going shallow, slow trolling around the river inlet, and gradually working your way into deeper water until you find fish.
If possible, try letting your boat drift with the wind instead of using the motor.
Since it's the northernmost lake in the state, the spring spawn starts a little later than at other lakes in the state. The water near the inlet will probably be muddy, so bright-colored pink, chartreuse, and white-colored lures are important.
During summer, miniature crappie crankbaits work well along ledges in 12-20 feet of water.
You May Also Like: Is Livescope Cheating? Is It Hurting Fish Populations?
If you haven't guessed yet, I love fishing and everything about it!
To learn more about why I started Panfish Nation, visit the About page and follow along on Social Media: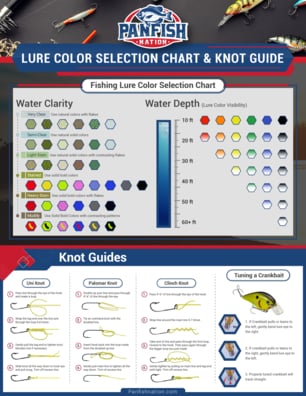 Download a copy of my FREE Lure Color Selection Chart & Knot Guide!
Stay up to date with fishing reports, tackle reviews, industry news, and much more! We respect your privacy, unsubscribe at any time.
Related Posts