So you want to spend the day fishing for crappie, but with no access to a kayak, a canoe, or a boat you think "why bother"…
Well, don't despair! You can be very successful crappie fishing from the bank, and in this article i'm going to share my top tips on what to look for and how to do it.
How do you catch crappie from the bank?
To crappie fish from the bank, you'll first need to locate a waterway that contains crappie with bank fishing access. Next, you'll need to do some scouting to find which areas of the bank are most likely to hold crappie. Finally, use the right tackle and tactics to specifically target crappie and you'll be catching fish in no time.
Not all lakes contain black or white crappie. In my experience, the bigger the lake, pond or waterbody the better the odds are that it contains crappie.
But this may take a bit of research on your end. Ideally there is a lake or public fishing area nearby that has either public access docks, a raised fishing pier, or bank access (hiking trails).
Once you've located a potential waterbody, its time to focus in on where you are most likely to find crappie from the bank.
What to look for along the bank or shoreline
Since Crappie tend to hand out in deeper water the first thing you should look for is any docks, levees, or even bridges that may extend out into open and deeper water.
Many public lakes all over the country have fishing piers, catwalks, and even man-made dikes that extend out to make access easier.
If you can't find any docks to fish from, that's ok, look for logs, downed trees, or even sandbars and points. These can all increase your chances of getting to deeper water where crappie are more likely to be.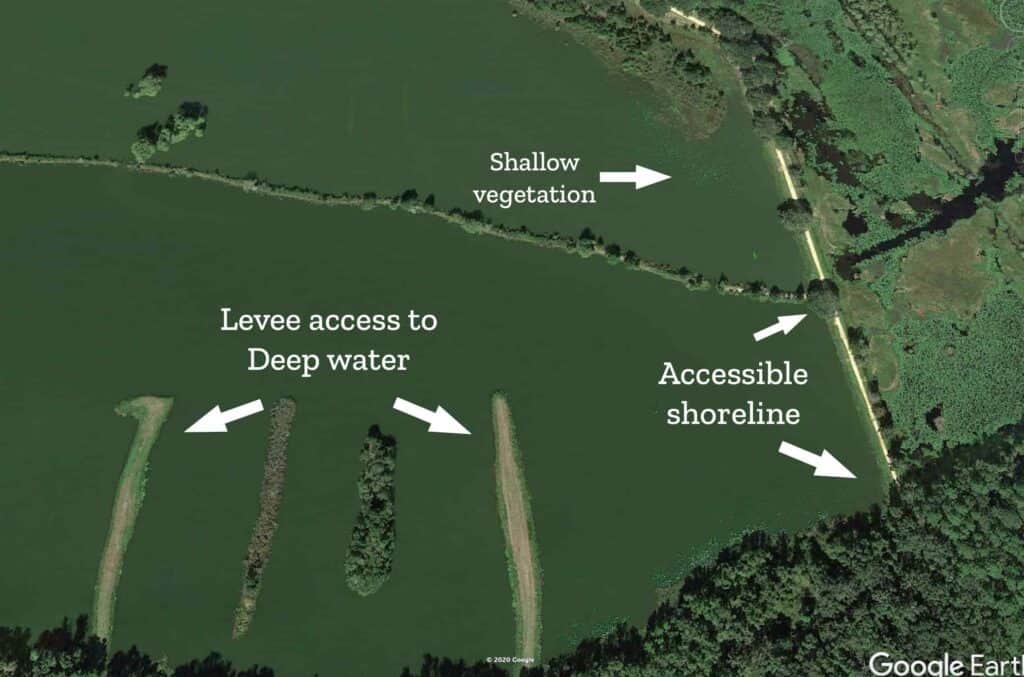 Next, you'll want to look for features that are likely to hold crappie. Since they like structure, any kind of submerged trees such as cypress trees or willow trees can be very productive.
Just like there cousin the bass, crappie will hold tight to cover. Look for downed timber, shallow vegetation, cattails, lily pads, docks, and pilings.
Even man-made fish attractors or PVC Crappie Trees are excellent for holding schools of crappie.
You may need to experiment a little, to find out where the crappie are holding. I like to start off deep, and slowly work my way shallow. And the depth is relative to the lake you are fishing.
As a general rule of thumb, crappie will be out in open deep water during the very hot summer days, and the very cold winter days, and during the spring and fall they will be tighter into cover (weeds) and shallow.
Don't Be Shy, Ask Around!
Another resource is to look up local bait shops in your area. Your local bait and tackle shop is a wealth of knowledge!
The owners and employees that work in these bait shops talk to fisherman every single day. Ask them for some tips or a point in the right direction, they are always willing to help!
Chances are if you live in the Orange or Maroon area on the map below, there is a place to fish for crappie within an hour of where you live: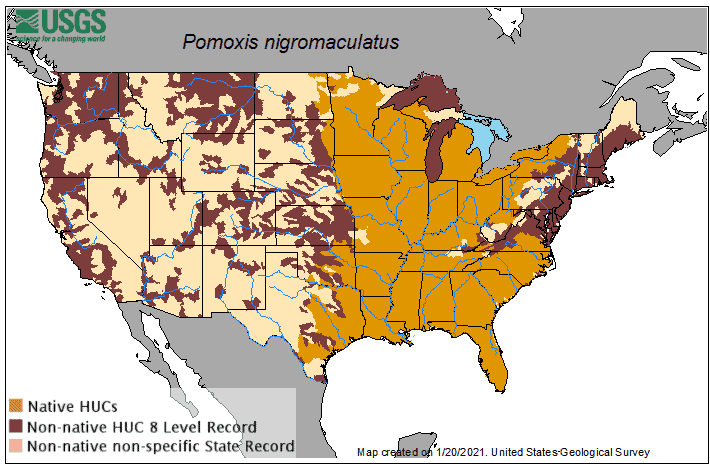 Best time to go bank fishing for Crappie
The time of year you go bank fishing for crappie will really determine your chances of success. Crappie spend the majority of their time in deep water, especially in Winter and Summer.
However, during the Spring Black Crappie move shallow to spawn.
That is why the Spring (March-May) is the absolute best time of year to target crappie when fishing from shore. Females will move shallow and lay between 3,000-15,000 eggs when the water temperature reaches 55-65 degrees.
Unlike other panfish, crappie don't lay their eggs in a shallow bed, instead, they deposit them in old logs, blowdowns, and submerged vegetation. These are the areas you should be looking for along the bank if you are fishing in the spring.
Crappie are most active at dawn and dusk or during cloudy and overcast days. They prefer low-light conditions and have very large eyes which allow them to feed in deep water.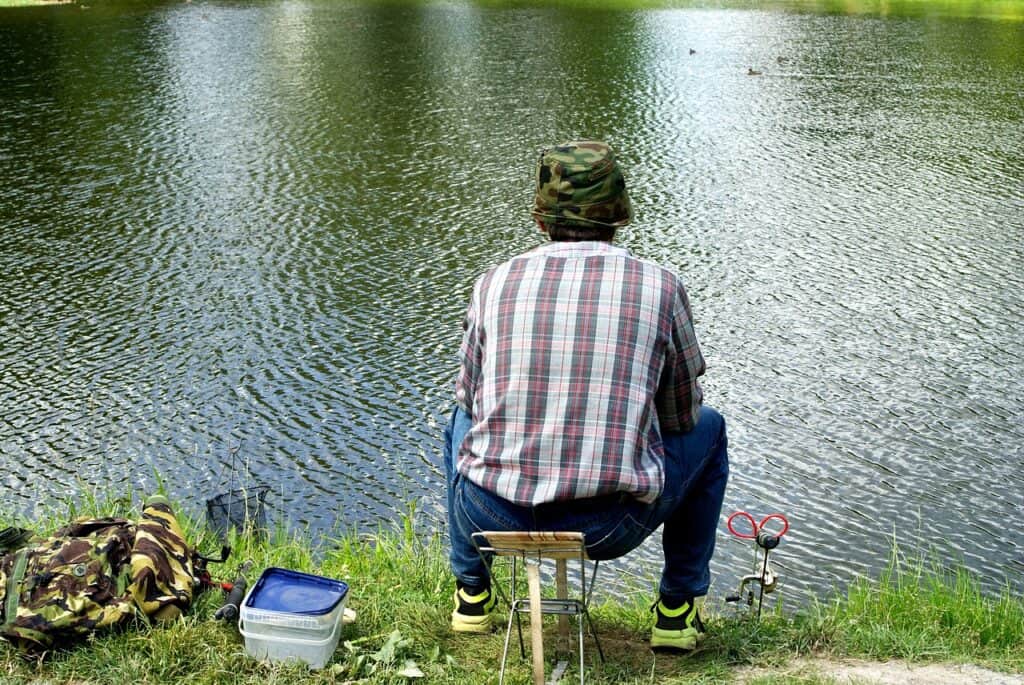 But don't worry, crappie can be caught on bright sunny days as well, just focus your efforts deeper or in shaded areas and cover (under bridges, docks or in vegetation such as lily pads).
Bridges are excellent areas to fish for crappie. Many bridges have public access either on top, or down below where you can drop your baits along the pilings. These bridges and structure provide shade, deepwater, and tend to concentrate crappie.
Bank Fishing For Crappie Tackle & Tactics
Depending on where you are fishing will dictate the type of crappie bait you should use.
Fishing from elevated docks/piers: Fishing from an elevated position such as a dock or a pier is a great opportunity to do some vertical jigging for crappie.
This method requires a standard rod/reel and jigging lures such as 1/8th ounce silver spoon, 1/32nd to 1/8th ounce tube jigs, or similar sized feather jigs.
Cast your lure out, and let it naturally fall, and swing back below your position. As it falls give the rod tip an occasional 'pop' which creates a vertical jigging motion. Crappie will often bite the jig on the fall, just after you have popped the jig upward.
This tactic can be especially effective if you can target the arc of your cast to slowly swing over brush piles, stumps, or bridge pilings.
Fishing from the bank/shoreline: When fishing from a traditional bank or shoreline for crappie, you just cannot beat their favorite bait…live minnows! Try using a #2-#4 size long shank wire hook, under a slip bobber.
The slip bobber will automatically adjust to the depth you are fishing which should help when trying to locate crappie. Add a splitshot weight as needed.
In the springtime, when crappie Spawn this tactic can be especially effective. The bobber will help keep your line from getting tangled and give you a great visual indicator of a bite. Perfect for kids and veterans!
Fishing in moving water (rivers & tributaries): Fishing for crappie in moving or flowing water such as a river, creek, or tributary from the shore can be challenging but it is possible. Use the moving water to your advantage.
Try throwing out something like a beetle spin or rooster-tail jig. Both of these baits work very well in moving water and allow you to cover a lot of ground until you find crappie.
After you locate crappie you can try this same cast and retrieve method or try drifting your bait with a bobber or float.
Cast upstream of where you think the crappie are holding, and allow your bait to drift over the fish.
Keep the tension out of our line, give it enough slack so it drifts by as naturally as possible with the flow of the current. This method can also be done with live minnows.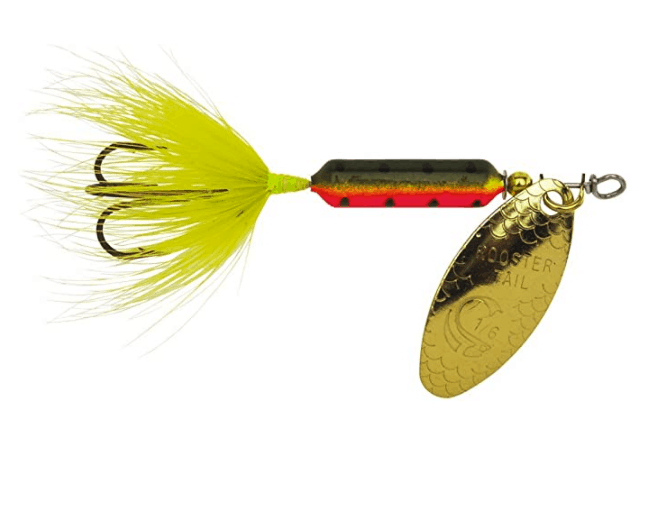 No matter where you are fishing, it's important to experiment with different depths to find where the crappie are holding. They may be near the bottom, suspended in the middle, or even toward the top of the water column.
Document where you have success; write down the date, weather conditions such as cloud cover and temperature. This is valuable data to help you learn more about Crappie and the body of water your fishing.
Before You Go Fishing
Before you head out to the bank, make sure you have everything you need for a fun and safe day of crappie fishing. Here is a general list before heading to the lake:
Proper clothing– layers for cold weather or breathable layers for warm weather.
Fishing Shoes- The best footwear for bank fishing is a pair of shoes that are made for the water. Something that is made of quick-drying, breathable fabric, with proper support for all-day wear.
Small cooler– Keep your lunch and drinks cold and keep your catch on ice!
Bug spray and sunscreen: If you are going before sunrise or after sunset, a can of insect spray for the mosquitoes will make your trip much more enjoyable. Sunscreen will protect against UV rays.
A life vest: If you are taking a young child they should be wearing a life vest anytime near the water!
Polarized sunglasses: Having polarized glasses will reduce glare on the water and allow you to see baitfish and structure under the waters surface.
A chair or stool: A nice camp chair will give you a comfortable place to sit along the bank.
Fishing Pole: An ultralight rod, medium action with 6-10 lb test line is great. But crappie fishing from the bank is not complicated, virtually any rod and reel with light line will work.
See Also: The 5 Best Panfish Spinning Reels Available Today
Let's Reel In
Remember, you don't need a boat, canoe, or kayak to fish for crappie. In fact, bank or shoreline fishing can be a lot of fun and a great way to fill the freezer with these abundant fish.
Find a place in your area, do some scouting along the shoreline, and experiment with your lures and you'll be catching slabs in no time!
What's next after catching all those crappie from the bank? Filleting them and getting them ready to EAT!
Thanks for reading and good luck!
If you haven't guessed yet, I love fishing and everything about it!
To learn more about why I started Panfish Nation, visit the About page and follow along on Social Media: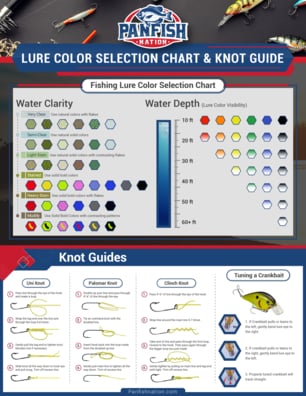 Download a copy of my FREE Lure Color Selection Chart & Knot Guide!
Stay up to date with fishing reports, tackle reviews, industry news, and much more! We respect your privacy, unsubscribe at any time.
Related Posts