Beat the heat and bust out the lights!
Crappie fishing at night with lights is not only extremely effective, but it can also be much more comfortable than those hot and humid days on the lake.
If you're looking to extend your fishing time, and want to try the addicting and fun method of crappie fishing at night, you've come to the right place.
In this article ill go over 5 of the best crappie lights for night fishing, give you some tips on how to be successful, and answer a few commonly asked questions.
This page contains affiliate links. As an Amazon Associate, I earn from qualifying purchases.
Do Crappie Lights Work?
Some anglers are skeptical of using crappie lights and wonder if they really work…
Well, I'm here to tell you that yes they work, extremely well in fact!
Crappie lights are an effective way to catch crappie at night because their subtle glow attracts plankton and baitfish, which in turn attracts crappie and other gamefish. Additionally, crappie are sight feeders and very active during the night after the overhead sun goes down.
If you're going to crappie fish at night, use a light. It will make all the difference in the world and take your fishing to the next level.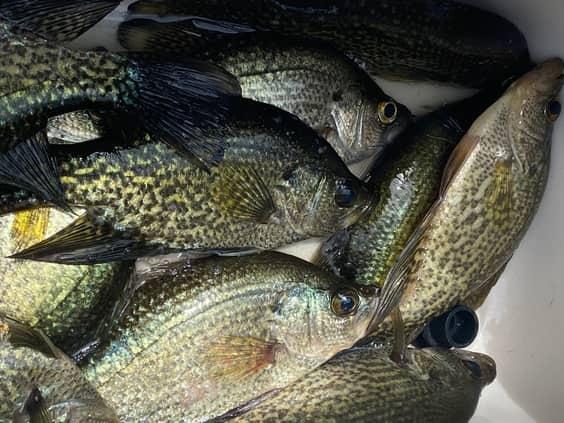 My Top Pick
The best bang for your buck crappie light for night fishing is the 20 LED Submersible Fishing Light by Linkstyle.
Why Is this my top-pick? Well, it's 1,000 lumens, which is nearly double the competition of other submersible lights in its price range.
It comes with hardware on the bottom to easily tie a weight, so that the light hangs plumb in the water column.
The efficient LEDs have very low battery consumption at only 2 amps per hour.
It has a 19-foot cord, which makes it great around docks, bridges, and boathouses.
The best part is that this light is rated for both freshwater and saltwater use. Where I live in Florida, this is a big deal because saltwater corrosion will ruin your electronics!
All of the components are made of quality durable materials, from the LED lights to the connectors, cords and housing.
Best Dock Light For Crappie
If you're looking for a plug-and-play-ready crappie light for your dock or boathouse, this is it. Easy to install, extremely bright and turn on and off from the comfort of your back porch with the remote control.
Fire Water Marine 110v MAXX LED
110V, easily plug into a regular plug outlet.
Available in 30,000 lumens, extremely bright!
Easily mount it to a piling, or sink it on the bottom.
Includes remote control.
Made in America.
50-foot cord and excellent power efficiency.
Brightest Battery Powered Crappie Light
If your fishing from a vessel, a battery power crappie light is a game changer. And it works on a lot more than just crappie too. I've had some amazing night catching largemouth bass, walleye and catfvish under the glow of a green light.
Green Blob Outdoors New Underwater LED Fishing Light 15000 Lumens
15,000 Lumens.
Available in 30-foot or 50-foot cord.
Includes alligator clips or cigarette adapter.
Made in Texas.
Rated for freshwater or saltwater use.
Durable construction and outer housing.
Best Floating Fishing Light
If you looking for something that floats on the surface, check out this unit from Hydro Glow. My Grandfather used the old-fashioned floating light with a huge incandescent bulb in styrofoam, but this is the next level.
LED lights that do not overheat. Works great for gigging too!
Hydro Glow FFL12 Floating Fish Light w/20′ Cord
Includes 20-foot cord with alligator clips.
Uses LED bulbs, in an aluminum housing.
Very lightweight and portable.
Excellent for Jon boats, canoes, and kayaks.
Very energy efficient.
Best Portable Crappie Fishing Light
Keep this portable crappie light in your tackle box or storage compartment. It only takes a few seconds to deploy and start attracting fish. SImply clip to a battery and lower down to your desired depth.
Linkstyle 180 LED Submersible Fishing Light Underwater
180 LED lights emit 1300 lumens.
Includes alligator clips on a 16-foot tangle-free cord.
Built-in weight slowly sinks to the desired depth.
50,000 hour lifespan on energy-efficient LED lights.
1 year warranty.
See Also: The Best Crappie Baits To Catch Slabs All Year Long
Frequently Asked Questions
What Color Light Is Best For Crappie Fishing?
Green is the best color light for crappie fishing at night because it remains very bright even at depths of 10-20 feet. Green is one of the last color wavelengths that is absorbed by water. It remains bright, which in turn attracts plankton, baitfish, and gamefish like crappie and walleye that feed during the night.
How Do You Catch Crappie At Night With Lights?
Even though a crappie light can help you attract baitfish and gamefish such as crappie you still need to be in the correct location.
To catch crappie at night with lights, position your vessel or fishing area in a pinch point that is likely to funnel bait. Examples include bridge crossings, creek mouths, oxbow bends, and other notable structures.
Or bait up your own secret crappie hole.
Lower your light down to 50% of the depth you are fishing. So if you are fishing in 12 feet of water, lower your submersible crappie light to a depth of 6 feet.
Its important to remain quiet and avoid loud noises and vibrations. After a few mins, you will begin to see baitfish and marine life swim around the light.
Cast or drop your bait on the edge of the light, right where it fades into the dark water. This is the area where predator gamefish like crappie will wait to ambush prey.
If you don't see any bait or get any bites after 30 minutes, pull the anchor and reposition. Experiment with different depths until you find where the fish and bait are holding.
What Color Light Attracts Fish At Night?
White and green are the two most common color lights that attract fish at night. Green is very popular because it's easier on the eyes, and maintains a strong glow even at depths over 10 feet.
In fact, sword fishermen use detachable green lights on their baits when deep-sea fishing in depths over 500 feet deep!
Do Crappie Bite At Night?
Crappie is known to feed very heavily at night because they are built for it. Crappie have very large eye-to-body size ratios, which means they can detect even the smallest baitfish or movement even during the night.
Adding a crappie light to your night fishing arsenal will increase your chances or attracting bait, which in turn means catching more crappie.
Terminology
When shopping for crappie lights (or any submersible fishing light) for that matter, you will notice certain terminology used to describe the features of each product. Below are a list and definition of the most common terms.
Lumens
Lumens are a unit of visible light. The more lumens, the more visible (and brighter) the light will be to the human eye.
Watts
Watts are a unit of power. Appliances, lightbulbs, and electrical tools all use a certain amount of watts to transfer energy. Generally speaking, the lower the watts the less energy is required to operate.
LED
LED stands for 'light-emitting diode'. It is an energy-efficient light source that is very popular due to its long life and energy efficiency.
Submersible
Submersible is a term that refers to something designed and capable of operating completely underwater.
You May Also Like: PVC Crappie Trees…Build Your Own For Less Than $20!
If you haven't guessed yet, I love fishing and everything about it!
To learn more about why I started Panfish Nation, visit the About page and follow along on Social Media: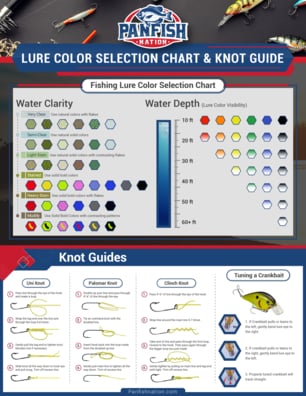 Download a copy of my FREE Lure Color Selection Chart & Knot Guide!
Stay up to date with fishing reports, tackle reviews, industry news, and much more! We respect your privacy, unsubscribe at any time.
Related Posts