The Lone Star state may be well known for its deer hunting, bass fishing, and wide-open cattle ranges…but did you know it's an excellent state for Crappie fishing too?
From giant reservoirs to meandering rivers here are the 7 best lakes for crappie fishing in Texas!
#1 Sam Rayburn Reservoir
This huge,114,000-acre lake gets the nod because it boasts excellent crappie fishing all year. In fact, it's known to provide some of the best crappie results in the state.
It also features plenty of both black and white crappie.
The lake is large enough to satisfy boaters, swimmers, hikers and campers while still providing good crappie fishing in Texas with plenty of action.
It's located just north of Jasper in the Piney Woods Forests in the eastern part of the state.
Tips
Minnows and crappie jigs usually give the best results. Try shallower areas during the spring spawning season.
Deeper waters near brush piles and creek channels are the places during the rest of the year. The best brush piles tend to be the ones along creek channels. Sunken brush piles may be marked with buoys, but there may be several piles around one buoy to try.
White crappie are more abundant in the less clear water in the upper third of the lake. The black crappie tend to stay in the clearer waters in the lower third, with a mixture of both species in the middle.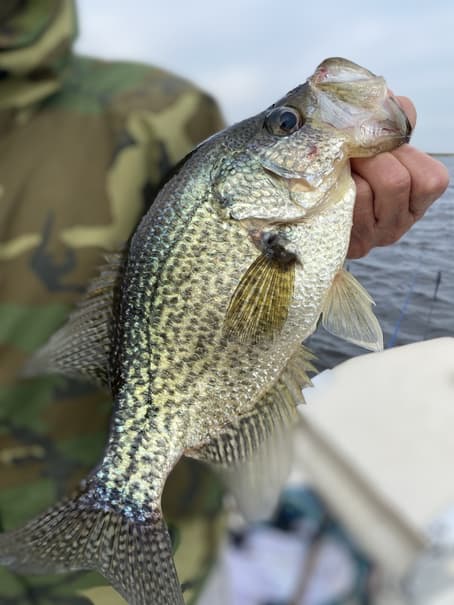 #2 Toledo Bend
This 181,000-acre lake is on record as being one of the best crappie lakes in the world. It's noted for bass, sunfish and catfish as well as black and white crappie.
Located on the Texas-Louisiana border, this lake holds the Texas state record for black crappie with a behemoth 4-pounder. With so much water to explore, there are many good fishing spots on this lake.
Tips
For good crappie fishing on Toledo Bend, try a two-mile stretch called the Chicken Coop near the Sabine River channel, about 4 miles above Pendleton Bridge.
The channel swerves close to the bank, causing an 80-foot drop-off. Crappie are caught here almost year-round at varying depths according to season (Hint, use your Garmin Livescope to find those deep schools of fish).
If you prefer black crappie, try the South Toledo Boat Launch on the lower lake. The clearer water on the lower end attracts plenty of black crappie, and this fishing spot is not as well known as some others.
#3 Granger Lake
If you like white crappie, Granger Lake is generally regarded as the most reliable place to catch them in the state.
In fact, white crappie is the most numerous game fish in this 4,000-acre reservoir. It is located northeast of Austin on the San Gabriel River.
One unique feature of this lake is the number of shallow creeks that feed into the reservoir. They provide a great place for catching crappie, especially in the spring.
The creeks on the upper end are known for fallen trees and brush. Willow trees along the shore are routinely flooded, providing plenty of hiding places for crappie.
To enhance the crappie fishing in Texas, a number of structures have been placed in the lake by Texas Parks and Wildlife to attract fish, most of them close enough to the shore for casting.
Tips
The best fishing time is during spawning time, in March and April, when the fish move shallow water to spawn, especially around the feeder creeks.
In the fall, good fishing can still be had around brush piles. If your boat has electronic gear, look for homemade PVC brush piles sunk by the locals. Some are marked by buoys.
As for bait, a 1/16 to 1/8-ounce tube jig is a favorite trolled around the mouths of feeder creeks.
#4 Lake Limestone
If you want a quieter place to fish, especially for white crappie, this is your spot. It's not as well known as some others, and you may find yourself almost alone on weekdays.
The whole lake is rather shallow, featuring excellent catch rates.
This lake is 12,500 acres on the Navasota River. Timber in the coves and creek exits provide plenty of gathering spots for crappie. Even boat dock posts and the pillars supporting power line crossings are favorite fishing spots for the locals.
Tips
Try fishing during late winter just before the spring spawn.
Timber in ~10 feet of water is the best at this time and also after spawning. Huge catches have been reported during these times. For larger fish, try fishing a bit deeper, as the smaller ones prefer the shallower water.
#5 Lake Fork
While this lake 1-1/2 hours north of Dallas is known for being a top bass lake, it's also a great lake for catching large crappie.
Fish weighing over two pounds are not uncommon. It offers mostly black crappie, but there are plenty of white crappie as well.
Spawning time is a great time for crappie fishermen here as well. They can be caught readily by late March around brush piles, standing trees and docks. This lake also boasts respectable crappie fishing in winter on warmer days.
Tips
The locals favor deep water near the dam during late winter just before the fish start moving toward the spawning shallows.
Brush in about 15 feet of water gives the best results. In later spring or the fall, try fishing around the pilings of the many bridges crossing this lake.
Live minnows are what I'd use, and there is no shortage of bait and tackle shops in the area to get ya set up.
#6 Twin Buttes Reservoir
If you're looking for crappie fishing in west Texas, this is your place. While only 9,000 acres in size, it still provides exceptionally large catches.
This lake, situated near San Angelo, is known for plenty of keepers, many reaching 14 inches in length.
The large quantity of smaller fish is a good sign that fishing will remain good in future years. Note that this is one lake that requires the fisherman to have a Limited Public Use permit as well as a valid Texas fishing license.
Tips
This lake doesn't provide as much cover as some others, so sticking to creek channels and humps is best. During spawning season, the rip-rap side of the dam is usually productive.
If the water is high, try the flooded vegetation near the shore.
#7 Lake Conroe
This 20,000-acre reservoir near Houston is not known for record-sized crappie, but if you're more interested in fishing for supper, you can really clean up at this lake.
This lake is located on the West Fork of the San Jacinto River. It features plenty of inlets and creek arms for crappie to congregate. It's known for its reliability in bringing in catches. Both black and white crappie are plentiful here.
Tips
Because this lake doesn't have as much natural cover as in some lakes, your best bet is to look for sunken brush piles marked by buoys, especially those older piles covered in algae growth.
Locals favor trolling jigs in the creeks in early spring. Other good spots in spring are the boat docks and bulkheads, including the route 1097 bridge crossing.
Remember, those crappies are going to see cover away from the sun and stay under docks, shadows, or in the weeds!
Frequently Asked Questions
Where is the best bank fishing for crappie in Texas?
Granger Lake has an excellent population of both white and black crappie and plenty of access along its shores for bank fishermen.
Also, take a look at any of the waters and lakes within the Texas State Park system. Many of these places provide hiking trails along the water's edge perfect for bank fishing.
What is the best time of day to fish for crappie in Texas?
Many Texas anglers have success catching crappie at dawn and dusk when light conditions are low and crappie move out from cover into open water. But, the real pros will tell you the best time to catch crappie in Texas is at night, especially during the hot summer months.
You May Also Like: Fishing Lake Livingston…Best White Bass Fishery In Texas?
If you haven't guessed yet, I love fishing and everything about it!
To learn more about why I started Panfish Nation, visit the About page and follow along on Social Media: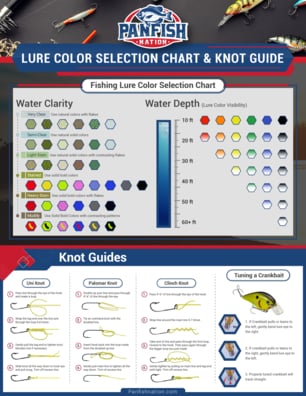 Download a copy of my FREE Lure Color Selection Chart & Knot Guide!
Stay up to date with fishing reports, tackle reviews, industry news, and much more! We respect your privacy, unsubscribe at any time.
Related Posts