Are you planning on fishing Lake Livingston to see what all the talk is about? Near the Gulf shores of Galveston and about 50 miles north of Houston, sits 90,000 acres of turbid water fed by the Trinity River.
In this Lake Review Guide, I'll tell you everything you need to know.
Fishing Lake Livingston
There are several fishing tactics you can employ while enjoying a day at Lake Livingston. With such a variety of different species at your fingertips (or rod tip we should say), you can have a fantastic day of fishing.
The most targeted species on this lake include white bass, striped bass, largemouth, alligator gar, black crappie, redear sunfish, and blue catfish.
White Bass, Yellow Bass, & Hybrids
The most sought-after species in this lake are white or yellow bass, both great fighters once you've challenged them to a duel. Closely related to their much larger cousin, the striped bass and white bass in this lake are abundant and grow large.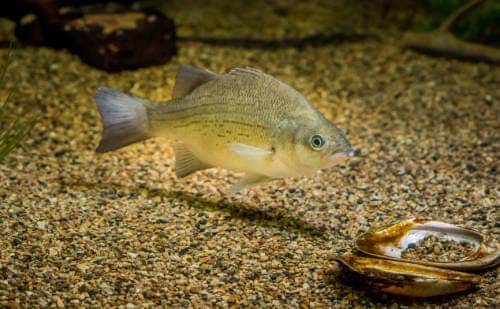 Hybrids between white and yellow, or white and striped bass also swim in numbers to increase the chances of a thrilling catch for anglers.
The best time to target these species is in early spring while the bass migrate up the channel to spawn in the creeks and estuaries. If you're fishing them in open water, concentrate on structures like humps or long points.
Some anglers carry live shad or minnows to fish for white bass, but the best artificial lures that work well are "Little George" jigs, spoons, small billed crankbaits, or rattle traps. The flash of something shiny entices a bite from white bass, so go for chrome!
Striped Bass
The striped bass fishing on this lake is considered decent. They don't swim in huge schools compared to the white bass, but still, give anglers a run for their money when they latch onto a lure. The record striper from Lake Livingston was 31.5 pounds, caught by C.W. Henry in 1986.
Texas Parks and Wildlife reports that fishing for striped bass around the 190 Bridge has proven successful with vertical jigging spoons, live shad, or trolling baits.
Largemouth Bass
Spring and fall are considered prime largemouth seasons at Lake Livingston. Though there aren't many, anglers targeting black bass have luck fishing the bays and creeks on the northern side of the lake from Penwaugh Marina, and above.
Tips from the Parks and Wildlife fishing report suggest searching mid-depth structures and drops with slow-rolled crankbaits or a spinnerbait. In the warmer months, some fishermen also have success fishing the docks at houses and marinas.
Prehistoric Predators
Not all fish are alike in Lake Livingston. Some species, like gar, have been around since the Jurassic period. The story among local anglers is that you can hook into a trophy alligator gar in these waters.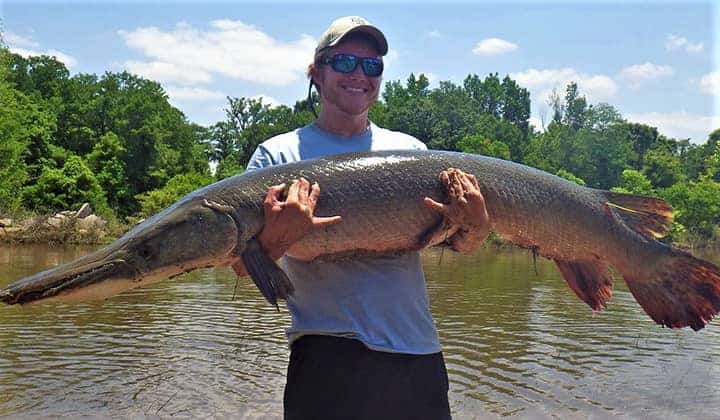 In fact, in 2018, Casey Minshew managed to catch a 207-pound alligator gar from the lake. Yes, you read that correctly! This prehistoric monster measured 96-inches long and surely gave this angler a "fishing story" to trump all others.
Crappie
Crappie is the most popular panfish in Texas. Both boat and bank anglers can't get enough once they figure out where these "specks" are schooled up. Black crappie swim abundantly in the clear, acidic waters of east Texas.
There's a good population of both black and white crappie in Lake Livingston. In typical crappie fashion, you can find them suspending in schools around submerged trees, boat docks, or other underwater structures. Natural baits and artificial lures like jigs or small crankbaits work well.
See Also: The 7 Best Lakes For Crappie Fishing In Texas
Redear Sunfish
Sunfish are a vital part of many freshwater fisheries nationwide, including Texas. Many pre-license age anglers begin their fishing careers by bank fishing for sunfish.
Lake Livingston provides a great place for beginners to start by catching species like the redear sunfish, or shellcracker. Anglers also bring fly rods and their favorite flies to taunt these pretty little panfish.
Catfish: Blue, Channel, and Flathead
Don't let the white bass, striped bass, and hybrids let you underestimate this lake's bottom feeders. Lake Livingston is also a fantastic catfish fishery, with blue catfish dominating the other present species like channel and flathead cats.
According to Texas Parks and Wildlife, catfish in this reservoir can be caught year-round on both organic and live baits in the main river channel as well as the tributaries and creeks.
Pro Tip- If you really want to catch some of the monster Blue Catfish in this area, try using live bluegill as catfish bait!
Lake Livingston Fishing Charters
If a guided trip is something you're interested in, this lake has several fishing charters so you can hit the water equipped with all the tips and tricks you need! I recommend reserving your charter through Fishingbooker.com
Best White Bass Fishing Charter: Captain John Bolton
Best Family Friendly Fishing Charter: Captain Richard Bolton
Best Alligator Gar Fishing Charter: Captain Kirk Kirkland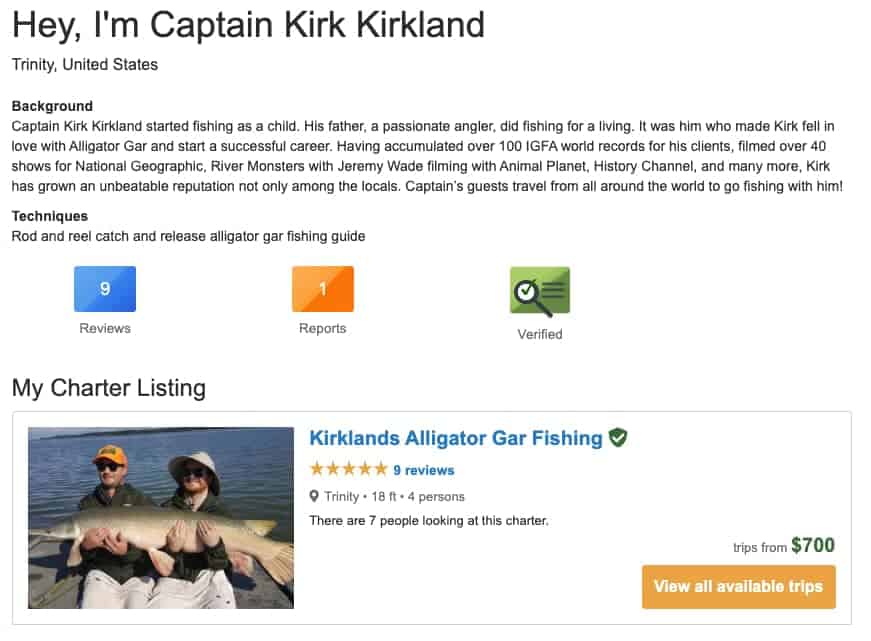 These guide services are happy to help fellow anglers find the right spots and use the perfect baits to land their target species of choice. You won't be disappointed!
Unique Features of Lake Livingston
Lake Livingston is home to diverse fish species, but it's most known for its outstanding white bass fishing!
A feature that makes this waterway one of a kind is the old US Route 190 road bed that runs across the lake bottom for miles.
The depth of the roadbed varies from 8ft to 25ft, making it the perfect hangout for white bass. Caravans of boats troll up and down the roadbed just like cars in traffic, trying to entice a reaction from schooling fish.
The surface of Lake Livingston's waters also has a unique feature, a flower called the Floating Exotic Water Hyacinth. This purple flora is found throughout the lake, especially in shallower areas on the upper side.
Long, hanging roots provide cover and food for crawfish, aquatic insects, & minnows. Fishing around the floating hyacinths can prove to be very fruitful for anglers (hint, hint).
Pro Tip: Fish the Floating Water Hyacinths
An article by Bassmaster details the Floating Exotic Water Hyacinths growing in Lake Okeechobee in Florida, but the same theory can be applied to Lake Livingston.
This article cites that many "giant" bass are caught from underneath the floating hyacinth mats and that these flowers even seem to attract bass.
Perhaps it's the shady leaves and a smorgasbord of baits living within their roots that make these plants so alluring. If you see these mats floating along the lake with purple flowers, you'll know you've probably found a bass haven.
Public Access
With over 450 miles of shoreline, the best way to navigate the waters at Lake Livingston is with a boat and motor. The sheer scale of this lake can be intimidating to some, but fortunately, it's easy to get away from other anglers with so much surface area!
Multiple boat ramps are available to the public for an easy launch from land to water. Many ramps are located all around the lake, but some are located on the Trinity River where it runs into Lake Livingston. Several marinas are also easily accessible with amenities for those interested in watersports as well.
Despite the size of this lake, there are areas that offer a nice, shallow paddle for those looking to launch a canoe or a kayak. The upper section of the lake provides shallow vegetation, and the backs of many coves are nice areas to paddle as well.
Lodging
For those looking to stay on Lake Livingston for a weekend on the water, there are many options for lodging. Book an adorable lakeside bungalow at Kickapoo Shores Waterfront Cottages.
These picturesque little homes on the northern side of Livingston's shores would surely make for a memorable vacation.
Various properties offer lakeside cabins with kitchenettes and BBQ grills to meet all your needs while you're at Lake Livingston.
Both Broken Arrow Lodge and Marina and Bethy Creek would be a one-stop-shop for anyone interested in fishing while they stay on the lake. Both locations have their very own fishing piers, and Bethy Creek also has a nice, sandy beach for sunbathing or swimming.
Additionally, B&R Lakeside Cabins & RVs could be a great choice for lodging. They also offer canoe, kayak, and paddleboat rentals.
There is also a multitude of campgrounds with tent sites and RV parks all around the lake, so you can find the perfect spot to camp depending on which part of the lake you may prefer.
Campgrounds and RV parks located on Lake Livingston include the following:
Onalaska KOA Holiday
Lake Livingston RV Park
Trinity Luxury RV Resort & Cabins
Outback Campground & Marina
Northshore RV Resort on Lake Livingston
Shoreline RV Park
Sandy Creek Resort Campground
Wolf Creek Park
Conclusion
Holding true to the saying "Everything's bigger in Texas", this giant body of water holds so many opportunities for fishing and enjoying fun aquatic activities. Whether you want to relax, ski, camp or just spend time on the water this lake has it all.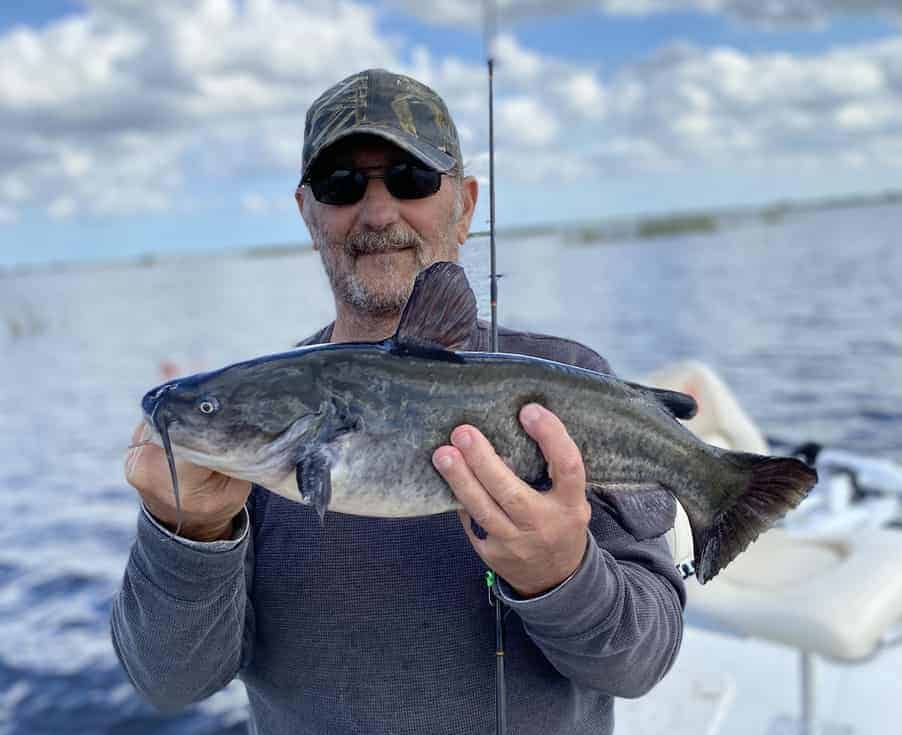 Anyone looking to catch their limit of white bass, big catfish, or hook into a dinosaur of an alligator gar could find their niche on Lake Livingston.
So the next time you find yourself in Southeast Texas, make sure you make a trip to visit this unique reservoir. Thanks for reading!
You May Also Like: How To Find And Bait Your Own Crappie Hole
If you haven't guessed yet, I love fishing and everything about it!
To learn more about why I started Panfish Nation, visit the About page and follow along on Social Media: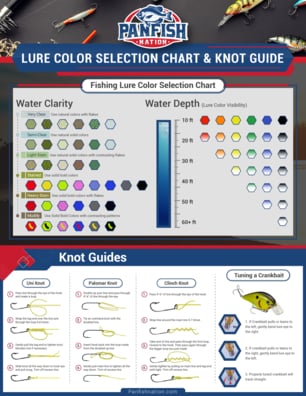 Download a copy of my FREE Lure Color Selection Chart & Knot Guide!
Stay up to date with fishing reports, tackle reviews, industry news, and much more! We respect your privacy, unsubscribe at any time.
Related Posts