If you live in the Eastern half of the U.S., you've definitely driven over a small creek on your way to work, while running errands, or even on the way to the lake to fish.
These small waterways are often narrow enough to jump across, or at least close to it. Many don't think much of creeks like this when it comes to fishing, but they can be an anglers' paradise if you know what you're looking for!
So if the fish in your local pond or lake aren't biting today, pack up your light tackle and hit the trails- it's time to go creek fishing!
(Sub)Urban Angling: Parks Not Required
While a day trip to a faraway state park for a day on the lake is a perfect way to spend a weekend, it may be too much of a hassle if you have the afternoon off from work and want a quick fishing fix.
While these places likely have wonderful creek fishing as well, you rarely need to go far to find a spot with fish willing to bite!
Suburban areas in particular are often riddled with small creeks that weave their way under major roads, through people's backyards, and dip into and out of local parks.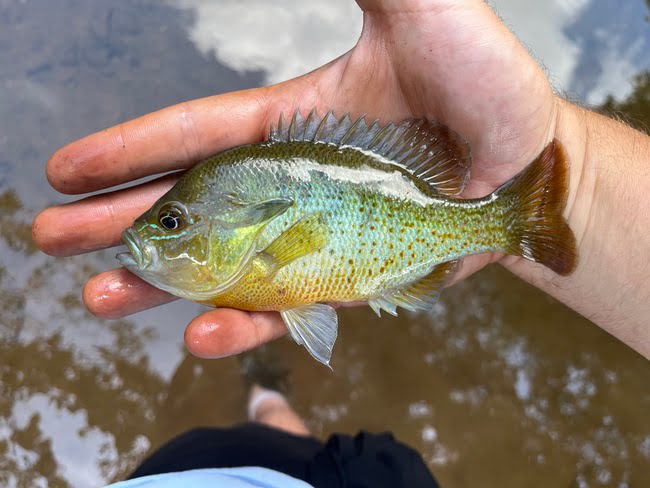 Because nobody wants that water running through their property, there's often a margin of woodland area preserved on either side of the creek as well. You may find a hiking trail running alongside some streams, and others may have no sign of habitation.
You may find a little bit of the garbage that is inevitable in human-inhabited areas, but in many cases the fish don't seem to mind as much as one would think.
These woods and waters may not be 'pristine,' but they still offer a level of tranquility that's hard to match anywhere else in the suburbs.
Just keep an eye out for signage to make sure you aren't accidentally walking on to someone's private property, and make sure you have a valid fishing license for the state you're in.
What to Bring and Wear While Creek Fishing
Being easily mobile and able to walk and follow the water will increase your angling success dramatically when fishing in bodies of water this small.
Each pool can only hold so many fish, and after you catch a few the whole population tends to get spooked and may need to be left alone for a while before they'll bite again.
With that said, the goal is to be lightweight and mobile.
Thankfully, you don't need much tackle at all to make the most of creek fishing! I usually bring a small backpack with a little tackle container, bug spray, sunscreen, a knife and pliers, a granola bar and a bottle of water in addition to my favorite light action panfish rod.
Lots of creeks will require you to walk non-insignificant distances through thick woods with no trail, so I would recommend wearing jeans or other long pants and a long-sleeve shirt in order to avoid thorns and brambles as you move.
Wooded areas often provide enough shade that you won't overheat in these clothes, even in the heat of summer!
If you know that your creek has a trail running the whole distance you'd like to fish, then you can get away with summer athletic clothing to beat the heat.
My go-to tackle for any creek is a small spinner, such as a rooster tail or panther martin, because so many different species will hit it.
I usually also pack some soft plastics of various sizes, splitshot, and some size 6 or 8 hooks.
These are a perfect size as the smaller creek fish are able to eat them, but you can still hook up with the occasional giant (yes, creeks can have giants!) without any trouble.
See Also: 12 Tackle Box Essentials Every Angler Needs
Best Time To Go Creek Fishing
Creek fishing is a viable way to catch fish at basically the same times as any other freshwater fishing.
The 'peak' months in the Eastern U.S. are between May and October in my experience, but I have had limited success in every month of the year in the Mid-Atlantic region!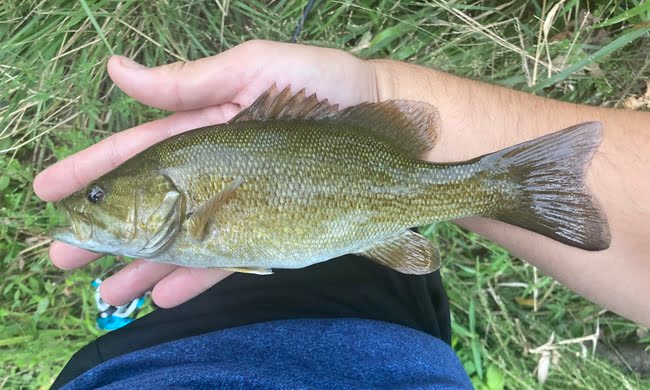 Your local area may have reduced or increased fishing success in the winter depending on local climatic conditions.
The rule of thumb that I like to follow is that if you can catch bluegill in shallow water at the local pond or lake, then the weather is prime for a creek bite.
Optimal creek fishing requires that at least a few days have passed since the last major rainstorm.
Such storms can turn a clear babbling brook into a raging muddy mess, which turns off the bite as well as making woodland trekking extraordinarily unpleasant. But if you've had 2 or 3 sunny days in a row, the conditions will likely be perfect!
Variety Is the Spice of Life
The varied habitat provided by creeks offer a home for a wide variety of unique fish species, including various kinds of sunfish like the aptly named stumpknocker, largemouth and smallmouth bass, bullhead catfish, chubs, suckers, and much more.
My childhood home had such a creek in its backyard, and from it I have caught 7 different species of fish, with a record of 6 in one trip!
The best part is that these oft-overlooked waterways are often left unfished by the vast majority of anglers.
With fishing pressure at an all time low, these fish are usually more than willing to bite anything that it sees, from spinners to plastic grubs to the classic worm-on-a-hook.
Your first few minutes at a new pool may see you getting bites on almost every cast!
Some specific pools can be local fishing hotspots if they are easy to access (such as being right on the side of the road or by a parking lot) and because these spots are so small this can reduce the bite here to nearly zero.
This is why hiking off of the main roads and trails (safely and legally, that is!) can lead to getting a bite nearly every cast.
Creek Fishing Tips and Tricks
The majority of the catchable creek fish will be in the deep, slow-moving pools in between faster and shallower sections.
Bigger pools are generally better, but even small ones can hold a singular "king" chub or sunfish, the ruler of its own little kingdom. If it's knee-deep or deeper, you're in business.
Large trees may be growing on the pool edges, and their submerged roots provide structure that large fish love to use for cover.
Simply dropping a hooked worm straight down and suspending it midwater in front of these roots can tempt a surprisingly large bass to strike!
Letting it sink to the bottom and twitching it a bit can net you a nice-sized catfish or sucker.
The wooded nature of these waterways provides wonderful scenery, but it also means there is ample opportunity to snag both in and out of the water; creek fishing requires careful casting!
Make sure you're clear of branches when casting to avoid getting hung up. Underwater logs and roots can also steal a lure or hook.
Fly fishing can be a good method of landing bait in hard-to-reach places if you know how, but it is not necessary.
I've lost many a spinner to tree branches extending out over the pool I'm fishing, too far to reach.
If you really value your tackle, you can always sacrifice it all and take a refreshing swim to get it back! You'll just need to move pools afterward as it's unlikely the fish will want to bite if you disturb the area.
If you can't seem to get a bite out of a pool, just keep moving! I generally only try to get a bite for 5 or so minutes before I move on to the next.
This applies to pools you've already caught fish from as well- if you go more than a few minutes without a bite, it's time to let that pool 'reset' from the pressure you applied.
Conclusion
There's no end to the fun you can have when fishing from creeks. Most fish put up more of a fight than you'd expect on light tackle, and after a while an 8 inch green sunfish feels like a worthy catch.
Of course, this mindset also makes the occasional 12+ inch smallmouth feel like the best fish you've ever caught!
So if the lake has too many fishermen and not enough fish on your next outing, try a creek and catch your fill nearly every time!
If you haven't guessed yet, I love fishing and everything about it!
To learn more about why I started Panfish Nation, visit the About page and follow along on Social Media: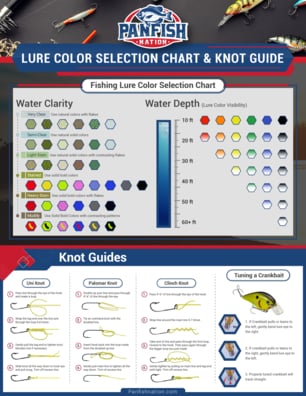 Download a copy of my FREE Lure Color Selection Chart & Knot Guide!
Stay up to date with fishing reports, tackle reviews, industry news, and much more! We respect your privacy, unsubscribe at any time.