I know what you're thinking: "A thirty-dollar spinning reel? No thanks!"
If you've ever fished a budget spinning reel before, you may have had a negative experience. Cheap spinning reels have a notoriously bad reputation.
But the Daiwa Crossfire LT is a highly rated budget spinning reel, that performs just as well (and in some cases better) than reels twice as expensive.
In this full breakdown, I'll cover everything you need to know about the Daiwa Crossfire LT…and trust me, this reel packs quite the punch!
This page contains affiliate links. As an Amazon Associate, I earn from qualifying purchases.
My Experience with the Daiwa Crossfire LT
The Daiwa Crossfire LT first piqued my interest while I was looking through the Daiwa website. I was reading the description for the Crossfire LT and was surprised they mentioned fishing this $30 reel in saltwater.

So in early 2021, a little over a year ago, I purchased my first Crossfire LT, a 1000 size. I spooled it up with some ultra-thin PE braided line and fished it on my 7'6" panfish/trout ultralight rod.
Having owned Daiwas in the past, I was already a fan of their LT concept spinning reels. For a few years prior, I had been using a Daiwa Fuego LT, a 100$ Daiwa reel, as my main ultralight spinner. I was curious how this $30 reel would compare.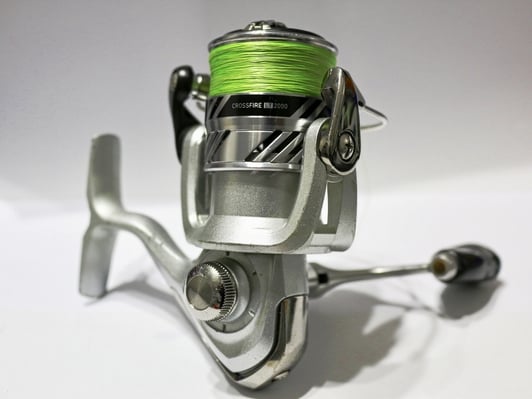 After just a few fish, the Crossfire was already impressing me! The first thing I noticed was how smooth and sensitive its drag was. It casts just as great as my $100 spinner too.
I continued using my Crossfire LT 1000 for ultralight fishing, in fresh and saltwater. It was my primary reel for a few months, and it continued to impress me.

I've used this reel kayak fishing in saltwater. I've used this reel fishing for snook from bridges and inlets. I've even used this reel fishing from the beach where it got splashed by the waves.

Even after all this use in saltwater, my Daiwa Crossfire LT 1000 is still going strong, and I continue to use it today. I was so impressed, I even bought a second one in a 2000 size.
I've convinced a number of my friends to get the Daiwa Crossfire, and we've all had great experiences with this amazing budget reel.
What Makes the Daiwa Crossfire LT so Great?
The Daiwa Crossfire LT checks all the boxes for my ultralight to light tackle applications. Here is where we're going to get a bit more technical and break down the features of the Crossfire LT and their effects on fishing performance.
Crossfire LT Drag
First and most importantly, the drag is super smooth, and it has never failed me! It has proved itself for many different species and styles of fishing.
For size 1000/2000, the drag has a single felt washer, and while it may not be as fancy as a "carbon fiber drag," a felt drag system is actually preferred for finesse reels.
Even the most expensive finesse reels in Japan come with just a single felt washer, so you can expect reliable and smooth drag from the Crossfire LT.

For the Crossfire sizes, 2500 and larger, the drag is carbon fiber. This means the drag is strong and smooth even at the higher settings.
Crossfire LT Spool Design
Second, the spool design and line lay are spectacular! Compared to traditional spinning reel spools, Daiwa LT spools are uniquely designed. The spool design on the Crossfire LT reduces line twists and wind knots while increasing casting distance.
Daiwa LT spools are slightly tapered, so the line spools a bit more towards the top.
The lip on the spool is small and unobtrusive, so when fully spooled, the lip is almost flush with the line.
This design reduces friction with your line and increases your casting distance! This makes the $30 Daiwa Crossfire LT the best casting spinning reel out there. It also lays line better than any reel at this price point, and exceeds many reels twice its price.
Daiwa LT spools are also wider and taller compared to most other manufacturers' spinning reels.
All else being equal, Daiwa's wider and taller LT spools contribute to less line twist, fewer wind knots, more line retrieve per turn, and longer casts!
The taller and wider spool, present on the Daiwa Crossfire LT, makes a huge difference which is especially noticeable on ultralight-sized reels because smaller reels are more likely to suffer from line twists
Shallow Spool
The Crossfire LT has a shallower spool compared to most other reels in the American spinning reel market.
I prefer this shallower spool because it allows more space for drag washer surface area and contributes to a more sensitive drag. It's also convenient while spooling reels because you do not need a ridiculous amount of line for finesse fishing.
Compatability in Saltwater
The Daiwa Crossfire LT is an unsealed reel, but it holds up surprisingly well in saltwater. The Crossfire is a one-bearing reel, and this simple design improves its resistance to corrosion.

Most spinning reels will have two drive gear bearings on either side of the reel, but when exposed to saltwater, these bearings will easily rust out in unsealed reels.
The Crossfire uses two plastic bushings here instead of bearings! This is great for saltwater because you don't have to worry about rusting them out.
Another feature, or lack thereof, the Crossfire doesn't have an anti-reverse switch. Many reels include an anti-reverse switch, but this is a weak point for water to enter the reel.
Thankfully, the Crossfire doesn't have this, and this improves its resistance to saltwater.
However, you should remember that this is an unsealed reel. It can take a few splashes in saltwater but do not dunk it. Full submersion in saltwater could be the end of your Crossfire.
You May Also Like: The 5 Best Panfish Spinning Reels Available Today
Disadvantages of the Crossfire LT
After using this reel extensively for a few months, I had my first failure in the reel. While fishing, my bail spring broke, and this made the reel nearly impossible to cast.
Fortunately, this is an easy and free repair! I just called Daiwa's customer support and asked for some replacement bail springs; they sent me three replacements free of charge!
(For my 1000 and 2000 sizes, it was part number F77-7901.)
Reel Weight
Another disadvantage applies to anglers who want the lightest combo possible. The Crossfire 1000/2000 weighs 7.9 ounces.
For a modern ultralight reel, this is on the heavier side, but I've come to prefer this slightly heavier reel.
(Note: If you're looking for a very lightweight spinning reel, check out the Piscifun Carbon X, it weighs in at 5.7 ounces, one of the lightest on the market!)
I like to fish longer rods, usually 7' or longer, and I've found that the Crossfire balances better on my long rods than lighter reels.

Also, most budget rods aren't built to be extremely lightweight, so the Crossfire balances well on most budget rods.
Another complaint I've had from a few anglers is their dislike for the handle knob. The plastic knob on the Crossfire isn't the most comfortable, and it can be slippery at times.
Daiwa Crossfire Tips and Tricks
Line lay adjustment
Included in the Crossfire box are spool spacer washers. If your line is spooling too far towards the top, just add one or two as needed.
If the line is spooling towards the bottom, just remove one. Even high-end reels need spool spacers, so this isn't considered a defect.
How to Prepare your Crossfire for Saltwater
I like to add some grease to my Crossfire before fishing it in saltwater. I add a layer of reel grease below the drag knob and underneath the spool.

After adding grease, you might notice a very minor side effect, a slightly muffled drag sound. It's just the sound though. The drag still functions perfectly.
This layer of grease helps to keep water from entering the body of the reel and prolongs the life of your reel. After some heavy use in saltwater, I wipe away old dirty grease and reapply with fresh grease.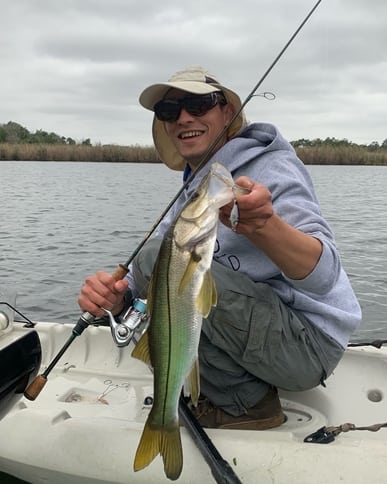 Frequently Asked Questions
What sizes are available for the Crossfire?
The Crossfire comes in six sizes: 1000, 2000, 2500, 3000, 4000, and 5000.
What rod pairs best with a Crossfire?
Selecting a rod depends on your Crossfire size. For a 1000 or 2000, I prefer to use an ultralight rod.
The Shakespeare Micro Series, 13 Fishing Defy Silver, Bass Pro Shops Air Stream, and Temple Fork Panfish/Trout are some of my favorite ultralight rods I use with the Crossfire.

The Crossfire is not limited to ultralight fishing, however, and it is available in larger sizes as well. You could pair the larger sizes with medium or heavy rods.
For example, I think a Crossfire 3000 and an Offshore Angler Gold Cup Inshore rod would make a great entry-level carp or catfish combo.
Where does the Crossfire LT Excel?
I believe this reel excels for ultralight and light tackle applications. For this style of fishing, you do not have to winch in big fish, so the reel is not put under a lot of force. It is used as a tool to cast, retrieve, and exert smooth drag pressure, and the Crossfire excels at this.
However, I have heard from a charter captain who uses these reels on his charters, catching big inshore game on his Daiwa Crossfires. Don't count this reel out even on some big fish.
What would I change about the Daiwa Crossfire LT?
I would add a rubber drag gasket. If only this reel had a rubber drag gasket to seal the drag, it would greatly improve its water resistance and lifespan.
Final Thoughts
My friends and I have used these reels everywhere and for everything. We fish them at our local freshwater creeks, lakes, and rivers, but we also fish them extensively for light saltwater applications including inshore, beach, and even offshore fishing.
If you're looking for an affordable, reliable spinning reel…give the Crossfire LT a try.
You won't be disappointed!
Review and Photos contributed by @species.spotlight
If you haven't guessed yet, I love fishing and everything about it!
To learn more about why I started Panfish Nation, visit the About page and follow along on Social Media: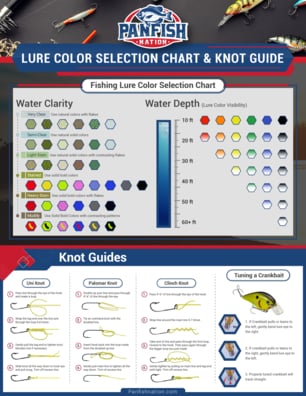 Download a copy of my FREE Lure Color Selection Chart & Knot Guide!
Stay up to date with fishing reports, tackle reviews, industry news, and much more! We respect your privacy, unsubscribe at any time.
Related Posts