When it comes to crappie fishing powerhouses, the state of Arizona usually isn't in the conversation.
In fact, the state gets a lot of recognition for its bass fishing and giant redear sunfish.
But, there is some great crappie fishing in Arizona…if you know where to look.
Below are the top 6 crappie lakes in the Grand Canyon State.
Roosevelt Late
Roosevelt Lake is often regarded as the king of crappie fishing in Arizona. This giant man-made reservoir is found on the Salt River and is one of the largest lakes found in the state.
With over 21,000 acres to fish, there is plenty of crappies to be found!
Because Roosevelt Lake is so big, it is best fished with a boat. There are many great boat launches, including favorites such as Windy Hill and Grapevine.
Accessible boat launches will also vary depending on the lake's water levels, so it may take a little work to find one that is at the right level.
Shore access can be tough to find, especially around the southern portion of the lake. Popular areas include the Windy Hill campground and Cholla Recreation site, although these areas can be very crowded.
To find better shoreline, especially in areas with fewer people, head to the northern portion of the lake.
Regardless if you are fishing from the shore or on a boat, crappie on this lake are generally found in 15 to 20 feet of water.
Roosevelt Lake has plenty of submerged brush and timber, giving these fish plenty of cover and places to hide.
Some of the best crappie fishing (according to the locals) is found on the east end of the lake near the Salt River Inlet.
Alamo Lake
Alamo Lake is a beautiful 3,500-acre reservoir that is also a state park in the western part of the state.
Its located within a couple of hours of world-famous Lake Havasu, which means it often gets overlooked.
While more popular for its bass and catfish, the crappie fishing at Alamo is severely underrated and can be some of the best in Arizona.
Like other great crappie lakes in Arizona, Alamo has plenty of flooded bushes and trees that give cover to the fish. This makes excellent crappie habitat and is easy to find all over the lake.
This brush also keeps many recreational boaters away, making the fishing even better.
Crappie at Alamo Lake are generally found in 15 to 30 feet of water depending on the temperature, and many 15 inch and bigger fish are caught here.
The nighttime bite is exceptionally good on this lake, especially around the dam.
See Also: The 5 Best Crappie Lights For Night Fishing
Because Alamo Lake is a state park, you can find boat access, shoreline fishing, fish cleaning stations, and camping at the main park center.
But, like any other desert lake in Arizona, water levels will greatly fluctuate and affect boat launches, shore access, and fishing conditions.
Apache Lake
Just like Roosevelt Lake, Apache Lake is a man-made reservoir made by damming the Salt River. But at just over 2,500 acres in size, it is much smaller and sees much fewer tourists and recreational boaters.
Apache Lake is known to produce some of the biggest crappies in the state, and there are plenty of great places to find them.
Found in 20 feet of water or more, this lake is loaded with steep points, rocky bluffs, drop-offs, and submerged vegetation that provide crappie a place to hide.
Big crappie can be found in all areas of the lake, but shorelines around Saguaro Point and Sam's Straight tend to produce great fish.
Other popular areas include Horsetail Bay, Alder Creek, and Pine Creek. All of these areas have plenty of brush, cover, and points to target.
Boaters on Apache Lake will find great success while trolling with crankbaits, but don't pass up fishing with a crappie jig along submerged points and bluff walls.
Natural colors such as greens, whites, and silvers will often produce the most, and you can focus your efforts around the submerged trees and rock faces that crappie prefer to live around in this lake.
Bartlett Lake
Bartlett Lake is well known for its wide range of water levels. While every desert lake in Arizona will have big variations in its water levels throughout the year, Bartlett tends to be the worst.
But, when water levels are good, the crappie fishing is usually on fire.
A manmade reservoir on the Verde River, this lake is a little over 2,000 acres big and stretches 12 miles from end to end.
Many projects are done every year submerging Christmas trees and other structures in this lake to provide adequate fish habitat for the bass and crappie. These are great areas to target when just starting out.
For those with a boat, there are no better launches than the Bartlett Lake Marina. Many crappie frequent this area, and it can also be a great area to launch and fish from a kayak.
Crappie will be anywhere from 10 to 15 feet deep, allowing anglers to be very effective from a kayak or from the shore.
Water clarity tends to be murkier in this lake, so grubs and crankbaits in bright and flashy colors will be your best bet.
Don't be afraid of using larger sizes as well, as these will attract more attention and crappie have big appetites during the spring and summer!
San Carlos Lake
San Carlos Lake is the hidden gem of crappie lakes in the state of Arizona and does not ever get the recognition that it deserves.
Found on the San Carlos Apache Indian Reservation, you will need a permit to fish here but it is well worth the small fee.
Like Bartlett Lake, water levels on San Carlos Lake widely fluctuate from year to year. If water levels stay consistent, the crappie fishing here is the best in the state during the spring.
This lake also holds the state record for the largest black crappie and is one of the few areas in the state that also holds white crappie.
When water levels are good, this lake is one of the largest reservoirs in the state. When low, however, the lake will almost completely dry up.
When it gets to this point, fishing is usually not allowed. Bank fishing access is good around the entire lake, while boat access is very limited.
Both grubs and small crankbaits are very effective at this lake. It is best to stick with bright and flashy colors, as the water here is usually murky and dark.
Slow fishing and bright colors will help all of the nearby crappie see and attack your lure.
Patagonia Lake
Patagonia Lake is another lake that is also a state park. This means you may have to pay a small fee to fish it, but all of the access and amenities make it well worth it.
At only 260 acres, this reservoir is a lot smaller than the others here on our list but, despite its size, it holds excellent numbers of black crappie.
Patagonia Lake most likely doesn't get the same publicity as larger lakes such as Roosevelt or Apache due to its size and proximity to the Mexican border.
But just a few minutes of searching around the many reeds and submerged trees should produce a limit of crappie in no time.
Boat and shore access are very good here, and you can easily fish the entire lake using either method.
Focus your efforts at water depths of 15 to 25 feet, depending on the day's temperatures. If you do have access to a boat, flipping a grub into the pockets of reeds can produce a bite even on a slow day.
A large portion of this lake is a no-wake zone, making shore and kayak fishing even more enjoyable.
If you are looking for a small, quiet lake to fish for crappie while still enjoying the desert landscape and weather, then Patagonia Lake is an excellent choice!
You May Also Like: New World Record Redear Sunfish (Shellcracker) -It's A GIANT!
If you haven't guessed yet, I love fishing and everything about it!
To learn more about why I started Panfish Nation, visit the About page and follow along on Social Media: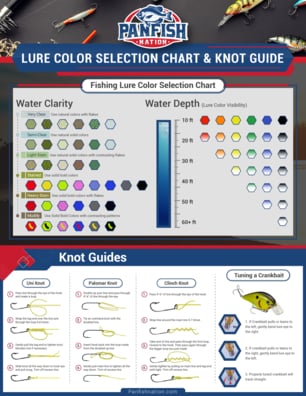 Download a copy of my FREE Lure Color Selection Chart & Knot Guide!
Stay up to date with fishing reports, tackle reviews, industry news, and much more! We respect your privacy, unsubscribe at any time.
Related Posts