Somewhere between rolling North Georgia foothills and bustling Atlanta suburbs lies Lake Lanier. This lake is renowned as being the clearest, yet most mysterious lake in the Peach State.
Whether you have heard stories about nationally sought-after spotted and striped bass, tales of a forgotten underwater town, or caught a glimpse of the lake on Netflix, this waterway is the most interesting hidden gem in Georgia.
Take a deep dive into the rocky depths of Lake Lanier as we detail its landscape, fishing tactics, popular species, best times to go, and handy information that every visitor will need to enjoy the lake.
Huge Lake, Huge Fish and a Deep Secret
This reservoir contains 700 miles of shoreline consisting of steep, rocky drop-offs, beachy islands, and fingerlike branches.
Brush piles, creek mouths, docks, marinas, and long points offer shelter for fish, who use the structures within the depths of the lake for cover.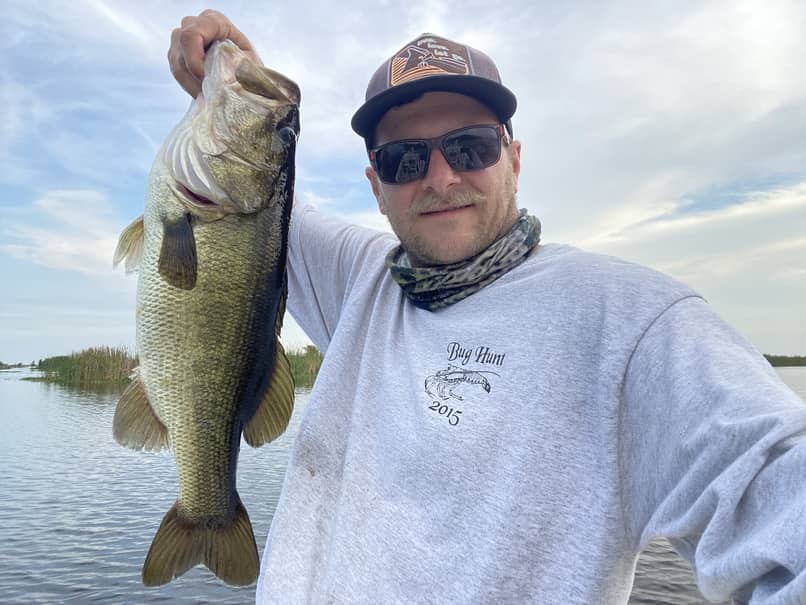 According to River Through Atlanta (The Chattahoochee River Guide Service), "Lake Lanier is the most heavily used US Army Corps of Engineers impoundment in the nation."
Despite the tremendous growth in the area and millions of thrill-seekers who visit Lanier each year, the water quality of the lake is excellent.
Lake Lanier is known as a top black bass lake, which specifically refers to spotted and largemouth bass species. Many tournaments have been hosted at Lake Lanier, including the Toyota Elite Bassmaster Tournament as recent as 2019.
This 38,000-acre lake is home to a variety of fish species and truly has something to offer every angler, whether you're a novice or a tournament pro.
Fishing Lake Lanier
Competitive fishing like the 2019 Toyota Elite Bassmaster Tournament calls anglers from all over to these river-fed waters to try their hand at some big bass. Tournament pro Brandon Lester spoke about the charms of Lake Lanier in an interview with Bassmaster.
"It's a diverse fishery, and I'm excited about fishing it," said Lester. He went into detail about the crystal-clear waters on the southern end near Buford Dam and how they offer the potential of big spotted bass or mighty striper, while the northern end holds murkier waters.
Drawing on personal experience, Lester also said that the lower side produces consistently larger fish on average for him, but that those who try the stained water on the upper side could have the chance at challenging a huge largemouth.
Anglers also have luck fishing around the creeks and tributaries on the outskirts of the lake.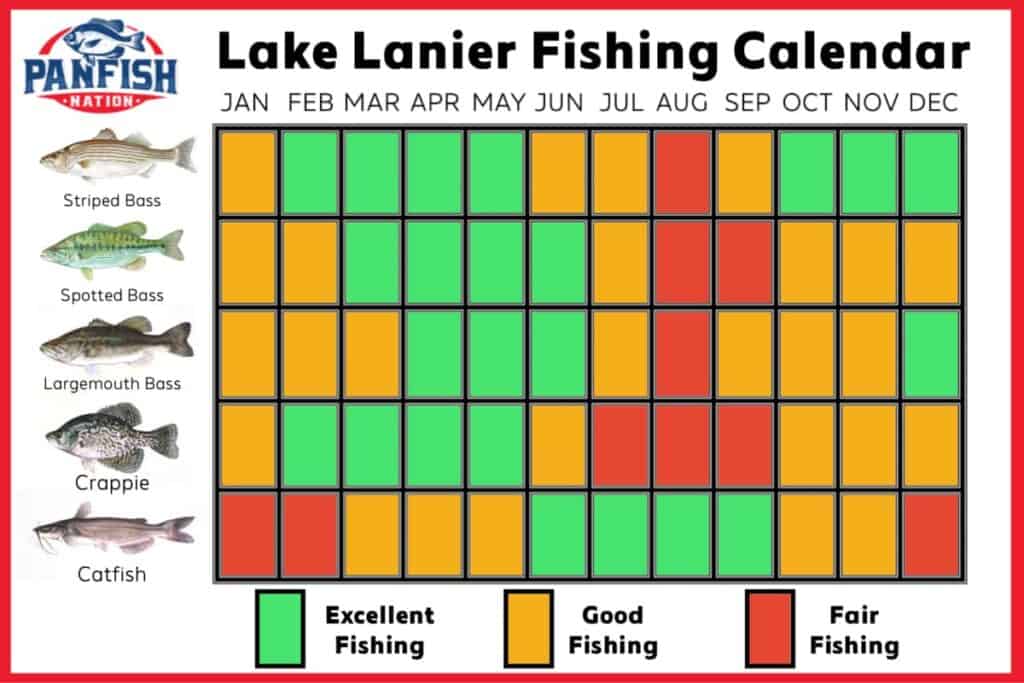 Spawning patterns may differ depending on which part of the lake you choose to fish and depending on the time of year. Aside from water clarity, a major difference between the northern and southern shores of Lake Lanier is the temperature.
Spawning begins much earlier on the northern end of the lake as temperatures rise more prematurely than those on the south side. So, as you navigate around the lake, you will be sure to find areas that hold higher temperatures (and more fish) within the water column.
The most targeted species in Lake Lanier include striped bass, spotted bass, largemouth, and walleye. But this lake also houses a healthy population of panfish like black/white crappie and shellcracker. Lanier is touted as having some of the best-spotted bass and striper fishing in the Southeast. 
You May Also Like: The 7 Best Crappie Lakes In Georgia
Popular Species on Lake Lanier
Spotted Bass
The deep, rocky shores make this lake the perfect habitat for the spawning and survival of "spots" as anglers call them. Spotted bass in Lake Lanier currently outnumbers largemouth by nine to one.
They also report that the number of catches larger than two pounds has grown exponentially in recent years.
Striped Bass
Although there are enormous spotted bass swimming around Lake Lanier, the striped bass in this lake would dwarf even the largest of spots.
Regarded as the pinnacle of freshwater sport fish, striped bass, or "striper" have a reputation for both size and tenacity. When one of these mammoths grab onto your lure, there is no mistaking this fish for any other. The record striper caught in Lanier was nearly 48 pounds!
Largemouth Bass
When it comes to largemouth, the few who do lurk in these waters can still hold their own among the spotted and striped bass. Many of these largies exceed five pounds.
The Lake Lanier largemouth record holder is Emory Dunahoo with a catch from December 1965, weighing in at 17 pounds, 9 ounces. Talk about a whopper!
Walleye
Due to a rigorous stocking program at this lake in the 1960's, walleye are present on the lake in catchable numbers. Usually regarded as a catch from up North, these nocturnal fish can be caught on the lower end of Lanier in low-light conditions.
Many anglers catch walleye while targeting striped bass and find they will chase the same lures. Also, minnow-like swimbaits and crankbaits, either trolled or traditionally cast can entice a bite.
Panfish
The smaller species in Lake Lanier like black/white crappie, bluegill and "shellcracker" are vastly underestimated by those who are out there hunting the giants. The average crappie swimming in this lake weighs in around 1 to 1 and a half pounds!
There are so many docks on the lake, it's easy to find them by shooting up underneath them with a crappie jig. Many anglers say you can shoot the docks year-round at Lanier and catch these speckled beauties for some tasty fillets.
Trout
Trout are an occasional bycatch that can surprise an angler at Lake Lanier. Most trout fishermen have more luck in the 'Hooch (that's the Chattahoochee River) below Buford Dam.
The Georgia DNR Wildlife Resources Division discontinued stocking Lake Lanier in the 1990s, but it's speculated that some fish still travel downstream from the rivers that feed into the lake.
Trophy-sized trout have been caught within Lanier's waters over the years, including a 9.6-pound rainbow trout caught in 2019 by young lady angler, Brooke Wheeler.
Catfish
I cant talk about fishing lake Lanier without mentioning some of the GIANT catfish that call this lake home. The warmer months are a great time to target channel cats, bullheads or try your luck using live bluegill to target big flatheads and blue catfish.
Fishing Lake Lanier- Tips & Techniques
If you're looking to learn about the tried & true tactics of catching these alluring species, bass anglers and pros alike have success fishing the bottom with shaky heads, the Ned rig, the wacky rig, drop shots, & crawfish presentations around rocky areas.
There's also the Lanier Bait's Fruity Worm— a local must-have— available at bait shops like Hammond's Fishing in Cumming, GA. 
Blueback Herring is the main forage of this reservoir, so some anglers enjoy the action of a paddle tail swimbait, jerk bait, or crankbait. Fluke fishing has also produced some noteworthy catches for local fishermen.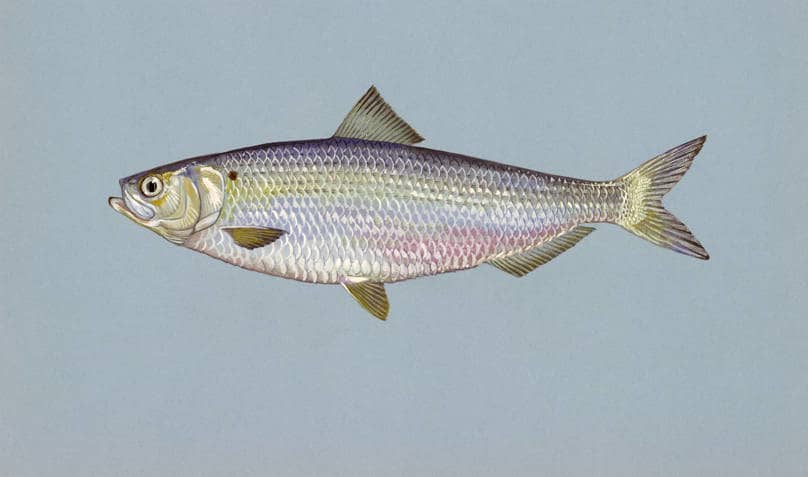 But be sure to adjust your approach as the seasons change! During spring and fall, finesse a topwater walking bait, wake bait, or subsurface lure for an adrenaline rush when they explode on the surface.
In recent years, the Georgia DNR and Wildlife Resources Division joined forces with volunteers from North Georgia Crappie Anglers Club to place fish attractors into Lake Lanier and nearby Lake Hartwell.
These were deployed to enhance the environment and improve fishing opportunities for anglers from both the boat and the bank at Don Carter State Park.
The WRD also completed additional attractor sites throughout Lanier to give anglers a boost.
Lake Lanier Fishing Guides & Charters
For those looking to land the trophy fish of a lifetime, or just come home with a great fishing story, consider hiring a local guide through FishingBooker.com
They have dozens of locals charter captains available to take you and your family out for a fantastic day of fishing on Lake Lanier.
Whether you are interested in chasing the world-famous Striped Bass or Spotted Bass the lake is known for or want to stock the freezer with delicious crappie, there is a charter captain out there to fit your needs.
My personal recommendations for Lake Lanier Fishing Guides:
Planning Your Visit: Access Points, Boat Rentals, Charters, Lodging
A body of water as large as Lake Lanier offers a multitude of different access points. Depending on which section you think you would prefer, a handy guide can help determine the best ramp for you.
Discover Lake Lanier has a detailed interactive map of these access points available on their website.  
Lake Lanier Boat Rentals
Many marinas and boat rental services around the lake can assist you during a trip to Lanier if you don't have a watercraft.
Some of the most popular rental companies are Paradise Rental Boats, Harbor Landing at Lake Lanier, Aqua Sports Adventures, Lanier Boat Charter LLC, Lanier Experience, Bait Shack Watersports, and Shore to Shore Boat Rentals LLC—just to name a few.
Canoes and kayaks can also be rented from Burton Outdoor Adventures. We recommend trying a relaxing paddle Monday-Thursday if you wish to avoid crowds and the wake from bass boats, charters, jet skis, and yachts.
Lodging, Camping, & Vacation Rentals
To plan a getaway for yourself and the entire family, the resort at Lanier Islands or a site at Margaritaville RV Park could be the perfect vacation spot.
This resort offers amenities like restaurants, a heated pool, Margaritaville water park, beach access, an onsite spa, golfing, zip lines, and hiking trails.
Guests to the islands can also book a scenic Margaritaville sunset cruise around the lake. When you step into the resort at Lake Lanier Islands, it feels like you've left Georgia entirely. Perhaps this is why they crafted the perfect slogan, "A Different World, Close to Home."
Several listings are available on popular booking engine apps like Booking.com, Airbnb and VRBO for cabin or vacation rentals. Lake Lanier Luxury Houseboat and Yacht Rentals is also a viable option for a memorable offshore getaway.
For the more adventurous crowd who may want to camp near the lake, there are public campgrounds along the shore, and Hipcamp sites offered on both the northern and southern branches.
Lake Lanier: Final Thoughts
According to Discover Lake Lanier, approximately 11.8 million people visit this reservoir every year. Lake Lanier and the Buford Dam provide power and water to Atlanta and many surrounding communities.
The floodwater retention of the lake also prevents millions of dollars in flood damage each year, according to the Army Corps of Engineers.
Lake Lanier boasts something for everyone- and I mean that literally not figuratively. World-class fishing, sailing, jet-skiing, tubing, wakeboarding, history, dining, boating, tournaments and even yachting.
It's regarded as one of America's favorite lakes, and you'll feel like a true Georgia native, once you visit. Plan a trip, and see for yourself…you won't regret it!
You May Also Like: Can Largemouth and Smallmouth Bass Breed?
If you haven't guessed yet, I love fishing and everything about it!
To learn more about why I started Panfish Nation, visit the About page and follow along on Social Media: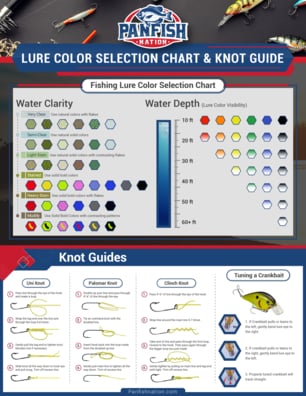 Download a copy of my FREE Lure Color Selection Chart & Knot Guide!
Stay up to date with fishing reports, tackle reviews, industry news, and much more! We respect your privacy, unsubscribe at any time.
Related Posts