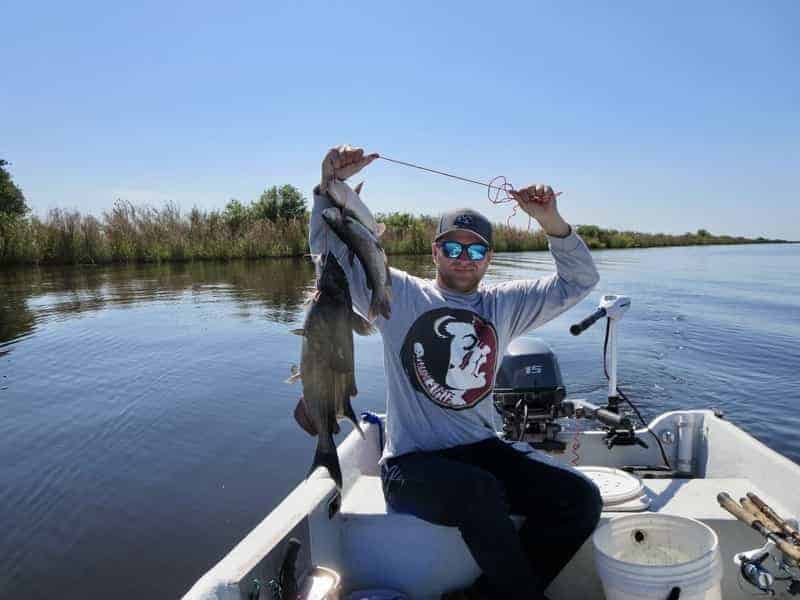 Learning how to use a fish stringer the correct way, means your catch will stay fresh longer and be easier to transport. In this article, I'll tell you everything you need to know about how to use a fish stringer along with some helpful tips.
This page contains affiliate links. As an Amazon Associate, I earn from qualifying purchases.
How to Use a Fish Stringer
The proper way of using a fish stringer is by putting the stringer through the fish's lower lip and not through the gills. Use the needle (or sharp object) on the stringer to pierce a hole on the fish's lower lip. Pass the rope on the stringer through the hole and back through the metal ring to secure the fish in place. You can then place your catch in the water around you to keep them fresh for hours.
This may come as a surprise but many anglers have been using fish stringers the wrong way! The most important thing to understand when learning how to use a fish stringer is that it should go through the fish's lower lip and not through the gills!
You have to keep in mind that putting the fish stringer through the gills makes it difficult for the fish to breathe.
And because the most important thing is to keep the fish alive and fresh, the best way to use a stringer is to keep it simple. Just pass the sharp end of the stringer through the fish's lower lip or jaw, down through the thin membrane.
You can then take the rope on the underside of the mouth and attach the rope to the metallic ring to secure your catch in place.
In other words, make sure that the fish can still breathe and stay alive without the chance of swimming away or dying too soon from injured gills.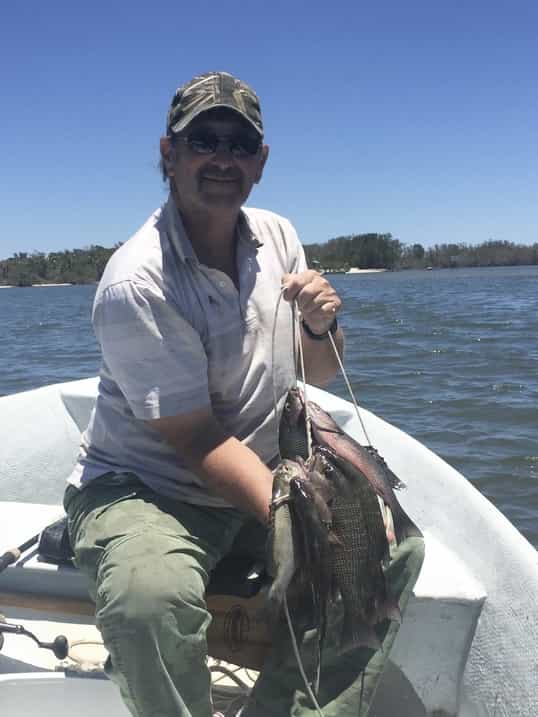 It's also important to ensure that the fish's mouth is perforated perfectly. This means that the hole shouldn't be too close to the edge of the mouth. This is to prevent the fish from struggling and getting away even if it means getting their freedom with a torn lip.
That being said, this method can be applied to most fish stringers. If you're using a spring lock stringer, ensure that you pass the hook or spring lock through the fish's mouth without causing too much damage.
And if you're using a chain stringer, you can use each hook until you have all the fish caught tagged, and ready to be kept alive and fresh in the water.
What exactly is a Fish Stringer?
A fish stringer is a device made of flexible rope or chain that is used to hold fish for easy transport and maximum freshness. It is used as a lightweight and simple alternative to a cooler, live well or fish basket.
Parts of a Fish Stringer
The main features of a fish stringer include:
An abrasion-resistant rope or string or sometime chain.
A 4 to 6-inch metal or plastic tip at the end of the rope to help in passing the rope or string through the fish's mouth
A round metal hoop to pass the tip of the rope after the fish is secured to the stringer
Types of Fish Stringers
There are a few different types of fish stringers available on the market today.
Rope Stringers
Also known as poly stringers, rope stringers are the standard and most common type of fish stringers. This type of stringer is made from a piece of poly-rope, with a metallic needle at one end of the rope, and a metallic ring at the other end.
Rope stringers are ideal the least expensive option, and they are very portable and convenient. Simply put a rope stringer in your tackle box or fishing vest pocket and you're ready to go.
Chain Stringers
Like rope stringers, chain stringers are affordable, efficient, and a popular choice among anglers. As the name suggests, a chain stringer is made from a chain with multiple hooks that are placed at a certain distance from each other to allow you to hook several catches in a row.
Chain stringers are a little more expensive, but that is because they are simply more durable and likely to last longer. They are very popular in ice fishing when rope and other cordage can freeze.
Spring Lock Stringers
Also known as lockable snap stringers, spring lock stringers refer to fish stringers that are modified with lockable snaps along the strings. These snaps are effective in catching a lot of fish and are very easy to use.
Generally, spring lock stringers will hold 6 to 10 fish and are becoming more popular with anglers thanks to their durability. These also keep fish evenly spaced along the mainline, which makes for great photos and allows you to easily measure or examine your catch.
Paracord Fish Stringers
Paracord fish stringers are made of paracord material that is gentle on fish. This material is sturdy enough to hold even the biggest of catches. It's also rust-free and makes a strong loop.
The only disadvantage is that paracord fish stringers can smell fish after multiple uses but you can wash it with hot soapy water to remove the bad smell.
How to Use a Fish Stringer on a Kayak
FIsh stringers are very popular for kayak anglers, mainly because kayaks have limited storage space to keep your catch.
Most kayaks are equipped with utility brackets or hooks to attach a rope and other accessories. The easiest way to use a fish stringer on a kayak is to attach your stringer line to one of the utility brackets so it's within arms reach of your sitting position.
It's important to find a suitable place on the kayak to attach the ring so that you don't have to strain your hands when tagging your catch to the stringer and putting it back in the water.
You should consider attaching the stringer on the back of the kayak in such a way that it's easy to look behind and access if needed. Attaching it on the back of the kayak also means that when you are paddling, the fish stay out of the way of your paddles or steering.
Tip: Attach a colored float to your fish stringer line. This is used to keep the fish near the surface and will reduce drag, but it's also just in case your stringer becomes untied while you are on the water so it doesn't sink completely!
See Also: 7 of The Best Kayak Fishing Locations In South Florida
Benefits of Using a Fish Stringer
While the main benefit of using a stringer is to keep your fish alive and fresh, there are other benefits that you can enjoy if you know how to use a fish stringer.
We all know that many places have rules and regulations regarding how many fish you can catch and so on. As such, using a fish stringer can help you keep the count when fishing. In fact, keeping the tally can be a lot easier than trying to count your catches in a basket or cooler.
Stringers are even more beneficial if you're fishing alone on a kayak and do not have a helping hand or even enough space for the cooler. Instead, stringers will help you keep your catch fresh and alive in their natural environment.
A fish stringer also makes it a lot easier to tell how successful your fishing adventure has been. Using a fish stringer can be an inventive and comfortable way of carrying fish home after your fishing adventure (and makes for great pictures, too!)
Save money on Ice, and keep fish from getting frozen which makes them harder to fillet.
Frequently Asked Questions (FAQs)
How Do You Secure a Fish Striner?
Most fish stringers are equipped with a small metal stake at the end of the line. Use this to secure your stringer by pushing it into the ground. You can also use a tent stake, or simply tie off your stringer to a tree or rock.
How Long Can You Keep Fish on a Stringer?
If the gills are not damaged, fish can live on a stringer for a whole day of fishing. Keep them out of the direct sunlight and run the stringer through the bottom jaw instead of behind the gill plate.
Do You Kill Fish Before Putting Them On a Stringer?
No, the purpose of a fish stringer is to keep fish alive and as fresh as possible while you are fishing.
Are Fish Stringers Humane?
If you are putting fish on a stringer, that means you intend to keep and clean the fish for food. Keeping them on a stringer allows them to stay alive while you are fishing. When removed from the water, any fish on a stringer will die quickly.
Related Content