The Peach State is packed full of lakes, reservoirs, swamps, and major rivers…all of which provide a wide assortment of environments for crappie to thrive.
In this article, ill cover the 7 best crappie lakes in Georgia…along with a few fishing tips.
Some of the lakes you may recognize, and others you may be surprised to see! Let's get to it!
Lake Oconee
This 19,050-acre lake is known to be a honey hole for crappie fishing in Georgia. Crappie average 10-1/2 inches in size, weighing 1-2 pounds, but larger fish are also caught. It has several feeder creeks providing good fishing spots.
Lake Oconee is located in east-central Georgia, just two miles west of Greensboro. It features plenty of boat ramps for both fishing and pleasure boats. This lake contains both white and black crappie. Fishing from a boat and from the banks is popular here.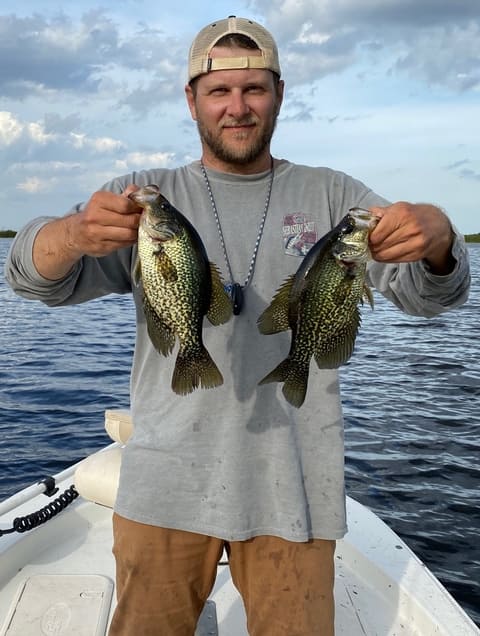 Fishing Tips
Try out the upper ends of Sugar and Lick creeks on the upper end of the lake, especially near brush piles. Larger slabs can be found on upper Beaver Dam Creek.
Watch for sunken wood that attracts fish. Also, check out the Apalachee River. The first group of standing timber on the western shore and other flooded timber on up the river are good hot spots when fish move shallow.
Lake Walter F. George or Lake Eufaula
This 45,000-acre lake is on the eastern side of the state near Columbus and Ft. Gaines. It's formed from the world-famous Chattahoochee River.
This lake provides some of the best spring crappie results in the state. Both numbers and sizes are good.
You can catch plenty of 8 to 10-inchers with a few up to 15 inches if you're lucky. You can fish in very shallow water from mid-March through May during the spawn. There are plenty of launching ramps for your boat.
Fishing Tips
Try creek mouths and under bridges. Fishing from the bank is good at Florence Marina and Hardridge Creek fishing piers or the East Bank and River Bluff ramps. Some of the creeks also provide good bank fishing.
If you use a boat, the Army Corps of Engineers advises inspecting your tackle, motor, and boat trailer for plant fragments and removing it before leaving the boat ramp. This is to rein in the spread of hydrilla, an invasive weed.
Clarks Hill Lake
This is the state's largest reservoir. It's located in the Savannah River basin near the South Carolina border and downstream from Lake Richard Russell, so you can try both when in the area.
Army Corps of Engineers charts will pinpoint fish attractor sites recently refurbished in the deeper parts.
A good fish finder will help here as well. Many Christmas trees, along with pine and sweetgum trees have been dropped along the shores in various areas to form good hiding places for fish.
If you don't get a bite within the first 15 minutes, pull anchor and move on to the next one!
Fishing Tips
Try fishing the bank near Mistletoe and Elijah Clark state parks around the sunken trees at the 8 to 15-foot depth.
Before spawning season, the back of creeks such as Har, Dry Ford, Cherokee, Big, and Knoblick provide good results.
During the rest of the spring, try out the Little River near Raysville or the Grays, Pistol, Soap and Newford creeks. In late summer and fall, fishing the shadow lines under the bridges yields results.
Lake Richard Russell
This lake is on the Savannah River, forming a border with South Carolina. Crappie here runs 8 to 12 inches in length, with longer ones getting up to 1-1/2 pounds.
This lake is a great habitat for crappie and a special spot for crappie fishing in Georgia due to the 1,500 acres of timber that were left standing in the shallows when the lake was formed.
Spawning crappie are bound to be found around it. In fact, the whole shoreline has been left undeveloped, leaving plenty of crappie hiding places to check out and makes for some beautiful scenery.
Fishing Tips
Get in the standing timber around Coldwater, and Beaverdam creeks, and the upper end of Indian Creek. On the South Carolina side, the Rocky River arm south of the Route 64 bridge features wooded coves that have given great results.
Many anglers here prefer to use a slip bobber or cork to keep their jigs or minnow vertical, which should reduce snags in the timber.
West Point Lake
This lake, like Lake Eufaula, is on the Chattahoochee River on the Alabama border. It's a popular fishing spot due to its proximity to Atlanta.
Crappie populations are abundant here, commonly producing fish nine inches and larger. You won't find many record-setters, but you will get plenty of fillets to try your favorite panfish recipe.
Trolling jigs seem to work best but good results can be had using jigs and minnows once you mark fish.
Fishing Tips
The upper parts of creeks such as Whitewater, Wehadkee, Beech and Stroud are great places to try.
For night fishing, stick to the areas around bridges. If you don't have a boat, you can try the fishing piers at McGee Bridge and Rocky Point, which have fish attractors in place.
During spring spawning, locals like to fish Yellowjacket Creek in the flooded timber between the Youngs Mill Road bridge and U.S. Highway 27 bridge.
See Also: Build You Own PVC Crappie Trees For Less Than $20
Lake Nottely
This is a smaller Tennessee Valley Authority reservoir in Union County near Blairsville close to the North Carolina border.
Crappie ranging from eight to ten inches are common here. You should have no problem catching your limit and plenty of fish for supper or a fish fry. The lake offers over 100 miles of shoreline, which is prime spawning habitat.
Fishing Tips
Minnows or jigs tipped with minnows are the most recommended here, but hair jigs and small curlytailed jigs also produce good results.
Crappie are best found from Reece Creek to Canal Lake, but if you want a less-crowded space, try the pockets and backwaters of coves like Ivy Log, Jacks and Youngcane creeks.
Just before spawning season, try fishing about 15 feet deep under boathouses and along creek channels. After spawning, check out sunken timber and fish attractors as the fish migrate back into deeper water.
Allatoona Lake
Since this lake is located just northwest of Atlanta, it does draw a lot of anglers, but it still provides good results. This is one of the few lakes in Georgia that boasts both white and black crappie, with black crappie being more plentiful.
This lake is a long, meandering lake between Cartersville and Canton. The long shoreline and numerous feeder creeks mean plenty of crappie fishing opportunities.
Just recently, a new lake record white crappie was caught on the lake Allatoona by Cody Hopkins. The Giant fish weighed 3 pounds 4 ounces and was caught on a live minnow in about 10 feet of water.
There is no doubt that lake Allatoona is one of the best crappie lakes in Georgia right now… it's on fire!
Hint: He was fishing at Cushing Memorial Park on the Northeast part of the lake!
Fishing Tips
Try the Little River arm, especially flooded wood from Blankets Creek to the I-575 bridge. In spring the various creeks are a good place for crappie. Creek channels and the areas under boat docks are also good places to sink a lure. Fishing from the bank is also popular here.
You May Also Like: The 5 Best Panfish Spinning Reels Available Today
If you haven't guessed yet, I love fishing and everything about it!
To learn more about why I started Panfish Nation, visit the About page and follow along on Social Media: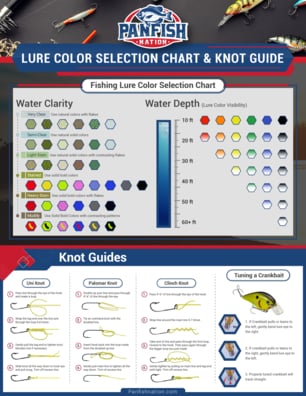 Download a copy of my FREE Lure Color Selection Chart & Knot Guide!
Stay up to date with fishing reports, tackle reviews, industry news, and much more! We respect your privacy, unsubscribe at any time.
Related Posts