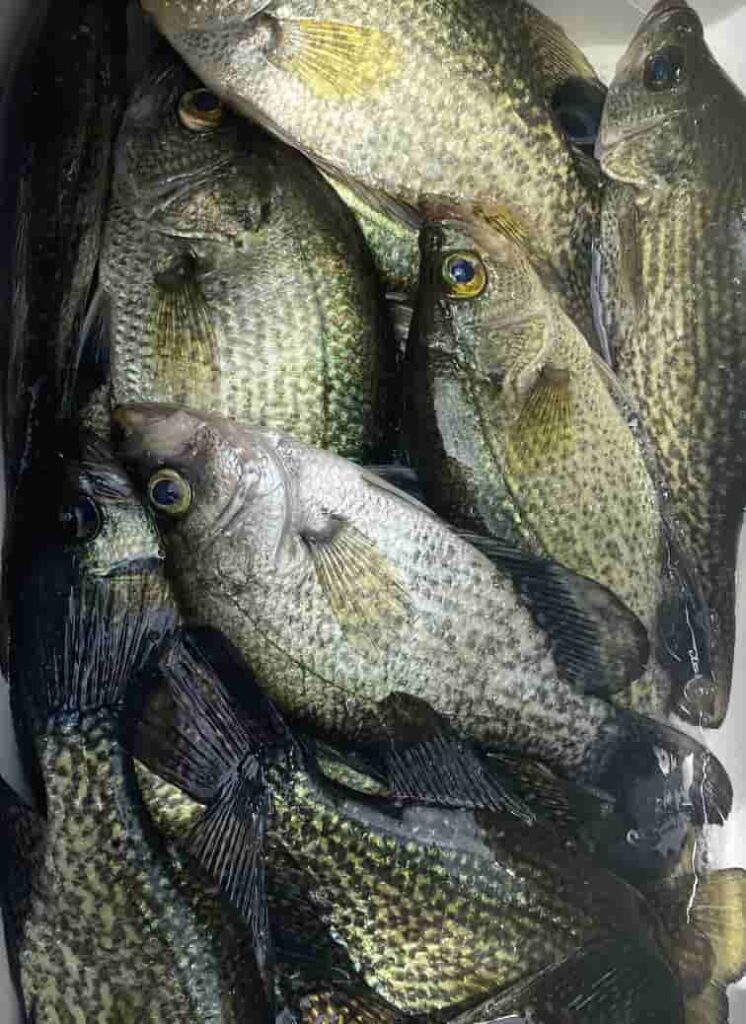 Lake Hartwell may be known for its striped bass, but you'd be a fool if you overlooked the fantastic crappie fishing!
Crappie Fishing Lake Hartwell
You can catch crappie all year at Lake Hartwell, but crappie behavior changes from season to season.
Like most lakes, the crappie on Lake Hartwell remain active through the summer, eat frequently in the fall, and hunker down in the winter.
Understanding how crappies respond to changes in the seasons may help you catch more during your next trip to Lake Hartwell.
Keep reading to explore tips for crappie fishing Lake Hartwell during each season
Summer Crappie Fishing Tips
Summer is a common season for crappie fishing at Lake Hartwell. More people have time off from work and other obligations. The fish are also very active during the warmer months. However, crappies tend to avoid feeding during the middle of the day.
The water temperature in Lake Hartwell averages about 83.3 degrees Fahrenheit in July. The warmer temperatures force the crappie to seek shade during the hottest part of the day, which is typically between noon and 4 PM.
During the summer, crappies remain most active at low-light times of the day, such as around sunset and sunrise. The reduced light and cooler water help crappie catch prey.
Crappies are found in varying depths, from just a few feet up to 30 feet. You can typically find bigger crappie in deeper waters while smaller crappies are more likely to move to shallower water.
Crappies also move during the day, traveling from shallower water at night to deeper water during the day.
Some of the best spots to find crappie include:
Weed patches- look for large 'walls' of vegetation that create shadows
Fallen trees, especially those along bluffs
Logs and stumps – especially in the spring and early summer
Docks – Lake Hartwell has plenty of them- skip jigs under those docks!
Summer is the time of the year when crappies tend to move to slightly deeper water. Search around weed patches and deep basins, instead of sticking to the inlets and bays. Use a topographical map or a quality fish finder to locate deeper areas of the lake.
While crappies are active in the summer, they do not typically travel far. If you fail to find crappie in one spot, try another. Keep moving until you get bites!
See Also: Best Crappie Baits (both live and artificial)
Spring Crappie Fishing Tips
The early spring is the "pre-spawn" stage for crappie in Lake Hartwell. After the winter, crappie head for shallow, warmer water to find small fish, including minnow and shad. Try starting in shallow waters near some of the small inlets in 3-8 feet deep.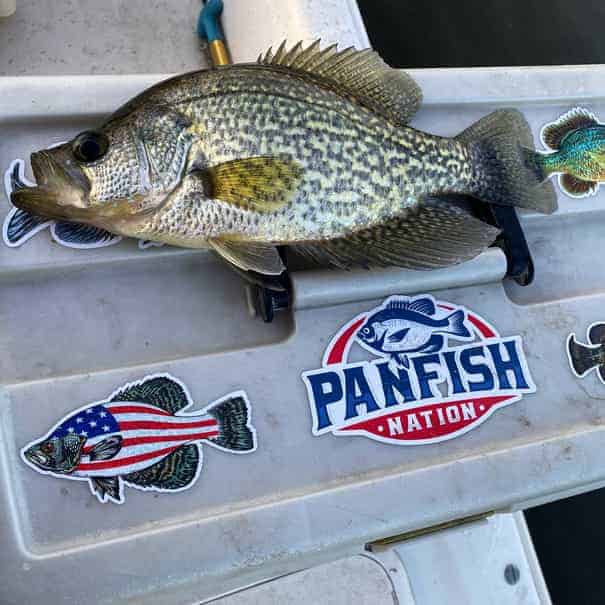 You may also try venturing into nearby 18 Mile Creek, which connects to the northside of the lake near I-85. The creek is an ideal spot for crappie seeking food after winter.
Move your lure or bait slowly through a school of crappie. Try retrieving your line at different speeds until you find what works for you. You may need to change tactics when crappies start spawning, which occurs when water temperatures reach above 60 degrees Fahrenheit.
The water at Lake Hartwell should reach optimal temperatures for spawning during the middle of April.
Spawning nests are typically found in shallow water between one and six feet deep. Crappie build nests by brushing their bottom fins to clear ground. The males defend the nests.
Crappies feed less aggressively when they start spawning. However, you can still catch crappie during this stage. Drop your fishing line directly over a spawning nest.
While the fish do not eat frequently during this period, they lash out to protect the nests. If the food is not directly in front of the crappie, they are unlikely to bite during the spawn.
Search for nests around brush, reeds, docks, and other cover found in shallow areas.
Trolling is also a common technique for catching crappie during the heart of the spawn. The movement may lure more aggressive males away from the nest. Troll at a slow speed while keeping your bait at a depth of just a few feet.
You may also want to use a downrigger if you're trolling deeper than 15 feet. This method can be very effective for deep schooling crappie before they move into spawning flats.
Winter Crappie Fishing Tips
From December through early March, the water temperature at Lake Hartwell stays below 50 degrees Fahrenheit. However, the temperatures rarely drop below 40 degrees. Even during the middle of winter, crappies remain relatively easy to catch if you know where to look.
Crappie slowdown in the winter. Baitfish, such as minnow and shard, become scarce as the water temperatures drop. Crappies mostly survive on zooplankton. That means downsize your tackle! Small lures- 1/32 and 1/64 oz jigs and squirrel hair flys work well.
You are less likely to catch crappie in open waters during the winter. They often swim in schools near structures or thicker vegetation. Crappie prefer areas where they can blend with their surroundings and easily catch small prey.
Brush piles are a common spot to find crappie during the winter. They are also typically found in depths of about 10 to 20 feet, as the water tends to stay at a decent temperature longer compared to the surface and the lower depths.
Check with the South Carolina DNR to find a fish attractor in your section of the lake- believe it or not, these really do attract fish!
On cloudy days, the crappie may travel closer to the surface and further from the brush pile or vegetation. On a sunny winter day, you are likely to find crappie hidden among the center of vegetation and weeds.
See Also: What is the best time of year to fish for Crappie?
Fall Crappie Fishing Tips
Fall is one of the best seasons to catch crappie at Lake Hartwell. Crappies start eating as much food as they can to prepare for the cold weather. However, they also start to move a little slower compared to during the summer.
Use smaller bait and a lighter fishing line to deal with the sluggish crappie.
Smaller bait that resembles shad should work well. Crappies also start heading toward creeks and waterways during the fall. You can find crappie in shallow depths of just a few feet.
Keep in mind that crappies tend to move throughout the day. They may stay in shallow water during the evening and night before heading back out into deeper water during the day. They are sensitive to light and will seek shade or cover on sunny days!
The fall is also a good time to try fishing for crappie from the docks. While crappies hang around docks throughout the year, they also look for shallower water in the fall. You can skip the docks while using a small jig.
Frequently Asked Questions
How Many Crappie Fish Can You Catch at Lake Hartwell?
Because Lake Hartwell is located in both South Carolina and Georgia, you will need to check fishing regulations for whichever state you are fishing in.
How is fishing in Lake Hartwell in the summer?
Like many reservoirs in the south, The fishing on Lake Hartwell during the summer can be good as long as you can get away from recreational boaters.
The same applies to the fishing on nearby Lake Lanier. Due to the large residential population, Lake Hartwell gets a lot of pressure during the warm summer months.
What Are the Best Lures for Catching Crappie?
Small tube jigs are often used to catch crappie. Crappies tend to go after small baitfish, including minnows and shad. A two-inch tube jig can mimic the small baitfish, especially when using blue/white or red/white color combinations.
What is the Best Live Bait for Catching Crappie?
Minnows and shad are the most common choices for live bait for catching crappie. Crappie may also bite small crayfish, worms, and live insects.
You May Also Like: The 7 Best Crappie Lakes In Georgia (Full Review!)
If you haven't guessed yet, I love fishing and everything about it!
To learn more about why I started Panfish Nation, visit the About page and follow along on Social Media: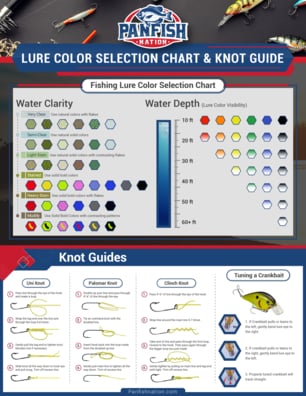 Download a copy of my FREE Lure Color Selection Chart & Knot Guide!
Stay up to date with fishing reports, tackle reviews, industry news, and much more! We respect your privacy, unsubscribe at any time.