If you live within a couple hours of Las Vegas, chances are you've heard of Lake Mead.
This is one of the largest recreational lake systems in the southwest United States, and boasts excellent fishing.
In this guide, I'm going to cover fishing at lake mead, and give you some tips and pointers on how to get started.
Fishing Lake Mead
Lake Mead is a large reservoir located in Nevada and Arizona, about 30 miles east of Las Vegas. The Lake is a National Recreation Area and was created during the construction of the famous Hoover Dam on the Colorado River.
The Lake Mead system is comprised of 4 main basins and consists of hundreds of coves, canyons, and numerous smaller tributaries.
The Colorado River is the main source of water inflow and the lake has over 550 miles of shoreline, making it one of the largest reservoirs in the United States.
| | |
| --- | --- |
| Lake Name | Lake Mead |
| Size | 158,147 acres |
| Average Depth | 182 feet |
| Maximum Depth | 532 feet |
| Popular Fishing Species | Striped Bass, Largemouth Bass, Smallmouth Bass, Rainbow Trout, Panfish |
| Boat Ramps Available | Yes |
| Major Tributaries | Colorado River |
Fishing and Boating are very popular on Lake Mead, with the tasty striped bass being the most popular species. Other popular fish include rainbow trout, catfish, panfish, largemouth bass, smallmouth bass, and black crappie.
Lake Mead Fishing Tips
The fishing at lake mead is driven by the 4 seasons, and tactics and fishing locations vary depending on the species you are after.
For example, Striped Bass and largemouth bass are the two most popular species on the lake but they prefer different habitats.
The striped bass on lake mead are primarily an open-water fish, and prefer staging in open water over deep channels, humps and ledges.
You'll need to cover a lot of water to locate striped bass, and rely on your electronics like livescope to pinpoint fish schools that can be as deep as 30 feet below the surface.
Conversely, largemouth bass are primarily a shallow-water species, that prefers structure and habitat. Focus on aquatic vegetation, and shallow areas in 2-6 feet of water.
Below are a few starting locations and recommendations for fishing Lake Mead by species:
| Fish Species | Bait & Method | Location |
| --- | --- | --- |
| Striped Bass | shad, anchovies, large swim baits | Overton Arm, Las Vegas Bay, Temple Bar, Willow Beach |
| Largemouth Bass | wild shiners, minnows, drop shot live worms | Find weedy vegetation, rocky outcroppings, ledges and submerged structure |
| Smallmouth Bass | live minnows, crawfish, ned rigs and wacky rig worms | Look for clean water over sand or rock bottom with sparse vegetation |
| Channel Catfish | cut shad, stinkbaits, nightcrawlers | Fish on the bottom in areas with moderate water flow |
| Panfish (Crappie, Bluegill, Redear Sunfish) | minnows, worms, insects, crayfish, flies | Fish along steep canyon walls, offshore rock piles & creek mouths |
| Rainbow Trout | minnows, worms and crickets | Look for clear & clean water, fish along rocky walls and outcroppings |
Lake Mead Fishing Charters
Due to its very large size, many anglers hire local fishing guides or charter captains to show them around the lake and put them on the fish. Below are my recommendations: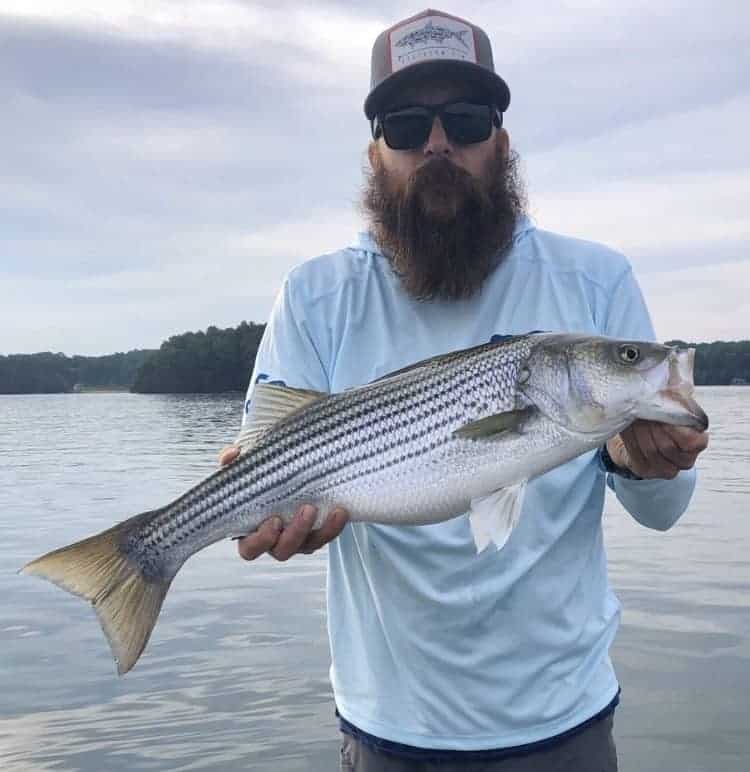 Striped Bass Charter: Captain John Wood – Fish Anglers Edge
Largemouth Bass, Smallmouth Bass, Trout: Captain Eric Richins – Big Water Boating Las Vegas
Where can I fish from shore at Lake Mead?
99% of the lake mead shoreline is undeveloped, with very little shore fishing access. However, there are a handful of public and private piers scattered around the lake that provide fishing access from shore.
Piers and public fishing areas are found throughout Lake Mead and the National Recreation Area. These include:
Hemenway Fishing Pier near Boulder Beach and just to the north of Hemenway Launch Ramp
Willow Beach Fishing Pier on Lake Mohave just to the north of Willow Beach Marina
Katherine Landing Fishing Pier (this pier was waiting for repairs as of March of 2020) located near Katherine Landing Marina
Frequently Asked Questions
Is it safe to eat fish from Lake Mead?
Yes, it is safe to eat fish from Lake Mead. The lake is regularly sampled for toxins such as heavy metals and mercury. For the latest fish consumption advisories, contact the Nevada Department of Wildlife.
How Do I Catch Striped Bass At Lake Mead?
Live shad is the most effective bait to use for striped bass fishing on lake mead. If you are unable to get live shad, use lures that imitate shad such as large swimbaits, crankbaits, or topwater lures.
Are there alligators in Lake Mead?
No, there are not any alligators in lake Mead. The lake system is far too cold to support a population of alligators, however, pet alligators are sometimes released into the lake illegally.
What is the biggest fish in Lake Mead?
The biggest fish species in lake mead is the Striped Bass. The record on the lake is 52-pounds 8 ounces caught by Carson Romans in June 1982.
You May Also Like: Lake Havasu Sunfish- Home Of Giant Shellcracker!
If you haven't guessed yet, I love fishing and everything about it!
To learn more about why I started Panfish Nation, visit the About page and follow along on Social Media: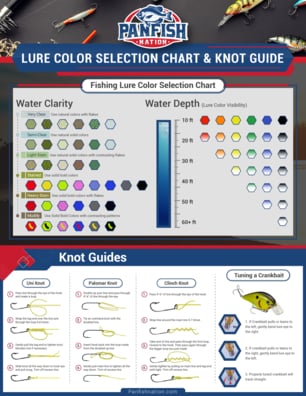 Download a copy of my FREE Lure Color Selection Chart & Knot Guide!
Stay up to date with fishing reports, tackle reviews, industry news, and much more! We respect your privacy, unsubscribe at any time.
Related Posts