The most important considerations when choosing shoes for fishing are proper arch support, insulation, breathability, and waterproofing.
In this guide, I've gathered the top ten best fishing shoes for boating, wading, camping…even commercial fishing!
Remember…if your feet are comfortable and protected, that means you can spend more time fishing…and hopefully catch more fish!
This page contains affiliate links. As an Amazon Associate, I earn from qualifying purchases.
Best All-Around Boat Shoe
These Sperry boat shoes are made entirely from leather but are still completely water-resistant.
The outsole is made up of a Wave-Siping rubber, a tiny, wavy slit in the rubber outsoles, guaranteeing the user some super traction.
The design of the Sperry sea kite sport moc is super stylish. You can wear them for fishing on the shore, or on a boat, or wear them out casually to dinner by the seaside!
Key Features:
Materials are designed to be water-resistant
Breability with mesh fabric
Comfortable EVA material
Excellent traction due to tiny, wavy slits in the rubber outsoles
Specifications:
Brand: Sperry
Model: Sea Kite Sport Moc
Type of Shoe: Boat Shoe
Best slip-on Boating Shoe
These slip-on fishing shoes are loved by so many. Since their design is a combo of canvas and leather mix on the upper, they might look like casual everyday summer or boat shoes.
However, they are much more than just that. These slip-on shoes come with water-draining air vents which help to maintain dryness for your feet.
These Columbia PFG Bahama Vent Slip-On shoes have fantastic cushioning and arch support and excellent traction.
Key Features:
Combination of leather and rubber
Incredibly lightweight material allows for breathability
Columbia's superior techlite cushioning
Omni-Grip traction
Specifications:
Brand: Columbia
Model: 1673141
Type of Shoe: Boat Shoe
Best Women's Fishing Shoe
These Columbia Drainmaker IV shoes have been designed specifically for women who love all types of watersports.
The breathable mesh on the upper part with adjustable laces offers a safer option for walking around on deck and keeping your feet dry with no fear of tripping over laces.
Designed for comfort, these water shoes are similar to sneakers by providing support for the feet, so your day on the riverbank or standing on the bass boat goes swimmingly fun.
Key Features:
All-season tread
Wet traction sole
Lightweight
Breathable
Women's water sneaker
Specifications:
Type of Shoe: Water Shoe
Brand: Columbia
Best Fishing Sandals
With this type of water fishing shoe, you will find a mixture of leather and rubber to produce such a solid fishing shoe. The upper part is leather, while the toe-casing is rubber.
This instills it will keep your feet dry! What is fantastic about these water shoes is that they are incredibly versatile.
If you are looking for a shoe, you can go wade in the waters, fish off a boat, and even hike, then look no further!
Key Features:
Has a leather upper part
Comfort and arch support
Quickly Drys
Designed for water or land sports
Specifications:
Brand: Merrell
Model: J65243
Type of Shoe: Water Shoe
Best Slip on Fishing Boots
These rubber boots are the perfect combo of comfort and grip. They are made entirely from rubber and are 100% waterproof.
The bottom of the sole was designed to have a pattern such as a chevron in order to provide the best traction on slippery or drenched surfaces.
The XpressCool lining is designed to wick away any moisture from your feet. These boots are ideal for offshore fishing trips.
Key Features:
Entirely designed out of rubber
Is 100% waterproof
Easy on and off access
Breathable XpressCool lining
Specifications:
Brand: XTRATUF
Model: 22735-GRY-070
Type of Shoe: Boot
Best Wading and Snorkeling Shoe
If you're looking for shoes in the form of a boot, these fishing waders will protect the foot, ankle, and lower legs.
They are made out of thicker material that is ready to protect you against underwater hazards. With these being boot-like shoes, you do get an adjustable ankle cuff which allows for breathability in the shoe.
These boots also have superior traction for every type of environment. Be it offshore, on a boat, in a kayak, or in a lake, these boots will have the right traction to keep you from falling or slipping.
Key Features:
Material made from Neoprene
Adjustable cuffs
Superior traction
Specifications:
Brand: Hodgman
Model: 1337597-P
Type of Shoe: Boot
Most Comfortable Fishing Shoe
If you are in the market for some water shoes similar to crocs, then these are your go-to!
These SHIMANO EVAIR Marine Fishing Shoes are incredibly lightweight, making them exceptionally comfortable.
The gaps in these water shoes are fantastic for draining water faster than other boat shoes and are incredibly versatile. You can wear these when you are going fishing offshore, in a lake, kayaking, boating!
Key Features:
Lightweight material made from EVA
Versatile shoe
Quickly Drys
Designed for water or land sports
Specifications:
Brand: SHIMANO
Type of Shoe: Water Sandal
Best Fishing Sandals
The Teva Forebay shoes are the ideal choice for summertime fishing. Since these shoes have an open sandal style, it is perfect for allowing water to drain on those warmer days.
You can quickly secure these shoes with bungee cord laces without tying them. An added bonus is that these sandals have a velcro strap that provides extra support when submerged in water.
Key Features:
Water sandal made from leather
Comfortable and reliable sole
Has a shock-absorbing heel for added comfort
Bungee cord laces
Specifications:
Brand: Teva
Type of Shoe: Water Sandal
Best Water Shoes
For those on a budget, these Crocs Swiftwater shoes are designed to offer comfort and traction but for a better price point.
One of the features is a mesh upper part that provides the feet the ability to breathe and for water to drain out.
With fantastic tread and traction support, these bad boys have also been designed with the boat fishermen or women in mind.
Key Features:
Lightweight
Non-slip sole
Breathable mesh upper
Flexible
Specifications:
Brand: Crocs
Model: Swiftwater Deck Clog
Type of Shoe: Water Sandal
Best Huk Style Fishing Boot
If you're looking for a rugged, 100% waterproof ankle boot that does not sacrifice comfort, check out the Grundens Deck Boss.
These fishing boots can handle marshy conditions, white cap waves, and even commercial fishing work. Heavy-duty rubber soles provide cushion and protection.
Maybe you're pulling commercial crawfish traps, running trotlines, hunting alligators, or just hardcore fishing- these will get the job done!
Key Features:
Rubber
Slip-resistant

100% Waterproof

Reinforced pull loops
Specifications:
Brand: Grundens
Model: 6″ Deck Boss
Type of Shoe: Ankle Boot
Fishing Shoes: Do you really need them?
It is understandable for anglers to have an extensive list of what to pack and bring with them on a fishing trip…
However, one of the most commonly overlooked items is the correct type of fishing shoes. Proper footwear is essential for comfort and safety while fishing, boating, or on the water.
There are several safety hazards inherent in fishing…sharp teeth, slippery rocks, wet docks and the right pair of shoes or boots can reduce the risk of cutting your fishing trip short.
What Are The Benefits of Fishing or Boating Shoes?
Arch support is critical when standing on your feet for the entire day. Having the right footwear with proper arch support is what will allow you to continue going for longer times.
Accidentally stepping on fishing hooks and other equipment is something every angler risks when out in the field. Secure and durable fishing shoes will prevent injury and last many trips to the lake or pond
A pretty big obvious concern is overly saturated feet. Wearing the right fishing shoes will help avoid your skin from becoming softer, making your feet more likely to sustain an injury.
Slippery surfaces are everywhere when fishing. Slippery docks, boats, muddy shorelines etc…but with the right fishing shoes, every angler can have exceptional traction to be safe.
Underwater hazards are another obvious risk. When wading in the water, you never know what you can step on, and it is wise not to test the waters (see what I did there!).
The Variety of Choice in Fishing Shoes is Abundant
There are shoes specifically made for fishing, such as sandals, boots, boat shoes, and water shoes, but what are the differences between all these types of fishing shoes?
Fishing Sandals
A fishing sandal is more complex than your convenience store flip-flop. A fishing sandal is designed to have super traction in water or on slippery surfaces.
Similarly designed to a hiking shoe, fishing sandals give ease of mind to the person wearing them so that they won't have an unexpected slip or fall.
They are great for easy slip-on and off access, they are usually okay to get wet and great for warm weather and casual fishing.
(Where I live in Florida, fishing sandals are a must!)
Fishing Boots
The main benefit of Fishing boots is that they provide excellent ankle support, and usually are made of 100% rubber for superior waterproof capabilities.
These are very popular on commercial fishing vessels, or charter boat operations when you are very active on a rocking boat.
You may be gaffing fish, pulling crab traps, and moving cargo onto docks. These are the working fisherman's choice!
Boat Shoes
Think of college boys or seaside dining because when one defines a boat shoe, they typically mention a "topsider."
These are designed to have a slip-on convenience, with a leather upper and white sole. These are pretty popular for a good reason.
They are functional, comfortable, water-resistant, slip-resistant, and super stylish. However, don't wear these types of "water" shoes if you are submerging into water.
Yes, you can get boat shoes wet, but it takes quite a long time for them to dry if they become drenched in the water entirely.
Boat shoes are the top choice for the casual boater or passive angler. You can go from the dock to the restaurant without having to worry about footwear.
Water Shoes
Water shoes are exactly how they sound, shoes designed to be in the water. They are made from durable mesh to allow the feet to breathe and with a firm sole to prevent cuts on the foot when walking in wet or rugged surroundings.
The simplest way to describe water shoes is that they are a combination of water sandals and closed-toe shoes, which ultimately work as a two-in-one design.
They are also fantastic as hiking shoes if you plan on walking on rocky terrain. Perfect for wading or a day of snorkeling and exploring.
When I go fishing in the Bahamas, I prefer to wear water shoes because of the rocks and reefs that cover the islands.
Water shoes protect my feet, but allow me to wade quietly in search of elusive bonefish deep in the mangroves!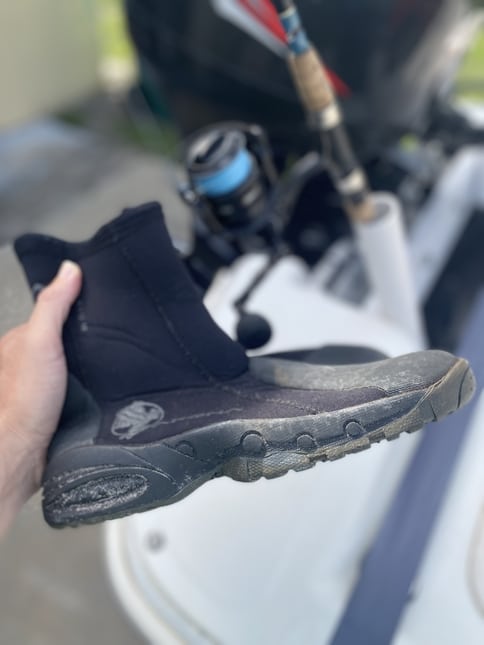 Frequently Asked Questions
What shoes do pro bass fisherman wear?
Pro Bass fishermen are on their feet fishing 8+ hours a day so comfort is usually very important. The most popular shoes are simply tennis shoes, or boat shoes with cushioning, arch support, and made of water-resistant materials.
Many pro anglers wear their favorite pair of Nikes, Reeboks or Addidas.
What are the best shoes for boating?
The most important feature to look for in boating shoes is a non-slip grip sole. This is to prevent you from slipping on the wet deck of a boat. Next, look for shoes that are non-skid, meaning they won't leave scuffs. And last, look for a shoe that is comfortable and supportive.
Can you wear flip flops on a boat?
Yes, flip flops can be worn on a boat unless it is for a formal occasion. In most cases, flip flops are acceptable footwear especially during the summer or warm months and tropical locations. As with any boat shoes, be sure they are non-slip and comfortable.
What is the point of boat shoes?
Boat shoes are designed to provide protection of your feet and maximize stability while on a boat. This means they are made of water-resistant and nonslip materials such as rubber, or leather. Some models of boat shoes are also meant to like semi-casual for dinner or social gatherings.
What are the best shoes for rock fishing?
The best shoes for fishing on rocks are going to be closed-toed shoes or ankle boots (not sandals). It's important you to have durable, waterproof shoes with an aggressive tread on the sole, to grip on slippery and uneven rocks.
I recommend the Grundéns Men's Deck-Boss 6″ Ankle Boot.
What is the most comfortable boat shoe?
The most comfortable boating shoe is the shoe that fits your foot the best. For some, this may be a regular tennis shoe or sneaker, and for others it may be a rubber sandal.
Boat shoes come in a variety of styles and sizes and they should never be uncomfortable. After all, boating is usually an all-day affair.
Should boat shoes be tight or loose?
Boat should always be worn tight or snug. Loose-fitting boat shoes can be hazardous, especially on wet or slippery surfaces.
Do you wear socks with Huk fishing shoes?
For maximum comfort, you should be wearing a pair of socks with Huk-style fishing shoes. Wearing socks will prevent blisters and keep your shoes from getting a foul smell.
Final Thoughts
Everyone remembers to pack the fishing rods and tackle box when planning a fishing trip, but don't overlook the importance of proper footwear!
Investing in a pair of fishing shoes means that you are protecting your feet so you can fish longer and be more comfortable.
Fishing is a numbers game…the more time you're on the water, the more casts you make, the better your chances of catching fish!
Thanks for reading and please let me know if you have any questions!
You May Also Like: 12 Tackle Box Essentials (Full List + Explanations!)
If you haven't guessed yet, I love fishing and everything about it!
To learn more about why I started Panfish Nation, visit the About page and follow along on Social Media: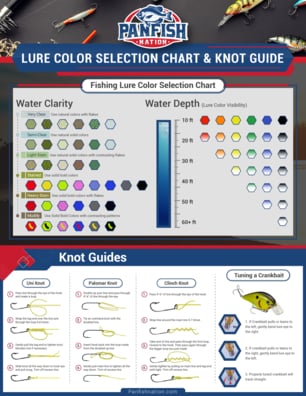 Download a copy of my FREE Lure Color Selection Chart & Knot Guide!
Stay up to date with fishing reports, tackle reviews, industry news, and much more! We respect your privacy, unsubscribe at any time.
Related Posts