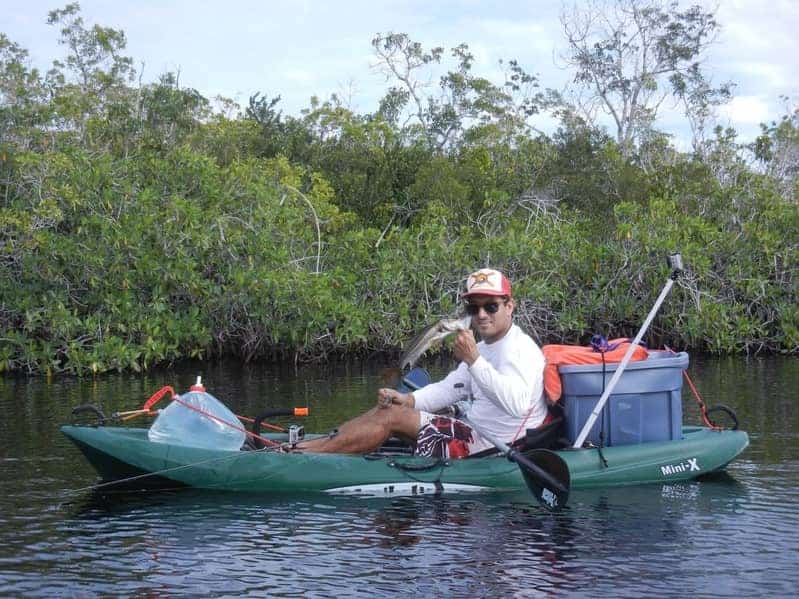 While there are endless locations to launch a kayak and fish in Florida, I've compiled a list of the best locations for kayak fishing in South Florida.
The 7 best kayak fishing locations in South Florida include the Loxahatchee River, Lake Okeechobee, Everglades National Park, Lake Ida Chains of Lakes, Biscayne Bay, Oleta River State Park and West Lake Park.
Whether you live in Florida or are visiting on vacation, load up the yaks' and be sure to check these amazing spots!
Loxahatchee River
Located in Jupiter, which is the northern-most city in Palm Beach County, the Loxahatchee River is undoubtedly the most scenic kayaking river in South Florida. The slow-moving river is certainly worthy of its status as one of the two National Wild and Scenic Rivers in the state.
About Loxahatchee River
The Loxahatchee River is a stream that is one of the remaining wild ecosystems systems in Florida. The Loxahatchee River offers a brackish mixture of fresh and saltwater, which gives anglers the opportunity to catch a wide variety of fresh and saltwater fish species in a 260 square mile wild ecosystem.
This river not only offers a scenic trip but also offers an amazing kayak fishing trip along a narrow, twisting, and shady river with abundant wildlife.
Species to Catch
Given its brackish nature, you get a unique opportunity to catch largemouth bass, common snook, jack crevalle, sea trout, snapper, redfish, and tarpon all in the same section of the river. That is what Florida is all about!
Location Description
You can access the Loxahatchee River from Riverbend County Park on 9060 W. Indiantown Rd., in Jupiter.
There's the state park boat ramp where you can start your kayak fishing adventure. On the other hand, you can access the river from Jonathan Dickinson State Park but you'll have to fish upriver.
You have to keep in mind that the kayaking trail begins from Riverbend Park to Jonathan Dickinson State Park, so you can either choose to paddle downstream from Riverbend Park to Jonathan Dickinson State Park or upstream from Jonathan Dickinson State Park to Riverbend Park.
Things to Know and Unique Attributes of this Area
One of the most unique things about kayak fishing in the Loxahatchee River is that it allows you to encounter a variety of fish species inhabiting both fresh and brackish environments. This river is normally visited by a huge number of kayakers but remains pristine and relatively unaffected.
More importantly, the Loxahatchee River has several amenities including bank fishing, parking, trails, picnic areas, boat ramps, piers, and docks, and is wheelchair accessible. Be sure to follow local rules and regulations.
Kayak Fishing at Lake Okeechobee
One of the main reasons why the state of Florida is regarded as the Fishing Capital of the world is because Lake Okeechobee is located here. This is a freshwater fishing powerhouse that will take your kayak fishing adventure to the next level – especially if you love to fish for bass!
About Lake Okeechobee
Nicknamed "Florida's Inland Sea," Lake Okeechobee covers an enormous 730 square miles and is the biggest lake in Florida and the second biggest freshwater lake in the country (only second to Lake Michigan).
Species to Catch
Although Lake Okeechobee has an abundance of wildlife ranging from birds to wild hogs, the main draw is its wide variety of gamefish. Some of the fish species that are available in the Big O include largemouth bass, crappie, bluegill, and redear sunfish.
See Also: My In-Depth Guide To Fishing Lake Okeechobee
Location Description
You can gain access to Lake Okeechobee from several places within Okeechobee County. Lake Okeechobee has several marinas, access locations, and boat ramps to give you easier access to the lake.
For your kayak fishing adventures, you can consider starting from the Jolly Roger Marina, which is located in Clewiston just off US27. This marina has kayak rentals, boat rentals, guides, and more.
Things to Know and Unique Attributes of this Area
Lake Okeechobee is an enormous lake. Yes, it is so big you cannot see across from one side to the other. Always plan your kayaking route and tell a friend or family member about your float plan. Even though its a lake, and not an ocean or river it can get very rough and bad weather can move in quickly.
That being said, there are hundreds of miles of canals that surround the big lake, and these are a great place for kayak anglers to get out of the wind and catch some fish!
Everglades National Park
As one of the world's most diverse estuaries, the Everglades National Park (ENP) gives anglers the perfect place to fish as it offers lots of inshore and offshore fish species, thanks to its brackish nature. It has some of the best fishing spots in Florida and is a surefire way to experience some of the best inshore kayak fishing on the planet.
About Everglades National Park
The IRL stretches from the Ponce De Leon Inlet in New Smyrna to the Jupiter Inlet in Jupiter. It's a grouping of three lagoon basins: the Banana River, the Indian River, and the Mosquito Lagoon and offers miles and miles of unspoiled fishing spots and amazing backcountry scenery. It is 156 miles long and makes up about 40% of Florida's eastern coast.
Species to Catch
Known as the kayak fishing Mecca, the ENP offers you an opportunity to encounter several saltwater fish species including redfish, tarpon, snook, sea trout, pompano, flounder, black drum, speckled trout, and the occasional shark!
But let's not forget about the fantastic freshwater fishing in ENP which includes world-class largemouth bass, bluegill, black crappie, and colorful exotic panfish such as the mayan cichlid, peacock bass and jaguar guapote.
Location Description
Encompassing hundreds of miles at the tip of peninsular Florida, the Everglades National Park as numerous access locations depending on where you are coming from. For the most up-to-date information and directions, as well as rules and regulations visit The Everglades National Park website.
Things to Know and Unique Attributes of this Area
Everglades National Park is one of the most unique and captivating ecosystems on the planet. Its particularly intriguing to kayak anglers and paddlers because access through 90% of the park is by water only! No roads!
In fact, you can even camp in Everglades National Park on 'chickees'; elevated platforms perfect to pitch a tent and cast a line. The sunsets are incredible, and despite being less than 50 miles from metropolitan Miami, you will think you in a new world.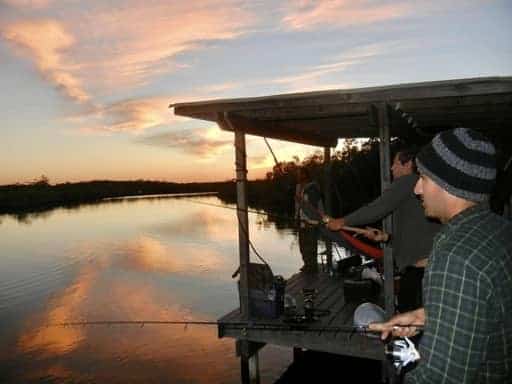 Be prepared to see alligators, crocodiles, birds of prey, a wide variety of reptiles and amphibians and some amazing scenery. This part of Florida is unchanged for thousands of years and should be on every kayaker's bucket list!
Lake Ida Chains of Lakes
Lake Ida Chains of Lakes offers you the chance of experiencing a legendary kayak fishing adventure just outside of the city. Located in Palm Beach, you can be on the water within minutes and have some quality peacock bass at the end of your line in an urban fishing location.
About Lake Ida Chains of Lakes
A large chain of lakes beginning from Boynton Beach, Florida to Delray Beach, Florida, the Lake Ida Chains of Lakes is a series of lakes including Lake Eden, Lake Osborne, and Lake Worth. They are all connected through a chain of canals starting with the C-15 Canal in Boca Raton and connect through canals to Lake Ida.
Species to Catch
Offering one if not the most diverse fisheries in the Sunshine State, Lake Ida Chain of Lakes is a great bass fishing location in South Florida.
It's specifically known for the hard-fighting Florida peacock bass but you can also encounter the elusive clown knife fish, mayan cichlids, largemouth bass, pickerel, bluegill, oscar, and so much more.
Location Description
Given that much of the lake is surrounded by John Prince Park, there's a public boat ramp where you can launch your kayak. The Lake Ida four public boat ramps are all in good shape and can be accessed from I-95.
Things to Know and Unique Attributes of this Area
Widely known for its peacock bass, Lake Ida Chains of Lakes is unique for being an urban fishery that offers varied fish species. Live bait (especially wild shiners) works best here, but anything chrome and flashy should get bites.
Biscayne Bay
The numerous reefs, islands, jetties, bridge pylons, flats, and channels, make the emerald blue waters of the Biscayne Bay a productive and gorgeous kayak fishing spot in South Florida.
About Biscayne Bay
About 45 minutes drive from Fort Lauderdale, you can easily access Biscayne Bay from Downtown Miami. This is one of the best kayak fishing spots in South Florida, especially if you're targeting saltwater fish and want to pull over for an ice-cold pina colada or Cuban sandwich.
Species to Catch
Some of the fish species to target in Biscayne Bay include bonefish, snook, sharks, ladyfish, permit, grouper, snapper, and spotted sea trout.
See Also: The 10 Best Surf Fishing Lures To Use In Biscayne Bay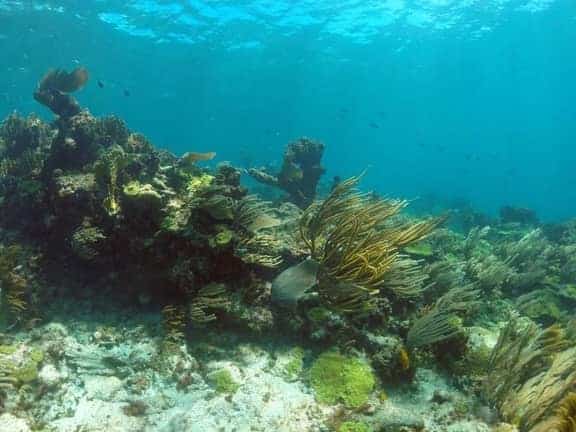 But it's also worth mentioning the wildlife viewing in Biscayne bay. While paddling along you are likely to see coral reefs, lobster, sea turtles, stingrays, tropical fish, manatees, and even dolphins.
Location Description
Plan your visit by visiting the Canoe and Kayak Guide to Biscayne Bay National Park
Things to Know and Unique Attributes of this Area
The right rod and reel combo are of great importance if you want to catch trophy fish in Biscayne Bay. Keep in mind that you'll be kayaking near structures and a Snook will try to find structures to break your line. With that in mind, go for heavier rods, stronger lines, and bigger reels.
Oleta River State Park
Although the Oleta River State Park is widely known for miles of off-road bicycling trails, the river itself is a great place to kayak fish in south Florida.
About Oleta River State Park
Located on Biscayne Bay in the busy Miami Metropolitan area, the Oleta River State Park is the largest urban park in Florida. The fact that the water stays clean because of the tidal flow makes it one of the best spots for clear water kayak fishing in South Florida.
Species to Catch
You can encounter various fish species including tarpon, trout, mangrove snapper, jack crevalle snook, king mackerel, and many more.
Location Description
Located on 400 NE 163rd St., North Miami Beach, FL 33160, the Oleta River State Park is a hidden kayak fishing gem that has boat ramps, bank access, and kayak access.
Things to Know and Unique Attributes of this Area
This is a unique kayak fishing area where you'll find gorgeous mangrove tunnels while weaving through the park. The river also has a lagoon that opens out to Biscayne Bay if you head to Sandspur Island.
Consider stopping by the Oleta River Outdoor Center for a cold drink, kayak rentals and supplies.
West Lake Park
A rarity in urban Broward county, the West Lake Park is a wild enclave that offers great kayak fishing spots. Just on the backdrop of Hollywood, Florida, this is a superb place if you're still learning the ropes of kayak fishing.
About West Lake Park
Situated on a 3-mile strip of mangrove estuary within the cities of Dania Beach and Hollywood, the West Lake Park has three paddling trails with motorized boats banned from the lake. This makes it ideal for kayak fishing, especially for beginners.
Species to Catch
A wide variety of saltwater fish is available in this unique ecosystem. They include mangrove snapper, trout, black drum, sheepshead, and the occasional snook.
Location Description
Located at 1200 Sheridan Street, Hollywood, FL 33019, you can access it on the right or south side of Sheridan Street. You can then access the lake from paved boat ramps with floating docks.
Things to Know and Unique Attributes of this Area
The fact that motorized boats are not allowed in West Lake Park makes it a superb haven for kayak fishing. Consider using live shrimp or fiddler crabs to target black drum, trout, and snapper.
Conslusion
The state of Florida is, without a doubt, one of the best places to visit for kayak fishing.
In addition to the plentiful waterways, there's an abundant variety of fish species and wildlife that makes the sunshine state a great angling destination.
I encourage you to plan a trip to one of these beautiful south Florida locations and enjoy the great outdoors. Good luck and thanks for reading!
See Also: Which Type Of Reel Is Best For Kayak Fishing?
If you haven't guessed yet, I love fishing and everything about it!
To learn more about why I started Panfish Nation, visit the About page and follow along on Social Media: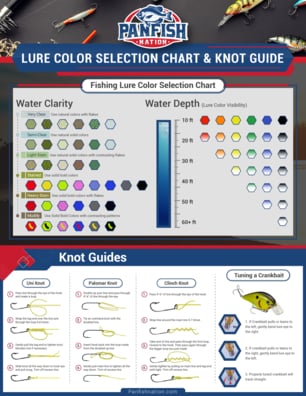 Download a copy of my FREE Lure Color Selection Chart & Knot Guide!
Stay up to date with fishing reports, tackle reviews, industry news, and much more! We respect your privacy, unsubscribe at any time.
Additional Content You May Like