Fishing is a popular pastime enjoyed by people all over the world. It's a fun, productive, safe hobby that has great benefits to your health, body, and mind.
But is it expensive to get started? How much does it cost, realistically?
Don't worry…In this article ill give you the scoop.
This page contains affiliate links. As an Amazon Associate, I earn from qualifying purchases.
So, Is Fishing Expensive?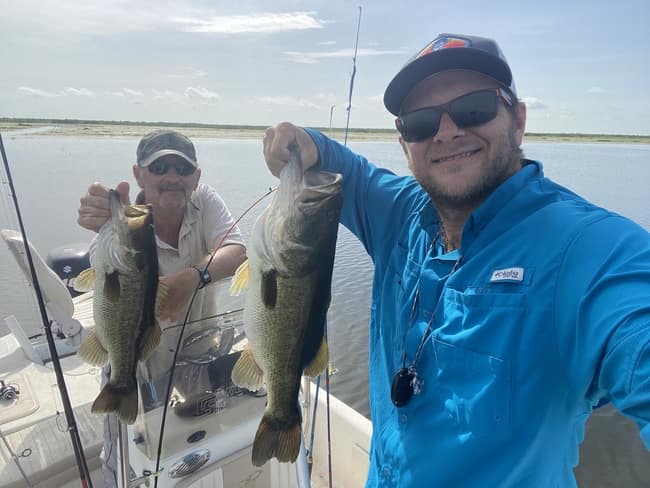 No, fishing is not an expensive hobby. Like anything else, you can spend huge amounts of money on the latest and greatest fishing equipment if you want to. However, you can get everything you need to go fishing for virtually free if you know where to look.
The sky is the limit when it comes to what you can spend on fishing. You can buy top-of-the-line boats, expensive rods, and reels, special clothing for fishing, electronic fish finders, and more baits and lures than you can possibly imagine.
But you don't have to do any of that.
You can have just as much fun fishing for bluegills off a dock with a ten-dollar cane-pole as you can fishing with an expensive rod and reel from a top-of-the-line bass boat.
In fact, some of my best days fishing I only needed a rod, a reel, some worms, and a spot to fish.
If you have a little patience, one of the best ways to get inexpensive fishing equipment is at tag sales, estate sales, and online used marketplaces. In any of these, it's common to be able to get a full setup for just a few dollars.
Many organizations like takemefishing.org have grants and scholarships for children to get free fishing equipment.
Ask your neighbor, a friend…heck I've even seen people sell entire fishing poles and tackle boxes at garage sales for $5!
Like all hobbies, passions and pursuits you can spend a lot and 'buy' into the commercialization aspect. And dont get me wrong, thats part of the fun if you can afford it.
But, it's not required and it should never limit you from going fishing. It's just too much fun!
The Essentials
So what are the absolute essentials for having a fun, stress-free,, fishing expedition? I'll break down each one below.
Fishing License
With a few exceptions, you are going to have to get a fishing license. You have to pay a fee for the license but, fortunately, these aren't very expensive. Younger children (usually under 16 years of age) generally don't need them, and in some places, senior citizens (over 65) either don't need them or they are free.
Some states or localities also have free fishing weekends or free fishing days, but if you are going to go to the effort of putting a fishing kit together, you might as well get the license for the whole season.
It's easy to figure out how to get a license. Just Google "fishing license" and the name of your state. In many jurisdictions, you can now purchase your license online and print it from your computer or store it on your phone.
If you're going to go back and forth between salt and fresh water, you will probably need to get two licenses.
It's important to understand that you need the license even if you plan to catch and release it. Resident fishing licenses usually cost between $15-$30 for an annual license.
And, its important to note that the money paid for fishing licenses goes back into fisheries management. Those license fees fund biologist positions, build docks and piers, and improve fish habitats.
Rod And Reel
The rod and the reel is the main piece of equipment you need in order to go fishing. It's kinda like gold clubs…you cant play golf without a club, right?
The types, sizes, and varieties of rods and reels on the market can be overwhelming. For beginners, I recommend a rod+reel combo that is ready to fish.
There are many other kinds of durable and functional rods and reels for comparable prices on the market. Especially for a beginner, there is not that much noticeable difference between the performance of these beginner rigs and some of the more expensive ones.
Find something within your budget, and I promise you it will work just fine!
See Also: Different Types of Reels, Explained!
Line
If you buy your reel new, it will probably come preloaded with line. If you buy a used reel, you will want to put some new line on it, as the old-line can get brittle. In any case, you will probably find you go through line fairly quickly so it's good to have some on hand.
Berkley Trilene XL monofilament line should be your go-to line. You can get a good-sized spool of it for between five and ten dollars. It's time-tested, easy to use, cheap, and the fish can't see it.
See Also: High Vis vs Low Vis Fishing Line – Pros & Cons Explained
Bait, Hooks And Sinkers
Hooks hold your bait and sinkers make it easier to cast farther and get the bait down under the surface.
Get a few different sizes depending on what you are fishing for. You can also get a box of various sized sinkers for under five dollars.
See Also: Everything You Need To Know About Fishing Hooks (with a chart!)
While you can put all kinds of money into various lures, there is no need to if you don't want to. Fishing with bait can be very effective, and it's what I recommend for beginners.
Stop by your local bait and tackle shop and ask them for recommendations! Worms, crickets, minnows all work very well in any freshwater fishing scenario.
You don't have to pay for the bait, either. You can dig up worms in your backyard that will catch fish as well as any bait store nightcrawler.
You can also catch and use crayfish, grasshoppers, minnows, or any of a number of other free, wild baits. There are also all kinds of recipes for baits you can make in your own home, using cheap grocery store items.
Tackle Box
While you can stick all your gear in your pockets, it's really not the best way to do it, especially since some of it has hooks and can be very small. You are going to need some kind of box to carry your gear. There are a couple of inexpensive ways to go.
First, you can pick up an inexpensive tackle box. These have nested trays for lures and a storage area at the bottom. You can buy an inexpensive one for less than $15.
The other option is small, sealable trays that have dividers inside to make any number of compartments. These can be stuck in a large pocket or a bag. One of these can cost you less than five dollars.
If you're interested in stocking your tackle box with the pure essentials, I've written a dedicated article on that very subject:
See My Full List of Tackle Box Essentials (with explanations for each item!)
A Place To Fish
The last thing you need to go fishing is, well, a place to fish!
Local lakes, parks, rivers, and coastlines often have public fishing areas. These may be docks, piers, or access trails.
These are fantastic places to learn to fish because they are often filled with other eager anglers, and they have helpful information posted such as rules, regulations, and educational content.
There are a lot of ways to find fishing areas near you, and chances are there are some great options nearby!
Final Thoughts
Remember, you don't need a fancy bass boat, high-tech electronics, or $500 dollar fishing reels to go fishing…
In most cases, you can get a rod, reel, essential tackle, and a license for under $100. If you ask around and do some homework, I bet you can be fishing for a fraction of that.
Don't let the expense of fishing keep you from enjoying one of the best hobbies on the planet. But what do I know…I might be a little biased 🙂
If you haven't guessed yet, I love fishing and everything about it!
To learn more about why I started Panfish Nation, visit the About page and follow along on Social Media: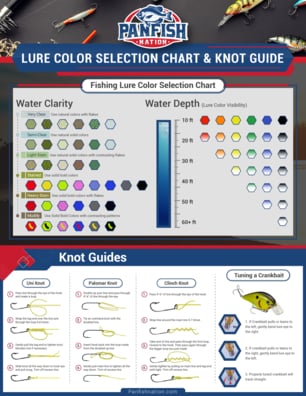 Download a copy of my FREE Lure Color Selection Chart & Knot Guide!
Stay up to date with fishing reports, tackle reviews, industry news, and much more! We respect your privacy, unsubscribe at any time.