In this guide, I'm going to give you 8 of the best white bass lures available on the market today.
And don't let anyone tell you otherwise…white bass are a great fish to target because they are plentiful, fun to catch, and taste delicious too.
This page contains affiliate links. As an Amazon Associate, I earn from qualifying purchases.
My Top 8 White Bass Lures
Wordens Rooster Tail
#8: The Rooster Tail made by Worden lures is an all-time classic.
It's very easy to fish, and works well, especially in rivers and creeks with a small amount of current. The only drawback to this style of lure is that it does not work well in weedy or heavily vegetated areas.
Crappie Magnet Fin Spin Jig Heads
#7: The Fin Spin Jig Heads by Crappie Magnet combines the weighted action of a jig head and the spinning action of a spoon to give a realistic pulsating action.
Pair it was a curly tail grub and let it drift along river bends or ledges.
Strike King Square Bill 1.5 Crankbait
#6: The Strike King Square Bill Crankbait is the perfect hardbody lure to target white bass during shad runs, shiner hatches, and feeding frenzies.
Easy to cast, and usually stays within the ideal strike zone range of 3-6 feet deep.
Eurotackle Z-Viber
#5: If you haven't heard of the Z-viber series of lures from Euro Tackle, give them a try. This innovative company creates micro lures and finesse hard baits that are ideal for white bass.
The Z-Viber is a great lure to cast around in sparse cover to locate a school of feeding white bass.
Rat-L-Trap Tiny Trap
#4: The original Rat-L-Trap lure has been around for decades because it's a proven fish catcher.
The downsized "Tiny Trap" is an aggressive shad-style hard bait that creates a loud rattle and water vibration to entice strikes. Excellent for open water white bass fishing, or trolling.
Berkley Powerbait Soft Bait
#3: The Berkley Powerbait soft bait is as good as it gets when it comes to minnow imitation. White bass are forage feeders- they follow the bait!
Minnows are a year-round forage fish that white bass feed on so this makes the minnow power bait ideal in all seasons.
When it comes to soft baits and plastics, color selection IS IMPORTANT! Download a copy of my FREE Lure Color Selection Chart for quick and easy reference while you are fishing!
Johnson Beetle Spin
#2: We cannot make a top 10 white bass lure list, without including the Johnson Beetle Spin. This miniature spinnerbait is incredibly effective at catching not just white bass, but all species of panfish too.
Lightweight, easy to fish, works well in clear water or stained water. A fantastic choice!
Zoom Super Fluke Jr. Soft Bait
#1: The Zoom Super Fluke Jr. Soft Bait is number one on my list for a few reasons. This bait is so versatile because it can be fished on a weighted jig head, a weedless offset hook, or even as a trailer on small spinnerbaits.
They are affordable, easy to fish, and one of the most durable soft baits on the market.
About Fishing for White Bass
White Bass are a member of the sunfish family and found throughout the midwest and Great lakes regions of the united states.
In the last few decades, they have also been introduced to many southern and central states (especially in river systems and deep reservoirs).
Most white bass weigh between 1-2 pounds (8-12 inches in length), however, catches up to 4 pounds are not uncommon.
They are schooling fish, constantly on the move, and following the forage. One of the most common ways to fish for white bass is to find the bait.
Find the bait, find the fish!
Keep an eye out for threadfin shad, wild shiners, and minnows schooling on or near the surface. White bass can be caught suspended in deeper water over structure, in creek mouths, or along ledges and flats.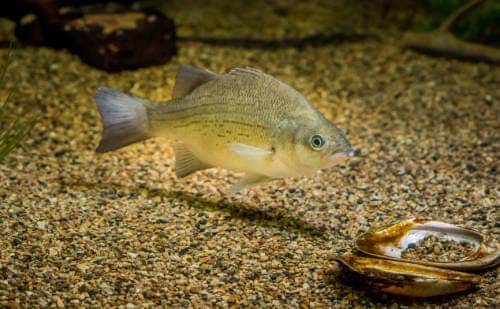 Smaller white bass will stick to shallow waters and feed on insects, crawfish, and larvae. Don't overlook a small fly or popper to target small white bass and other panfish along the shallow weed edges.
Because white bass are schooling fish, if you catch one there is a good chance that others are nearby.
Fan out your casts and keep targeting that area. If your lucky, you can catch dozens of white bass in one small area.
Frequently Asked Questions
Are White bass good to eat?
Although not as desired as Walleye or Black Crappie, White Bass are good to eat. The fish tastes best when immediately put on ice and eaten fresh. Cut out the bloodline and soak in buttermilk to remove any strong fishy flavor.
See More: Are White Bass Good To Eat? Or Do They Really Taste Like Mud?
Can you catch white bass at night?
Yes, fishing for white bass at night can be very productive. Target areas with lights and structure, such as docks and bridges. Baitfish will be attracted to these areas and white bass will be following the bait.
What time of day do white bass feed?
White bass feed on and off throughout the day and night. Peak activity will generally be in the early morning dawn hours and early evening dusk hours. However, don't worry too much about the time of day, instead, focus on finding the schools of shad and baitfish in your area.
What is considered a big white bass?
The average-sized white bass is 8-12 inches in length and weighs between 1-2 pounds. Anything over 3 pounds or 16 inches is considered a big white bass.
When do white bass spawn
White bass begin spawning in the early spring when water temperatures reach 54 degrees Fahrenheit. They will continue to spawn for the coming months, usually peaking in April.
Where do white bass prefer spawn?
White Bass require water flow to spawn, and that is why they are often associated with rivers, creeks, and streams. They prefer sandy or gravel bottom with riffles, oftentimes adjacent to deep water areas or rocky flats.
Conclusion
While Largemouth and Smallmouth bass often get the attention of most bass fishermen, I'd encourage you to try targeting white bass the next time you are out fishing.
These fish are especially great for beginners and kids, because once you find them the action is often non-stop.
Try some of the White Bass Lures in this article, and look for that ideal habitat and bait. Keep a few for the dinner table and you will be pleasantly surprised at the other bass species native to North America. Thanks for reading.
You May Also Like: Fishing Lake Livingston…Best White Bass Fishery In Texas?
If you haven't guessed yet, I love fishing and everything about it!
To learn more about why I started Panfish Nation, visit the About page and follow along on Social Media: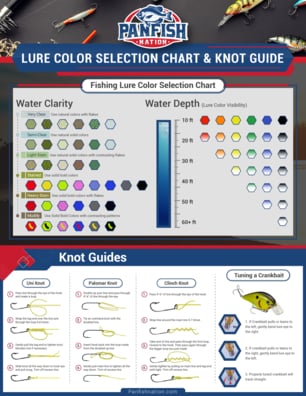 Download a copy of my FREE Lure Color Selection Chart & Knot Guide!
Stay up to date with fishing reports, tackle reviews, industry news, and much more! We respect your privacy, unsubscribe at any time.
Related Posts