Yellow perch are freshwater panfish, and what they lack in size they make up for in taste and abundance.
Today I'm going to tell you everything you need to know about eating yellow perch…and trust me, heat up the grease because these fish are delicious!
Are Yellow Perch Good To Eat?
Yellow perch are one of the highest rated freshwater fish to eat, and a favorite among anglers. Their white meat and semi-sweet mild flavor make them broadly appealable and extremely versatile.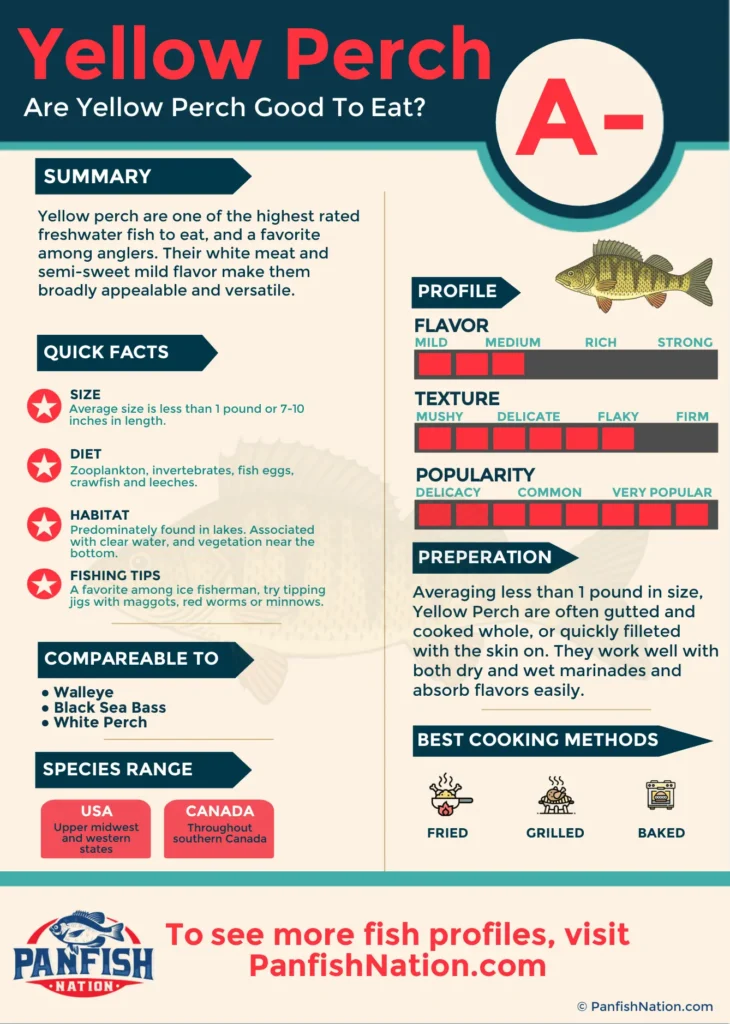 In fact, they have earned the nickname "the poor man's walleye" for their similarities in flavor.
What Does Yellow Perch Taste Like?
Yellow perch has a mild, sweet, but very distinctive flavor.
The unique flavor of its meat means preparing it requires minimal seasoning. The meat is melt in your mouth flakey once cooked.
Yellow perch are always in demand and often found on restaurant menus throughout the upper midwest.
Are Yellow Perch Safe To Eat?
Yellow perch are low in mercury and generally safe to eat.
However, they have been known to carry red worms, a parasite transmitted from bird feces to fish. Red worms can infect the organs, muscles, and tissues of the perch.
Fortunately, even if a yellow perch is affected, they are still perfectly edible if cooked properly.
Red worms will only stay in the body of a fish if the temperature is 62 degrees or above, so we recommend if you are keeping any perch meat, always put them on ice so the worms do not affect your meat!
Yellow perch are often farm-raised and can be exposed to chemicals and antibiotics.
This is important to remember when choosing the source of your fish, which is why I always recommend go out and catch your own!
See Also: Yellow Perch Bait- Our Top 7 Choices to Catch More Fish!
Is Yellow Perch Good For You?
Yellow perch is excellent for you! It is high in protein, vitamins, minerals, and omega-3 fatty acids. This fish is a great addition to anyone trying to follow a heart-healthy diet.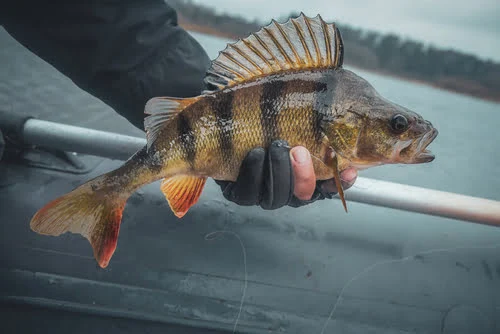 Farm-raised yellow perch is said to have a higher fat content than wild perch, but their flavors are indiscernible.
How To Prepare Yellow Perch
Yellow perch do not require any special preparation in order to turn them into a delicious meal.
Fortunately, yellow perch don't have a lot of pesky small pin bones, or thick skin, making them difficult to clean.
In fact, yellow perch is often prepared and cooked with the skin on.
However, you should always follow standard fish preparation techniques such as: keeping them cold and on ice, vacuum sealing meat, and eating fresh meat whenever possible.
How To Cook Yellow Perch
Yellow perch can be baked, broiled, fried, grilled, poached, or sauteed! Its versatility is one of the reasons its so popular, and anglers from different regions all have their favorite ways to cook them.
In some parts of the upper midwest, beer battered and fried is the preferred method. And in other areas, fish balls and chowder are extremely popular.
If you can imagine it, it can be done. There are so many ways to cook them it would be impossible to start listing them all But some of our favorite simple recipes include:
Deep fried in butter.
Beer batter and fry them.
Put them in seafood chowder.
Sprinkle fillets with lemon pepper and cook in hot oil on a cast iron.
Dip fillets in egg whites, dredge in flower, and fry.
Grilled over an open lakeside campfire with an ice cold beer (my personal favorite).
Frequently Asked Questions
How Much Is Yellow Perch Per Pound?
Yellow perch demand has increased over recent years and now sells for about $15 dollars/lb. This price can vary depending on the region, time of year and freshness of the catch.
Are Yellow Perch Eggs Good To Eat?
Although perch fillets are a delight, perch eggs do not share that same great flavor, and therefore are a big no from us. However, they are enjoyed by many and considered safe to eat.
What Do Yellow Perch Eat?
Yellow Perch start their lifecycle by feeding on zooplankton and microorganisms. As they grow, so does their preferred food sources, until eventually they eat invertebrates such as worms and leeches, crustaceans like crawfish and freshwater shrimp and other juvenile fish and fry.
See Also: Are Muskie Good To Eat? And, Is It Okay To Keep Them?
Thanks for reading!
If you haven't guessed yet, I love fishing and everything about it!
To learn more about why I started Panfish Nation, visit the About page and follow along on Social Media: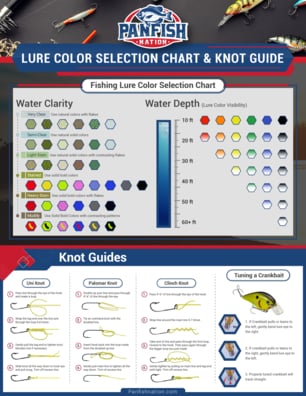 Download a copy of my FREE Lure Color Selection Chart & Knot Guide!
Stay up to date with fishing reports, tackle reviews, industry news, and much more! We respect your privacy, unsubscribe at any time.
Related Posts