Look no further than the state of Florida to find colorful and exotic fishing opportunities!
In this guide, ill talk about fishing the wide variety of invasive fish you can catch in Florida, and how this fun style of fishing is beneficial for native fish species…and your appetite!
Why Fish For Exotic Species?
Fishing for exotics offers the challenge of catching several different species of fish that have historically only been found in other countries.
These brightly colored wonders of nature not only offer a great battle on light tackle but they are also often found to be quite tasty when cooked.
Captain Lou Lagrange from ARTI-FISH-IAL Entertainment Guide Service in South Florida frequently catches peacock bass and other exotics as he pursues his targeted species of largemouth bass:
"We love catching the exotics of south Florida, they often put up a great fight on light tackle and are beautiful fish"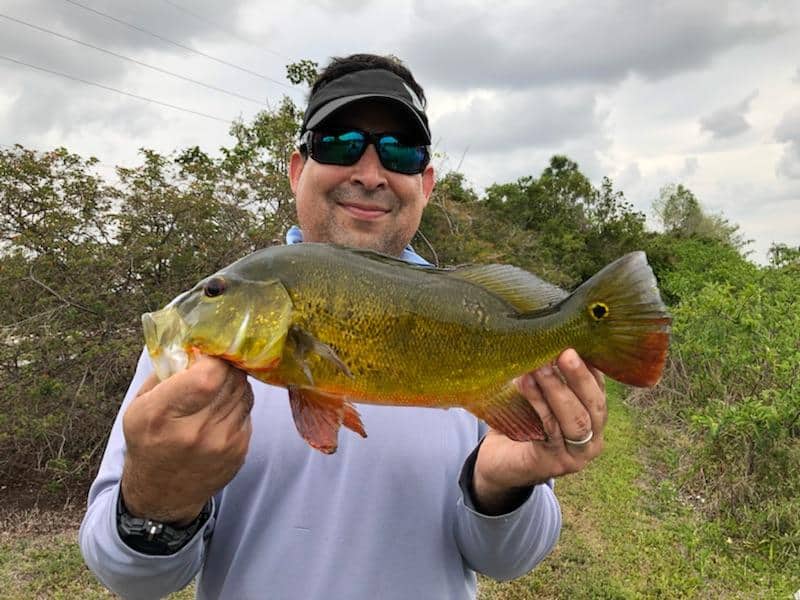 Fishing for exotics in Florida does not require a boat or access to remote lakes and locations.
In fact, some of the best exotic species fishing is done in urban settings; canals, ditches, and other man-made waterways are often teeming with these invasive fish.
Fishing from the bank is often the best way to target these colorful fish.
What Are Exotic & Invasive Panfish?
Exotic panfish are some of the many 39 species of nonnative freshwater fish living and reproducing in southern and central Florida. Popular species targeted by anglers include Oscar, Blue & Spotted tilapia, Mayan cichlid, Jaguar Guapote, and the popular butterfly peacock bass.
These exotic panfish can be taken on a variety of baits and techniques ranging from bread balls to artificial lures.
Oscar (Astronotus ocellatus)
Appearance: Adults normally have an olive to blue-green body with dark blotches and a bright red eyespot on their tail fin.
Younger fish normally have wavy white and orange markings along a black body. Oscars are uniquely characterized by a thick mucus-like coating along their body.
Range: Commonly found in the western canals of Broward, Dade, and Palm Beach Counties in Florida and are now occurring more frequently in as far north as the Lake Okeechobee Rim Canal in Okeechobee County.
Edibility: Excellent with white and flaky meat.
Sporting Quality: Excellent with light tackle. Can be caught frequently on live baits such as minnows, shiners, worms, and crickets.
Artificial lures include small crankbaits, spinnerbaits, topwater lures and small plastic worms. Beetle Spin type lures are very effective when cast or trolled along canal banks. Fly fishing tackle includes small popping bugs and streamers.
Appearance: Adults normally have a blue-gray body with a white belly. Fins have a red to pinkish appearance along the borders.
Average Size: 2 to 4 lbs.
Range: Throughout central and south Florida and can be found as far north as Jacksonville. Can withstand high salinity levels and will frequent brackish waters along coastal Florida.
Edibility: Considered excellent with mild white flaky meat. Often served at restaurants and sold at fish markets and grocery stores.
Sporting Quality: Not normally caught on hook and line. Some anglers target tilapia during the spawn by dragging a small crappie jig across their bed. A protective tilapia will attack the jig to safeguard their nest.
Related: What Do Tilapia Eat In The Wild (You May Be Surprised!)
Spotted Tilapia (Tilapia mariae)
Appearance: Adults are light yellow to bronze color with 6 to 8 bars or spots along their sides. Occasionally have reddish markings on their chin or throat area.
Average Size: 1 to 2 lbs.
Range: Primarily in Dade County Florida with others occurring as far north as Palm Beach County.
Sporting Quality: Frequently caught on live bait along with other panfish species.
Regulations: No size or bag limits. Cannot be possessed alive and must be immediately killed if kept.
Mayan Cichlid (Cichlasoma urophthalmus)
Appearance: Similar to the blue tilapia but with a bright red chin, throat and breast. Normally has 6 to 8 dark bars that vary in coloration.
Range: Dade, Broward, Collier and Palm Beach counties in Florida. Can be caught with regularity as far north as Brevard County on the east coast of Florida. Can withstand high salinity levels and are frequently found in brackish waters.
Edibility: Excellent with white flaky meat.
Sporting Quality: Excellent on light tackle and fly-fishing equipment. Will readily take a wide variety of live baits including crickets, minnows, and worms.
Productive lures include Beetle Spins, crappie jigs and small crankbaits. Fly fishermen enjoy success with small streamers and popping bugs.
Related: How To Catch Mayan Cichlids
Midas Cichlid (Amphilophus citrinellus)
Appearance: Normally start out with mottled coloration but will often develop bright orange or white coloration as they get older. Adults will often have a pronounced hump on top of their heads when breeding.
Average Size: 1 to 2 lbs.
Range: Found in freshwaters in and around Miami with large numbers found in the Black Creek and Cutler canal systems.
Edibility: Not known for their table far but may be eaten.
Sporting Quality: Good, bread balls are one of the most effective techniques. They will occasionally hit small jigs, crankbaits and jerkbaits.
Jaguar Guapote (Parachromis managuensis)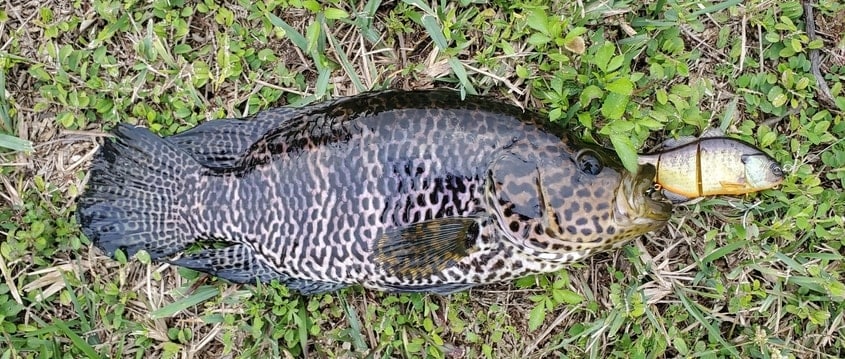 Appearance: Broken black and white patterning found throughout the body.
Average Size: 1 to 2 lbs.
Range: Found with regularity in many canal systems in Dade County but can be caught as far north as Palm beach County
Sporting Quality: Limited but caught mostly on Beetle Spin type baits, small jigs, spinnerbaits, or crankbaits. Productive live baits include live worms or minnows.
Black Acara (Cichlasoma bimaculatum)
First Observed: Early 1960's
Appearance: Small bream type shape with 2 black blotches at the midbody and tail. A black to green stripe extends from the eye through the mid-lateral spot. Colors vary with a gray, blue, or brown base.
Average Size: Less than 8 inches.
Range: Found in roadside ditches and undisturbed small bodies of water in south Florida. Reported catches from as far north as the Lake Okeechobee and the Upper St. Johns River drainage systems.
Edibility: Normally too small to eat
Sporting Quality: Not much sporting quality due to the small size. Can be easily caught on bread balls in roadside ditches.
Butterfly Peacock Bass (Cichla ocellaris)
First Observed: 1984 (Introduced by FWC)
Appearance: Body shape is elongated and similar to the largemouth bass. Body coloration varies with generally a golden to greenish tone with 3 vertical black bars and a black spot with a golden halo at the tail.
Average Size: 1 to 3 lbs.
Range: Mostly found in Dade, Broward, and Palm Beach Counties of Florida. Can be caught with regularity in some areas of Collier and Lee Counties in southwest Florida.
Edibility: Excellent but catch and release is encouraged.
Sporting Quality: Excellent. Caught on live minnows and shiners. Fast-moving artificial lures include topwater lures, jerkbaits, and crankbaits in bright colors. Fly fishermen enjoy success on Clouser minnows in bright patterns.
Regulations: Daily bag limit of 2 with only one of which may exceed 17 inches
Tips & Tackle For Targeting Exotic Panfish
Anglers pursuing exotic panfish in Florida do not have to purchase specialized rods, reels or tackle.
Baitcasting and spinning reels that are commonly used for bass fishing as well tackle regularly used for native panfish species such as medium-light spinning outfits with 6-to-8-pound test line are excellent choices.
A variety of small moving lures such as Beetle Spins, crappie jigs, lipless crankbaits, and topwater lures will yield success. Keep your colors bright and flashy along with silver and chrome as these will attract the attention of these feisty predators.
Live bait anglers pursuing many species will do well with live worms, crickets, or minnows. For some species such as the black acara, a small hook and split shot baited with bread can be productive.
For those pursuing peacock bass, bring an assortment of largemouth bass fishing lures such as lipless crankbaits, topwater poppers, and walking baits.
Keep your retrieve steady and fast as peacock bass like fast-moving prey. When in doubt, speed up your retrieve! Live shiners can be excellent when fished around bridges and culverts for peacock bass.
Fly fishing anglers can have success with small bright and flashy streamers and popping bugs fished around canal edges and culvert pipes.
History of Invasive Fish in Florida
Exotic fish have been reported to be living and breeding in Florida as early as the 1960s.
All but one of the 39 species of fish have been introduced into the ecosystem illegally as a result of people releasing unwanted fish or the flooding of aquaculture ponds that were maintained for the aquarium industry.
The release of nonnative fish is not only illegal but can also be considered inhumane as many of these fish cannot survive in the wild.
From the newsworthy pythons to piranhas and everything in between, South and Central Florida's subtropical climate provides an ideal environment for these nonnative species to thrive and reproduce.
Warm water temperatures create the perfect home and there is little that man can do to slow down their rapid explosion. Cold fronts will occasionally slow their expansion by causing cold crippling conditions that will limit the exotic warm water fish's survival.
Peacock bass are the only non-native species that have been lawfully introduced into the freshwaters of the state of Florida by the Florida Fish and Wildlife Conservation Commission (FWC).
This was done to help feed on and control other species of invasive fish and to help provide sporting opportunities for anglers.
The release of exotic fish and the proliferation of these fish have contributed to Florida being one of the most diverse and studied exotic fish faunas in the world.
Are Exotic Fish Safe to Eat?
Many of the exotic panfish in Florida have white and flakey meat that has an excellent mild flavor.
These fish are generally considered safe to eat, however, certain fish can occasionally be deemed potentially unhealthy to eat based on the level of contaminants from the food that they eat or the water that they live in.
The Florida Department of Health maintains an updated website containing specific advice about consuming freshwater fish.
Conclusion
When it comes to exotic freshwater fishing, Florida is King. These invasive and ornamental fish provide an entirely new fish category for anglers to pursue.
Pound for pound, exotic panfish put up some of the best fights with excellent eating quality.
From urban ditches to remote Everglades swamps, Exotic fish species are here to stay.
So what are you waiting for? Get out and catch some of these colorful and unique fish!
If you haven't guessed yet, I love fishing and everything about it!
To learn more about why I started Panfish Nation, visit the About page and follow along on Social Media: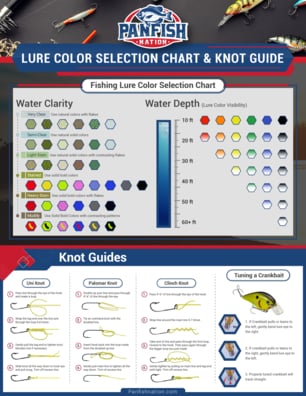 Download a copy of my FREE Lure Color Selection Chart & Knot Guide!
Stay up to date with fishing reports, tackle reviews, industry news, and much more! We respect your privacy, unsubscribe at any time.
Related Posts