Long considered one of the most amazing natural wonders in Florida, Lake Okeechobee is a magnificent spectacle for the eye to see. Its endless shoreline, vast size, and rich history have been intriguing humans for thousands of years.
For freshwater anglers, Lake Okeechobee is in the "Hall of Fame" of fishing destinations…keep reading to find out why!
Nothing could appear more queenly and magnificent than lake Okeechobee as we came upon it…The great basin is a shallow pool on the oolitic limestone, in a frame of sawgrass, whose pale-straw color is brought out against the distant vaporous velvety bronze and green of the red bay…

-Wallace Harney, Harpers New Monthly Magazine, 1884
If you are considered a visit to lake Okeechobee, first let me tell you that you will not be disappointed! In this article, I am going to share everything you need to know to appreciate and enjoy your visit and of course catch lots of fish!
About Lake Okeechobee
Covering an area over 730 square miles, Lake Okeechobee is a behemoth sized freshwater lake. It is the second largest lake in the contiguous United States, and the 8th largest overall.
But perhaps more impressive is its location. Unlike many other large lakes throughout North America, Lake Okeechobee is not a reservoir or glacial carved depression. It has no major link to the ocean, or any tidal influence.
In fact, Lake Okeechobee is a flat, saucer-shaped depression on the outskirts of a tropical swamp known as The Everglades. Its depth rarely exceeds 10 feet, and its unspoiled shoreline gives way to its name origin: "Big Water" coined by the Seminole Indians who called this region home.
Lake Okeechobee is in fact, big water and it has had big impact on the shaping and influence in Florida for hundreds of years. Once a threat due to flooding and hurricanes, it has been tamed to now be a source of drinking water, agriculture irrigation, and recreation hotspot.
All the while, it has built a reputation as one of the premier fishing destinations in the entire world.
Recently however, the lake and those who control its future have been under heavy scrutiny. Water quality has degraded, pollutants and contaminants have increased…but who exactly is to blame? What does this mean for the future of the Lake and this region that relies on it? The answer to that lies in another article…
Home to millions of Largemouth bass, bluegill, shellcracker, catfish, and countless other fish species anglers from all over the world have been flocking to "The Lake" as it's sometimes referred to by locals for centuries. Let's not forget about the estimated 30,000 alligators that call the lake home and the millions of birds, reptiles, and amphibians that live along its shores.
Lake Okeechobee is a truly unique paradigm- not unlike the state of Florida itself. A critical resource for growth, expansion, and urban development, yet it still remains so wild. On the lake, your surrounded by the buzz of hatching mayflies, bald eagles, and alligators- yet less than a tank of gas away sits Miami Florida, one of the fastest-growing urban areas in the country.
Whether your visit is to catch a trophy largemouth bass, take amazing wildlife photos, or follow the footsteps of Florida pioneers…Lake Okeechobee is a special place and your time will be well spent!
Lake Okeechobee location
Lake Okeechobee is located in South Florida, at the confluence of 5 counties: Glades, Martin, Hendry, Palm Beach, and Okeechobee county. Take a look at any map of Florida, and you can't miss it! It's the giant round-shaped lake in the bottom of the state, situated just north of the Everglades.
The lake is situated about 100 miles from 3 major metropolitan areas: Miami, Orlando and Tampa Bay. Due to its large size, the lake is often referred to in parts such as "North Lake" or "South Lake".
To reach Lake Okeechobee there are many highways around its perimeter, such as Highway 98 along the eastern side, Highway 27 along the south, and FL-78 along the western and northern portions of the lake. Small 'cracker towns' are along its banks, each with its own unique history and identity.
Why is Lake Okeechobee important to Florida?
Lake Okeechobee is vital to the state of Florida because it is a critical resource in terms of water control, filtration, wildlife and tourism. Due to its large size, the lake acts as a natural water control reservoir for the millions of people living in south Florida.
Canals, locks, and water structures carefully control the water levels in the lake and the 'flow' of water south into the everglades. This is carefully coordinated with the US Army Corps of Engineers, local water management districts, the federal government, and adjacent landowners.
What is Lake Okeechobee known for?
Lake Okeechobee may be most famous for its size, as the second-largest lake in the contiguous United States. It supports a robust commercial and recreational fishing industry, as well as boating and wildlife community. For anglers, Lake Okeechobee is synonymous with "Big Bass" and its legendary waters have been making dreams come true for decades.
In fact, many national and world level Bass fishing tournaments have taken place on Lake Okeechobee over the decades. Including tournaments by B.A.S.S., the MLF and FLW tours. You simply cannot talk about legendary bass fishing lakes without mentioning Lake Okeechobee.
Is Lake Okeechobee a man made lake?
No, Lake Okeechobee is not a man-made lake. Geologists estimate that lake Okeechobee formed over 6,000 years ago when ocean waters receded, leaving a shallow lake as its known today.
Fishing on Lake Okeechobee
What is The Best Time of Year to Fish Lake Okeechobee?
Fishing on Lake Okeechobee and nearby Lake Toho is best during the cooler months when water temperatures are not at their peak and afternoon thunderstorms are not as common. Anglers should refer to the Lake Okeechobee Fishing Calendar to find the best times for each species:
Largemouth Bass
Largemouth Bass is the most popular fish on Lake Okeechobee, and for good reason! There are literally, tens-of-thousands of acres of premium bass habitat all over the lake. Eelgrass, coontail, cattails, hyacinth mats, and hydrilla are all present throughout Okeechobee and its canal system. Not to mention offshore flats, sandbars, ditches, and enough hiding spots for bass to get BIG!
If youre interested in targeting BIG trophy-sized bass during the spawning season, try fishing the lake in the cool months of December, January or February. Spawning activity can vary greatly throughout the lake, but those cooler months will have big females seeking bedding habitat. Your not likely to get as many bites as you do 'post spawn', but the chances of catching a 10+ lb bass are very good this time of year.
If you want some great action, and still the chance to catch a big girl plan your trip around the spring and early summer months. This time of year can be fantastic fishing and great weather. You shouldn't have to worry about any summer thunderstorms or hurricanes and the bass are in feed mode after the spawning season. April and May are fantastic months for numbers of fish and quality!
Best Bass Fishing Spots on Lake Okeechobee
South Bay, Rita Island, East Wall, Coots Bay, The Shoal, Monkeybox, Kings Bar, Moonshine Bay are great starting places to catch Largemouth Bass. It may seem like many of these areas all look the same, but pay attention to minor differences. Transitions in vegetation, water clarity, water temperature, wind direction, and bait activity can all make a big difference.
Many anglers opt to hire a Bass Fishing Guide on Lake Okeechobee, due to its large size it can be overwhelming for first-timers. Here are a few very popular bass fishing guides sure to put you on fish!
If you're interested in fishing with live bait, nothing will outfish a wild golden shiner. The lake does have a healthy population of shiners you can catch yourself, or you can always purchase wild shiners at one of the many local bait and tackle shops. Fish them with a Kahle hook under a float on the edges of the grass and sit tight!
Popular artificial baits include a texas rigged worm, topwater poppers, spinnerbaits, crankbaits, and weedless swimbaits. For colors, you can't go wrong with anything shad or natural colored, black, or the famous "Okeechobee Craw" color, which is a blend of blue and watermelon.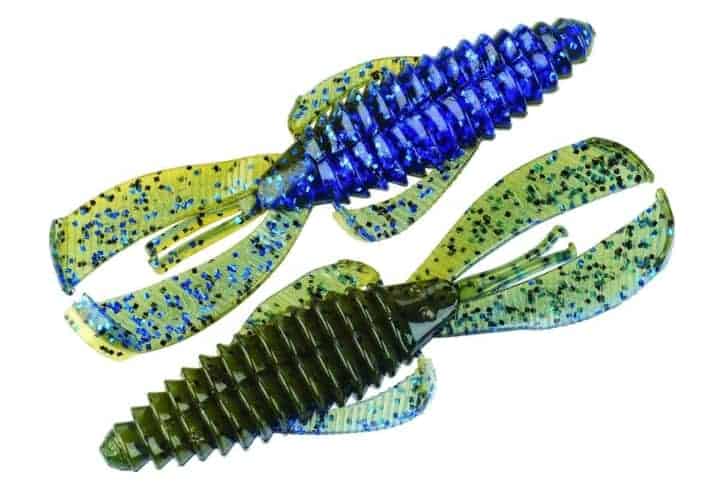 Black Crappie
Lake Okeechobee may be world famous for its Trophy Largemouth Bass, but locals and visitors alike relish in the excellent Black Crappie Fishing, otherwise known as 'specks' to Floridians. This delicious and abundant fish is very popular during the cooler months of January-March and the most popular panfish on the lake.
Anglers often catch limits of Black Crappie during the spawning season, with many fish weighing over 2+ lbs. Popular methods include trolling, and 'jigging' in the shallow reeds. Live minnows, tube jigs, beetle spins, hair-jigs, inline spinners, and ultralight crankbaits are very popular on the lake.
Many anglers also opt to hire a Crappie Fishing Guide on Lake Okeechobee, especially if they want to bring home a cooler full of fresh fish!
Best Crappie Fishing Spots on Lake Okeechobee
Don't overlook the many miles of canals around the lake for excellent Crappie fishing. Oftentimes these fish will move into the shallow and protected canals to find cover during the spawning season. At the north end of the lake, the Kissimmee River can be excellent fishing especially during periods of high water flow.
Other popular areas include the mouth of the Kissimmee river, the rim canal, the hog pen and indian prarie. Drift live minnows on 1/64-1/4 ounce jig heads or bounce micro tube jigs in the cattails and lily pads. The thicker, the better! Those crappie will be WAY back into the thick stuff and under heavy vegetation during the spawn!
The best time of day to fish for crappie is early morning or late afternoon. Overcast and cloudy days can also be excellent fishing during the cooler months. Focus on the shoreline, or near the shoreline during the spawning months. During the summer, use your fish finder or Garmin Livescope to locate schools of crappie offshore in deeper water and troll along the open water edges.
Bluegill
Bluegill are perhaps the most prevalent and populated fish species in all of Lake Okeechobee. Literally, millions and millions of Bluegill inhabit the lake and are an absolute summertime favorite for kids, families, and veterans!
Peak Bluegill season is during the summer spawning months when the water is warm and the days are long. Focus on shallow water, 6 feet deep or less, and look for bluegill beds. These are round areas on the lake bottom where Bluegill have fanned out the mud to expose sand or gravel. Usually, these beds are in 'colonies', where there is one there is more!
Bluegill are aggressive insectivores, so for live bait try using crickets, grass shrimp or even worms. If you prefer artificial lures you simply cannot go wrong with a Beetle Spin. Fishing activity for Bluegill picks up BIG TIME during the full moon- so plan your trip accordingly!
For more tips on Bluegill- check out my articles on The Top 10 Bluegill lures of all time or The Bluegill Spawn.
Redear Sunfish
Redear Sunfish or "Shellcracker" as they are commonly referred to by locals are another fantastic panfish you can target on Lake Okeechobee. In fact, Redear Sunfish are so prevalent on the lake that a robust commercial fishery exists and there is still plenty of fish to support recreational fisherman too.
Shellcracker are like a big brother to bluegill…they are bigger, meaner, and fight even harder! Trust me, a 1.5 lb Redear on ultralight tackle or a cane pole will put a smile on your face! These fish are known for their aggressive gusto and uncanny ability to 'steal' your bait.
On lake Okeechobee, Shellcracker fishing really kicks off with the first full moon of March. During that time the Redear will be making beds and defending them aggressively. Seek out gravel, shell or sandy bottom in 3-4 feet of water. Shellcracker cannot resist a small worm presented on the bottom with a #4 hook.
For more information on Redear Sunfish aka Shellcracker- check out my in depth article HERE.
Catfish
Much of the angling attention on Lake Okeechobee goes toward big largemouth bass or coolers full of panfish, but what about Catfish? Did you know that Lake Okeechobee also supports a commercial catfish industry? Yep- so there is plenty of them to go around!
Channel catfish are the main species targeted on the lake, but anglers might also catch Brown Bullhead, Yellow Bullhead, and the occasional White Catfish.
Traditional catfish methods work best on the lake; that is tackle fished on the bottom with baits that are very strong; chicken gizzards, stink bait, shrimp, and cut shad all work well. If you can bear the heat, catfishing can be great during the warm summer months, especially early in the morning or even out at night.
Anglers can find catfish throughout the entire lake, the canals, Fisheating Creek, and the Kissimmee River. Incidental catfish are often caught while pursuing panfish- but hey, we're not complaining! They taste great too!
Visiting Lake Okeechobee
Lake Okeechobee Things To Do
Lake Okeechobee and the surrounding area may be known for the fantastic fishing opportunities, but there are plenty of other activities for the whole family to enjoy. Airboat tours, bike trails, boating, wildlife photography, state parks, hiking, flea markets, and even historical sites are all within striking distance of "The Big O".
Check out this list from The Crazy Tourist with 15 Things to do in Lake Okeechobee:
Lake Okeechobee Boat Rentals
There are a few places to rent boats on Lake Okeechobee and it goes without saying please be sure you are an experienced boater and familiar with all boating safety rules and regulations. If you have never been to the lake before, I strongly recommend hiring a guide for your first trip.
Lake Okeechobee Bait and Tackle Shops
Bait and Tackle Shops are scattered all around Lake Okeechobee, in small towns and communities that surround the lake. These bait and tackle shops and their owners are often the best sources of 'local knowledge. They can tell you what's biting, where it's biting, and what it's biting on! Locals are very friendly and happy to help and thank you for supporting small businesses in the area.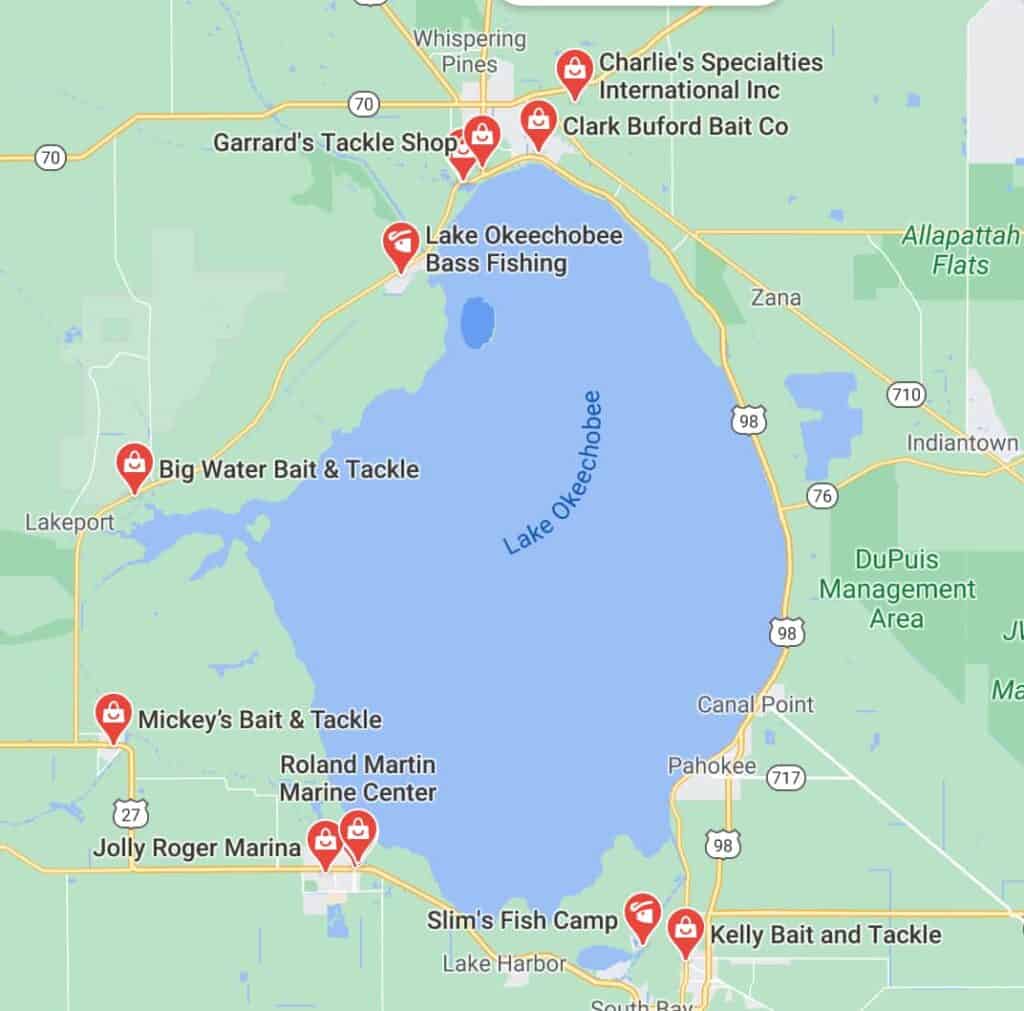 Frequently Asked Questions
Is it safe to swim in Lake Okeechobee?
Swimming in Lake Okeechobee is not recommended, but not because of its large population of alligators, instead because of its high levels of blue-green algae and other toxins in the water.
Are there sharks in Lake Okeechobee?
There are no sharks in Lake Okeechobee. Although unverified cases have been reported, Lake Okeechobee is a freshwater lake unable to support shark populations and has zero documented shark encounters or attacks.
What animals live in Lake Okeechobee?
Lake Okeechobee and the surrounding wetlands are home to a wide variety of mammals, birds, reptiles, amphibians and of course fish. This includes endangered species such as the Florida Panther, Indigo Snake and the Crested Caracara, as well as millions of migratory waterfowl that rely on the lakes diverse vegetative habitat for food, cover and nesting.
Can you eat fish out of Lake Okeechobee?
Yes, it is safe to eat fish out of lake Okeechobee as long as you follow the recommended guidelines of fish consumption. These guidelines are regularly measured and released by the Florida Department of Health.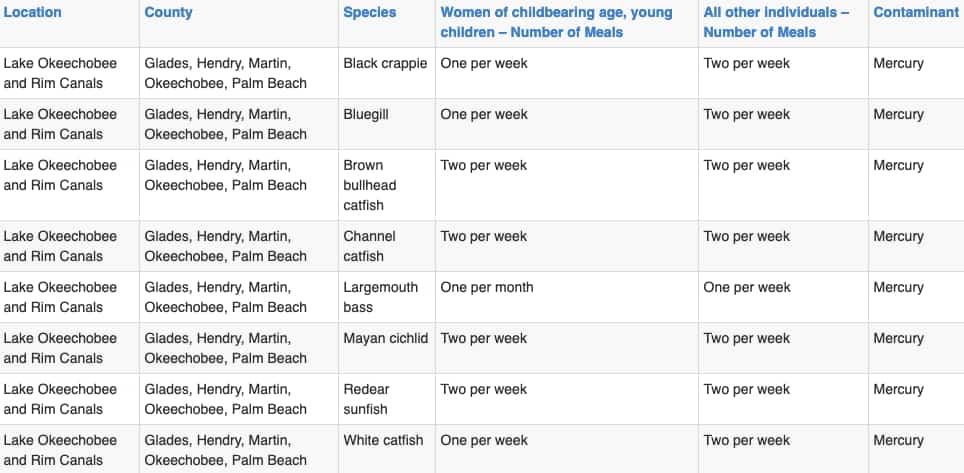 Can you kayak in Lake Okeechobee?
Yes, Kayaking is possible on Lake Okeechobee especially in the rim canals and many creeks and tributaries. These protected waterways offer shelter from strong winds and minimal boat traffic. Fisheating Creek is very popular for Kayakers and offers magnificent oak hammocks and wildlife viewing.
Are there snook in Lake Okeechobee?
Lake Okeechobee is a freshwater lake, therefore it is unable to support an active Snook population. However, anglers have reported catching small juvenile snook in the Okeechobee Waterway, which connects the St Lucie River on the east and Caloosahatchee River on the west. Both of these waterways may contain snook and feed into Lake Okeechobee.
What river flows into Lake Okeechobee?
A total of 4 waterways flow into Lake Okeechobee: The Kissimmee River, Fisheating Creek, The Calosahatchee River (canal system) and The St. Lucie River (canal system).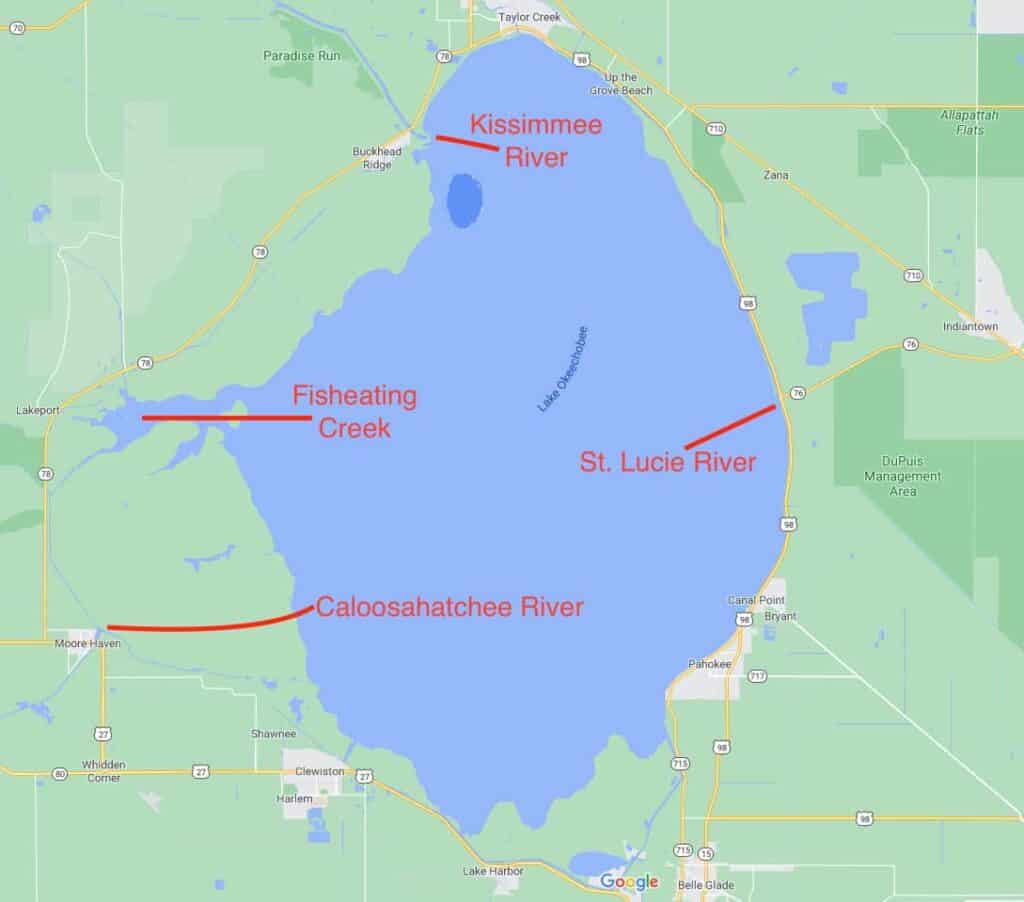 Can you see across Lake Okeechobee?
No, you cannot see across Lake Okeechobee due to its large size. The lake is 23 miles across from east to west, and 32 miles across from north to south.
How far is it around Lake Okeechobee?
The Shoreline of Lake Okeechobee is approximately 135 miles long; Driving around lake Okeechobee is 110 miles and would take about 2 hours and 15 minutes without stopping.
How long is the Lake Okeechobee Scenic Trail?
The Lake Okeechobee scenic trail is 110 miles long and completely encircles the lake. It is very popular with hikers & bicyclists. For more information visit the US Army Corps of Engineers.
How long does it take to cross Lake Okeechobee?
The lake is approximately 23 miles across at its widest point east to west, and 32 miles across at its widest point from north to south. Depending on your speed and weather conditions, you can drive a boat across the lake in 1-3 hours.
Why do they release water from Lake Okeechobee?
Water is released from Lake Okeechobee into the St. Lucie and Caloosahatchee rivers as a way to control water levels. When water levels get too high in Lake Okeechobee, it is released into these outflow waterways which remains a very controversial subject among environmentalists and locals.
Why is Lake Okeechobee so polluted?
Decades of urban growth, farming, irrigation control and human impacts have taken its toll on Lake Okeechobee. Fortunately, awareness about pollutants and contaminants in the lake and surrounding areas have caught the attention of many groups and politicians; a cohesive effort is underway to improve the lake and water quality to what it once was.
What is the Water Level of Lake Okeechobee?
The water level on lake Okeechobee varies considerably depending on the season, rainfall and releases from the US army corps of Engineers. For up to date information, visit the USAC Water level page here: Lake Okeechobee Water Level Guage
Does Lake Okeechobee connect to the ocean?
Yes, Lake Okeechobee is indirectly connected to the ocean via a system of man-made canals and locks. These waterways are used to control water levels on the lake and surrounding areas and it is the only true east/west connection across peninsular Florida.
Final Thoughts
Lake Okeechobee has built a reputation over the past 100 years as one of the premier freshwater fishing lakes in the entire world. Despite urban growth, natural disasters, and human influence…the Big "O" is still kicking and creating memories for so many who visit.
If you have an appreciation for freshwater fishing, tradition, natural history and want to catch some BIG BASS- do yourself a favor and plan a trip to Lake Okeechobee. Besides, you're only an hour away from some of the best beaches in the nation, and I promise there is something for everyone. Thanks for reading!
Interested in learning more about another AMAZING bass fishing destination near Lake Okeechobee? Check out my full guide on Headwaters Lake– you won't want to pass this one up!
If you haven't guessed yet, I love fishing and everything about it!
To learn more about why I started Panfish Nation, visit the About page and follow along on Social Media: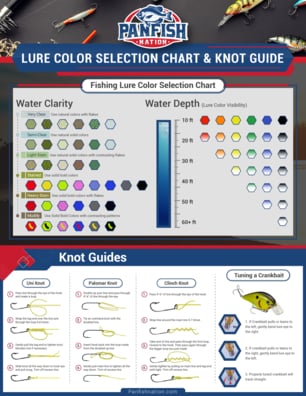 Download a copy of my FREE Lure Color Selection Chart & Knot Guide!
Stay up to date with fishing reports, tackle reviews, industry news, and much more! We respect your privacy, unsubscribe at any time.